Shop Your Way Customer Reviews
10
Rate your recent experience
Pros and Cons of Shop Your Way: A Review Breakdown
Shop Your Way is an online shopping platform that offers a variety of products and services to consumers. Our analysis of customer reviews shows that the platform provides a pleasant shopping experience for customers.

Customers praise the platform's extensive product range, which covers various categories such as clothing, electronics, appliances, home goods, and more. The user interface is easy to navigate, making it easy for customers to search and find the products they need.

Shop Your Way rewards program is highly praised by customers, with many appreciating the opportunity to earn points for purchases and redeem them for future purchases. Customers also appreciate the personalized offers they receive based on their shopping preferences.

The website has excellent customer service, with many reviews emphasizing the prompt response and efficient resolution of issues by the support team. Shop Your Way also offers free shipping and easy returns, adding to the overall convenience of shopping on the platform.

Overall, Shop Your Way is a reliable shopping platform with an extensive range of products, excellent rewards program, and outstanding customer service.
Mixed Feelings About Shop Your Way: An Honest Review
As a frequent user of Shop Your Way, I have mixed feelings about the services that are available on this platform. On one hand, I appreciate the ability to earn Freecash points through various Sweepstakes. It's a straightforward and simple way to earn dollars that can be used to purchase items from the Sears website or Shop Your Way. However, there are some factors that detract from the overall experience.

The biggest issue I've had is with the Sears store employees. More often than not, I find them to be rude and unhelpful. There have been times when I've placed an order and selected in-store pickup, only to find that it's been "processing" for days without any updates. When I visit the store, I'm often met with indifference or outright hostility. This is frustrating, but unfortunately not uncommon in many retail settings.

Another point of frustration is with Shop Your Way's sweepstakes system. While I appreciate the opportunity to earn more Freecash, I've encountered technical issues that prevent me from entering. Despite multiple attempts to reach out for help, I've found it difficult to get any assistance. Support staff has been unresponsive and dismissive, which only adds to my frustration.

Overall, I believe that Shop Your Way has a lot of potential for shoppers who are willing to put up with some of the issues that come with its services. Freecash is a strong incentive for many to continue using this platform, but it's important for Shop Your Way to address the concerns of its users in order to maintain their loyalty.
Avoid the Nightmare: Shop Your Way Review - Unprofessional Communication, Confusing Terms, and Major Financial Troubles
If you are considering signing up for Shop Your Way, we strongly advise that you take your business elsewhere. We experienced firsthand the most horrible financial service imaginable. Not only were we inundated with a barrage of advertisements in our emails that made it nearly impossible to decipher the key information we needed, but we also consistently faced technical difficulties in downloading our statements. This made it impossible to stay on top of our finances and understand what was really happening with our account.

Perhaps most concerning of all, the terms and conditions were incredibly confusing and riddled with tricky traps. Despite the fact that we were attempting to be diligent in managing our account, our communication with Shop Your Way was unprofessional and provided very little guidance or clarity. This made it all too easy to fall victim to a misunderstanding and get charged massive amounts of fees. In our case, we were charged almost $2,000 for a $4,000 purchase. This is simply unacceptable.

Our difficulties with Shop Your Way began innocently enough, with a visit to a Sears store where we were encouraged to register for an account and set up an Autopay. We were told simply to pay every month until the balance was gone, and thought nothing of it. Our nightmare began when we returned to Sears and were offered a 2-year payment plan with no interest. As we were told that we could still keep our original Autopay, we agreed to the new terms. We never could have anticipated the shock that awaited us.

One day, we suddenly noticed a charge of $2,000 in interest. Utterly perplexed, we called Shop Your Way to ask why this charge had appeared. We were told that it was because our second purchase was not qualified for the no-interest service, and so anything we paid had gone straight toward the interest charges first. This was in direct contradiction to what we had been told in the store when we agreed to the payment plan. We asked for more information on what the second purchase was and why it was not qualified, but were informed that we could not receive any further details unless we had our statements in hand. We were informed that these could only be mailed, which would take many weeks. This was the last straw for us, and we immediately closed our account.

We strongly caution others to avoid doing business with Shop Your Way. While it may seem tempting to sign up for their program, their unprofessional communication, confusing terms, and lack of transparency can lead to major financial troubles. It simply is not worth the risk.
Nightmare Experience with Shop Your Way: Terrible Customer Service and Miscommunication
Okay, where to even begin with this review about Shop Your Way? To put it bluntly, this customer had an absolutely terrible experience and it seems like a complete nightmare from start to finish.

So it all began when they placed an order for a tool they needed on August 9th, 2018. They were thrilled when the pick up date was scheduled for August 22nd - perfect timing for their job. However, things quickly took a turn for the worse when August 24th rolled around and they had heard nothing from the company. No email, no text - no communication whatsoever. This naturally caused some frustration, and rightfully so.

After calling customer service, they were told that the tool was no longer available. Why hadn't they been notified of this? That's a valid question to ask, and yet they received no solid answer. The customer was understandably angry at this point, and while the representative apologized and promised to refund their PayPal account within 7 to 10 days, they were left feeling rather skeptical.

Sure enough, no refund materialized. They made another call to customer service, only to be told that their order was still waiting to be processed. This only served to further incense them, as they explained their situation yet again to no avail. The representative did finally offer to personally make the refund, but by this point trust in the company had eroded so severely that it seemed like little more than a hollow promise.

When the customer called back the next day, they were greeted by yet another customer service representative who claimed that the item was still being processed due to it being out of stock. This was the final straw; they went ballistic, leading the representative to hang up on them.

Determined to get their money back, the customer took matters into their own hands by filing a complaint with PayPal. Sears was emailed a copy of the complaint and responded that they would investigate the situation and reply within 72 hours. This understandably struck the customer as a joke, given that it was entirely Sears' fault to begin with.

Four days later, they finally received an email from Sears stating that their cancellation request had been processed. The problem with this, of course, is that they had never requested a cancellation - the tool was simply never available. The customer was extremely frustrated at this point and felt that Sears must be lying to them.

It's now September 12th and they've been informed that their refund will be credited to their PayPal account in 7 to 10 days. All told, they estimate that they wasted 3-4 hours of their time attempting to get their $22.72 back. This is a ridiculous situation that should never have arisen in the first place.

To summarize: this customer had an awful experience with Shop Your Way. It sounds like every step of the way they were met with unhelpful customer service representatives and conflicting information from the company. If the refund does not go through, they've made it clear that they plan to take more drastic action - namely, paying a visit to Sears in person. All in all, this is something that could have been avoided with better communication and customer service from Shop Your Way. As it stands, this review is a cautionary tale for any potential buyers.
Shop Your Way Review: Poor Customer Service, Flawed Dispute Process, and Inadequate Rewards System
Upon reading this review, it is clear that this individual has had a negative experience with Shop Your Way (shopyourway.com). They have been a customer for several years and had to dispute a charge, which unfortunately wasn't resolved in their favor. What's even worse is that the representatives they spoke to were inconsistent with their policies and provided misleading information. It is concerning that every time they called, they were given different answers for the same issue.

Furthermore, it appears that the dispute process was flawed from the get-go. They were unable to speak with the person handling their claim and felt that they were being worked against rather than assisted. The fact that investigators appeared to be hiding behind the scenes and scamming and lying to not approve disputes is deeply troubling.

The review also notes that Shop Your Way's rewards department is inadequate and that the rewards system itself isn't working properly. The individual has points that aren't showing up in their account, and no one seems to know why. They had to call both Shop Your Way and Sears multiple times, each time being transferred back and forth with no resolution in sight. Additionally, they were informed that in order to use their points, they would have to call and place an order over the phone.

Overall, this review is a cautionary tale for anyone considering doing business with Shop Your Way. It seems as though the company doesn't have sufficient processes in place to handle disputes or reward points, and their customer service is inconsistent and unhelpful. The reviewer's conclusion is clear: do not get this card or do any business with this company.
Shop Your Way MasterCard Review: Poor Customer Service and Lack of Accountability
I recently had an unpleasant experience with the Shop Your Way MasterCard which I feel compelled to share. Initially, I had no complaints since everything seemed to be going smoothly like with any other credit card. Paying on time meant no issues and no one reaching out to disturb my peace. However, things took a turn for the worse when my health issues got in the way of making timely payments. As a result, payments fell behind for several months. Eventually, I recovered to a point where I could start paying back what I owed. I was determined to make a payment of $868 via Western Union money orders.

As many of you may know, Western Union money orders are limited and cannot go beyond $500. Consequently, I had to get two money orders, one for $500 and the other for $368 to make a total payment of $868. I sent the payments on 11th July and checked a few days later with my son to confirm if the payments had been received and processed correctly. Unfortunately, we were informed that the $500 payment had been received and processed successfully but that the payment of $368 had not been processed because it was seen as $868 instead of $368. This confused and baffled me.

Unable to solve this issue by ourselves, we reached out to Shop Your Way for resolution. Despite being transferred from person to person, we eventually were fortunate enough to come across a helpful and knowledgeable gentleman who explained what had gone wrong with the payment and what could be done to rectify the situation. Following his advice, we decided to visit Western Union and see what could be done to fix it. However, the location informed us that there was little they could do, but they kindly offered to call Western Union for us. So she called and was advised that it would take 30 days for us to get a refund, with an additional $15 fee for the inconvenience.

We contacted Shop Your Way again, hoping for a resolution to this issue. Surprisingly, they informed us that we needed to reach out to our bank to resolve the issue which was confusing because it had nothing to do with a bank. We explained to them that it was a money order service and that the refund process would take 30 days with a $15 charge. Unfortunately, they did nothing to help resolve the issue, and it still remains unresolved.

This experience was terrible and highly frustrating. The lack of accountability and responsibility displayed by Shop Your Way MasterCard was highly disappointing. As a customer, I expect better service and more proactive assistance when I face troubles. I hope they can improve their services to take better care of their customers in the future.
Delicious and Authentic Italian Cuisine - A Must-Try Destination
I got a notice that I had $140.00 in Shop your way points for about 3 years of using my credit card. It's 12:09 at night - and finally after searching for items on their website, I finally found 3 things.

Who develops a website and then puts "Not available" on item after item? Or, even though they know your zip code, display merchandise that says "Not available for shipping to your zipcode" (really? We're supposed to think that a capital city doesn't have postal service? Or UPS?) and "Not available for pickup".

And then there was the promise that you could purchase a gift card to use up your points?! You know at a legit store like Home Depot, Lowes or Applebees? Heck no -- enter the dollar amount and viola! An xml error message.

So how about technical support? Nope. Nothing but a poorly done AI emoji at the bottom of the screen. Over and over -- whether it was socks, a kitchen aid (they have zero inventory there despite displaying a KitchenAid mixer as part of the category), sweaters, toolboxes, nightgowns -- blocked, blocked, blocked. But after 12 hours of hell - with some timeouts, I got a set of drill bits, an impact driver, I laid out $ 6.54. We'll see how long it takes for it to come in.

And then I'm cutting up by credit card into tiny pieces and spending all that money using my Amazon card.

Eddie Lampert has drained the company dry, and left an embarrassing shell of a company. But in 2022, I never thought it'd be this bad. I even tried to download their app to see if that would resove the error message on the gift cards. And the reviews on that app said "Doesn't work - downloaded it and all I got was a white screen.".

It just looks like Sears just shut down, and isn't even bothering to hide that their warehouses are gutted and Eddie Lampert is just hoping that Amazon will make him a nice offer on the scraps of the Sears empire, and then cash out leaving the US taxpayers stuck with the bill for the pension funds that will be left high and dry. Supposedly, what I ordered will be available at the hometown store. Once I pick them up (if they show up at all), that card is going into a shredder and will be returned with a note that will be tossed aside into the wastebasket along with what used to be an average store.
Avoid Sears Automotive Center at Westshore Plaza - Unprofessional Service and Poor Treatment
On 7/11/2016, I had an unfortunate experience at the Sears Automotive Center located in Tampa, FL. I visited this location, where I had previously purchased four tires, for a tire pressure check as promised by the service staff. However, this visit was not like my previous ones. Although requesting for assistance, the technicians and mechanics at the center completely ignored me and the front desk manager behaved in an unprofessional manner. He threw his hands up and almost had a tantrum, acting like a child. When I explained this to the Service Advisor, he rightfully walked back outside in an effort to help me, but the technician still refused to assist. Eventually, another mechanic agreed to help me, but there was still no apology or resolution. Maybe my race or gender was responsible for this poor treatment. Nevertheless, the fact remains that Sears Automotive Center in Westshore Plaza at this location is one of the worst, and gives very poor service. I would never return to this center again. It's no wonder why so many others who had a similar experience have shared their negative reviews about this place. If you are within the vicinity and need automotive service, avoid Sears Automotive Center on Westshore Plaza at all cost.
My Disappointing Experience with Shop Your Way Rewards Program
When I heard about Shop Your Way and how you can earn points that can be redeemed for items, I was excited to give it a try. I had accumulated $187 worth of points and wanted to use them to buy gifts for my loved ones this Christmas. However, my experience was far from smooth sailing. The website was convoluted and seemed purposely designed to discourage people from redeeming their points.

I found it difficult to understand how to use my points, and the process of finding items that were redeemable with points was a nightmare. After a lot of experimenting, I found out that only items sold by Sears and Kmart directly were eligible for point redemption. I also struggled to log in, as the system continually asked me to verify my email and it seemed as if it updated arbitrarily.

I finally got logged in and started adding items to my cart for redemption, but every time I tried to check out, I encountered an error message. The entire process was frustrating, and I spent days trying to pick items that could actually be shipped to me and paid for with my points, only to get error messages at the end of it all. After several calls to customer service, which felt like hours of being on hold, I still wasn't able to place my order.

I encountered all sorts of issues, from items being out of stock or unavailable in my area, to items that didn't qualify for free shipping, despite being labeled as such on the website. Customer service was not helpful at all, and even the supervisor I eventually spoke with was uninterested in working through the issues with me.

Finally, after two long hours of trying to place my order with a representative over the phone, I was able to place it, but it ended up costing more than the total I had calculated for the same items. I was under the impression that free shipping would apply, but I ended up having to pay $20.03 for shipping. To add insult to injury, shortly after placing my order, I received an email informing me that one of the items was out of stock and couldn't be shipped.

The entire experience was incredibly frustrating and time-consuming, and it feels like Shop Your Way is doing everything in its power to prevent customers from redeeming their points. I still have $47 worth of points left, but I dread trying to use them, as the process was too complicated and unrewarding. Overall, this was the worst experience I've ever had using rewards, and I don't plan on using the service again.
Beware of Shop Your Way: Scam, Fraud, and Terrible Customer Service
The author of this review had an unfortunate experience with Shop Your Way, which they describe as both a scam and fraud. In January, they purchased a water filter for their fridge at Sears and used their Sears card to pay for it. They did not receive a bill from Sears and paid in person in February, obtaining a receipt and cancelled check. However, they started receiving credit card offers from Shop Your Way which they ignored until they received a bill for $58 and $60. The author contacted Shop Your Way and was told they had taken over Sears card. They were not informed of this when they bought and paid for their filter. After speaking with Karen, Shop Your Way's representative, they were told they owed $0.00 but were asked to pay $5.00 which the author refused. They received another bill for $3.00 and called again, speaking with Jennifer, who said they didn't owe anything but still asked for $5.00. The author refused and got another bill for $3.00 plus a late charge. This went on for some time, with Shop Your Way insisting they owed something and the author refusing to pay. The author finally wrote to the Federal Trade Commission and sent copies to each of the credit companies. They warn others not to use Shop Your Way and describe the rewards program as impossible to collect on. The author hopes that Shop Your Way will be shut down and warns others to avoid them at all costs.
Shop Your Way Rewards Program: Complicated Model and Lacking Customer Service
Shop Your Way is a rewards program that provides benefits to members for shopping at Sears and Kmart. While the program presents the opportunity to save money, the drawbacks of the program often outweigh the benefits. One major issue is the frequent incorrect fulfillment of online orders with incorrect items. Additionally, returns to non-local stores can result in high return shipping costs due to per-item ship label deductions. Customer service reps can also be difficult to work with, insisting on speaking to the person named on the Membership Card even if the account information is linked to someone else.

Furthermore, Sears and Kmart have made changes to the program that have diminished its benefits. SYW points were once redeemable like cash, but now, customers can miss the minimum order target to qualify for free shipping due to discounts of any kind. Sears also requires a higher order minimum to qualify for free shipping compared to competing retailers.

The Shop Your Way model is too complicated and lacking in customer service. Simplifying pricing with everyday low prices and focusing on quality customer service through a new incentive program aimed at improving employee performance could be a solution. This would allow Sears to eliminate the need for cruddy overseas SYW customer service and ultimately reduce operating costs.

In lieu of SYW Points, Sears and Kmart could implement a feedback system through in-store kiosks or a web link on the receipt. Customers could participate in a feedback lottery with a guaranteed discount or bonus point payout for each interaction with an employee. By rewarding feedback, customers would obtain discounts not just for shopping, but for every transaction. This would track the employees who interacted with customers and provide valuable feedback for improving customer service.

Overall, the Shop Your Way program has its challenges, but restructuring the rewards program could lead to a more successful and customer-focused experience. Hopefully, CEO Eddie Lampert will consider this feedback and take action to improve the retail experience.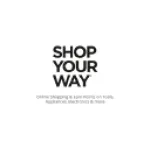 Shop Your Way

contacts
We are here to help
A 19-year track record of successfully managing customer reviews
Our team of experienced professionals handles each review with individual care
Honest and unbiased reviews
Last but not least, all our services are absolutely free