Haute24.com Customer Reviews
7
Rate your recent experience
Pros and Cons of Haute24.com: A Review Breakdown
Haute24.com is an online fashion boutique that offers an exciting range of clothing, accessories, and footwear for women. The website is gaining popularity among fashion enthusiasts due to its unique and trendy product offerings that cater to various styles and preferences.

Customers are raving about the quality of the products available on Haute24.com. The fabrics used in their clothing and accessories are of excellent quality, making them long-lasting and durable. The website caters to various sizing options, ensuring a perfect fit for women of all sizes.

Haute24.com is known for its exceptional customer service. The team is prompt in addressing any concerns or queries, ensuring that customers have a seamless experience from browsing to purchase. Additionally, the website offers secure payment options, including cash on delivery, making transactions easy and safe.

Customers love the website's hassle-free return policy, making it easy for them to exchange or return any products that do not fit their expectations. Haute24.com offers competitive and reasonable pricing, making it accessible for women with varying budgets to indulge in the latest fashion trends.

The website's user-friendly interface, fast delivery, and exquisite packaging are also applauded by customers. Haute24.com is a one-stop-shop for women who are looking for stylish and affordable fashion options while enjoying the convenience of online retail. It is a must-visit for anyone looking for trendy clothing and accessories.
Mixed Experiences with Haute24.com: A Review of Customer Service and Shipping/Delivery
As a customer of haute24.com, I have had some mixed experiences with this online shopping platform. While I have purchased three bags from them myself, my family has also made several orders from their website in the past. It's a shame to say that my overall impression of the site is not the most positive.

One of the major issues I have with this online store is their quality of customer service. I have had multiple instances where their team doesn't respond to emails or offers very little assistance when it comes to resolving issues. Shipping and delivery is another area that needs improvement. There have been times when my items arrive later than expected, which is frustrating, but even worse is when I receive an order that has been inadvertently mixed up with someone else's. When a company fails to deliver as promised or sends the wrong item, it breeds a sense of mistrust, which can ultimately drive away potential customers.

While I have enjoyed some of the products I've received from haute24.com, the overall experience has been lackluster. I've encountered delays, found communication with the company difficult, and worry about receiving the correct items every time I order. I think it's important for potential customers to be aware of these issues before placing their orders. If you do decide to shop with haute24.com, prepare yourself for a less-than-smooth shopping experience.
Haute24.com: The Destination for Authentic Fragrances in India
As someone who has always been concerned about the authenticity of fragrances available in India, I was beyond excited to stumble upon Haute24.com. And let me tell you, the experience did not disappoint! From the moment I landed on their website, I knew I was in good hands. The layout was easy to navigate, and the selection was impressive. It was clear that they take their products seriously and only offer the real deal.

The checkout process was smooth, and my package arrived in no time. I have to admit, I was skeptical at first - I've been burned by so many big-name shops in the past that I had almost given up on buying fragrances in India altogether. But Haute24.com completely restored my faith in the industry. The fragrance I purchased from them was 100% authentic, and I was thrilled with my purchase.

Overall, I would highly recommend Haute24.com to anyone looking for quality fragrances in India. Their commitment to authenticity is unparalleled, and their user-friendly website and fast shipping make for a truly enjoyable shopping experience. Whether you're a fragrance enthusiast or just looking for a trustworthy retailer, this site is definitely worth checking out. I know I'll be back for more!
Haute24.com Review: Hassle-free experience with exceptional customer service!
When it comes to online shopping, it's always great to have a smooth and hassle-free experience, and that's exactly what Haute24.com delivers. I can attest to this after recently placing an order on the platform.

While there was a small glitch with my order, I was immediately impressed with the way Srushti handled it. She clearly took ownership of the situation and went above and beyond to make sure that my needs were met. Her frequent communication and speedy resolution of my request really went a long way to make me feel valued as a customer.

In the end, I didn't end up with the bag that I initially wanted, but the Coach Signature Canvas Print Crossbody is a pretty great alternative! And, as it turns out, it ended up being a perfect gift for my sister. I was thrilled with the quality of the product, the thoughtfulness of the gift, and the overall shopping experience.

Overall, I would highly recommend Haute24.com. Their selection of designer goods is impressive, and their customer service is second to none. Shopping on their platform was a delight and I will certainly be back for more!
Haute24.com Review: Poor Customer Service Compound Disappointing Experience
As a customer who was highly excited and optimistic about shopping on Haute24.com, I must attest that my experience with the site's services was highly dissatisfying. Firstly, the long wait of four months before receiving my order was unacceptable, and this situation was compounded by the fact that the wrong bag was delivered. To make matters worse, it took an additional two months to receive another package, which again was not the desired product.

Customer service at Haute24.com is definitely not the site's strong point. I found it hard to get a response from the website despite several attempts. Even phone calls and messages did not get the desired attention. The only way to get any information was to visit the office physically, which proved quite exhausting and time-consuming.

For the price paid for their products, I had every reason to expect a better experience. Unfortunately, the staff did not seem to care about the plight of their customers, and their nonchalant attitude only made matters worse. The whole experience left me feeling terribly disappointed and frustrated.

One must agree that good customer service is essential for the survival of any business, and the lack of it can lead to the drastic reduction in patronage. Haute24.com clearly has a lot of work to do in this regard, and until there is a significant improvement in the customer care services provided, I will not be trying out their products again.
Haute24.com Review: Terrible Customer Service and Unreliable Refunds
Recently, I had an extremely disappointing experience with Haute24.com. I had ordered a Louis Vuitton bag along with a pair of Dior footwear from their website. However, to my dismay, even after waiting for a considerable amount of time, I did not receive either of the items.

With no other option left, I decided to ask for a refund from the website. Unfortunately, my ordeal did not end here. When I contacted their customer service team, it took repeated calls and messages every alternate day to get a response. Even after all the follow-ups, I was only given half of the amount as the refund. Can you believe it? Half the amount!

To compound my frustration, I was told that my team would get back to me regarding the remaining amount, and it has been quite some time since that promise was made. However, yet again, there has been no progress or response from their end regarding the refund.

As if this wasn't bad enough, this is not the first time I have been let down by this website. Over a year ago, I had ordered a pair of Tory slippers, and they went out of stock as well. I am yet to receive the refunded amount for that order.

It pains me to say this, but my experience with Haute24.com has been nothing short of terrible. Their customer service is virtually non-existent, and there has been no effort from them to resolve my issues. Therefore, I strongly suggest you steer clear of this website and save yourself the trouble and frustration I am currently going through.
Unreliable Luxury Products Supplier: My Disappointing Experience with Haute24.com
If you're on the lookout for a reliable luxury products supplier then haute24.com might not be the best option for you. I had an extremely frustrating and disappointing experience whilst shopping with them. After investing almost 5L worth of premium bags on their website, I waited for nearly 2 months and received only one bag that was of poor quality. The customer care representatives were apathetic towards my concerns and showed zero empathy towards my problem. It was an extremely irksome experience dealing with them.

To add to the frustration, I also realized that their prices weren't that competitive either. In fact, I could have easily bought the same products at a lower price from a physical store in India! Despite that, they act as if they're doing customers a favor by offering these products on their website.

Overall, I would strongly advise potential customers to steer clear of haute24.com as they turn a blind eye to customer complaints, have negative terms and conditions, and act irresponsibly when it comes to delivering quality products, keeping prices reasonable, and prioritizing a customer's needs. Take my word for it, save yourself the misery and shop elsewhere.
Disappointing first-time experience with Haute24.com's customer service and delivery times
As a first-time customer on the fashion website Haute24.com, I recently placed an order for two items in December 2021. Unfortunately, my experience with the website was less than satisfactory. After waiting months for my order to arrive, with no updates or communication from the company, I found it incredibly difficult to get in touch with their customer service team.

After several attempts, I was finally able to get a response from the company, only to find out that one of the items I had ordered was not available. I was frustrated, but I understood that sometimes items could be out of stock. However, what really bothered me was that it took the company 20 days to issue my refund.

To add insult to injury, when I asked about the remaining item I was expecting, I was told that because my order was under Rs. 1 lakh, it would take an exceptionally long time to ship. The tone of the response felt condescending and insensitive, as if I was being looked down upon for not spending enough money on their website.

Sadly, this poor customer service experience left a sour taste in my mouth, and I doubt I will be making any future purchases from Haute24.com. As someone who frequently shops online for fashion, I rarely have any issues with other websites, but my experience with Haute24 has been an exception. It's disappointing because I had high hopes for this site, but unfortunately, they failed to deliver on their promises.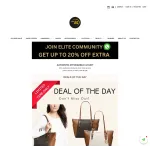 Haute24.com

contacts
Your Voice Matters: Our Commitment to Genuine Reviews
Empowering Real Experiences
At ComplaintsBoard, we believe in the power of true customer stories. Our platform is a space for authentic voices, where experiences, both good and bad, are shared openly and honestly.
Dedicated to Authenticity
ComplaintsBoard is vigilant in our fight against false reviews. Our team employs robust verification methods to ensure every review reflects a real customer experience, upholding the integrity of our platform.
Encouraging Detailed Feedback
ComplaintsBoard values reviews that come with real evidence. Whether it's a photo, a detailed account, or additional documentation, such substantiation adds credibility to your story, helping others make better-informed decisions.
Balanced and Constructive Conversations
We're more than just a complaints board; we're a community for balanced dialogue. ComplaintsBoard encourages reviews that not only highlight issues but also acknowledge positive aspects, fostering a fair and comprehensive understanding.
Free and Fair Platform
ComplaintsBoard's commitment to maintaining a free and unbiased platform is unwavering. Every review is treated equally, ensuring that your voice is heard and respected, regardless of the nature of your experience.