Hatfield VW complaints
10
This review was chosen algorithmically as the most valued customer feedback.
I am extremely dissatisfied with the service that your company has given to me. I bought a vehicle from you guys during Late May and traded in my old car, when the driver delivered my car, he was smoking and left his lighter in my car and took the cigarette lighter with him. He also delivered my car giving a lift to a female passenger. My car was being...
Read full review of Hatfield VW
This review was chosen algorithmically as the most valued customer feedback.
I took delivery of the car on the 21 August 2020 from VW Hatfield, Melrose. I noticed in the first week oil on my garage floor. At first cleaned it up. A day later I realized its the T cross thats leaking oil. I took it to Vw hatfield in Pretoria . They warned me that it is not a good sign. Vw Melrose came and fetch the car and gave me a loan car. I wa...
Read full review of Hatfield VW
Hatfield VW
-
poor service
I bought a polo Trendline 1.0 (03/12/2019), 3 days after the parchase (06/12/2019) I noticed an airbag error. I reported this matter and was told to bring the car. I sent the car and it was not fixed. Was told that they are waiting for a part from Germany. Till now nothing has been done. The car has problems, which I addressed and nothing has been done till now. Rattling sound when I change gears or hitting brakes and the USB slot that is not compatible to cables that are commonly used. Today is 04/01/2020 and I'm not satisfied with the treatment I am receiving. Futhur more there's a deal that I and the dealer agreed upon and that too has not been met. Please find this message and help in resolving the matter as I seek further intervention to help in resolving this issue!
Thank you
TD Mokoena
[protected]
[protected]@gmail.com
This review was chosen algorithmically as the most valued customer feedback.
I took my car for service at VW Hatfield, few weeks after a service I realised my Mag wheel has been removed from the car nd replace with a steel spear wheel I asked them what happened was told am claiming the car never came with a spear wheel, and was told by the workshop manager not to waste his time and go I feel the treatment is unfair as they are not willing to check their records
Read full review of Hatfield VW
This review was chosen algorithmically as the most valued customer feedback.
I am gatvol and would never recommend anyone to buy a vw. Service is horrific, vw sa is just as useless. I bought a brand new polo gti 2016 model in September 2016, on my 2nd services the car started having numerous issues. The first issue was a leaking coolant which I was told the thermostat was leaking and needed to be replaced (this was too early for my...
Read full review of Hatfield VW
Hatfield VW
-
car
I bought a vw polo gts from vw braamfontein in 2016
I then took the car back in 2017 as the feature the car came with was no longer working" I recall that I would see a light and a beep on my front of the car when a car door is open, I was told that was never a feature according to there record's so clearly I am dillusional for thinking that feature was on my car, however to avoid arguments I said ok not a problem I no what my car came with but if they insist I am not going waste my time urguing

Today 23.01.2018 my car overheated to a point where I couldnt even move, I was stuck in jhb cbd from 7:45 till 10:00 am waiting for a tow truck, as there was water in the car as well as coolant however it still overheated
At 10:30 I eventually get to vw and I get told they may only fix it by tomorrow as apprently these things happen"according to staff
My frustration is " I bought a brand new car for R210000 and after not even two years the fan for the engine stops working and fuses are bursting, I dont care if it is still under warranty after buying this car which is the greatest regret of my life I dont think its worth your customers constantly coming to fix brand new cars, cause in that case I should have cut my loses and bought a, second hand car
Im trully frustrated and I would love to use fowl words to show my frustration more but I'm trying my best to remain professional

I really did think vw car were the best on the market clearly I was wrong, I would rather prefer given another car with all the features that was supposed to have been on my car or my money back I refuse to continously fix and fix a brand new car

Regards
Bronwyn
(Highly irrate client)
This review was chosen algorithmically as the most valued customer feedback.
I took my VW Polo TSI in for the third time to this group and for the third time I was disappointed. I specifically asked for a different service provider in the hope to have better service. In the past they lost my form and I was unable to book in my car in the morning and had to wait two hours. The second time they didn't wash my car or inform me when...
Read full review of Hatfield VW
Hatfield VW
-
product and service
I bought a VW Polo TSI in 2015 from VW Hatfield. When I was asking questions about the car and the radio, the sales man (Tumi Ratlhaga ) told me that the mirror link is included with my type of radio (composition media). On the the day I collected the car, Tumi went through all the need to knows about the car. During this time, I wanted to test the mirror link, but the radio displayed activation code required, contact dealer. Tumi explicitly told me not to worry, that the software is not available in South Africa as yet but as soon as it is he will inform me and that they will install it with no added costs. Every year I have been calling VW about the mirror link and it's the same story. Now (Sept 2017) when the software is available, I went to VW to service my car and install the mirror link, technician tells me that I need to buy it for R5 000. So to clear the issue, I wanted to speak to Tumi about it but he is no longer working there so I spoke to Elias Mkhehlane (sales manager) and he didn't care about my problem, he said you already bought the car and there is nothing he can do because Tumi doesn't work here anymore. During our conversation he was extremely rude, arrogant, dismissive and did not attempt to help me in any way!
This is the type of after sales service VW provide. They say anything to make the sale and then don't care when you have a problem and go back on their word. VW after sales service is terrible and I would not recommend a VW to anyone.
This review was chosen algorithmically as the most valued customer feedback.
VW visits Registration no. SGK441GP VIN no. AAVZZZ1KZ5U025080 04/02/2016 Went to Hatfield VW in Hatfield and I asked Jacques to check the hard start problem on my car, when I collected the car in the afternoon he said it might be the oxygen sensor but he tried to clean it. Then I said will order the part later if the problem persist. 22/03/2016 Went to...
Read full review of Hatfield VW
Hatfield VW
-
Very poor service and customer relation
After been referred by Ivor Goldstein to take my vehicle to hatfield to sort out a misfire . Bad mistake.I booked my service via internet to find out on the day of the service it was not booked in.Eventually booked the vehicle in after no apologies and after a long wait. Kept my vehicle for three days did not phone me after the first day and tell me that i will not get my vehicle back and make other arrangements to get home from work. Very bad. The mechanic phones me on the third day to tell me it is faulty plug wires. Replace cost R1500.00 will solve prob. No it did not. The lady from customer service phoned me the next week for feedback. I told her i was unhappy and she said the service manager will phone me. Ya right it took him a month to phone back after i spoke to Ivor and he phoned Brad Kaftel. When he phoned me last week [protected] i told him that the car was overheating and he said it was not his problem and they only had to sort out the misfire. Why pay R1500.00. Why be cheeky. Why make the overheating my problem. Is this why people dont wanna take their vehicles to dealerships to be repaired. DO YOU BLAME THEM!
We are here to help
16 years' experience in successful complaint resolution
Each complaint is handled individually by highly qualified experts
Honest and unbiased reviews
Last but not least, all our services are absolutely free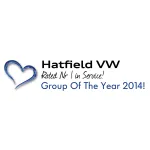 Hatfield VW contacts