Godrich Toyota complaints
2
Godrich Toyota
-
Neighbors' house doors built too close for comfort
The buggers living in 34, Akashneem Garden Enclave are so nosy that they have started asking the watchmen and security guards in our building for information on where we buy our things from. Recently, that person living next door had purchased something from eBay. I didn't even want that person to know where I am buying my stuff from but he came to know somehow - bloody Ramachoran. Plus, their safety door is too close for comfort. In fact, when they keep their door open, it hits our door or blocks our entry to our own house.
The last name of this nosy family should be HARAMAchandran and not Ramachandran because we sabka jeena HARAM kar dete hain
Godrich Toyota
-
Bad service and treatment, very unprofessional
On the 17th August 2016 I left my bakkie at the dealership for a 70000km service which initially started off very well as I was greeted with much respect and handle very professionally by Andy who proceeded to drop me at work which I highly appreciated.
The problem starts in the afternoon after making countless calls to "Spider" the service advisor to confirm time of fetching my vehicle. I made sure to inform him that my days are busy and 16:00 is the best time for me. He confirmed that time could be accommodated. At 15:45 I further confirmed if the driver would be at my workplace at 16:00 and Spider reassured all was good the driver is on his way. The driver eventually arrives at 16:50 with another passenger in the car not an employee of Godrich or any kind of association to Godrich. I get in the car and we start to make our way to your dealership from Kusile. Firstly this driver should not be allowed behind the wheel of a vehicle. Driving at high revs, not using indicators, speeding which I have a photograph of and a video of him dropping off his buddy, driving with the two right wheels on the cat eyes on the road for over 2km? Can he not hear or feel anything? Driving erratically fast slow and is highly incapable of handling a fast moving vehicle.
We eventually arrive at Godrich. Spider sits me down and apologises for the hiccups, an apology I did not accept. The funny part starts here. On the 29th June 2016 the bakkie was at Godrich and the mechanic reported that the rear brakes were low three weeks ago I had the brakes replaced. Yesterday I get the same report of 3mm brakes left? This is a bakkie that is driven only by myself and is never loaded, neither am I a useless driver who only uses brakes and not to change down. I asked for hand brake and clutch to be adjusted. The hand brake perfect. The clutch peddle now has all the freeplay removed and takes as high as possible which would be expected if the freeplay is removed. I then clashed with one of your mechanics over the freeplay issue. As he tried to tell me that there is freeplay. I will asked that u address your mechanics to get the idea out of their minds that PEOPLE WHO BRING THEIR CARS TO WORKSHOPS FOR SERVICES AND REPAIRS AREN'T NECESSARILY IDIOTS OR LACKING IN VEHICLE REPAIR KNOWLEDGE. MECHANICS TAKE THEIR VEHICLES FOR SERVICE AND REPAIR WHEN THEY ARE UNDER WARRANTY AND A SERVICE PLAN? So they should be very careful when addressing clients and making the assumption that we know nothing and they know it all. Also when changing the filter on the bakkie the oil was allowed to drip or leak onto the front diff of the bakkie and has been left as is. No post cleaning was done at all.
I feel I have said enough and I look forward to hearing from you in response.
We are here to help
16 years' experience in successful complaint resolution
Each complaint is handled individually by highly qualified experts
Honest and unbiased reviews
Last but not least, all our services are absolutely free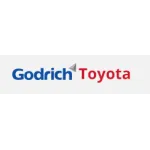 Godrich Toyota contacts