Overview of Garrett Wade customer experience
Garrett Wade is a company that receives a lot of negative feedback from consumers. The major issues customers have been facing include poor quality products, slow delivery, and terrible customer service. Many customers have experienced difficulty getting in touch with the company and receiving a response. Additionally, customers have reported that the company's products either arrived damaged or failed to meet their expectations. These complaints have been consistently reported by customers, which raises concerns about the company's overall quality and credibility. As such, we advise potential buyers to exercise caution when shopping on garrettwade.com.
Garrett Wade complaints
10
Newest Garrett Wade complaints
Disappointing Experience: My Order With Garrett Wade Cancelled Without Explanation
When I decided to upgrade my gardening equipment, I came across Garrett Wade's multifunction garden hose nozzle. I was thrilled to find exactly what I was looking for on their website and quickly placed an order. However, my excitement was cut short when I received a notification stating that my order had been refunded.

I understand that unforeseen delays can occur with new products and shipping during these challenging times with Covid, but I would have appreciated more information as to why my order was cancelled. It was disappointing to receive a notification stating that my card had been refunded without any explanation behind the cancellation. Additionally, it left me feeling uncertain about whether or not the product would ever be available again in the future.

Honestly, as a customer, I would have liked to have better communication from the retailer in regards to future stock and supply timelines. As a result, I am now left with the task of finding a replacement gardening tool from another source to replace my worn-out nozzle. Overall, my experience with Garrett Wade was not what I had hoped for, and it has left me feeling uncertain about shopping with them again in the future.
Beware: Issues with Customer Service and Censored Reviews at Garrett Wade
If you're planning to buy from Garrett Wade, you may want to exercise caution. While they undoubtedly have some great products on offer, there are a few things you should keep in mind before making a purchase. Firstly, it seems that the wood colors you see on the website may not always match reality, which can be really frustrating. Even worse, if you complain about this issue, you may be met with a lack of understanding from the company. It's never pleasant to deal with a business that doesn't prioritize customer service.

Another issue with Garrett Wade is that they have been known to censor their customer reviews. This means that you may not be getting the full picture when you read about other people's experiences with their products. Of course, there are some negative comments that have made it through, but apparently these are rare and often deal with minor issues. This isn't really a fair reflection of what customers are saying about the products - and it could be a red flag if you're someone who values transparency and honesty.

All that said, there are definitely some great things about Garrett Wade. Their products do appear to be high quality, and if you're lucky enough to receive the right wood color, you'll probably be really pleased with your purchase. However, it's worth noting that there are other vendors out there who offer similar products at comparable prices, and with much better customer service. It may be worth looking into these other options before you commit to buying from Garrett Wade.
Garrett-Wade Review: Disappointing Experience, Don't Recommend
I had a rather disappointing experience with Garrett-Wade and wouldn't recommend them to anyone. It all started when they offered me a deal on their website: 2 items for the price of 1. However, when I received my package, I only found one item inside. Looking back, I should have noticed that the emailed receipt only showed one item. Still, I trusted them and assumed they were an honest company.

Moreover, one of the things that really stood out to me was their shipping charges. I was shocked to see that they charged over $12 for a small, two-ounce package. Even worse, they taxed the shipping cost, which I believe is not legal. In my experience, only companies located in the state of Illinois charge tax on shipping in the USA.

Overall, my experience with Garrett-Wade was far from satisfactory. From the offer they gave me to the shipping charges, I felt like I was being ripped off at every turn. I would strongly advise anyone to steer clear of this company and look for a more reliable and trustworthy alternative.
Is Garrett Wade legit?
Garrett Wade earns 91% level of Trustworthiness
SAFETY NOTICE: ComplaintsBoard has analyzed Garrett Wade and determined that it has perfect credibility and is completely trustworthy, with a legitimacy rating of 91%.
Garrett Wade has received 3 positive reviews on our site. This is a good sign and indicates a safe and reliable experience for customers who choose to work with the company.
The age of Garrett Wade's domain suggests that they have had sufficient time to establish a reputation as a reliable source of information and services. This can provide reassurance to potential customers seeking quality products or services.
Garrettwade.com has a valid SSL certificate, which indicates that the website is secure and trustworthy. Look for the padlock icon in the browser and the "https" prefix in the URL to confirm that the website is using SSL.
Our scan shows Garrett Wade website is free from malware and phishing activities, which are types of online threats that can include viruses, worms, Trojan horses, ransomware, and other malicious code, as social engineering tactics used to trick users into sharing their personal information.
Garrettwade.com has been deemed safe to visit, as it is protected by a cloud-based cybersecurity solution that uses the Domain Name System (DNS) to help protect networks from online threats.
Garrett Wade as a website that uses an external review system. While this can provide valuable feedback and insights, it's important to carefully evaluate the source of the reviews and take them with a grain of salt.
Several positive reviews for Garrett Wade have been found on various review sites. While this may be a good sign, it is important to approach these reviews with caution and consider the possibility of fake or biased reviews.
We looked up Garrett Wade and found that the website is receiving a high amount of traffic. This could be a sign of a popular and trustworthy website, but it is still important to exercise caution and verify the legitimacy of the site before sharing any personal or financial information
This website offers payment methods that provide the option for customers to get their money back, which could be a positive indicator of the company's commitment to customer satisfaction.
Garrettwade.com appears to have online shopping features, it's important to know that the platform supports an extensive range of payment methods, making it convenient and easy to complete your transaction. The payment procedure on the website is also relatively simple and straightforward, ensuring a smooth and hassle-free experience for buyers.
However ComplaintsBoard has detected that:
While Garrett Wade has a high level of trust, our investigation has revealed that the company's complaint resolution process is inadequate and ineffective. As a result, only 0% of 10 complaints are resolved. The support team may have poor customer service skills, lack of training, or not be well-equipped to handle customer complaints.
Our Verdict: Garrett Wade is highly recommended company, but beware of poor customer service. Their 0% Resolve Complaints rating is a cause for concern. We advise using their services securely and reviewing complaints beforehand.
Disappointing Customer Service and Refund Policy at Garrett Wade: A Frustrating Experience
As a consumer, I am extremely disappointed with the customer service and refund policy of Garrett Wade. Despite the company claiming to provide a seamless experience for its customers, my personal experience has been nothing but frustrating and time-consuming. If I could give no stars, I would.

The process of returning items and obtaining a refund has been a hassle from the very beginning. After returning the product, I received an email from the company stating that my refund had been processed, only to later find out that this was not true. Paypal verified that I had not received my refund.

To add insult to injury, the return label provided by Garrett Wade took an unreasonable two weeks to get from their location in New Jersey to me in Ohio. After realizing that I had not received my refund, I attempted to reach out to their customer service. Unfortunately, my attempts to communicate with them proved useless, as they were non-existent.

My experience with Garrett Wade is not an isolated incident, as I have read similar reviews online about the difficulty of obtaining refunds with this company. I would caution anyone considering doing business with Garrett Wade to think twice before making a purchase.
Negative shopping experience with Garrett Wade: Refused exchange, missing items
Recently, I had an unfortunate experience shopping with Garrett Wade. Even though I received a gift, I was disappointed to find out that I already had some of the items. Hoping to exchange them, I followed the exchange directions on the mailing label that accompanied my order. Unfortunately, the company refused to honor the exchange, stating that they don't do it. This left me with limited options, such as returning the items and crediting back to the original form of payment. As a gift recipient, this meant I would lose the gift, which was upsetting.

Furthermore, not only was the exchange denied, but the package was also missing some of the original items I had ordered. The combination of a denied exchange and missing items left a bad taste in my mouth, and I would not recommend anyone to purchase from them unless something changes drastically.

It is disappointing to think that this used to be a good and trustworthy company, but the experience I had with their customer service was not positive at all. Hopefully, Garrett Wade will improve their policies and customer service, and understand that issues such as this cannot be ignored or neglected.
Disappointing Experience with Garrett Wade Gardening Tools: Missing Items & Tampered Package
As a gardening enthusiast, I was excited to purchase some new tools from Garrett Wade (garrettwade.com). However, my experience with the company was not a positive one. Despite spending $829.46 on merchandise, I only received $200 worth of items. One of the boxes I received had clearly been tampered with - the label had been cut off and taped to a smaller box. Inside, all but one piece of my order was missing. Upon further inspection, I realized that the items I received would never have fit inside the box they came in.

I was extremely disappointed and frustrated by this experience, especially as an elderly widow who relies on gardening as a source of enjoyment and exercise. I had also purchased a couple of items as Christmas gifts for a family member, which added to my disappointment. UPS is currently investigating the situation, but I have been warned that I may not be able to recover any of the missing items due to the discrepancy between the shipping label and the boxes I received.

All I can hope for at this point is that Garrett Wade takes responsibility for the error and replaces the missing items as soon as possible. As a loyal customer, I had high expectations for the company's products and service, and it is disappointing to have such a negative experience. I hope that my feedback can help Garrett Wade improve their shipping and handling processes in the future, so that no other customers have to go through a similar ordeal.
Disappointing Experience with Garrett Wade Garden Hose: Delayed Shipping, Broken Product, Backorder, and Costly Refund
In April 2021, I decided to order a 100-foot stainless steel garden hose from Garrett Wade. The total amount, including tax, was $104.21 which seemed reasonable considering the quality of the product. However, I had to wait for 15 days or even more before the hose arrived at my doorstep. Unfortunately, the hose broke shortly after I started using it and I had to contact the company to request a replacement.

I was informed that they would mail me a return sticker to send back the broken hose. Unfortunately, I was experiencing some technical difficulties with my printer, which delayed the process for 12 days. Despite this setback, it wasn't the company's fault, and I appreciated their understanding. Eventually, I received the shipping label on June 2nd, and I quickly called the customer service line to see if they could send me a replacement hose before they received the broken one.

The customer service representative assured me that it would be okay, and I eagerly awaited my new hose. However, to my surprise, on June 17th, the hose had not yet arrived, so I called the company again to inquire about the delay. It was at this point that I was informed that the hose was on backorder and would not be available until sometime in August! This news was a major disappointment since I live in Memphis, where it's hot and dry, and I needed a reliable garden hose immediately.

Feeling a bit taken aback by this statement, I requested a refund instead. The lady I spoke to about the matter agreed to process my refund, and within no time, I was credited back $86.70 to my account. While I appreciated the company's willingness to refund the money, I couldn't help but be frustrated that it had cost me $17.51 to do business with them - in addition to the time and inconvenience of the whole process.

Overall, while the product seemed great at first, my experience with Garrett Wade was far from satisfactory. Based on my experience, I would not recommend them for anyone in search of garden hoses or similar supplies.
Disappointing Experience with Garrett Wade - Missing Item and Poor Customer Service
I recently placed an order with Garrett Wade on 1/28/22, hoping that my purchase would arrive before my spouse's upcoming birthday on 2/8. Thankfully, the order did arrive on time, despite some strange email notifications from UPS. However, to my disappointment, the international rolling cabinet that I had ordered was missing from the delivery. Instead, I received an optional top chest.

I promptly reached out to the Garrett Wade customer service team via email and phone, hoping to find a resolution that would allow me to keep the top chest at a discounted price or receive my originally ordered product. Unfortunately, I was informed that I needed to locate a return shipping label. I couldn't believe that their sole focus was on the return process, and there was no mention of a solution or timeframe for my missing item, not even a refund.

To make matters worse, I didn't even receive the shipping label for the return. As a customer, this was unacceptable - they had already received my payment for the item and were now asking me to go through an unnecessary and frustrating process just to obtain a label.

It's a shame that I experienced such poor service from Garrett Wade, especially since I had been excited to receive the international rolling cabinet to surprise my spouse. Hopefully, they will take this feedback to heart and work on improving their customer service in the future.
Beware of Overcharges: My Disappointing Experience with Garrett-Wade at garrettwade.com
In January of 2019, I decided to use some gift certificates I received as a Christmas present and ordered from Garrett-Wade at garrettwade.com. Although the process seemed straightforward, I encountered a payment issue that left me feeling frustrated and dissatisfied with my experience.

To complete the purchase, I submitted my credit card information to pay the balance of my order beyond what the gift certificates covered. However, when I received my credit card statement, I noticed an error: Garrett-Wade had charged me $52.70 instead of the $17.60 that was specified on their receipt. This meant that I was charged an additional $35.10 without my consent or knowledge.

Despite reaching out to Garrett-Wade's customer service team to address the overcharge, they have yet to issue a refund. Their management team is currently "researching" the issue, but I'm not hopeful that they will acknowledge their mistake and make it right. It's unacceptable to charge someone's credit card without their consent, and this experience has left me feeling violated and disrespected.

As a result of this negative experience, I won't be shopping at Garrett-Wade again. I refuse to support a business that engages in unethical practices and fails to take responsibility for their mistakes. Customers deserve to be treated with respect and honesty, and it's a shame that Garrett-Wade fell short in these regards.
Disappointing experience with Garrett Wade: Poor customer service and unfulfilled promises
I recently had a disappointing experience with Garrett Wade that left me feeling frustrated and undervalued as a customer. Despite ordering a specific item from them, I received the wrong product and found their customer service to be unhelpful when it came to resolving the issue. They insisted on compliance with their convoluted return system before offering any sort of refund or exchange. To add insult to injury, a supposed "free version" of the item was offered as an apology, only to find out that it could only be sent once I had already paid for the incorrect item.

Additionally, I took the time to leave several honest and genuine reviews of products I had purchased from Garrett Wade, but to my dismay, they were not made publicly available. Correspondence via email was met with silence, and when I attempted to reach out via phone, I was promptly "disconnected".

It's clear that this company is more interested in investing time and resources into their marketing and branding than they are with providing high-quality products and meaningful customer service. As someone who values integrity and transparency, I was left incredibly disappointed by this experience, and I would not recommend giving Garrett Wade your business.
Collect Your Trust Badge
Be recognized for outstanding customer service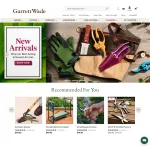 Garrett Wade

contacts
Website
www.garrettwade.com
We are here to help
19 years' experience in successful complaint resolution
Each complaint is handled individually by highly qualified experts
Honest and unbiased reviews
Last but not least, all our services are absolutely free