Easy Life Furniture complaints
29
Easy Life Furniture
-
Defective reclining leather chairs
I received the purchase of two leather reclining chairs. Both were missing the attachment to insert the arm section into the base.

I have been writing them for 2 weeks now for a return label and refund. They have continued to delay the label and refund with the last email received from them, asking for a picture of the missing part. Of course, I do not have a picture of the missing part, but it is getting very worrisome now to me, as I have invested over $1100 in these two chairs which are unusable, and this company is not allowing me to return them.

This has taken up so much of my time.

They are not reputable and DO NOT buy from this company.
Desired outcome: Refund for defective chairs
The complaint has been investigated and resolved to the customer's satisfaction.
This review was chosen algorithmically as the most valued customer feedback.
After 10 months of lite use of our couches the leather began to show the lining beneath the leather near the seam. So we have ugly white patched of missing leather which only seems to be getting worse. I had purchased the extended "accidental" warranty by Guardian that covered the first five years but since there was No accident it was of no use and that...
Read full review
This review was chosen algorithmically as the most valued customer feedback.
On March 6th, 2011, we purchased from Easy Life Furniture a dining room set (table and 8 chairs), Monroe king sized bed frame, simmons beauty rest king sized mattress and two matching nightstands. Total price was around four thousand. We had the furniture delivered to us a week later. One of the 8 chairs was chipped and damaged. The mattress had a hole in...
Read full review
Easy Life Furniture
-
bad service, poor quality
Buyer beware, fraudulant company called easy life! Sold us couch from company out of business knowing it was defective and bad design so they didnt get stuck with it!

We purchased a couch from this store in may 2009, by july the recliners did not work and the cusions on the hide a bed part became to uncomfortable to sit on. They came out and replaced the reclining mechanism, which is way to thin, and to address the uncomfortable part of the sleeper couch they stuffed more cusioning in that just made it worse. With three months the recliners were broken again and the couch never was comfortable to sit on. When we called again we were told that we are ruining the cusions by letting people sleep on the couch, wrong, no one ever slept on our couch, then they stated we were putting uneven pressure on the recliners to bend them and that we obvouisly did not know how to use them. Well I had a sectional that had recliners from sears for over 12 years and they never had to be replaced, ever! And at that time I had kids, friends of kids, people crashing at me house and always a houseful. The couch we bought from easy life is 1 1/2 years old, completely broken and uncomfortable and in a house of older (late 40's), very active and never home, couple with no children left at home. Now they refuse to fix or even speak to us... We do not sit around the house, I am a musician and business owner who is very busy and we own a hourse ranch that keeps us out doors all day.. The couch literally still looks brand new but is the worse purchase I have ever made. When we bought the couch they pushed and extended warranty on us that they sold as covering defects. Well when we called in they said only materail defects like stainage. That is not what we were sold... Stay away from this company, they sold us a defective couch from a company that they knew had gone out of business just so they didnt eat the cost of it. They knew it was bad design and defective in the areas we complained about and they knew that they could not get thier money back from the manufacturer so they sold it to us as a top brand couch with quality workmanship and a great warranty... Shame on us for beleiving them... Stay away, do not buy from them because if you do you will hate it.. Then they will share with you the same poor customer service they have shared with me then tell you there is nothing they can do to help after they give you the runa around for a year...
The complaint has been investigated and resolved to the customer's satisfaction.
This review was chosen algorithmically as the most valued customer feedback.
I ordered the "Cosmo" bedroom set which included dresser/mirror, nightstand, and bedframe that came to a total of $966.00. Again as previous people have reported, they are very nice and accomodating while making the sale. It was delievered to my apt. on Saturday within a reasonable amount of time, but not in the time frame they quoted 12-2pm arrived at...
Read full review
The complaint has been investigated and resolved to the customer's satisfaction.
Easy Life Furniture
-
defective mattress
I purchased a set of Mattresses from Easy Life in January of 2010 for 1, 086.00. After sleeping on the mattresses for about a week my husband and I noticed that the mattress was getting a large lump across the center of it. Concerned with the problem I called Easy Life in Ontario where I purchased the mattresses. I explained the situation to them and they were very rude and told me that I had to take it up with the manufacture not them. I told them that this was ridiculous because the mattresses were not even two weeks old. After about two weeks of arguing with the store manager and the district manager, they sent a technician over to view the problem, which took over a week. The technician concluded that the mattresses were defective, and a few days later I received a letter explaining that I would receive a new mattress with in a few weeks. It took them a month before they delivered the mattress, which was just ridiculous; I was forced to sleep on my coach for that time. Then about a week later once again the bump appeared again, and once again I had to go through the whole processes again, very unprofessional. They determined that they were defective once again. This time I opted for my money back and they have refused, they told me that I could get store credit for the mattress only and not the box spring, so that I could buy the new model in the store. So if I get store credit I will be stuck with a useless box spring. I would not recommend anyone to shop at easy life furniture because they are the worst at handling complaints against their merchandise.
Resolved
The complaint has been investigated and resolved to the customer's satisfaction.
The complaint has been investigated and resolved to the customer's satisfaction.
This review was chosen algorithmically as the most valued customer feedback.
I purchased a sofa and ottoman combination from the Ontario Easy Life store from their sales person, Jan, on February 6th 2010. Once I received the sofa and ottoman I noticed that there was a tear on the leather ottoman. The sofa looked fine and was in good shape. I called Jan, the sales lady at Easy Life, who recommended I contact the Guardian warranty...
Read full review
The complaint has been investigated and resolved to the customer's satisfaction.
Easy Life Furniture
-
customer service - warning! mislead
I thought I would contact your office first to see if I can resolve an issue. On Saturday March 6th I came into the Easy Life Furniture in Cerritos. I was interested in financing a sofa set using the no credit check financing. I had a few sofa sets I was interested in and I submitted an application to see how much credit I can be approved for if possible. I told the salesperson I wanted to know what the monthly payment arrangements would be for a $1299 sofa set and he was not very clear, and estimating to me that it would be approx. $49. Which did not seem at all accurate to me. I gave him $370 cash and was told he would submit the paperwork on Monday morning. I asked if I changed my mind would get my money back and he advised I would get it back right away (evidentially not true)

On Monday after noon I called the store and spoke with the salesperson and advised him I wanted to cancel my application since I decided to go elsewhere. Mind you he called me earlier that day to come in and submit some bank info in which the finance company was requesting. I did not submit therefore my application was never processed. The salesperson told me to go ahead and come in to get my money refunded. I drove in 5'oclock traffic from Santa Ana to Cerritos only to find out I was not getting my money back the same day! I was told that since I paid cash that I would be refunded via check and it would take 8 to 10 day to process from corporate. I was quite livid at this time since I wasted my time and gas going down there only to be denied getting my money back. I was told that if I had paid using a debit card I would have been refunded quicker but since it was cash it would take longer, this makes absolutely no sense! After researching on the internet and the reading the many complaints, there has been many other customers who have used a debit card and checks as well and were told the same thing.

I was truly dissatisfied with my service and can't believe I'm ripped off of $370 out of my pocket for almost 2 weeks. I was totally mislead and lied to.
Resolved
The complaint has been investigated and resolved to the customer's satisfaction.
The complaint has been investigated and resolved to the customer's satisfaction.
Easy Life Furniture
-
customer service
I bought a floor model sofa and chase on 7/21/09. The only reason we took the floor model was that they were no longer going to carry this item. After inspection at the show room we noted on the sales receipt that few mars on the surfaces. When delivered the delivery men set up the pieces and had my daughter sign for it. They never gave a copy of the deliver reciept to her. After the left she was arranging the pillows and noticed a hole in the leather. When I got home she showed it to me. The next day I went back to the store and explained the situation to Larry the store manager including the fact that no paperwork was left after the delivery. For two weeks I tried to get some satisfaction from him and he finally told me since nothing was noted on the delivery slip the company was not going to do anything about the situation. Since it is now friday night I can not contact the corporate office but beleive me come Monday I will. If nesscessary I will be in front of the store to tell every customer about their business practices.
Resolved
The complaint has been investigated and resolved to the customer's satisfaction.
The complaint has been investigated and resolved to the customer's satisfaction.
Easy Life Furniture
-
defective furniture
I must say that I am extremely displeased by the way my husband and I have been treated by your company. We purchased a new sofa and cocktail ottoman on July 6, 2009. We had the items treated, therefore we picked them up on Wednesday July 8, 2009. Once we got them home, the ottoman is lopsided (one of the legs is shorter than the rest) and the chaise part of the sofa had stitching coming out, not to mention the corner of the chaise (the leather part) is scratched.

My husband called on Thursday July 9th and spoke to a customer service agent, mind you he had to call 2 days in a row because no one ever returned his call the first time, and the agent stated they would replace both pieces and have them delivered.

Today the delivery guys showed up and were going to replace the ottoman but refused to replace the chaise because their warehouse manager told them not to since my husband didn't tell them about the scratch on the corner of the chaise. I asked to speak with their manager and the manager refused to speak with me and stated I had to call the sales person. When I phoned the store, I spoke with Sal first, he then put me on hold and Racheal Medina came on the line and was very rude with me insisting I let the delivery drivers go because they had more deliveries to do. I wanted to get everything resolved prior to them leaving so they would not have to come back.

Racheal was not helpful whatsoever and I am beyond frustrated, I no longer wish to keep this furniture any more and I want my money back. She stated I would have to take the furniture back myself and there would be a 20% charge.

That is ridiculous...The furniture is factory defective.

My husband called the store and they told him the only reason they would not switch the furniture is because we never paid a delivery fee, and they were sorry but the girl who set that up was wrong to do so...

I called to speak with the owner (since the manager won't be in till THURSDAY) and the receptionist told me, "the owner doesn't deal with customers, or do customer service and I would have to speak with Tess Viall" who of course...isn't in today.

I left a message on the voice mail of customer service an hour and a half ago, but do you think I've received a call back? (I'm sure there is some sort of company policy that they have 4 hours to return a call)

Someone needs to get in contact with me ASAP, I didn't pay good money for bad customer service nor defective furniture...
Resolved
The complaint has been investigated and resolved to the customer's satisfaction.
Easy Life Furniture
-
incompetent staff
How simple is it to order a sectional and coffee table? Upon the first delivery we noticed a chip in the wood of our coffee table and was told we can keep it while the replacement was being ordered. The sectional looked fine, so we thought. The next week the friendly delivery men arrived with what we expected to be the replacement coffee table. Instead it was another sectional! Confused, we declined the second sectional and turned the delivery men away. After they left we called customer service (Debbie) and asked why we didn't receive the coffee table and was told that the reason why a second sectional was being delivered was because the FIRST one wasn't scotchguarded (which we paid extra for)! The lack of communication blew us away! NOT ONCE DID ANYBODY EVER MENTION THAT THE FIRST SECTIONAL WAS NOT SCOTCHGUARDED! IF THEY DID WE WOULD HAVE ACCEPTED THE SECOND DELIVERY! Of course if someone is expecting a coffee table, but another couch shows up without explanation, that couch would be turned away. At least another week passed and the THIRD delivery of what was supposed to be the coffee table and newly scotchguarded sectional turned into yet another DISASTER! For one thing, the delivery men did NOT have the coffee table. That was enough to piss us off again! We called Debbie while the delivery men were there and she asked to speak to the drivers directly to ask if they really didn't have the coffee table, as if we would lie to her! We thought we were going to at least have our new sectional delivered that day as well, but it had a huge scratch on the side so we did not accept it. Aren't these things supposed to be examined for defects BEFORE delivery?!?! So now on to the FOURTH delivery... needless to say the incompetence of the staff struck again! We FINALLY ended up with our replacement coffee table, but the delivery men only had ONE section of our THREE piece sectional! We are at our wits end with these people. I mean, how hard is it to put in a order for the correct items to be delivered?!?!?! How HARD is it to COMMUNICATE with customers?!?!?! If Debbie would have told us that the first couch was not scotchguarded in the first place, we would have accepted the "surprise" second delivery. Sadly to say our horrific "adventure" with Easy Life, Oxnard is not over. We had to give Debbie a call AGAIN to ask why the hell would ONE piece of a sectional be delivered rather than the complete set. She, like always, never has a good answer.

WE WOULD NOT RECOMMEND EASY LIFE FURNITURE TO OUR WORSE ENEMIES! WE CAN FIND MORE COMPETENT PEOPLE ON THE CORNER ASKING FOR CHANGE!
The complaint has been investigated and resolved to the customer's satisfaction.
This review was chosen algorithmically as the most valued customer feedback.
I have to say I've read all these complaints about Easy Life Furniture and I have to say it sounds like a competitor of theirs making stuff up or something. I bought a beautiful bed and couch from there and it was the best deal and service I've ever experienced. They delivered everything on time and were super friendly. I never would have been able to buy...
Read full review
The complaint has been investigated and resolved to the customer's satisfaction.
This review was chosen algorithmically as the most valued customer feedback.
We purchased a set of Leather Sofa and love seat from Easylife Furniture Northridge store in late 2007 for over $1600. We purchased additional warrantee and were told we would get free inhouse inspection and repair or replacement. Shortly after a year, we noticed the cushions were much thinner and the furniture frame could easily be felt as we sit down on...
Read full review
Easy Life Furniture
-
poor quality furniture
We bought furniture from easylife furniture. The dining room table looked very nice until my wife cleaned it.
After she put pledge on it she wiped off most of the finish
Had it for one week. Called store, gave me corporate cust
Service, they told me we used the wrong stuff on it.
So they could not fix we could not return. We have used pledge for many years, never a problem. Did some checking
And found out the fine asian hardwood theytold us was rubber tree wood, soft and useless. Did more checking on the leather we were going to but sofa and love seat, do yourselves a favor and research bi cast leather. Against the law to sell as leather in europe and new zealand. Sales rep told us this was better than top grain cause it has a thin layer of polyurathane on it. Then why is it priced pretty much the same? Beware!
Will never buy there again... T. K.
The complaint has been investigated and resolved to the customer's satisfaction.
Easy Life Furniture
-
delivery of furniture
I purchased a couch and love seat at Easy Life Furniture last Sunday, and was promised delivery for today, 2/7/09. When my furniture hadn't arrived by early afternoon and I hadn't received a phone call, I called the Easy Life store and was told that my salesman had put down my address as a city 30 miles from me. Apparently they wrote down the wrong home phone number also (they said it was missing a digit) so when they called instead of calling the 2nd work number I provided, they just didn't bother to call at all. At 1:30 p.m. I am told by them that they couldn't possibly find time to drive another 30 miles to deliver the furniture today, and that they would deliver my furniture on the following Thursday. The only problem with that is I put the couch and love seat that I am replacing outside yesterday to facilitate the move, and it has been pouring rain since yesterday and my old couch and love seat is cloth. I am having a birthday party for my daughter tonight, and I have no living room furniture, except for the tables. I then asked the store manager Christine for my money back, and she told me since I paid by check it would take two weeks. The check has already cleared my bank, and with the internet being what it is, that would have been easy to prove. I would just suggest anyone beware of a purchase from them. They have several hours to correct their mistake, but refused to do anything but make me wait until next weekend, or wait for a check for 10 to 14 working days.
Resolved
The complaint has been investigated and resolved to the customer's satisfaction.
Easy Life Furniture
-
employee morale
not only does easylife not care about the customers, they do not care about their employees. i have worked for the company for a period of time, and have experienced there non committal to there customers.the sales staff has a monthly quota to achieve, if we do not achieve that quota three times
we are fired, no matter how long we have been there.recently we have experienced slumping sales
totals do to the recession were in, but corporate tells us everything is great, so they hire more sales employees for each store, plus cutting back our hours, and expect us to achieve our totals.
i have personally seen very experienced and knowledgeable sales people who have worked for the
company many years get fired recently for not achieving there totals.they do not care about us,
so why should they care about you.when you buy anything from us, please read the sales agreement word for word because there are alot of new inexperienced sales peoples with us now
who do not know much about this business.

IF THEY DON'T CARE ABOUT US, WHAT DO THEY THINK ABOUT YOU.

still working for company, but lookinkg for another job...
This review was chosen algorithmically as the most valued customer feedback.
We went to the store on 11/28/08 to buy 2 bed frames and 1 bunky board (kid 's furniture). The saleman checked and told us that what we want are in stock so we went to one of the sale desk to do the paperwork. We were not aware of the company's no return policy since there was NO sign posted in the store. After the saleman ran up the sale, he went over the...
Read full review
Easy Life Furniture
-
bedroom furniture
We bought a bedroom set from easylife and it was such horrible workmenship they replaced it 3 times each set getting worse then the first one...They offered for us the showroom set we didn't except. We asked for a refund of our money and they said that they don't do refunds that we would have to pick out another set. I in 30 years of shopping for furniture have never had not one single complaint about the quality, it arrived in perfect condition as expected when you buy new furniture. I will never buy from easy life again the stress of the whole ordeal was enough in it self dealing with their customer service manager and others. We're stuck with a new bedroom set that I'm gonna have to put in a guest room because I can't stand to look at it. Easylife sells garbage, don't buy from this company if your looking for good quality furniture.
Easy Life Furniture
-
poor product; poor follow-up
We purchased furniture in August of last year. Several months later we noticed a tear that starts at the seam. I went to the Cerritos store directly in May, a few weeks before Memorial Day, and I spoke to someone who told me that a representative would have to come to our house to inspect the sofa. A few days later someone from the Cerritos store called to make an appointment, but I was not home to take the call. They were given my cell phone number so that they could better reach me, but I never received a call. I called the Cerritos store on July 29th and was told to contact customer service at 714-367-1640; I left a message and nobody returned my call. I called the Cerritos store on July 31st and a message was taken on my behalf; he never returned my call. I called again on August 7th and an appointment was scheduled for August 11th between 2 and 6pm. There was no call and no show on August 11th. I called the store again on August 12th and was told that she was going to make some calls and that she would call me back. Again, no call. I called the store, AGAIN, on August 13th and spoke to someone who said that she had to make some phone calls to schedule another appointment. She called me and told me that I was going to be speaking to and working with someone directly to schedule an appointment. An appointment was scheduled for August 18th. She did come to look at the sofa and a statement was made and signed; we have yet to hear from anyone from Easylife.

I was disappointed with the individual who came to inspect the sofa. I expected someone in uniform and driving a company vehicle. Instead, she came in civilian attire and vehicle-VERY unprofessional! It is also quite clear that efforts to resolve this situation is very poor on the behalf of Easylife. All of the individuals I spoke to have been pleasant, but the follow-up has been extremely poor.
Easy Life Furniture
-
poor quality & horrendous service
The saying, "you get what you pay for" is indeed the case with this company. They have the worst customer service, far worse than any cable company. And their product, well there's a reason why their prices are low...they sell defective and poor quality items.

We purchased a leather sectional from the Glendale, CA store this hear. A little over a month later all the seams in one section separated...and no we are not heavy people, no we don't perferm gymnastics on the sofa. So we called and long story short they replaced the one section. Not 2 months after this the other part of the sectional developed cracks on the seat. This section isn't under a window, not even near indirect light. We called and they came out took a picture and we were told her supervisor would get back to us sometime in the coming week. Well no one did. After trying to track down someone for 6 WEEKs, I finally got in touch with someone at the store who told me our request for a replacement section was denied because we used non-hazardous(their product states to keep away from children, and we have 2, so I used organic leather wipes) organic cleaners.

I used the same organic cleaner on both sections of the sofa, the one they had to replace a month in and the original. So I guess I'll wait for the replaced section to start cracking...I'm not scrubbing it w/ comet, short of that any respectable leather cleaner should be fine. But of course, they know they sell defective products so they jumped on the "organic cleaner" wagon and used it as an EXCUSE not to replcace a DEFECTIVE sectional.

The moral of this story folks; Don't tell the truth! I should have lied and then they'd have to replace their defective product.

Save yourself the angst. DON"T WASTE your MONEY at EASYLIFE Furniture. Save a few dollars more and instead SHOP at THOMASVILLE during their sales. At least there they stand behind their product and actually prove customer service. I speak from experience.

EASYLIFE gives you a HARD TIME and NO CUSTOMER SERVICE. For lack of a better word, EASYLIFE BITES!
We are here to help
16 years' experience in successful complaint resolution
Each complaint is handled individually by highly qualified experts
Honest and unbiased reviews
Last but not least, all our services are absolutely free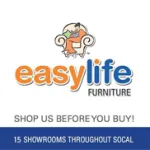 Easy Life Furniture contacts