Dan Marc Customer Reviews
10
Rate your recent experience
Pros and Cons of Dan Marc: A Review Breakdown
Dan Marc is a highly respected appliance repair company in the United States, known for providing excellent solutions to customers' needs. For years, the company has built a remarkable reputation for its outstanding services coupled with its highly trained, experienced technicians, providing a wide range of repair services for homeowners and businesses.

Dan Marc's positive reviews highlight the company's professionalism and prompt response to client repair needs. Customers have praised Dan Marc's exceptional customer service, transparency, and honesty, as well as the quality of work done.

In addition to its excellent service delivery, the company's website provides an easy-to-use interface, a robust communication system, and a simple pricing structure. Their highly trained technicians arrive at the repair site with the necessary tools and parts, ensuring a job well done, on-time repair, and most importantly, customer satisfaction.

Overall, Dan Marc is a reliable and trustworthy appliance repair company that provides excellent solutions to customers' diverse needs. They offer high-quality service, convenient communication, and prompt response; and are highly recommended by their satisfied customers.
One of the worst services
One of the worst services. They are holding repair service for 2 months saying they are waiting for the parts.
Awful customer service
Awful customer service. They billed me for a repair visit authorized by refrigerator manufacturer and did not complete the repair.
Never use this company
Never use this company. I would give 0 stars if I could. They have been out to my house numerous times to fix the same problem. They still cant fix it. The last time they came out was March. Now in June I have the same problem with my freezer. They want me to pay for another service call because it has been more than 30 days since theyve been to my house. This is the *** same problem. They are the worst.
Dan Marc performed a washer repair of a dispenser while under warranty
Dan Marc performed a washer repair of a dispenser while under warranty. The same issue showed up after 4 months and the company would not negotiate on the labor charges. Essentially if their techs do a poor job on the install, you are not covered for a year, just 90 days on labor. I understand if the issue was something else, but on something their service technicians installed where a part if covered for 1 year, they are not reasonable on a pro-rated service charge or covering the labor for 1 year, seems short sighted. The lack of working with the customer was shocking.
This is the WORST company ever
This is the WORST company ever. I've had them to my home on a few different occasions because they are the contract warranty service company for my appliances. Anything out of warranty, they charge a LOT for and do practically NOTHING. Last time for washer, the guy told us to adjust the soap dispensing setting and left...$125.00 later and a 15 minute call. I called them to see if they had an online portal so that I could pay without mailing a check and got the rudest treatment ever, and no call back as promised by the rude "customer service" person who spoke with me. I would rather pay someone else, than have this company in my house again, even for a warranty issue!
They are incompetent!
They are incompetent! They do no trouble shooting. If a part fails they just order a new part and just plug it in, never having checked the cause of the initial failure. At a time when getting electronic parts from Asia is difficult and involves long waits, they need to be more careful with the way they function. Also, if one part is missing from your order, they will use other parts that had arrived for your order in other jobs. That makes for extremely long delays in getting anything repaired by Dan-Marc Appliance. It took 6 months for my own appliance repair to be sort of completed. While doing the repair, they caused another problem in the appliance which they would not fix, even though it was covered by their own company's warranty.
I was just fleeced by this Company
I was just fleeced by this Company. BUYER BEWARE - find someone else!. They sent a 'tech' to service my refrigerator that was not working. Tech spent 20 minutes explaining the poor design of the refrigerator and thought he could solve the problem by stuffing a vent with silicone and i was charged $200. Refrigerator continued to not keep correct temperature. Called the company back 33 days later and told they only warranty for 30 days - too bad - would have to pay full price as thought they never came out. They never followed up to see if problem was fixed and were not helpful at all - instead blamed me for waiting too long to call them back. Absolutely horrible experience...shameful. The only reason I am giving even one star is because you have to give one to leave a review.
We had a problem with our wall oven
We had a problem with our wall oven. They came out and said the wires were crossed and it was fixed, two hours later it was not working correctly. The tech who came out seemed confused. We complained and they sent another tech out who diagnosed another problem and said he would order the part, the part came in and we set up a time for them to fix it. Today, he called to say he was on his way but that we would have to pay another diagnostic fee, I said I did that the first time you came, he said there would be a diagnostic fee, part fee and labor. His quote was $130 more than the quote I received from their scheduler. He then rudely told me the part might not fix the problem, he was so rude. I called the company to question the charges when I explained the person put me on hold for 5 minutes and then hung up. I cancelled. I would never recommend this company to anyone!
TERRIBLE SERVICE!
TERRIBLE SERVICE! Our refrigerator stopped working, and we called Dan Marc per our warranty terms with the manufacturer. They did show up on time, and the tech was friendly (only reason it's not zero stars). Tech was unable to fix the problem because he stated that the part (heater and harness) was a rare thing to break and he didn't have one on him or in the warehouse, so they had to send out for it. He said 5-10 days. 2 weeks later there was no update from them about the status of the part or when they are going to come repair. I called and spoke to several people, one of whom had no idea that I needed anything repaired, another who stated that the tech hadn't even put in the order to be placed but that she would follow up with him, and another who said it would be up to 3 weeks to get the part in question! Suffice it to say it is 3 weeks later and still not even a courtesy call from this company about the status of the order. DO NOT USE THEM!
Dan-Marc Appliance repair is truly the worst company I've ever encountered
Dan-Marc Appliance repair is truly the worst company I've ever encountered. They are dishonest and completely incompentant. The short story is that over a period of 9 weeks they came to my house 5 times to fix my washer, each time needing another part they didn't know they needed the time before and ultimately called it "fixed" when it clearly wasn't due to their own incompetence. They also did not completely put the washer back together which caused a separate problem. The long story. My Whirlpool washer broke down and since they are the local certified Whirlpool experts, they were sent to fix it. They took a look and said they needed to order a part, then two weeks later they came back with that part and said oops, we need another part. Two weeks later they came back with both parts and after an hour or so said oops! we need another part. But this part is going to take 3 weeks to come in. Three weeks later they show up with the third part and call the job complete. The first load of laundry we did (just minutes after they left) would not spin, the clothes were sopping wet. We call them immediately and they say we can come back next week. Now we are on week 9 of no washer and 4 visits from their "trained" repairmen. They come back this week and run an empty load -that's ALL they did, they did not move the washer this time - they say it's spinning and there is no error code so it's fine even though we tell them it's not spinning enough to wring the clothes - they tell us it's fine and that they are not going to run it with clothes in it because according to them, it's working. Today we had a new washer delivered and when the delivery guys pulled out the washer they saw that the Dan-Marc repair men never replaced the back of the washer, nor did they reconnect 2 latches. The spin barrel was just sitting there exposed and not stabilized so that's why it wasn't spinning. They KNEW that when they came back for the 5th time which is why they wouldn't run the machine with clothes in it. There was also evidence that the third part they needed was something they broke while trying to fix it.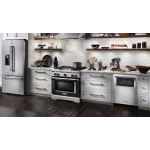 Dan Marc

contacts
Your Voice Matters: Our Commitment to Genuine Reviews
Empowering Real Experiences
At ComplaintsBoard, we believe in the power of true customer stories. Our platform is a space for authentic voices, where experiences, both good and bad, are shared openly and honestly.
Dedicated to Authenticity
ComplaintsBoard is vigilant in our fight against false reviews. Our team employs robust verification methods to ensure every review reflects a real customer experience, upholding the integrity of our platform.
Encouraging Detailed Feedback
ComplaintsBoard values reviews that come with real evidence. Whether it's a photo, a detailed account, or additional documentation, such substantiation adds credibility to your story, helping others make better-informed decisions.
Balanced and Constructive Conversations
We're more than just a complaints board; we're a community for balanced dialogue. ComplaintsBoard encourages reviews that not only highlight issues but also acknowledge positive aspects, fostering a fair and comprehensive understanding.
Free and Fair Platform
ComplaintsBoard's commitment to maintaining a free and unbiased platform is unwavering. Every review is treated equally, ensuring that your voice is heard and respected, regardless of the nature of your experience.