BabyHaven
-
Never again!
My story is simple. I found this website www.babyhaven.com and was interested in their products. I picked several items and made my order. I received all the confirmations and everything seemed to be fine.
They said I'll get my odder within one-two weeks. Gave them three weeks and waited patiently, but my order did not arrive. When I contacted BabyHaven customer service they said my order was on its way. Later they stopped replying to my messages. Never again!
BabyHaven
-
Never delivered my purchase
I have ordered a dish set from and did not received it. There is still no product and no refund even though my I made my order over three months ago. They never pick up the phone, so don't bother calling. First I was communicating with BabyHaven customer support via email, but one day they just stopped relying to my messages. They offered me a refund, but never returned my money. Very dishonest and unreliable company. My advice is to stay far away from this place.
BabyHaven
-
Blah-blah and impossible to trust them
We ordered couple of toys from the company www.babyhaven.com. The seller confirmed the purchase and told me that the delivery time could vary. But the seller simply hasn't delivered the order. WE again and again emailed him and asked to return the sum back or to provide refund, but the seller continued to tell me some stories and promises. Be careful with these guys. You can't trust them.
BabyHaven
-
Receiving horrible mails from them
I ordered a hello kitty toddler sheet set for 85.00 waited three weeks for it and they sent the wrong one. Then after talking with them they promised to send correct one. Waited another month and kept calling asking them what was going on and finally they said they didn't really send another one out. They then proceeded to send me 4 different mailing labels for one return package. I used one and took it to fed ex for return. They refunded me and everything was fine. Now two weeks later I am getting nasty emails about why haven't I sent my package back. After two emails informing her I had and another with my receipt I finally had to call them and yet again tell them I sent back package, not two minutes later received yet another email. Horrible!
This review was chosen algorithmically as the most valued customer feedback.
Apparently it's impossible to cancel an order in this site. I brought baby gates through amazon but the seller was actually babyhaven. I tried to cancel the order on the same day but couldn't through amazon. So I had to send this site an email and they basically wrote back and said that they will "try" to cancel my order. Not surprisingly they didn't cancel...
Read full review
BabyHaven
-
Bad bad bad experience concerning delivery and customer service
Bad bad bad experience concerning delivery and customer service:
- Really nice website
- Really nice products
- Really really really bad customer service
1. Place the order´and the website draw the money from my account. 2. The package was send the same day. 3. But never reached my address. 4. I complained and got an answer immidiately from customer service that I had to wait. 5. Waited without luck and got a profeesionel but not true answer. 6. Babyhaven confirmed to payback and then eveything stopped. have now been writing to them in month and they keep giving me excuses and now the even say they never received my money? Think I lost my money and will have to accept. How they can keep running their business I do not understand...
BabyHaven
-
Not a good experience and would not purchase from them
Worst customer experience ever. Placed an order on 2/1 and paid on the same day, five days later I get an email asking me to pay for the item. Called customer support and explained to them that I had pay and received a payment noticed from them. Customer support was no help and told me to repay again, which means my item would have taken at least 14 days from day purchased to day received.

Not a good experience and would not purchase from them. Don't waste your time, buy it from more reputable website like Amazon or other website.
We are here to help
16 years' experience in successful complaint resolution
Each complaint is handled individually by highly qualified experts
Honest and unbiased reviews
Last but not least, all our services are absolutely free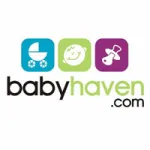 BabyHaven contacts