Twin River Casino Hotel complaints
12
Newest Twin River Casino Hotel reviews & complaints
Stinkin rich slot machine
I deposit 10$ on slot and the lady next door, said it was her daughter slot machine and she had 20$... She was having a fit... I apologize multiple times and I asked and young lady next door if it was her or her sister... She just mumble... So the best resolution was pressing the service button. She called me stupid for pressing it.. He came and acknowledged her comments first and went said its ok.. And she misunderstand... But it was totally b.S. And it does not give you the right to judge person. She was very condasending like i'm steal her child money... The tech guy came in and was on her side of course without acknowledging my prospective. He assumed that person. Was right. I just give up on hope and gave on my 10$ and said god bless you to the lady... I am highly disappointed... There multiple occasions I encounter miserable bad behavior at twin by twin river...
geese poop
How can you have a beautiful new hotel, and have geese poop all over the grounds where you have to drag your luggage to get into the casino..you cant tell me you cant fix this problem..this is not a way to welcome your guest...
no hotel parking
no hotel parking- have to carry luggage from parking lot through casino then turn left and walk down this long hallway to hotel lobby. -no seating for handicap or elderly down this long hallway. architect did poor designing. should have a people mover like Foxwoods Casino .I asked for a handicap room hoping to get a low bed and was told all the beds are the same height. I had to get a step stool to get into bed. Then all computers went down for about 3 hours or more. You couldn't get any money and the machines would not take your winning tickets. I came all the way from Ct. for this aggravation. never again nor will I recommend it to anyone. The Ladies bathroom in front of casino on the North side was filthy.
the afro american woman who works in the cashier window was very arrogant when the line of people was trying to collect from their tickets. Nov. 1st 2018
try to cater to elderly and handicap much better
Is Twin River Casino Hotel legit?
Twin River Casino Hotel earns 96% level of Trustworthiness
SAFETY NOTICE: ComplaintsBoard has analyzed Twin River Casino Hotel and determined that it has perfect credibility and is completely trustworthy, with a legitimacy rating of 96%.
We found clear and detailed contact information for Twin River Casino Hotel. The company provides a physical address, 7 phone numbers, and 2 emails, as well as 3 social media accounts. This demonstrates a commitment to customer service and transparency, which is a positive sign for building trust with customers.
Twin River Casino Hotel has claimed the domain name for twinriver.com for a long time, which suggests that the website is established and has a history of being in operation. This is a positive sign, as it indicates that the website has been around for a while and may have a reputation to maintain.
Twinriver.com has a valid SSL certificate, which indicates that the website is secure and trustworthy. Look for the padlock icon in the browser and the "https" prefix in the URL to confirm that the website is using SSL.
Our scan shows Twin River Casino Hotel website is free from malware and phishing activities, which are types of online threats that can include viruses, worms, Trojan horses, ransomware, and other malicious code, as social engineering tactics used to trick users into sharing their personal information.
We looked up Twin River Casino Hotel and found that the website is receiving a high amount of traffic. This could be a sign of a popular and trustworthy website, but it is still important to exercise caution and verify the legitimacy of the site before sharing any personal or financial information
However ComplaintsBoard has detected that:
Despite a high level of trust, our investigation found issues with Twin River Casino Hotel's service, including poor customer service, lack of accountability, and responsibility to resolve complaints. Customers may face long wait times for responses, receive generic or unhelpful answers or no response at all. Only 33% of 0 complaints were resolved.
There was some difficulty in evaluating or examining the information or data present on the twinriver.com. This could be due to technical issues, limited access, or website may be temporarily down for maintenance or experiencing technical difficulties.
Our Verdict: Twin River Casino Hotel is highly recommended company, but beware of poor customer service. Their 33% Resolve Complaints rating is a cause for concern. We advise using their services securely and reviewing complaints beforehand.
customer service
I camp to Twin River on 10/25 by an invite to the buffet dinner not expecting to much as it is a comp event. I have been a operations director in the food and beverage area for over 30 years and all I can say as to the way we were treated by your staff was to say the least appalling the person who seated us was very pleasant, helpful and professional. The reason we get invited to these events is because we spend a good amount of money and time at Twin River. We went over to the buffet on the back left hand wall and there were 4 of us one of our party couldn't find his little raffle ticket given to him. We were never told we needed to keep this ticket to give to the sever at the buffet in order to get the shrimp portion of the buffet I had my ticket and was given the last of what was in the pan scraps all broken up bits of shrimp served to me in a french fry paper boat really why not just place the shrimp on my plate? then My friends wife explained to the server he didn't have his raffle ticket as no one is telling customers they need the ticket the girl actually told her it was their problem and to go find a manager and then took the pan from the warmer and walked away talking out loud how she didn't need to deal with this s*&*(&t not today or any day and my friend was nothing but nice to her and looking for direction on what to do. We just let it go sat down and ate our meal. Food was what we expected not the quality but this is totally not the issue here. We then get up and leave as we were walking out we were having a conversation together and were not looking as to were we were leaving from and we walked out the exit I guess and the man at the door in the suit jacket actually had the nerve to say out loud to his co-worker 4 people 2 signs guess they cant read. Are you kidding me insulted not once but twice and to this level there are many new options now open to not have to come to Twin River with much better player comps and treatment. Plainridge treats there players as if they were the Kennedy's compared to the treatment we received there this evening which was to be a nice evening rewarding us for being loyal customers. By far the worst customer service, Food Service and training I have seen in a long time OLD Country Buffet was better and they are out of business.
management
I used a ATM machine at twin river casino to withdraw $1200.00 I didn't get the money but it charged me the $1200.00 plus a $5.00 fee. At no given time did anybody whatever at twin river attempt to help me in any way, shape or form. In the long run, I contacted chanel 12 news, who in return put the fear of God into the disrespectful, rude and ignorant staff at twin river, and got me my money back. If nothing illegal was going on, why did they give the money back when chanel 12 called? My advice to anyone who goes to twin river, and has any kind of problem whatsoever, contact the state police or chanel 12 IMEDEITLEY, IT'S the only protection you will have against the dirty animals that run twin river casino.
security
The first thing you should notice when you walk through the door there is no security. People are allowed to bring their own alcohol. People are allowed to wear flip flops, and people are allowed to bring their own food. This should tell you what kind of place it is. You walk through the casino and all you see is people with their bare feet up on the machines (disgusting), and people banging the hell out of the machines. You go to the mens room, all you can smell is marajuna and the sound of people snorting Coke. These people know that there is no security WHATSOEVER to stop them. You try to relax at a machine, at least 10 people will try to bum cigarettes or money from you, again, no security. You have better odds of getting robbed in the parking lot than winning on a slot machine, again, no security. Management is aware of what goes on but their too ignorant and disrespectful to help any respectable person out. It only takes 1 visit to twin river for a decent and respectable person to know never to go back.
Casino
I agree with the several other writers on the complaint board. Twin River is the WORST casino. They do not pay out at all! Go to Foxwoods if you actually want to win anything, or at the very least, you'll at least break even. Twin River is HORRIBLE! Save your gas and your money. The place is a joke. Tightest slots in all of New England! That's the truth!
Disgusting
What a joke of a casino. Filthy, disgusting, nasty smells. Bathrooms are

unsanitary, urine everywhere, blood on floors and walls, toilets not flushed, used paper all over the place. And as far as the slots, they are just as dirty and disgusting. WOW, what a sewer hole. Never Ever going back again. Your commercials say it is a world class casino? That's a joke. More like a world class cess pool. GROSS! World class casinos are Foxwoods, Mohegan and MGM, something twin river will never, ever, ever be. P.S. If you do decide to check out twin river, please, get a tetanus shot first.
The complaint has been investigated and resolved to the customer's satisfaction.
Free Play
I am disgusted on howd you are using your free play. I have not received any in over six months. My girlfriend only went when I did and she spent the same and she receives $20 and I receive nothing but flyers. How disgusting!
Resolved
The complaint has been investigated and resolved to the customer's satisfaction.
The complaint has been investigated and resolved to the customer's satisfaction.
This review was chosen algorithmically as the most valued customer feedback.
Of course every Casino has losers and we know that but I must say out of all the Casino's I've been to Twin River pays out next to nothing. The highest payout I've seen there is around $4000. You might think that's a great payout but for a Casino that is very very weak if that's your highest.Your chances of hitting it big at this Casino are slim to none...
Read full review of Twin River Casino Hotel and 7 comments
The complaint has been investigated and resolved to the customer's satisfaction.
Amateur Night
Was just at Twin River...had (what I thought was) alot of points on my card since I've been there at least 25 times...turns out my points only accumulated to around $30.00...this place is pure amatuer night...2 of the 3 atm machines in a certain area were broken, every 15 minutes or so this very annoying announcer with probably the most annoying voice ever is yelling at you to sign up for a players card, you can't get a free drink (unless you want to drink soda), the waitresses walk around yelling "drinks"...very unclassy place, not sure what they are thinking and of course the machines are very obviously calibrated to not pay..this was my last time, bring abck the old Lincoln Park with the very cozy bar in the non-smoking area where you could get a sandwich, play keno and just enjoy...this place now really sucks...
Resolved
The complaint has been investigated and resolved to the customer's satisfaction.
The complaint has been investigated and resolved to the customer's satisfaction.
Can't win
There is absolutely no sense thinking you are going to get lucky at Twin Swamp. Just like they loosened up those machines when they opened the new room last year, they have tightened them down as much as they can to try to "stay open." The place will never close as it brings in a ton of cash. The state is far too greedy at 61% of the take and the real cause for "failure". I recommend everyone avoid this place until things gets financially straightened out. I feel bad for all the employees that have lost jobs and more that probably will.
Resolved
The complaint has been investigated and resolved to the customer's satisfaction.
Collect Your Trust Badge
Be recognized for outstanding customer service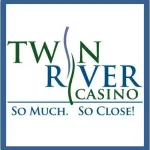 Twin River Casino Hotel

contacts
We are here to help
19 years' experience in successful complaint resolution
Each complaint is handled individually by highly qualified experts
Honest and unbiased reviews
Last but not least, all our services are absolutely free