Overview of LostMyDoggie customer experience
LostMyDoggie has received numerous complaints from consumers regarding their services. Customers have reported that the company's website is difficult to navigate and that their customer service is unresponsive. Many have also claimed that the company's services are overpriced and that they do not provide accurate information about lost pets. Additionally, some customers have reported that LostMyDoggie's services did not help them find their lost pets, despite paying for them. Overall, LostMyDoggie has a poor reputation among consumers and is not recommended for those looking for reliable and effective lost pet services.
LostMyDoggie complaints
19
Newest LostMyDoggie complaints
Disappointing Experience with LostMyDoggie.com: Heartless and Greedy Company
I'm really bummed out about my experience with lostmydoggie.com. I decided to purchase the Amber Alert service for my neighbor who lost her furry friend on July 2, 2022. Unfortunately, yesterday some folks found the doggy in a creek and he had passed away. We were all devastated by the news.

I reached out to lostmydoggie.com via email to request a refund, but they denied my request and refused to give me my money back. It's really disappointing to see a company that claims to care about pets act so heartless and greedy.

I don't think I'll be recommending lostmydoggie.com to anyone in the future. It's clear that they don't care about our furry friends as much as they claim to.
LostMyDoggie Review: Robocalls and Negative Reviews - Save Your Money and Try Other Methods
I gotta say, I had a pretty bad experience with LostMyDoggie. They use these automated phone calls that just keep ringing and ringing, even if you're on the Do Not Call list. It's super annoying and honestly, it's probably not gonna make your neighbors too happy either. I mean, who wants to help someone find their lost pet when they're being bombarded with robocalls?

And if you don't believe me, just take a look at all the negative reviews on their website and the BBB. It's pretty clear that a lot of people have had similar experiences. So my advice? Save your money and try other methods to find your pet. Post flyers around your neighborhood, ask your friends to help you search, and maybe even check with your local animal shelters.

I know it's tough when you lose a pet, but don't fall for these scam artists. They're just trying to make a quick buck off of your desperation. Stick with the tried and true methods and you'll have a much better chance of finding your furry friend.
LostMyDoggie Review: Disappointing Experience, Inaccurate Reach, and Poor Customer Service
I gotta say, I was pretty disappointed with my experience using LostMyDoggie. I mean, I had high hopes for this service, but it just didn't deliver the goods, ya know?

So, here's the deal. I reached out to Sandy (whoever she is) before I forked over my hard-earned cash to ask about how accurate their reach was. She said she'd send me a list to confirm after I paid up, which seemed fair enough. But when I got that list, I was pretty bummed to see that it didn't include the 100 houses closest to mine - you know, the ones that were most likely to spot my lost pup.

I told Sandy that I felt like I'd been oversold, and asked for a refund not once, but twice. But did she respond? Nope. Nada. Zilch. So, I had to take matters into my own hands and file a dispute with my bank. Not exactly the hassle-free experience I was hoping for.

All in all, I'd say that LostMyDoggie just didn't live up to the hype. Their product didn't reach any of my neighbors, let alone all of them. So, if you're looking for a reliable way to find your lost pet, I'd suggest looking elsewhere.
Is LostMyDoggie legit?
LostMyDoggie earns 91% level of Trustworthiness
SAFETY NOTICE: ComplaintsBoard has analyzed LostMyDoggie and determined that it has perfect credibility and is completely trustworthy, with a legitimacy rating of 91%.
We found clear and detailed contact information for LostMyDoggie. The company provides a physical address, phone number, and 2 emails, as well as 3 social media accounts. This demonstrates a commitment to customer service and transparency, which is a positive sign for building trust with customers.
LostMyDoggie has received 9 positive reviews on our site. This is a good sign and indicates a safe and reliable experience for customers who choose to work with the company.
LostMyDoggie has registered the domain name for lostmydoggie.com for more than one year, which may indicate stability and longevity.
Lostmydoggie.com has a valid SSL certificate, which indicates that the website is secure and trustworthy. Look for the padlock icon in the browser and the "https" prefix in the URL to confirm that the website is using SSL.
Our scan shows LostMyDoggie website is free from malware and phishing activities, which are types of online threats that can include viruses, worms, Trojan horses, ransomware, and other malicious code, as social engineering tactics used to trick users into sharing their personal information.
Lostmydoggie.com you are considering visiting, which is associated with LostMyDoggie, is very old. Longevity often suggests that a website has consistently provided valuable content, products, or services over the years and has maintained a stable user base and a sustained online presence. This could be an indication of a very positive reputation.
Several positive reviews for LostMyDoggie have been found on various review sites. While this may be a good sign, it is important to approach these reviews with caution and consider the possibility of fake or biased reviews.
However ComplaintsBoard has detected that:
While LostMyDoggie has a high level of trust, our investigation has revealed that the company's complaint resolution process is inadequate and ineffective. As a result, only 5% of 19 complaints are resolved. The support team may have poor customer service skills, lack of training, or not be well-equipped to handle customer complaints.
Our Verdict: LostMyDoggie is highly recommended company, but beware of poor customer service. Their 5% Resolve Complaints rating is a cause for concern. We advise using their services securely and reviewing complaints beforehand.
Mixed Feelings About LostMyDoggie: A Review of Their Services
I wrote a review before about LostMyDoggie, and I gotta say, I got mixed feelings about it. I did find my dog, but it wasn't through any of the services they offered for free or that I paid for. It was a tough time for me and my family, and we were devastated when we found out that our beloved pet had passed away. We found out that he was taken to a local pet hospital, which was on the list of ones that were allegedly faxed by LostMyDoggie. However, the hospital said they didn't receive any fax from them.

I first heard about LostMyDoggie from my local shelter, but they didn't necessarily recommend it. They just gave me a list of websites to try. I decided to give it a shot anyway, hoping that it would help me find my dog. I signed up for their services, and I gotta say, it was a bit confusing. I had trouble navigating the website, and I wasn't sure if I was doing everything right. But I managed to fill out all the necessary information and waited for any updates.

I did receive some emails and calls from LostMyDoggie, but they didn't really provide any useful information. They just told me to keep looking and to keep spreading the word. I was a bit disappointed, to be honest. I thought that paying for their services would give me more help and support, but it didn't seem like it.

Overall, I can't say for sure if LostMyDoggie is a scam or not. But based on my experience, I'm not sure if it's worth it. It was a confusing and frustrating process, and I didn't feel like I got the help I needed. Maybe it works for some people, but it didn't work for me.
LostMyDoggie.com Review: A Costly and Confusing Resource for Finding Lost Pets
So, we had a bit of a scare when our furry friend went missing. We were in a panic and didn't know what to do. That's when we stumbled upon lostmydoggie.com. It seemed like a great resource to help us find our beloved pet. We quickly filled out all the necessary information, including our credit card details, and were just about to upload a photo when our dog miraculously returned home.

We were relieved, but also a bit frustrated that we had already paid the $35 fee for "upfront costs." We weren't exactly sure what those costs were for, especially since we hadn't even uploaded a photo yet. It was a bit confusing and left us feeling a little ripped off.

In hindsight, we wish we had just invested in a simple dog tag with our contact information. It would have been a much cheaper and more effective way to ensure our dog's safe return. We also wouldn't recommend using lostmydoggie.com if your pet goes missing. It just seems like a waste of money and time.

Overall, we're just happy that our dog is back home where she belongs. We hope that others can learn from our experience and take the necessary precautions to keep their pets safe and sound.
LostMyDoggie Review: Total Waste of Money and Negligent Service
I gotta say, I had a pretty bad experience with LostMyDoggie. I was really hoping they could help me find my little pup, but it turned out to be a total waste of money. I paid $120 for their services, but I never got any confirmation that they actually sent out alerts to anyone. I even called them up to ask what was going on, and they promised to send me an email with more information, but I never got it.

To make matters worse, they never returned any of my phone calls, and none of my neighbors, vets, or shelters ever received any notifications about my missing pet. It was like they just took my money and ran.

I was really counting on LostMyDoggie to help me find my furry friend, but they let me down big time. And to top it all off, my poor dog ended up passing away because I couldn't find him in time. It's really heartbreaking to think that their negligence might have contributed to his death.

All in all, I wouldn't recommend LostMyDoggie to anyone. It's just a scam that preys on people who are desperate to find their pets. Don't waste your hard-earned money on this website - you're better off trying to find your pet on your own.
Lostmydoggie.com Review: A Scam Service That Preys on Desperate Pet Owners
I recently had an experience with lostmydoggie.com and I have to say, it was not a good one. I was really hoping that they would be able to help me find my lost dog, but unfortunately, it seems like they are just a scam.

I paid them to send out flyers to various places in my area, but when I followed up with those places, none of them had received anything. I even called some of the vets and shelters that they claimed to have sent alerts to, but they had never heard of lostmydoggie.

It's really frustrating because I was hoping that this service would be able to help me find my dog, but it seems like they are just taking advantage of desperate pet owners. I even tried emailing them about the issue, but they refused to answer me. It's really disappointing.

I wish I had read some reviews before I decided to use lostmydoggie.com. It seems like a lot of people have had similar experiences and have lost money to this scam. I hope that more people will speak out about this so that others don't fall victim to it.

In conclusion, I would not recommend lostmydoggie.com to anyone. It's a waste of money and they don't seem to actually provide any real help in finding lost pets. Save your money and try other methods of finding your pet instead.
LostMyDoggie Review: A Great Service for Finding Lost Pets
I recently used LostMyDoggie to help me find my lost pet and I have to say, I was impressed with the service. I opted for the top option and paid for it, hoping that it would help me find my furry friend. And boy, was I surprised when I received a text message saying that someone had found my dog!

At first, I was ecstatic and hopeful. After all, I had spent countless hours searching for my pet and shedding tears over his disappearance. But then, the person on the other end of the text message asked for verification from a code. I was a bit confused, but I sent a picture of my dog and a description anyway. The person kept asking for a code, and I started to wonder if it was spam.

I asked the person if it was spam, and they replied with an OMG no. But then, they accused me of being spam! I was taken aback and asked where they found my dog and what town they were in. Their texts were a bit unclear and seemed foreign, so I wasn't sure what to make of it.

In the end, I had to block the number as the person kept texting me despite my attempts to clarify my dog's looks and location. It was a bit frustrating, but I was grateful for the initial burst of hope that LostMyDoggie gave me.

Overall, I think LostMyDoggie is a great service for pet owners who have lost their furry friends. While my experience with the text message was a bit confusing, I appreciate the effort that the company puts into helping pet owners find their lost pets. It's a vulnerable and desperate time for pet owners, and I think LostMyDoggie does a good job of providing hope and support during that time.
LostMyDoggie.com Review: Is It Legit or a Scam?
I gotta say, I was pretty skeptical about LostMyDoggie.com when I first heard about it. I mean, how can a website help you find your lost pup? But then I saw all the five-star reviews and thought, "Hey, maybe this is legit!"

But then I did some digging and found a bunch of people who were really unhappy with the service. Like, seriously unhappy. They said the company was a scam and that they didn't do anything to help find their lost dogs. Some people even said that LostMyDoggie.com didn't call their neighbors or alert their vet, which seems pretty sketchy to me.

I found a few reviews on ComplaintsBoard.com that were especially damning. One person said, "Stay away from this website if the dog gets lost." Yikes. Another review on [redacted].com accused LostMyDoggie.com of posting fake reviews on Bizrate. Double yikes.

So, I'm not saying you shouldn't use LostMyDoggie.com if your dog goes missing. But I am saying that you should do your own research and read some of the negative reviews before you decide to fork over your hard-earned cash. Because it seems like there are a lot of unhappy customers out there.
LostMyDoggie Review: Inaccurate Flyers and Poor Service - Don't Waste Your Money!
I gotta say, I wasn't too impressed with LostMyDoggie. They seemed more interested in making a quick buck than actually helping me find my lost pup. They claimed they called my neighbors, but when I handed out flyers to 100 homes, no one said they received a call. What a waste of money!

They also said they sent letters to the vets in my town and surrounding areas, but when I personally hired someone to go to all the vets, no one had received a flyer. And to top it off, they got my dog's weight and breed wrong on the flyer. She's 8 pounds and a toy schnauzer, not a miniature!

I suggested they try using Yelp to find vets in the area and send them flyers or fax them, but they said they only mail letters. And why not have the computer call the neighbors every day instead of just once? Seems like they could do more to actually help bring lost pets home.

Their flyers were inaccurate and didn't help us at all. We ended up putting up huge posters near shopping centers and food stores, and someone called 12 days later with our lost dog. We relied on LostMyDoggie for the first week, thinking they were doing the work, but we had to take matters into our own hands.

Save your money and don't bother with LostMyDoggie. They don't seem to care about accuracy or actually helping you find your lost pet.
basic package
they scam people. They never did anything and they called me to ask for more money. I tried to cancel the payment but they never got back to me. They are a fake company
Desired outcome: reinbusement
lost my doggie alerts - none were provided and then they took the credit and refused to refund my money
I used them as well ONLY I found my dog at the pound NO ONE in the area received calls. When I found my dog at the pound I had a FIT because I was NOT notified & when I asked WHY the response was we were NOT notified.
then lost my doggie updated my status to reunited! even though they did not do it they had NOTHING to do with finding my dog
and still have not refunded my money see email below:
I did that and palm beach animal care and control is on that list. which I WHY I am upset. The call I received WAS on my cell phone. this whole email is going on every blog known man. and my dog was found no thanks to you people. it took me going to peggy adams and them looking in animal control's data for PEGGY ADAMS to tell me where my dog was. Not happy want a refund.

From: LostMyDoggie.com
To: >
Sent: Wednesday, March 7, 2018 9:34 AM
Subject: Re: LostMyDoggie.com Comments

I am sorry you are so upset. The phone calls went out yesterday, March 6th, at 10:00 a.m. and the radius was 8/10th of a mile, just shy of a mile. The radius of the calls is determined by how many people in the area have listed phone numbers. Your kids would not have received a call because unless their numbers are publicly-listed, the cell phones would not get a call. Attached please find the address-phone log of the phone numbers we called in connection with your lost pet alert.

There are a few reasons why someone would not receive a telephone alert:

1. They do not have a land line (home phone), or they have not registered any other number with the appropriate agencies. Our proprietary system will call the main emergency number that is on file with the credit bureaus and/or the utility companies. (This will include landlines, cell phones, mobile devices and voip phone systems, as long as they are listed.)

2. Non-published service: If a household has a land line that is not published in the Directory White Pages or Directory Assistance (411), this household's land line won't be available for calling. It must be a listed number for us to access the information.

3. They were called, but did not answer and did not have an answering machine, or the line was busy. We retry busy and no-answer numbers, but if they do not answer or the line is still busy, they will not be reached.

4. Someone in the household may have answered the call but did not inform others in the household of the nature of the call.

5. They are on our Do Not Call list.

Faxes and emails are computer-generated and are randomly selected from a list that is in our very large database. We do send out the faxes and emails that are listed in your account, but we have no control over what happens to them on the receiving end. To see the list of places we faxed and emailed, just log into your account and click on 'faxes/emails'. You'll also notice that if people from the general public in your area have signed up to receive our flyers (we call this the Pet Rescue Team), then additional emails would be reflected at the bottom of the list.

Please keep in mind that most facilities have more than one person working there, and whoever received the fax or email may not have shared it with others in the facility. We also find that not everyone at the facilities is even aware that a book of lost & found pets might be kept behind the counter and that the flyers are simply placed in that book. Also, sometimes faxes fail and do not come through on the receiving end, even though we sent them. Some facilities that are in your area may have requested to be put on our "do not fax" or "do not email" list, so of course they would not show up on the list of places that we sent flyers to. Employees at those facilities may not be aware that higher-ups contacted us and requested to be removed from the notification lists.

Our free fax and email service is meant to help get the word out, but it cannot replace all the hard work it takes to physically get out there and look for your pet. It is especially important to go in person to all shelters in your county, and to look at the photos of animals in their sick/injured area, as well. Do not rely on their websites or on what someone may tell you on the phone. There are too many people working at the shelters for each person to know everything about every animal that comes in. You must go in person every day or two to look for yourself. It is painstaking and difficult work, but your diligence will be worth it.

If you have any other questions, please do not hesitate to contact us.

Sincerely,

LostMyDoggie.com
LostMyKitty.com

Sincerely,
LostMyDoggie.com
LostMyKitty.com
[protected]@lostmydoggie.com
http://www.lostmydoggie.com
[protected]

-----Original Message-----
From:
Sent: Wednesday, March 7, 2018 2:35am
To: "LostMyDoggie.com"
Subject: Re: LostMyDoggie.com Comments

here is all the info below and the last 4 of the card that was used is 4155. Exp 08/22. btw still no neighbor alerts
current picture.

Order Status:
PROCESSED (see on site)
Order Number:
198431
Broadcast Time:
03/06/18 10:00 AM EST
Found Status:
STILL MISSING
UPDATE TO REUNITED
Alert Type:
Lost Pet
Pet's Name:
Chula
Kind of Pet:
Dog
Pet Breed:
Pit Bull
Pet Gender:
Female
Pet Color:
White, Orange

Pet Description:

Orange and white pitbull. she is harmless and probably afraid
Missing Address:
Lake Worth, FL 33461

Contact Info:

Listing Details

DESCRIPTION
PRICE

250 Neighbor Alert
$27.48
FrontPage Ad
$6.95
FaceBook Post
$4.95
List A Reward
$10.00
Extend Listing
$3.95
Post Number
$2.95
Total Paid:
$56.28

From: LostMyDoggie.com
To:
Sent: Tuesday, March 6, 2018 10:41 PM
Subject: RE: LostMyDoggie.com Comments

We're unable to find an account for you under this email address. Can you please provide us with the ID number? Or if you registered under a different email address, please provide that to us.

Sincerely,
LostMyDoggie.com
LostMyKitty.com
[protected]@lostmydoggie.com
http://www.lostmydoggie.com
[protected]
Sad experience
Something tells me their service works for definite people, I am not one of them.
All they want is my money for the service that wasn't provided. I paid for their help, they promised to make calls to find out whether the people saw my dog or not. One of my friends lives not far away from me and she said she didn't get any calls. Same was said by other several neighbors of mine. I wonder why?
Each time I call they report what they did. But in fact the job was never done, it wasn't even started. It's very easy to check.
So I have nothing positive to say. I am probably just unlucky, that's all...
stay away
You make money on people's problems. I guess it's a normal thing, but you should do your work properly and don't steal people's money.
I was trying to find my dog with your help. I filled the forms, provided needed information, including my credit card and was immediately charged before I submitted anything. Later, when I did, the website said that they charged me for additional fees. What kind of fees and why haven't you warned me BEFORE?
The complaint has been investigated and resolved to the customer's satisfaction.
LostMyDoggie has left an official reply on this complaint.
Don't be scammed
I lost my dog and I was so desperate and had no idea what to do. I found this website Lostmydoggie and made an account there, hoping to get some help.
This site did not help me at all, my neighbor found my pet faster than these guys.
So I went online and cancelled my account, but before that they fraudulently charged my card for who knows what. When I signed up I gave them my card details. That my moment I could think of my dog so I gave them all the information they asked. Don't be scammed and don't use this bogus service!
Resolved
The complaint has been investigated and resolved to the customer's satisfaction.
Owner refused to show the dog
We lost our dog recently and found the post about the dog on the website www.lostmydoggie.com. It gave us real hope and we contacted the rep from the website. He told us to contact the owner of the post. We sent emails and waited for the response, but this person didn't reply. After couple of days, this guy finally replied and told that we couldn't come and see the dog. But we weren't sure that it was our dog, because it didn't have collar. The owner of the post stopped to communicate with us. Strange people.
They deleted my post
OMG. I have no idea what the hell happened with the website www.lostmydoggie.com. I placed my post about the dog of my friend, but these jerks deleted it and no one explained me why. I was shocked and tried to get more info and sent couple of emails them, but these jerks ignored me. I really need someone's help, so I have no idea what to do now.
This review was chosen algorithmically as the most valued customer feedback.
We couldn't find our dog so I was in the process of listing her on lostmydoggie.com. I had put in all the initial information including my credit card and was putting in a photo when my husband walked in with our dog. I tried to cancel the listing but was charged $35 to cover "upfront costs" although it was unclear to me what exactly that entailed...
Read full review of LostMyDoggie and 13 comments
This review was chosen algorithmically as the most valued customer feedback.
I found them only caring about making money. They said they called a list of neighbors. I made a flyer and gave them to 100 homes and no one received a call. They are nice but a waste of money. They said they mailed letters to the vets in my town and surroundings...I personally hired someone to go to all the vets in our town and other towns and no one...
Read full review of LostMyDoggie and 4 comments
Collect Your Trust Badge
Be recognized for outstanding customer service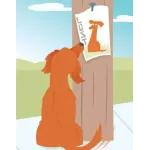 LostMyDoggie

contacts
We are here to help
19 years' experience in successful complaint resolution
Each complaint is handled individually by highly qualified experts
Honest and unbiased reviews
Last but not least, all our services are absolutely free