Rate your recent experience
Pros and Cons of Leith: A Review Breakdown
Leith is an online platform that offers products and services for businesses in various fields. The platform has received a large number of positive reviews, highlighting its user-friendly interface, excellent customer service, and high-quality products.

Customers have expressed satisfaction with the variety of products and services available on the Leith platform, ranging from marketing tools to website design and development. They also appreciate the attentive customer support and assistance provided by Leith's knowledgeable team.

Leith has been praised for its affordable pricing and transparency in pricing policies, making it accessible for businesses of all sizes. The platform also offers customizable solutions to suit specific business needs, allowing companies to tailor services to their requirements.

In addition to excellent product offerings, Leith's platform has been hailed as intuitive and easy to use, making it a popular choice for businesses seeking a hassle-free, user-friendly experience. Customers appreciate the flexibility in design options, allowing them to showcase their unique brand identity and stand out from the competition.

Overall, Leith has positively impacted the online presence of numerous businesses, providing them with essential tools to grow and succeed. Its high-quality products and excellent customer service have made it a top choice among businesses looking to enhance their online presence.
I contacted and subsequently went to Audi of Cary on today, Saturday, May 30 based upon a referral from a co-worker
I contacted and subsequently went to Audi of Cary on today, Saturday, May 30 based upon a referral from a co-worker. I came to purchase an Audi - today. I test drove the vehicle that I wanted and entered the facility to complete the paperwork for purchase. A short time into the transaction, my salesperson was advised by the Audi Sales Manager that the car had been sold during my test drive; and sold back to it's previous owner who was dissatisfied with her newly purchased Audi.

My experience is that I had initiated the transaction with the test drive, and to have this person call in on the phone and end my purchase process was effectively poor business. Additionally, it was poorly managed as the sales manager sent the message via the sales person vice coming out to hold a discussion himself. He and I didn't speak until I asked to see him. The sales person was very professional and I cannot complain about him, yet the sales manager - well I'll refrain sharing the impression that I was left with. Especially when he suggested that I see the situation from the view of the former owner - insulting at best.

While a "sold" sign was placed on the vehicle as I sat at the sales person's desk, the car even now shows on your website as for sale. Is there something else amiss?
The complaint has been investigated and resolved to the customer's satisfaction.
Leith replied to this review.
*** is egocentric
is egocentric. Not customer oriented. Cares nothing about longer term relationships. We began our journey on a dispute over the INFAMOUS Nissan CVT issue in the Rogue. It is well known. There have been service bulletins, court cases, and warranty claims up the wazoo. Not to mention the media and known consumer complaints. We bought the car preowned but prechecked. After a year the airbag warning indicator issue started. $2000 later and no help from dealer or Nissan for a safety fully contained item that should NEVER fail. Seriously, never had one fail in 20+ vehicles many owned over 10 years. We bit the bullet. Now a few months later the CVT light issue. $2000 more and this employee didn't care. Basically said the fail happens in their cars with MANY fewer miles. Basically admitting the lack of proper engineering and triggering the warranty for a particular purpose and warranty of fitness issue. But will not assist customer in the price. Neither will the service manager or Nissan (forget about the dealer general manager - never felt he needed to return a call). This dealership has no reason to exist and *** doesn't even pass calls to his manager as requested, in fact, intercepts them. He should be barred from ever being a service advisor again. Unfriendly, unethical, seriously devoid of any entrepreneurial culture. A real bad egg. Stay away from this dealership and Nissan generally and if you must go here; NEVER let *** be your advisor.
Resolved
The complaint has been investigated and resolved to the customer's satisfaction.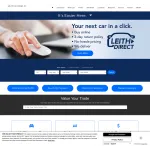 Leith

contacts
We are here to help
A 19-year track record of successfully managing customer reviews
Our team of experienced professionals handles each review with individual care
Honest and unbiased reviews
Last but not least, all our services are absolutely free