LadyPromDress Customer Reviews
16
Rate your recent experience
Pros and Cons of LadyPromDress: A Review Breakdown
LadyPromDress.com is a prominent online retailer of stylish and fashionable prom dresses for women. Our team has conducted extensive research on user reviews and feedback posted on various platforms to provide an honest overview of the company's performance.

Positive highlights of LadyPromDress.com include a vast assortment of prom dresses, exceptional customer service, and affordable prices. Our analysis also uncovered that LadyPromDress.com offers a convenient and straightforward ordering process, quick delivery, and a generous return policy.

Many satisfied customers expressed their satisfaction with the quality of the products and the selection of styles available on LadyPromDress.com. Users were particularly pleased with the fast shipping delivery option provided, with some customers receiving their orders in as little as four days.

Though some minor complaints have been posted, they were promptly addressed and resolved by LadyPromDress.com's customer service team, leaving a positive impression with the customers in question.

Overall, LadyPromDress.com is a trustworthy and well-performing online retailer of elegant prom dresses, providing a seamless shopping experience, reliable shipping, and affordable pricing.
Disappointing Experience with LadyPromDress: Poor Communication and Inaccurate Product Description
I gotta say, I was pretty bummed out with my experience with LadyPromDress. I was trying to get a prom dress for my daughter, and let me tell you, the email communication was not up to snuff. It was like they didn't even care about my order, you know? I mean, I picked out the size and color that my daughter wanted, and I confirmed it three different times. But then they sent me an email asking about the size AGAIN, and I was just like, "Come on, man." So I ended up giving them custom measurements and paying an extra $16 for it.

But when the dress finally arrived, it was a total letdown. The color was all wrong, not at all what I had picked out. And the fabric was not what they had described on the website. I mean, what's the point of even having a website if you're not gonna be honest about what you're selling, you know? And I'm pretty sure the measurements weren't even custom, which is just ridiculous.

Honestly, I'm so disappointed. This was my first time ordering a formal gown online, and I don't think I'll be doing it again anytime soon. I mean, maybe if I had a personal reference or something, but definitely not from LadyPromDress.
Ladyprom: The Perfect Place to Find Your Dream Dress Online
I was feeling quite down after visiting many dress shops and not finding anything that met my expectations. It was then suggested that I try looking online for a dress. I was hesitant at first, as I had heard many stories about online scams, but I decided to give it a try. That's when I stumbled upon Ladypromdress.

I was pleasantly surprised by the variety of dresses available on their website. I spent hours scrolling through the different options, and finally found one that ticked all the boxes. I called my mum over to help me with the measurements, and then clicked the order button.

I was a bit nervous about the delivery, but to my surprise, my dress arrived very quickly. When the delivery driver handed me a small box, I was a bit confused and worried that I had made a mistake. But when I opened the box and saw my dress, I was overjoyed. It was just perfect - the size, the color, the quality - everything was spot on.

I want to thank Ladyprom for making my dream dress a reality. The dress looks stunning on me and fits me like a glove. I was also impressed with the reasonable price of the dress, and I would definitely recommend Ladyprom to anyone looking for a beautiful dress.

Overall, my experience with Ladyprom was very pleasant, and I am grateful for the wonderful transaction. Thank you so much for making my special day even more special!
Smooth and Satisfying Prom Dress Purchase from LadyPromDress
I gotta say, I bought a dress for my girl's prom from LadyPromDress and it was a breeze. The website was easy to figure out and they didn't hide any extra fees, which was a relief. They even sent an email to confirm the size and ask for measurements, which was a nice touch. The dress came in just two weeks and it was spot on with the color in the picture. The fabric was top-notch and the dress had a good weight to it, not like those cheap dresses you see around. When we tried it on, it was a bit bigger than we expected, but that's no biggie since it can be altered. The dress is more for a slim body, but my girl is more on the medium to large side, so it worked out even better. They must have made it to order since the chest area in the picture was wider, but they made it more full for my girl and it fit her perfectly! We're super happy with it and we'll definitely come back to LadyPromDress if we need to. Thanks, guys! :)
Warning: Do Not Trust This Company - My Horrible Experience with Their Dishonest Service
This company is so dishonest, I can't even begin to explain how disappointed I am with their service. I ordered a dress for a very special occasion and had several communication emails with them before the dress was even sent. I even asked for them to cancel the order because I wasn't pleased with Shirley asking me to send measurements for a dress that is supposed to be in USA sizes. After being denied the cancellation, I was then told that I would get exactly what I ordered and on time.

However, what I received via DHL was a completely different dress. It was extremely large in size, a completely different style, and material. I was devastated and contacted the company immediately. After paying over $200 for this dress, they are now refusing to refund my money in full. They even insulted me by offering a $30 refund while telling me it would cost over $80 to send it back to Asia.

I couldn't believe it when they turned around and sent me an email stating they would give me a refund of $119 if I sent the dress back. This company is a fraud and can't be trusted. I urge you to not give them your business because they truly are not honest.

I have attached pictures of what I thought I ordered compared to what I received. As you can see, they are totally different. I am so disappointed and upset with this company. I hope that others will read this review and avoid the same mistake I made by trusting them.
LadyPromDress Review: Proceed with Caution and Do Your Research
The reviews on LadyPromDress are a bit suspicious because most of them are five stars and don't have much detail. Additionally, there aren't many photos showing the side and back of the dress, which is also a bit fishy. However, I decided to take a chance and order a dress from them.

When I received the dress, I noticed that the inside had a tight black material that made it so it wasn't see-through in the butt and hips area. However, there were two layers of netting by the breast area, and they put padding near the breast area. I chose to take the padding out, which meant I had to cut my dress. The collar of the dress didn't go as high as I wanted it to, but it was okay. Another thing I disliked was that the zipper went all the way down to at least mid-butt. The dress was super long, so if you're going to purchase this, make sure you're wearing high heels.

One thing I'd recommend is making sure that you measure yourself correctly because the material they use around your waist and thighs, if you get the size wrong, is really tight and hard to pull the dress up. I didn't like how the netting was a light tan color. I thought it would look good, but it didn't, so I dyed the netting all black. Lastly, the little design on the shoulders, that little piece of fabric, was kind of awkward and small, so it could do without it. I personally think it looks a bit small, but all in all, the dress is a bit plain and not as sexy as I thought it would be. However, if you have a creative imagination, you can really dress this up.

I would recommend looking at other dresses that have sparkle sequence or shimmer instead of going with this dress. Also, depending on your body structure, the dress could look really boxy on you. Overall, LadyPromDress is an okay website to order from, but I would suggest being cautious and doing your research before making a purchase.
Terrible Experience with LadyPromDress: Ugly Dress, Late Delivery, and False Advertising
I recently had a terrible experience with LadyPromDress. I spent a whopping $400 on a dress that turned out to be absolutely hideous! I followed the sizing chart and ordered the dress accordingly, but it looked nothing like the picture on the website. It was the ugliest dress I have ever seen in my life, and now it's the most expensive Halloween costume I've ever purchased. I was hesitant to order from this site, but the positive reviews convinced me to take a chance. Unfortunately, it was a huge mistake.

I ordered the dress for an adult prom that my cousins were having for their 23rd wedding anniversary. When I placed the order on March 9th, the website promised that I would receive it by March 23rd. Shirley, the lady who handled my order, even confirmed my measurements, so I thought everything was going smoothly. However, when I didn't receive any shipping notification, I started to worry. I reached out to Shirley, and she assured me that the dress had been shipped. But on March 23rd, the dress was still in China, and DHL couldn't guarantee delivery by March 24th, which was the day before my event. I didn't want to take any chances, so I ordered another dress online.

Thankfully, the other dress arrived on time and only cost me $60. I wore it to the event because the LadyPromDress was a complete disaster. When the dress finally arrived on March 24th, I was shocked to see that the material was horrible, and the color was nothing like the picture. If Big Bird were red, I would have looked exactly like him. The dress looked sheer on the website, but in reality, it was just plain awful. Even the kids at the event said they didn't like it. It was a major fail.

To make matters worse, the website advertised a discount that I didn't receive. I wish I had spoken to the assistant principal at my kids' school earlier, who had also ordered from LadyPromDress and had a similarly terrible experience. I will never purchase from this site again, and I strongly advise others to avoid it as well. Shirley was responsive, but the dress itself was a complete disaster.
Buyer Beware: Disappointing Experience with LadyPromDress - 75% Different From Advertised Image and Poor Quality Materials
After ordering from LadyPromDress, I was left disappointed and dissatisfied with my purchase. Upon receiving my dress, I immediately noticed that it differed greatly from the picture advertised online. In fact, it was a staggering 75% different from the original image. The dress I received looked cheap and was made of poor quality materials.

Understandably, I was incredibly frustrated and reached out to the company via email as well as through PayPal for a resolution. Unfortunately, I have yet to receive a response from them. At this point, I don't even trust them enough to offer an exchange for the vastly different dress that was sent to me - I simply want my money back.

I've since done some research and have discovered that LadyPromDress may be connected to other similar websites and names. This has only added to my frustration and suspicion that this company may not be entirely trustworthy.

One of the most irksome aspects of this experience was their refusal to allow real-life customer photos of the dress I selected. This is not uncommon for websites that oversell and underdeliver on their products, and should have been a red flag for me.

In the end, I will be purchasing a new dress for my needs elsewhere, likely from a local retailer in Ohio. This was a disappointing and frustrating lesson learned in the perils of online shopping, and I would strongly recommend steering clear of LadyPromDress and similar websites.
Fraudulent and Incompetent: My Terrible Experience with Ladypromdress.com
I recently had a terrible experience with ladypromdress.com that left me incredibly disappointed and frustrated. My request to cancel an order was met with complete incompetence and lack of concern for customer satisfaction. It appears that their priority is to take people's money rather than provide quality products and services. Dealing with their customer service was an absolute nightmare - I was met with responses that were rude and unhelpful, and it seemed as though they had no intention of addressing my concerns. Their website claims that delivery may take up to 22 days, but I was given no information as to when I should expect my order to arrive. This level of unprofessionalism is simply unacceptable. After numerous failed attempts to rectify the situation with no success, I have been forced to report their business to my bank in hopes of receiving some sort of compensation. I want to warn others to steer clear of this fraudulent company. Please, do not waste your time, money, and sanity ordering from these scammers. My daughter's prom dress will not arrive on time, and I am now left with the added burden of finding her a new dress before the big day. It's certainly not worth the headache and financial loss to deal with such a terrible company.
LadyPromDress Review: Poor Quality and Unreliable Customer Service - Avoid at All Costs
I recently had an experience with LadyPromDress that left me feeling really disappointed and frustrated. I purchased a dress from the website for a special event, spending quite a bit of money on it - $170 to be precise. I was excited for the dress to arrive and couldn't wait to try it on.

When the dress did arrive, I found it to be completely different from the pictures online. It was missing sequins and had a tear in the seam - not at all what I was expecting or had paid for. I immediately contacted Ladyprom and explained the situation, but was shocked by their response. They didn't seem to want to take any responsibility for the poor quality of the dress and simply suggested that I have it fixed locally. I was not interested in investing any more time or money into a garment that was completely unsatisfactory.

I requested a refund, but was met with resistance. Ladyprom did not provide me with a return address and refused to offer me a refund for the full amount I had paid. Instead, they suggested I keep the dress and donate it to charity, offering me a mere $40 to compensate me for my troubles. I knew that this was not acceptable and decided to pursue the matter via PayPal.

Thankfully, I had paid for the dress using PayPal and was able to open a complaint against LadyPromDress with their help. A month later, I received a refund for the full amount I had paid, minus the shipping costs which came to $27. While I was happy to get my money back, this experience left a really bad taste in my mouth. It soon became clear to me that LadyPromDress was not a reputable company and should be avoided at all costs.

Overall, I would definitely not recommend doing business with LadyPromDress. Their low-quality products and poor customer service make them an unreliable and risky option for anyone looking for formal wear or special occasion dresses. I hope that others can avoid the mistake I made and choose to shop elsewhere for their formal wear needs.
Stunning Dresses for Every Occasion: A LadyPromDress Review
I would highly recommend LadyPromDress (ladypromdress.com) to anyone looking for a stunning outfit for a special event. The quality and style of their dresses are beyond impressive.

As someone who doesn't typically purchase clothing online, I was hesitant to take the risk. However, I was in desperate need of a dress for a Broadway show opening night, and my search for the perfect outfit had been unsuccessful in all the stores in my area. That's when I discovered LadyPromDress, and I am so glad I did.

Their impressive selection of styles and colors caught my attention, and I found the perfect dress for my special occasion. Even though I was worried about the fit, the dress arrived on time and fit me like a glove. It hugged my curves in all the right places, and the materials used were of high quality, proving that I made the right choice by choosing LadyPromDress.

I was nervous about the process of ordering online, but the customer service at LadyPromDress was fantastic, and I felt reassured that I was making the right decision. The packaging of the dress was impressive, and it was clear that they took care in ensuring their products arrived in the best condition possible.

I highly recommend LadyPromDress to anyone who is looking for a stylish and high-quality outfit for any special occasion. They exceeded my expectations, and I'm sure they will exceed yours too.
Avoid LadyPromDress at All Costs: My Disappointing Experience with Ladypromdress.com
When searching for the perfect dress for a special occasion, it's important to find a reputable and trustworthy company to ensure that you receive the quality product you desire. Unfortunately, my experience with LadyPromDress (ladypromdress.com) was anything but positive.

I placed an order for a silver dress on March 27, 2021, but when I closed the order I noticed that the description said white satin. I immediately contacted their customer service team to have the mistake corrected, and they assured me that they would take care of it. However, when I received the dress, it was indeed white and not silver as I had requested.

I reached out to the customer service team once again, providing them with proof of our previous conversations, but they simply dismissed my concerns and claimed that there was nothing they could do to remedy the situation. I was incredibly disappointed and frustrated. Not only did they fail to deliver the product I had ordered, but their customer service was rude and unhelpful.

The dress I purchased was priced at $167.99, with another $80.00 added for express shipping from the USA. I suggested that they cover the cost of shipping since the mistake was on their end, but they refused to take responsibility for their error.

After this experience, I am compelled to warn others about the dangers of shopping with LadyPromDress. Their lack of quality customer service and disregard for their customers is simply unacceptable. I implore others to look elsewhere for their dress needs and avoid LadyPromDress at all costs.
Disappointing Experience with LadyPromDress: Poor Quality and Unsatisfactory Customer Service
I recently purchased a dress from LadyPromDress, and unfortunately, I had an extremely negative experience. Upon receiving the dress, I was disappointed to find that the quality was far from satisfactory. The lining was not properly attached to the dress, leaving jagged, exposed netting. To make matters worse, one of the sleeves was significantly longer than the other. Considering the price I paid, I was incredibly disappointed with the overall quality of the dress.

When I reached out to the company to express my concerns, I was informed that they would not offer a refund because the dress had been custom-made to my measurements. While the fit was indeed accurate, the issues I had were with the shoddy workmanship and lack of attention to detail. It felt like they had taken my money and sent me a half-finished product.

I'm now left with no choice but to spend additional money and time to have another tailor finish the dress properly. This has been a truly frustrating experience, and I would caution anyone who is considering shopping with LadyPromDress to think twice. The customer service was incredibly unsatisfactory, and I feel like I was not valued as a customer at all. I sincerely hope that they take steps to improve the quality of their products and the level of service they provide, as I would not recommend this company to anyone.
LadyPromDress Review: Be Cautious When Ordering From This Site!
LadyPromDress, also known as ladypromdress.com, offers a variety of dresses for special occasions. However, my recent experience with this company was not the best. While the dress arrived in a timely fashion with the expedited shipping option, the quality of the stitching and overall construction of the dress was disappointing. The lace was not fully attached, the beading was applied haphazardly, and the hem of the dress had a 4-inch elastic band that caused the fabric to flip up. Additionally, despite sending accurate measurements, the dress had extra fabric in all the wrong places.

The breast area had no padding, which led to an undesirable outcome of being able to see my daughter's nipples. While the dress did not look as horrible as it could have, we still needed to make a few alterations to make it presentable. Unfortunately, the cost of correcting these issues came out to be an extra $120.

Despite these flaws, the company's email communication was a bright spot in the experience. They were responsive and accommodating when we requested a change of color from red to blue before placing the order. All of my inquiries were answered within 24 hours, which was appreciated.

In conclusion, if you are considering purchasing a dress from LadyPromDress, be aware that the final product may not match the picture exactly. While their email communication is quite good, it's hard to overlook the issues we experienced with the dress's quality. It is possible to make the dress look good with alterations, but it does come at a cost.
Scam Alert: LadyPromDress Sells Poor Quality Knock-Offs and Refuses Refunds
Well, where do I start with my experience with LadyPromDress? I was looking for the perfect prom dress for my daughter and found the website. The online image of the dress looked beautiful, so I had high hopes. However, our excitement turned into disappointment when we received the package in the mail. The dress looked nothing like the picture we saw online. It was a hideous piece of fabric that we wouldn't have even considered wearing. I could see the devastation in my daughter's eyes, and I felt so bad.

As I had paid for the dress through PayPal, I decided to file a complaint requesting a full refund. However, LadyPromDress refused to comply with my request, stating that I had to return the dress all the way back to Asia in order to claim the refund. This was going to cost me over $80, which was a substantial amount, especially since I had already paid $186.79 for the dress. Such a hassle for a company's mistake!

I reached out to PayPal to see if they could help, but they could only offer $30 towards the return cost. Despite their support, it was frustrating to realise that I was expected to pay so much to send the poorly made and low-quality dress back to Asia. The knock-off replica of the dress should have never been sent to me.

In conclusion, LadyPromDress is nothing but a scam, in my opinion. They don't care about their customers, and they just want to get people's money. This experience has left me feeling upset, and I wouldn't recommend anyone to buy from this sketchy website. I will also be wary of using PayPal in the future as they couldn't offer much assistance in this instance. It's disappointing that companies like LadyPromDress are still operating in such a dishonest manner, and I want others to be aware of their business practices.
Unfortunate Experience with Ladypromdress: Misleading Product and Poor Customer Service
I had an unfortunate experience when purchasing a prom dress from Ladypromdress (ladypromdress.com) for my daughter's special night. I must admit, I regret not having read the reviews prior to placing my order. However, as I ordered through PayPal, I assumed that I would be protected throughout the process.

Sadly, the dress that arrived was not what we had originally requested. The design and color were completely different from what was posted on the website. To make matters worse, the quality of the dress was very poor. As the prom was quickly approaching and we couldn't risk being stuck without a dress, we had to rush and purchase another one from a different vendor.

I paid $196.19 for the dress and $44 for the international return. Despite the fact that the error was entirely on their end, they only refunded me $164.19 out of the $240.19 that I had paid. I was also required to pay for both the initial shipping and return fees. Even worse, they attempted to falsely claim that they never received the dress. I found it frustrating that they did not give me a return address, despite all of our communication being conducted through email and PayPal.

I placed my order on April 13th, 2021 and was not refunded until June 15th, 2021. I sincerely hope that PayPal will investigate the incident and cease to cooperate with Ladypromdress. It is essential that businesses like these be honest and transparent regarding the items they advertise on their website. Additionally, customers should not be forced to pay for return shipping if they did not receive the right product.

My experience with Ladypromdress has been disappointing, and I hope that others do not have to suffer through the same unfortunate ordeal. Consequently, I am disappointed with both Ladypromdress and PayPal, who, despite being a reputable financial service, do not provide an option for clients to decline return labels when dealing with shady vendors like Ladypromdress.
LadyPromDress Review: A Disaster for Custom Orders in Satin, Not Chiffon, With No Return Policy
When it comes to online shopping, it's always a gamble. So when we placed an order for a dress from LadyPromDress for my tall and slender daughter, we thought we had made a great choice. After all, as a tailor, I understand how to get the right measurements for a perfect fit.

We made sure to submit custom body measurements for a chiffon sheath. But what we received was far from what we had hoped for. The dress we received was a SATIN sheath that was small, as in "skin tight, splitting at the seams" small. It was a complete disaster.

Prior to the delivery of the dress, I emailed the company several times to clarify how they take measurements and asked other questions to ensure we would get the right dress. I read their profiles online, and they specifically ask for BODY MEASUREMENTS. So that is exactly what we submitted. As someone who knows how to sew, it is important to understand that a garment should never be made to the exact size of or smaller than the body – otherwise, you won't even be able to zip it up!

But the issues with the dress didn't stop there. We ordered a dress in chiffon, but received it in satin instead. When we contacted the company to ask why, they claimed that the dress didn't come in chiffon. However, their website explicitly lists chiffon as a fabric option, and our confirmation stated chiffon as well. The fact that our dress was satin was simply unacceptable.

To make matters worse, the company refused to accept a return. It was a $200 purchase, and they said we had to keep it since they had sent the correct color. However, that was simply not true, and to force a customer to keep a dress they had not ordered is beyond ridiculous.

It is clear that LadyPromDress is not a reliable or trustworthy place to shop for formal dresses. We highly recommend taking your business elsewhere – this company is not worth your time, money or energy.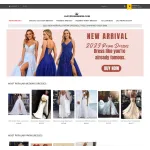 LadyPromDress

contacts
We are here to help
A 19-year track record of successfully managing customer reviews
Our team of experienced professionals handles each review with individual care
Honest and unbiased reviews
Last but not least, all our services are absolutely free