Overview of Courses for Success customer experience
Courses for Success has received numerous complaints from consumers. Many have reported issues with the quality of the courses, stating that the content is outdated and not worth the price. Others have had trouble accessing the courses or receiving support from customer service. Some customers have also reported unauthorized charges on their credit cards after purchasing courses from the website. Overall, Courses for Success has a poor reputation among consumers and should be approached with caution.
Courses for Success complaints
2
Newest Courses for Success reviews & complaints
Courses for success
I paid over 150.00 for online courses to renew my nassage license with.

I took one course and went to print out the form and theres nothing in there to shiw its accredited by raliegh or by nc or by the state or even the body workers of nc.

I ask them abd they say people get great jobs with our classes.

I said worthless classes that cant even renew a license with!

What a joke you are!
Desired outcome: Its too late to get avrefund, i just want people to know that these classes will not count tiward your rebewal of license at all
I paid $179.00 to Courses for Success for a certification bundle for auto detailing and entrepreneurship
I paid $179.00 to Courses for Success for a certification bundle for auto detailing and entrepreneurship. After completing the courses, they emailed the certification to me. However, when I tried to print them out, my name and the date I completed the certifications wouldn't print on the certifications. I called them to let them know about this, and they said they were going to mail them to me. But I didn't receive anything in the mail, even after a week or two weeks went by. I called them again, and they told me they would mail them to me again, but I still didn't receive anything in the mail. When I called and left a message concerning my problem with the certification and my phone number to reach me back at, they never called me back. I think they're scamming people, and I don't think they're accredited. Instead of receiving the certifications, I would rather have my money completely refunded back to me. If you need to email you the receipts of payment and certifications so you can print them out yourself and see what I mean, you can. The first person I talked to was a woman named ***. Then I talked to a woman named ***. I also talked to a man, and he said he would find what's going on and call me back, but he never did, and I don't know his name. So when I called again about the problem, the last person I spoke with was ***. Also, I only have this receipt of payment, but I did pay the full $179.00 dollars.
Collect Your Trust Badge
Be recognized for outstanding customer service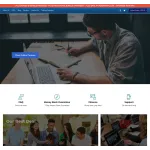 Courses for Success

contacts
Website
www.coursesforsuccess.com
We are here to help
19 years' experience in successful complaint resolution
Each complaint is handled individually by highly qualified experts
Honest and unbiased reviews
Last but not least, all our services are absolutely free