360DigiTMG Customer Reviews
10
Rate your recent experience
Pros and Cons of 360DigiTMG: A Review Breakdown
360DigiTMG is a highly reputable and widely recognized institution providing significant knowledge and skills in data science, analytics, big data, artificial intelligence, and machine learning. The reviews of 360DigiTMG are largely positive and indicate that it is a recognized leader in the industry, offering quality training experiences and exceptional learning content.

One of the most significant positive reviews of the organization is the quality of the instructors. They are highly qualified industry experts with vast real-world experience. The instructors provide comprehensive training with hands-on practical examples to ensure that learners gain the necessary knowledge and skills to excel in their fields.

The course content is another aspect that receives enthusiastic reviews. The content is continually updated to keep up with the rapidly changing technology trends. The programs are comprehensive, in-depth, and provide a very realistic idea of what to expect in the business world.

The delivery mode, including various flexible options, is another critical factor that learners appreciate. The programs have the freedom to be taken online, in-person, and even in a blended manner. This flexibility makes the courses accessible to a wider audience, including working professionals.

The institution's service and support team also receive high praise for being easily accessible, reliable, and responsive. They support learners through all stages of the learning journey, providing guidance and help whenever needed.

In conclusion, 360DigiTMG reviews indicate that it is a trusted and reliable institution offering expert training and a great learning experience to data enthusiasts. With its personalized approach to learning and impressive support services, it proves to be a top player in the highly competitive online education industry.
Upgrade Your Analytics Skills with 360DigiTMG's Business Analytics Course in Bangalore
If you're looking to develop your skills in analytics, the Business Analytics course offered by 360DigiTMG in Bangalore is definitely worth checking out! It's a comprehensive program that helps learners gain in-depth knowledge of different techniques used in business analytics. As we're all aware, data holds the key to making informed decisions and this course equips you with all the necessary skills to analyze data collected by businesses, non-profits, and government agencies in order to derive valuable insights.

The course is designed to cover all relevant techniques used in operations, marketing, finance, and strategic planning within an organization. This means that you'll not only learn how to mine and analyze data but also understand how it can be applied in the different parts of a business.

One of the great advantages of the program is that it's delivered by industry professionals who have years of experience in the field. This means that the course is very practical and you'll learn from people who've actually worked on real-world projects. In addition, you'll have access to the latest tools and technologies used in the field, which will make you a better practitioner.

The course is structured in a way that is very accommodating to busy professionals. You can attend classes online or in-person, depending on what you prefer. The course is also very flexible–you can choose to complete it at your own pace, so you can take your time and absorb the knowledge at a pace that suits you.

Overall, if you're looking to upgrade your skills in analytics and learn how data can be used to gain insights and make better decisions, the Business Analytics course from 360DigiTMG is the way to go. So, go ahead and enroll in the program, and take a step towards a more rewarding career in analytics!
Transformative Learning Experience with 360DigiTMG: A Stellar Choice for Advancing Your Technical Skills
From my personal experience, I can confidently say that if you are looking to advance your technical skills in the market, then 360DigiTMG is the perfect choice for you.

The courses offered by 360DigiTMG are designed keeping in mind the current market trends, which ensures that you stay updated with the latest technologies and advancements in the industry. I opted for their data science course, and I must say it was a transformative learning experience.

The course structure was well-organized, and the trainers were highly qualified and knowledgeable. They provided us with excellent mentorship, and their teaching methodologies were dynamic and interactive. The trainers were always available to clear any doubts or queries that we had during the course, and their guidance truly helped me achieve a better understanding of complex concepts.

The LMS access throughout the course was a huge advantage for me. It gave me the flexibility to learn at my own pace, revisit topics as many times as I wanted, and ensured that I was continuously working towards my goals. Additionally, the LMS interface was user-friendly and intuitive, which made learning new and complicated concepts easy.

Apart from the quality of education, the placement assistance provided by 360DigiTMG was excellent. They prepared us for interviews, shared essential tips and techniques, and helped us build strong relationships with recruiters. Thanks to their meticulous preparation, I was able to secure a job in one of the reputed organizations in the market.

In conclusion, if you are looking for a training program that can help you enhance your technical skills and stay updated with the latest market trends, I highly recommend 360DigiTMG. Their courses are well-structured, the trainers are highly experienced, and the placement assistance is outstanding. I am confident that with their support, you too can achieve your career goals.
Exceptional Data Science Course with Excellent Placement Support: My Experience with 360DigiTMG
Looking to switch career paths and start afresh in the field of Data Science, I did my research extensively and decided on 360DigiTMG. Their reputation preceded them, with many positive reviews showcasing the effectiveness and the tangible benefits of their Data Science course. As an IT professional, I knew the importance of making sound investments in my education, and choosing 360DigiTMG was one of the best decisions I've ever made.

Their course was comprehensive and provided me with all the tools and knowledge I needed to excel in the field of Data Science. From exploring the basics of data mining to learning advanced analytical techniques, the curriculum was designed perfectly to cater to the needs of professionals from all different backgrounds.

But that wasn't all, what made the experience truly exceptional was the support and assistance provided by their placement team. They went above and beyond to help me secure a fantastic job in a leading company, and they even guided me on how to improve my resume and build up my portfolio.

After completing the course and securing an excellent job, I am now happy with my career growth, and I owe it to the exceptional team at 360DigiTMG. Having seen first-hand the effectiveness of their program, I highly recommend 360DigiTMG to those who are looking to start or advance their careers in Data Science.
Exceptional Learning: My Experience with the Data Science Course from 360DigiTMG
As an individual who has had prior experience in statistics, I was eager to venture into the corporate sector and establish myself as a Data Scientist. That being said, enrolling myself in the Data Science course offered by 360DigiTMG turned out to be one of the best decisions I made in my career path.

The curriculum structure is meticulously designed, covering all the key concepts and theories of Data Science. The online classes were very convenient as they were facilitated similarly to offline classes, with all the doubts getting cleared almost instantly. The trainers are highly knowledgeable and proficient in their teaching, which helped me grasp the subject matter in a much better way.

The course also provides regular assessments, which aided me in identifying my strengths and weaknesses, thus allowing me to improve bits and pieces where necessary while keeping an eye on key indicators leading towards my progress. The study materials were indeed comprehensive and very well-organized, making it trouble-free for me to focus on each module thoroughly.

Ever since I completed the course, I have been able to land a desirable position as a Data Scientist in a prominent corporate firm, which gives me immense pleasure. Not only has the course prepared me impeccably well for the role, but it also helped me with upgrading my CV, which was a vital component of my success.

I cannot recommend the course enough, especially to individuals looking to pursue a career in Data Science. It is indeed an exceptional learning experience that will help bring out the best in you and provide the opportunity to achieve your career goals.
Exceptional Training in Data Engineering: My Experience with 360DigiTMG
I am delighted to have come across 360DigiTMG and their exceptional training program ever since I enrolled for their Data Engineering course. As someone from a non-technical background, I was a bit skeptical about my ability to comprehend all the intricate concepts and methodologies associated with Data Engineering. However, the excellent trainers at 360DigiTMG promptly dispelled my worries from the get-go.

Their instructors are incredibly adept at conveying the information and making the difficult concepts relatively easy to understand. Each topic is expertly dissected, and learners are given a clear picture of how they can be utilized in solving practical problems in the workplace. One of the things that stood out for me the most is how they emphasize real-world applications of various tools and techniques instead of relying solely on theoretical knowledge.

Fast forward to a year after completing my course with 360DigiTMG, and I am delighted to report that I feel very well-equipped for the real world. The trainers are still available and willing to answer any questions or concerns that I may have regarding some of the concepts and their practical implementation.

Undoubtedly, 360DigiTMG is an outstanding place for anyone looking to start or further their career in Data Engineering. Their highly competent trainers go above and beyond to ensure that their students are well-equipped with the necessary skills and knowledge to thrive in their chosen career paths. Etched indelibly in my memory is the impeccable way they trained and interacted with us, and I feel it is my bounden duty to sing their praises and recommend them to anyone in need. With 360DigiTMG, you can never go wrong!
Transforming my Career with 360DigiTMG's Data Science Course
When I set out to embark on my journey into the world of Data Science, I was hesitant about my abilities, having had no previous technical knowledge or experience in this field. However, I made the decision to take the leap and enrolled myself in the comprehensive course provided by 360DigiTMG, and boy am I glad I did!

Admittedly, the course proved to be quite challenging and it required a considerable amount of effort and dedication from my end. I sometimes had to push myself beyond my limits, and put in extra hours to comprehend and practice the concepts that were not easily grasped. Nevertheless, with the continued assistance and support from my trainers, I was able to fully understand and apply the theoretical knowledge to real world practical scenarios.

The faculty members at 360DigiTMG proved to be tremendous in their expertise and knowledge of the field, offering insightful perspectives and invaluable guidance throughout the course duration. Despite the vast and sometimes complex topics covered, they were always able to break down the material in a way that made it more accessible and understandable. I was grateful for their patience, professionalism and competence throughout.

Overall, I believe that joining 360DigiTMG and taking their Data Science course was one of the best decisions I have made in my quest to advance my career. Not only did it equip me with the most sought after and cutting-edge knowledge and skills in the industry, but it also transformed my outlook and passion for the field. I would highly recommend this course to anyone looking to become proficient and well-versed in Data Science.
Review of 360DigiTMG: Building Strong Foundation in Data Science
One of the best places to gain a strong foundation in data science is through 360DigiTMG (360digitmg.com). This institute is well-known among data enthusiasts for providing comprehensive courses that help to turn inexperienced individuals into skilled data professionals.

The institute provides a wide range of courses for students to choose from, including Data Science, Artificial Intelligence, Machine Learning, Deep Learning and more. Each of these courses is designed to cater to the specific needs of individuals, whether they are a beginner or an experienced professional.

The curriculum of 360DigiTMG is highly structured, making it easy for students to understand and grasp complex concepts. The institute encourages hands-on learning, which means that students get to work on real-world projects and gain practical experience. This approach helps to instill confidence in the students as they develop a deeper understanding of the subject and its practical application.

The faculty members at 360DigiTMG are experts in their respective fields. They bring years of industry experience and expertise to the classroom, providing students with valuable insights and real-world knowledge. The faculty members are friendly, approachable, and available to answer any questions or difficulties that the students might have.

Overall, 360DigiTMG is an excellent choice for individuals who are looking to make a career in data science. The institute provides world-class training that equips students with the knowledge and skills to tackle real-world problems as data professionals. With their reputation for excellence, hands-on approach to learning, and experienced faculty members, 360DigiTMG is highly recommended for anyone who wants to become a successful data scientist.
Review: Data Science Using Python and R Course - Transform Your Career with 360DigiTMG
The Data Science Using Python and R course offered at 360DigiTMG (360digitmg.com) is an exceptional program that can truly transform the career prospects of data enthusiasts. The highly detailed and structured curriculum is designed to take students from novices to job-ready candidates in the extremely competitive US market.

By enrolling in this Data Science course, you can expect to learn a wide range of essential skills and concepts that are highly sought-after in the industry. Some of the key topics covered in the course include the statistical calculation of R, the construction of a recommendation engine for e-commerce, the recommendation of films, and the implementation of basket analysis in the retail sector. With such a comprehensive coverage, you can rest assured that you will be well-equipped with a diverse set of skills and knowledge to take on any data science project.

What's more, you can benefit from the expertise of some of the best data scientists in the industry to guide you throughout your journey. This online course is especially useful for students who wish to explore the exciting field of data science related to big data and data mining.

So, if you're looking to take your data science skills to the next level and boost your career prospects, look no further than 360DigiTMG's Data Science Using Python and R course. With its exhaustive curriculum and expert guidance, you'll be sure to elevate your knowledge and skills to new heights!
Fraudulent Experience at 360DigiTMG: False Promises and Poor Quality Teaching
Dear readers,

I want to share my experience with 360DigiTMG (360digitmg.com) as I feel it is important to know the reality of this institute before taking admission. Unfortunately, I do not have a positive review to share. In fact, I strongly advise against taking admission in this institute, as I found it to be a complete fraud.

Before taking admission, I was given the assurance that their training would lead to immediate job opportunities with a starting salary package of 3.6, which sounded quite impressive. But, as soon as I completed the course, I was shocked to only be offered a monthly salary of 5000, which was nowhere near what they had initially promised. I found the entire experience to be fraudulent, with poor quality of teaching and fake certificates being displayed on their website.

Moreover, after completing the course, I did not receive any certificate or job placement assistance. They made false promises regarding placement and lacked any networking opportunities with companies. Overall, I found no value in what they offered, it was nothing but a waste of my money and time.

Therefore, I urge all aspiring students to refrain from taking admission in 360DigiTMG, as it is not worth it. Instead, you may want to explore other more reputable options to invest in your education and career.
Enhance Your Data Science Skills with 360digiTMG: A Review
As someone who works as a project manager, I understand the importance of staying up-to-date with the latest skills and knowledge in my industry. That's why I decided to enroll in the data science course at 360digiTMG, and I am so glad that I did! After watching their sample video, I was truly impressed by the quality of their teachings and decided to give it a go.

I can now confidently say that I recommend the data science course at 360digiTMG to anyone who is looking to enhance their skills in this field. Their course material is excellently designed for beginners, and I found the coaching of Bharani to be incredibly helpful. I also want to give a shoutout to the support team, who were always quick to respond to my queries and helped me solve any problems I had throughout my learning journey. Special thanks go to Samson, who went above and beyond to ensure that I had a smooth experience.

With this course, I feel like I have made the best decision for my career. The skills and knowledge that I have gained have already made me a better project manager, and I am excited to apply them to all my future projects. Whether you are a beginner or an experienced professional in this field, I would definitely recommend the data science course at 360digiTMG to help boost your career aspirations and keep you ahead of the game.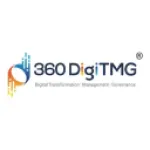 360DigiTMG

contacts
We are here to help
A 19-year track record of successfully managing customer reviews
Our team of experienced professionals handles each review with individual care
Honest and unbiased reviews
Last but not least, all our services are absolutely free