Overview of topfakeid.com customer experience
TopFakeID.com has been receiving a lot of consumer complaints recently. Many customers have been reporting the company's inability to deliver quality fake IDs. The ID's are often poorly made, with bad color schemes and visible laminate lines. Another major problem is their slow delivery, which often takes months to arrive. TopFakeID.com has also been accused of ignoring customer support inquiries, making it difficult for customers to get assistance. Additionally, customers have commented on the website's confusing ordering process, inaccurate tracking information and no refund policy. This lack of attention to detail and poor customer service has made TopFakeID.com a risky option for obtaining fake IDs.
topfakeid.com complaints
10
Newest topfakeid.com complaints
Topfakeid.com Review: Scam ID Provider, Don't Waste Your Money!
If you're seeking an ID provider, steer clear of topfakeid.com. I placed my order on the 3rd and to my dismay, it's the 16th, and I'm yet to receive it. They had the audacity to take my money and haven't made any attempts to reach out to me after sending twenty emails. I'm frustrated and angry as they seem to have taken me for a ride. One thing I'm sure of is that all the positive reviews you see about them are fake.

I wouldn't advise anyone to purchase from topfakeid.com; they took my hard-earned money and have given me the cold shoulder. If you need any proof of my ordeal, text me using the phone number ***414, and I'll send you all the emails I've sent them plus the proof of purchase.

Don't fall for the scam by giving them your business. The ID was critical for work, yet I got duped. Spare yourself the agony, and look for other trustworthy ID providers.
Topfakeid.com Review: Poor Quality and Lack of Communication, Not Worth the Risk
As a human, I would go into more detail about my negative experience with topfakeid.com. Firstly, it is disappointing that this company proves to be a fake one. I had high hopes of obtaining a quality fake id from them but was sorely disappointed. After handing over my hard-earned money, the company failed to deliver on their promise of providing a fake id. That in itself is not just bad business practice, it is also potentially dangerous for those who rely on fake IDs for a number of reasons.

What left the worst impression on me was the complete lack of communication from the company after I paid for their services. I tried multiple times in different ways to contact them but never heard back. I understand that some companies may receive a high volume of inquiries, but it is their responsibility to respond to paying customers, especially ones who have not received the goods they paid for.

Overall, I would not recommend topfakeid.com to anyone looking for the services. It is in everyone's best interest to steer clear of this fake company and instead seek out a reputable service provider who can deliver the results they promise. A company that values integrity and transparency in their dealings should always be the top priority, especially when it comes to sensitive documents like fake IDs.
WARNING: Avoid topfakeid.com - A Fraudulent Enterprise that Deceives and Exploits Customers
I strongly advise against using topfakeid.com. This company is, without a doubt, a fraudulent enterprise that is designed solely to deceive and exploit unsuspecting customers. I was initially tempted by their seemingly affordable offers to manufacture a New Mexico ID that was promised to be both easy and efficient. Regrettably, I placed an order with them and it has now been over two and a half months since I have received any product from them. Despite making repeated attempts to contact the company and inquire about my order, I have received no response from their representatives. In fact, they have even gone so far as to block my contact numbers, making it impossible for me to gain any further information or resolution of the matter. Needless to say, I am profoundly disappointed by this experience, and would strongly advise others to avoid using topfakeid.com at all costs.
Review of Topfakeid.com: Unreliable Service and Poor Quality Fake ID Cards
There's nothing more frustrating than placing an order online and receiving absolutely no acknowledgement or feedback. Unfortunately, this seems to be the case with topfakeid.com. This site appears to specialize in the creation and sale of fake identification cards, which can be useful for a variety of purposes - from "underage" drinking to gaining access to restricted areas or events.

The problem is, many people who have ordered from topfakeid.com report that they never received the product they paid for. It's unfortunate, but not uncommon, for niche e-commerce sites like this to be less than totally reliable. However, the sheer volume of complaints about this particular site raise some red flags.

Many users have reported that they paid for their fake ID and then never heard from topfakeid.com again. This is an extremely frustrating situation, as it's difficult to know whether the site is simply slow or whether you've been outright scammed. In any case, it's hard to recommend this site to anyone looking for quick and reliable service.

The other issue is that even some customers who receive their fake ID aren't entirely happy with the result. Many have reported that the quality is subpar, with blurry text, poor image resolution, and visible errors on the card itself. Given that the price point for fake IDs is often quite high, it's reasonable to expect a certain level of quality. Unfortunately, topfakeid.com doesn't seem to be delivering on this.

All in all, it's hard to recommend topfakeid.com to anyone looking for a fake identification card. It's not reliable, the quality is questionable, and there are plenty of other options out there. If you're dead set on getting a fake ID, it's worth doing your research and finding a site that has a better track record.
TopFakeID.com Review: A Warning to All First-Time Buyers
As a first-time user of fake ID websites, I made the rookie mistake of being in a rush and not doing my due diligence. I stumbled upon topfakeid.com and succumbed to the temptation of their quick turnaround time, but ultimately ended up being sorely disappointed.

My experience with topfakeid.com has been one of utter frustration and disappointment. Despite multiple attempts to contact their customer service team via email, I have yet to receive any response from them. The lack of communication has led me to believe that my order has been lost in transit, or worse yet, that topfakeid.com is a total scam.

Furthermore, I would like to note that all the positive reviews I have come across for this website seem to be suspiciously planted by them. I firmly believe that this is a shady business practice, and I implore others to be wary of such fake reviews and do their own research before trusting a website blindly.

In hindsight, I regret not taking the necessary time to research legitimate ID websites and understanding the risks involved in purchasing a fake ID. It is my sincere hope that others can learn from my mistake and spare themselves the heartache and financial loss. If the topfakeid.com team is reading this, my order number is SID48334979TP, and I would appreciate any updates on the status of my order or a response to my emails.
Disappointing Experience with Topfakeid.com: Lack of Communication and Customer Service
As a customer who was excited to order from topfakeid.com, I was extremely disappointed with the lack of communication and customer service from the company. Despite placing my order three weeks ago, the incorrect information on my confirmation email caused me some concern. Unfortunately, my attempts to get in touch with the company have been to no avail. I have tried emailing directly as well as using the contact form on the website, but all of my attempts have resulted in no response.

Additionally, I found it frustrating that every email I sent was being kicked back, as though the email address was not valid. I used the same email listed on the website, so I'm not sure what the issue is there. All in all, I wouldn't recommend topfakeid.com based on my disappointing experience. Good customer service is critical to the success of any business, and it's clear that this company is not prioritizing that aspect of their operations.
Warning! Avoid topfakeid.com - Complete Scam and No Communication
If you're thinking of ordering an ID from topfakeid.com, I implore you to think twice. After shelling out $175 for an ID that I'll now never receive, I truly wish I'd checked out the reviews beforehand. Believe me when I say, DO NOT use this site.

First and foremost, it's incredibly difficult to get in touch with anyone from topfakeid.com. I attempted to reach out via the email address listed on their website, only to have my message bounced back to me as the address is fake. The contact form on the site is equally useless - I never once received a response despite multiple attempts to get in touch.

It's not just the lack of communication that's concerning either - as mentioned, I never received the ID I paid for. I'm now out $175 with no recourse as I can't seem to get a response from anyone at topfakeid.com.

In sum, please save yourself the headache and money by avoiding this website entirely. It's a complete scam and you'll be left empty-handed.
Beware of topfakeid.com: a review of my disappointing experience
I had a pretty disappointing experience with topfakeid.com, where I ordered an ID about a month ago and still haven't received anything. Needless to say, I wouldn't recommend this company to anyone. If you're in the market for a fake ID, I suggest you steer clear of topfakeid.com altogether. Judging from my experience, it seems like they may not be the most trustworthy or reliable source for this kind of thing.

One of the things that struck me about this company is how many glowing five-star reviews they have online. Unfortunately, I'm pretty skeptical that most of those reviews are legit. In fact, I suspect that topfakeid.com may have posted many of those reviews themselves to try and make the company seem more reputable. Additionally, I wouldn't be surprised if they were paying other websites to write positive reviews about their service.

Overall, I would definitely advise caution if you're looking to order a fake ID online. There are plenty of companies out there that don't have the best track record when it comes to customer service or reliability. That being said, there are also some reputable companies that can provide you with a quality fake ID. Just make sure you do your research thoroughly before handing over any money.
Topfakeid.com Review: A Complete Disaster - Scam Alert!
My experience with topfakeid.com has been a complete disaster. I was hoping to get my hands on five Hawaiian IDs for myself and my friends, and decided to opt for the express shipping option. I paid $500 through an Amazon gift card and received a confirmation email stating that my order was being processed. I eagerly awaited my tracking number, but it never came.

As days turned into weeks, and weeks turned into months, I started to worry that something was wrong. Upon checking the status of the gift card, I discovered that it had been redeemed, but I still had not received my IDs. I tried to contact topfakeid.com multiple times, but to no avail. I received only an automated response that thanked me for my message and promised to get back to me as soon as possible. But that promised reply never came.

It's now the end of February 2022, and I have not heard anything back from topfakeid.com. My experience has been that this website is nothing more than a scam. Don't make the same mistake I did by putting your time, effort, and hard-earned money into this website. I highly advise against using topfakeid.com, as there are no guarantees that you will ever receive your purchase.
Disappointing Service & False Positive Reviews: My Experience with Topfakeid.com
As someone who has been eagerly waiting to receive their fake ID from topfakeid.com, I must say that I have been left feeling incredibly disappointed by their service. Two weeks in, and there is still no sign of my ID arriving anytime soon. However, what's even more frustrating is the fact that after a week of waiting, I received an email from them requesting me to make a payment for the order that I had already paid for using Bitcoin. The audacity!

To make matters worse, I have been perusing the positive reviews on their website, and it's pretty evident to me that they have posted those themselves. Upon closer inspection, it's easy to observe that all the pictures displayed on the site are of different IDs but on the same table. Is it even possible that they didn't even put in effort into making the reviews seem genuine? It's both funny and sad at the same time.

If only I had read these reviews before placing my order, I would have saved myself $100. It's worth mentioning that I am not the only person that has experienced such terrible service from topfakeid.com. There are several other negative reviews with similar complaints regarding the lack of communication, lengthy delays, and ultimately, the failure to deliver on orders.

In conclusion, I cannot recommend topfakeid.com to anyone looking for a reliable fake ID service. Save yourself the trouble and look for other reputable providers that honor their promises and provide efficient communication and delivery services.
Collect Your Trust Badge
Be recognized for outstanding customer service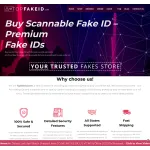 topfakeid.com

contacts
Website
www.topfakeid.com
We are here to help
19 years' experience in successful complaint resolution
Each complaint is handled individually by highly qualified experts
Honest and unbiased reviews
Last but not least, all our services are absolutely free