QualityBath.com Customer Reviews
8
Rate your recent experience
Pros and Cons of QualityBath.com: A Review Breakdown
QualityBath.com is a popular online store that specializes in luxury bathroom fixtures and home decor. The site has received numerous positive reviews from satisfied customers who have praised the company's diverse product selection, competitive pricing, and excellent customer service.

One of the standout features of QualityBath.com is its extensive range of high-quality products. Customers can choose from a wide variety of bathroom fixtures, including vanities, sinks, faucets, showers, and toilets, as well as home decor items such as lighting fixtures and mirrors. Many customers appreciate the site's easy-to-use search filters, which help them quickly find exactly what they are looking for.

In addition to their product selection, QualityBath.com has earned a reputation for competitive pricing. Many customers have praised the site for offering reasonable prices on luxury home decor items, often beating out other online retailers.

Customer service is another area where QualityBath.com excels. The company has received high marks for its fast and efficient shipping, as well as their prompt and helpful responses to customer inquiries. The site also offers a generous return policy and a price match guarantee, which gives customers additional peace of mind.

Overall, QualityBath.com has received a wealth of positive reviews from satisfied customers who appreciate the site's extensive selection of luxury bathroom fixtures and home decor, competitive pricing, and excellent customer service.
Exceptional Customer Service from QualityBath.com: A Review
When it comes to home renovations, finding the perfect fixtures can be a difficult and time-consuming task. After an extensive search, I stumbled upon qualitybath.com and was thrilled to find exactly what I had been looking for at a great price. However, my excitement was short-lived when I discovered that one of the items I had ordered was delayed by a staggering two months. This news was not only disappointing but also threw off my entire construction schedule.

Determined to find a solution, I contacted customer service to see if there was anything that could be done. To my surprise and delight, I received a message from a representative named Tziporah. Not only did she empathize with my situation, but she also took it upon herself to investigate other vendors in the hopes of finding a replacement part for me. Her efforts paid off – Tziporah was able to locate the part I needed and had it shipped out immediately.

I cannot express how grateful I am for the exceptional customer service I received from Tziporah and qualitybath.com. Their willingness to go above and beyond to make it right for me was truly admirable – a level of care and attention that seems rare in today's world. I highly recommend qualitybath.com to anyone in search of high-quality fixtures and exceptional customer service. Thank you, Tziporah, and qualitybath.com – you have a customer for life!
Exceptional Service and Expertise: My Experience with QualityBath.com
As a seasoned Mechanical/Plumbing Contractor, I have had my fair share of ups and downs in the material supplier world. It takes a lot to impress me, but I have to say, my experience with QualityBath.com has been exceptional.

I have been doing business with them for some time now, and I can confidently say that they are at the very top of the list when it comes to "Good" material suppliers. What sets them apart from the others is the quality of service they provide.

My sales representative, Dov Gellis, is a true professional who goes above and beyond to provide the best possible service. His team of experts backs him up, and they are some of the most knowledgeable and competent people I have ever had the pleasure of working with.

One thing that really stands out about QualityBath.com is their attention to detail. In the age of Covid, it's not easy to predict when products will arrive, but they always keep me in the loop and let me know what to expect. Even if there are any changes to the schedule, they always follow through with an email or a call to keep me informed.

As a plumbing contractor, I like to keep up with the latest products and manufacturers in my field, but I have to admit that these guys take it to a whole new level. Their knowledge of the industry is truly impressive, and they are always up to date with the latest trends and technologies. They are truly the Pro's Pros, and I can't recommend them highly enough.

Overall, my experience with QualityBath.com has been nothing short of fantastic. They provide top-notch service, quality products, and unparalleled knowledge and expertise. It's no wonder they are my go-to supplier for all my fixture needs, and I look forward to continuing to work with them in the future.
Exceptional Customer Service and Quality Products at QualityBath.com
I recently made a purchase on QualityBath.com, and I must say that my overall experience was exceptional. Despite my initial apprehension towards online shopping, I was pleasantly surprised by the quality of the Rohl and Axor faucets and plumbing fixtures that I received. Not only were their prices lower than the norm, but the products were also of excellent quality.

However, upon installing the fixtures, I discovered that one of the ceramic pieces was cracked. I reached out to their customer service team in February 2019, and Freida promptly took care of my request. She contacted Rohl and arranged for a replacement piece to be sent to me, free of charge. I was impressed by her swift and efficient handling of the issue.

Recently, I realized that a screw was missing for my kitchen faucet. I contacted their customer service team again, and Lea was quick to assist me. She contacted Hansgrohe/Axor for a replacement and informed me that it'd be shipped to me, free of charge. This experience only served to further prove their exceptional customer service.

Their attention to customer needs and willingness to go the extra mile sets QualityBath.com apart from the competition, and I would not hesitate to recommend them to anyone looking for fixtures or supplies for their bathroom or kitchen. I, for one, am looking forward to continuing my business with them in the future for my renovating needs.
Exceptional Customer Service & Quality Products from QualityBath.com: A Review
When I was in the market for a Duravit toilet, I did my research to find the best possible vendor. That's when I found out about QualityBath.com - and I must say, I am impressed by their excellent website, communication and pricing. Simply put, they are an amazing company that takes great pride in their products and services.

At first, everything was going smoothly with my order until I received an item that wasn't quite what I had ordered. However, this was actually a blessing in disguise as it allowed me to witness firsthand the exceptional customer service offered by Quality Bath.

I approached Lea from the returns department and she listened carefully to my issue - which is not always the norm when it comes to customer service. Instead of offering a clich? apology, she went above and beyond by communicating with Duravit on my behalf and offering me not one, but multiple solutions that far exceeded my expectations.

I have never encountered this level of customer service from any company before. It was truly an experience from another planet! Thank you, Quality Bath, Duravit and especially Lea, for being such an amazing and exceptional team. I will definitely be back for more products in the future!
Exceptional Customer Service: Our Experience with QualityBath.com
Over the years, our experience with QualityBath.com has been nothing but satisfactory. We have ordered a number of items from them, and each time the customer service has been commendable. Even though the pricing is competitive, we have never had to compromise on quality.

Recently, we placed an order for several special order items with a longer lead time. Unfortunately, we received a sink that was the wrong size for our vanity. However, we were impressed with the way they handled the situation. From our perspective, good customer service is how a company deals with an issue when things don't go as planned. Thankfully, this company knows how to keep their customers happy.

Without delay, Dov responded promptly to our email and requested pictures of the wrong sink. On the other hand, Freida went out of her way to contact Duravit and find the right product for us. We were thrilled to learn that they had the replacement in stock and we received it ten days ahead of schedule, which was a pleasant surprise.

The whole process was handled professionally, and we were treated respectfully throughout. QualityBath.com showed us that they value their customers and their satisfaction above all else. Because of their commendable customer service, we highly recommend them and will continue to order from them in the future.
Exceptional Customer Service: A Review of QualityBath.com Representative Freida
Upon my recent purchase of a Dream Line shower door from QualityBath.com, I encountered an issue with the billing from the shipping company, YRC Freight. Despite the purchase being advertised as tax-free with free delivery, I was unexpectedly charged a fee of $120.00. After contacting YRC Freight and being told that I had to pay the bill regardless, I reached out to QualityBath for assistance.

The representative I was put in touch with, Freida, was an absolute lifesaver. She took the time to listen to my issue, reviewed the documents I provided, and promised to handle the problem for me. Throughout the entire process, Freida kept me informed and made me feel like a valued customer, taking my concerns seriously and responding promptly to my inquiries.

I can't speak highly enough of Freida's exceptional customer service skills, professionalism, and attentiveness. In fact, she impressed me so much that I made a mental note to recommend QualityBath to any friends or family members in need of their services. If QualityBath ever needs to find a new CEO, I would certainly vote for Freida.

Thank you, QualityBath, for employing such a caring and capable representative. Thanks again, Freida!
Exceptional Customer Service and Unbeatable Pricing from QualityBath.com
My experience with QualityBath.com was nothing short of exceptional. The first thing that caught my attention was their fantastic pricing, as they had the specific product I was looking for at a significantly lower cost than their competitors. Despite having never heard of the company before, I took a chance and ordered a pricey fireclay sink from them. The website was incredibly user-friendly, and the ordering process was a breeze. I felt even more confident in my purchase when I noticed that they accepted PayPal as a payment option, which provided me with some additional insurance and security.

Unfortunately, the sink arrived damaged during shipping, which was absolutely not the fault of QualityBath.com. Although it was a weekend and they were closed, I was initially worried about the return process and whether or not I would encounter any difficulties with getting a replacement. However, my fears were swiftly assuaged on Monday morning when I called their 1-800 number and was immediately connected with Janet in the return department. Janet was an absolute pleasure to deal with, and she went above and beyond to ensure that the return process was as seamless as possible. She requested some pictures of the damage, which I emailed to her promptly, and within an hour I received a follow-up email advising me that my replacement sink would be shipped out within the next 72 hours. The entire process was incredibly quick, painless, and stress-free.

I am thoroughly impressed with QualityBath.com, and I am confident that I will be doing business with them again in the future. I strongly recommend that anyone considering making a purchase from them should give them a chance - their exceptional customer service, combined with their unbeatable pricing, makes them a fantastic choice for anyone looking to buy home improvement products online. Thank you, QualityBath.com, for doing right by me and providing me with a stellar shopping experience!
Gorgeous Truffle-Colored Apron Sink & Exceptional Customer Service from QualityBath.com!
I recently had the pleasure of ordering a beautiful composite apron sink from QualityBath.com, and I can't express enough how satisfied I am with both the product and the exceptional customer service I received. The sink I chose came in a gorgeous truffle color that perfectly matched my fantasy brown granite countertops. It's truly the centerpiece of my kitchen, and I couldn't be happier with my choice.

I was initially drawn to the truffle color because I wanted something lighter but didn't want to risk staining a white or gray sink. I had previously owned a dark brown sink in another home, which although beautiful, was a nightmare to clean due to hard water spots. But the truffle color is a wonderful blend of beige and gray that masks any imperfections while still looking stunning.

Aside from the beautiful sink itself, I was thoroughly impressed with the customer service I received from QualityBath.com. My contractor failed to let me know that they needed the sink in hand in order to proceed with building the island, and as a result, we had to delay our construction schedule. However, the Quality Bath representatives were extremely helpful and went above and beyond to ensure that my order would arrive as quickly as possible. They contacted the manufacturer several times to expedite shipment of the sink to me, which ultimately allowed us to maintain our original plan without having to compromise on the unique color I had chosen.

Overall, I am incredibly happy with my experience with QualityBath.com and would not hesitate to recommend them to anyone in search of high-quality products and exceptional customer service. The sink is of unparalleled quality and will undoubtedly last me many years to come. Their customer service was beyond compare and truly went the extra mile to help me out during a challenging situation. I look forward to ordering from them again in the future!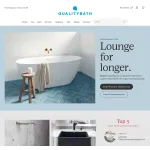 QualityBath.com

contacts
We are here to help
A 19-year track record of successfully managing customer reviews
Our team of experienced professionals handles each review with individual care
Honest and unbiased reviews
Last but not least, all our services are absolutely free