Overview of Kinguin customer experience
Kinguin, the online marketplace for video game keys, has been receiving a lot of negative feedback from consumers. Customers have reported issues with receiving invalid or duplicate keys, slow customer support, and difficulty obtaining refunds. Some users have also complained about hidden fees and charges. These problems have resulted in a poor user experience and a lack of trust in the platform. If you're considering purchasing from Kinguin, be aware of these issues and proceed with caution.
Newest Kinguin complaints
This review was chosen algorithmically as the most valued customer feedback.
Watch out! They scam you out of your money! I bought what I though to be a steam key that was an account instead of an activation key. I had no idea how to use this key and requested a refund. Now they claim that I changed the accounts password?!?!. I didn't even use the account! So, I escalated it to the Kinguin service&support department. Got the...
Read full review of Kinguin
Kinguin Review: Shady Business Practices and Delayed Payouts
I've been using Kinguin to sell games since 2014, but lately I've noticed some changes that have me concerned. In 2018, they started making us wait two months for payouts instead of the usual one month. And even when you do click on payout, they still make you wait weeks, sometimes even months, before you get your money. This is a big problem for me, because I rely on this income to pay my bills.

It seems like Kinguin might be having some financial problems, which is why they're holding onto our money for so long. This is really frustrating, because it feels like they're stealing from us sellers. They're using our money for their own shady business practices and investments, without our consent. I think this is illegal, and I'm not happy about it.

Overall, I would say that Kinguin is a bad site with bad service. Their business practices are shady, and their customer service is very disappointing. They even turn off LiveChat when they feel like it, which is really frustrating when you need help. As a seller myself, I don't recommend anyone to buy anything on Kinguin. It's just not worth the risk.
Kinguin Review: Cheap Windows Keys, but Is It Worth the Risk?
So, you're looking to buy a Windows key, huh? Well, let me tell you about Kinguin. Now, I ain't no tech expert or nothin', but I've used Kinguin a few times and I gotta say, it's a bit sketchy.

See, Kinguin is sellin' keys that have already been used by other folks. They tell you to activate the key by phone, which lets you say that you've reinstalled your hardware and want to use the same key again. Now, Microsoft can't really do nothin' about that, but it does go against their terms and services.

So, you might end up with a key that's been used by 10 or more other people. But, hey, it's still the cheapest way to activate a valid Windows, if you don't care about the legal stuff.

Now, here's a funny story for ya. I claimed a refund 'cause I thought it was illegal for them to sell me an already used key. And you know what they did? They offered to resell me the same key so I could get my refund. Crazy, right?

Anyway, if you're lookin' for a cheap way to activate Windows and you don't mind takin' a bit of a risk, Kinguin might be the way to go. But, if you're worried about the legal stuff, you might wanna look elsewhere.
Is Kinguin legit?
Kinguin earns 36% level of Trustworthiness
SAFETY ALERT: Our evaluation of Kinguin found a legitimacy rating indicating a low level of trustworthiness at 36%.
Kinguin protects their ownership data, a common and legal practice. However, from our perspective, this lack of transparency can impede trust and accountability, which are essential for establishing a credible and respected business entity.
We have received reports that the website associated with Kinguin is selling fake products. If you are considering purchasing products from this website, it's important to do additional research, verify the website's legitimacy, and consider contacting the manufacturer to determine the authenticity of the products.
Complaints Board has received reports that the website may be a possible fraud. To protect yourself, consider using a different website. If you find that the website is indeed fraudulent, report them to us, to help protect other consumers.
However ComplaintsBoard has detected that:
Kinguin has received positive review on our site. This is a good sign and indicates a safe and reliable experience for customers who choose to work with the company.
Kinguin has registered the domain name for kinguin.net for more than one year, which may indicate stability and longevity.
Kinguin.net has a valid SSL certificate, while Scammers can obtain a valid SSL certificate by using fake information or by using a stolen or hijacked domain. In some cases, they may even use a certificate issued to another legitimate website.
Our scan shows Kinguin website is free from malware and phishing activities, which are types of online threats that can include viruses, worms, Trojan horses, ransomware, and other malicious code, as social engineering tactics used to trick users into sharing their personal information.
Kinguin.net you are considering visiting, which is associated with Kinguin, is very old. Longevity often suggests that a website has consistently provided valuable content, products, or services over the years and has maintained a stable user base and a sustained online presence. This could be an indication of a very positive reputation.
Several positive reviews for Kinguin have been found on various review sites. While this may be a good sign, it is important to approach these reviews with caution and consider the possibility of fake or biased reviews.
Kinguin website is deemed to be popular and indicating that it receives a high volume of traffic. It is important to be cautious when using a highly trafficked website, as it may be a target for cybercriminals looking to exploit vulnerabilities or steal personal information.
Our Conclusive Verdict: The company has a low level of trustworthiness. We advise being cautious when dealing with this company and to read reviews carefully, being mindful of any negative comments or concerns before engaging with the company.
Buyer Beware: My Disappointing Experience with Kinguin's Customer Support
So, I had this experience with Kinguin and it wasn't great. I bought a season pass and when I tried to use the code, it didn't work. I contacted their customer support and they said they could give me a refund if I sent them screenshots of the code not working. I did that, but they kept saying it worked when it clearly didn't. I've bought from them before and I know what works and what doesn't.

To make matters worse, they threatened me in their emails and were really unhelpful. They even said they would cancel my PayPal case with their "legal department." It was really frustrating because I had proof that the code didn't work, but they still wouldn't give me a refund. It's like they didn't care about their customers at all.

So, if you're thinking about buying from Kinguin, be careful. They might sell you fake or used codes and then refuse to give you a refund. The only way to get your money back might be to charge back with your bank. It's a shame because I've had good experiences with them before, but this one really soured my opinion of the company.
Kinguin Review: Key Already Activated, Poor Customer Support, and Refund Issues
So, I bought a key from Kinguin and tried to activate it on Steam, but it said it was already activated. I was pretty bummed out, but I contacted support and they tried to help me out. However, it wasn't good enough from a customer's point of view. When a key doesn't work, they make you take three different screenshots and send them before they'll contact the merchant to get another key sent to you. It took three tries, but finally, I got a working key.

On the second try, I asked for a refund from Kinguin, but they said they needed to talk to the merchant about it. I know some people have had good experiences with this site, but unfortunately, this was my first time using it and I had to deal with this. I'm going to remove my account soon because my trust in them is gone. I didn't expect to be treated like this. It's a shame because the concept of the website is great.
Beware of Kinguin.net's False Promise of Multi-Device License-Keys: A Review
I recently stumbled upon Kinguin.net and was intrigued by their offer of "Multi-Device license-keys" for a seemingly affordable price. However, my experience with the website was far from satisfactory.

Despite the promise of being able to use the license on multiple devices, I soon discovered that this was not the case. In reality, I was only able to use the license on one device due to various reasons such as the key being a "cheapo key" for a single device or a shared key that had already been used and was being sold as new.

This kind of behavior is reminiscent of a mafia-like operation and is nothing short of cheating. The customer is then expected to provide proof of the scam with screenshots, which is nearly impossible since the user cannot access the account settings page for various reasons, including not having access to the account because they only hold the "secondary kay" for registering a specific number of units.

It is a highly organized crime that is shameful and cowardly. It is appalling that these individuals are trying to make money through such low-life activities. It is a disgraceful act that should be condemned by all.
Disappointing Experience with Kinguin: Wrong Key and Slow Resolution
So, I went to Kinguin to buy a game key, and I told them I was from the USA. But when I got the key, it had a code for Australia! I couldn't use it, so I contacted Kinguin. They told me to talk to the seller, HungerGames. But HungerGames didn't speak English very well, and they said it was my fault for buying a bad key. I was really frustrated, so I went back to Kinguin. They said they would put the key up for sale again, and if someone bought it, I could get a refund. I didn't really want to do that, but I didn't have a choice.

Now, it's been over a week, and I just got an email saying they finally put the key up for sale again. I have to be patient and wait for someone to buy it so I can get my money back. It's really frustrating, and I feel like I got scammed. I wish they had just given me a refund right away instead of making me wait so long.

Overall, I'm not very happy with my experience with Kinguin. They didn't give me what I paid for, and it took a long time to get any kind of resolution. I don't think I'll be using their website again.
Disappointing Experience with Kinguin.net: Unfair Treatment and No Resolution
I had a really bad experience with Kinguin.net. I sold my Star Wars Battlefront II Origin CD Key for 13.99 on January 15, 2019. The buyer downloaded and installed the game, but then filed a complaint because the game contained Spanish-Mexican instead of Spanish Spanish. I didn't know that was a problem, but apparently it was.

To my surprise, Kinguin decided to keep all my money and my 13.99. They didn't even try to help me resolve the issue with the buyer. Instead, they sent me a message offering me a measly -5% discount on my next purchase. That's not even close to fair compensation for what happened.

I'm really disappointed with Kinguin's practice. They should have done more to help me out. I don't recommend selling or buying anything on their website. It's just not worth the risk.
Bad Experience with Kinguin: Product Didn't Work and No Refund Given
I gotta say, I wouldn't recommend Kinguin. I had a pretty bad experience with them. I bought a code for Guild Wars 2, but when I tried to use it, it didn't work. I reached out to Kinguin for help, but they just sided with the seller and wouldn't give me a refund or any kind of solution. I even offered to provide proof, but they didn't want to hear it.

They did eventually get back to me with an apology and a 10% discount code, but honestly, that's not really good enough. They sold me a product that didn't work, and now they want me to buy something else from them? It's like they're trying to cheat me twice.

Their customer service is pretty much non-existent, too. I'm just going to close my account and never buy anything from them again. If something goes wrong, their warranty is worthless. So, yeah, I'd say avoid Kinguin.
Kinguin Review: Poor Communication and Customer Service Skills Need Improvement
This site, Kinguin, has some major issues that need to be addressed. Firstly, their communication skills are severely lacking. When I opened a support ticket, they sent me an email asking for more information, but then failed to respond at all. After waiting for 20 minutes, I finally got through to a chat representative who informed me that I was supposed to update the ticket instead of responding to the email, even though the email from Kinguin said otherwise. When I pointed out this discrepancy, the representative was quite rude and dismissive, stating that "that's why we have the online tickets" and refusing to argue. This kind of attitude is unacceptable.

The reason I had to contact them in the first place was because the seller had given me a product key that couldn't be activated online and had to be done by phone. This is a major inconvenience and should have been communicated clearly before the purchase was made.

Another issue with the site is that they don't differentiate between 32- and 64-bit programs. This can cause confusion and lead to the wrong product being purchased.

In the end, I was able to get the program I needed, but it took a lot of time and effort to get a decent answer to my problem. I would have been willing to pay a little more to avoid these headaches. Overall, Kinguin needs to work on their communication and customer service skills if they want to retain their customers.
Shady Business Practices: My Disappointing Experience with Kinguin
I've been using Kinguin for a while now to buy apps and games, and I have to say, most of the time I've been pretty happy with my purchases. The prices are usually lower than what you'd find on other sites, which is always a plus. However, my last experience with them has left me feeling pretty disappointed, and I don't think I'll be using them again.

First of all, I noticed that they add taxes onto the price of the item, which isn't always immediately clear. This means that the final price you pay can end up being a lot higher than what you thought you were going to pay. In some cases, I've seen prices go up by as much as 60%, which is a pretty big difference.

But the real reason I'm not recommending Kinguin anymore is because of an issue I had with a game I bought from them. I purchased the Age of Empires Definitive Edition, and while the key worked just fine, I couldn't get the game to install. I had no idea what was going on, so I reached out to their support team for help. They sent me a bunch of links to forum discussions that showed that this was a global issue - in other words, the game simply couldn't be installed. And yet, they were still selling keys for it.

To me, this is a really shady business practice. They're selling a product that they know doesn't work, and they're not being upfront about it. When I asked for a refund, they told me they couldn't give me one because the key worked. But that's not the point - the game itself was broken, and they knew it.

To make matters worse, when you factor in the taxes they add onto the price, I ended up paying the same amount as I would have if I'd just bought the game directly from the Microsoft store. And if I had done that, I would have been able to get a refund right away.

All in all, I'm really disappointed with my experience with Kinguin, and I don't think I'll be using them again. They might have good prices, but if they're going to sell broken products and not be upfront about it, then what's the point?
This review was chosen algorithmically as the most valued customer feedback.
I bought a game key from them and when I decided to use it I found out it was not working and that's not all! It also said that it was stolen! I immediately went online and contacted Kinguin, but they never replied. I sent them over 20 messages and they completely ignored me. Kinguin is stealing money by selling fraudulent game keys! This is absolutely illegal and it a crime! Avoid this place at all costs!
Read full review of Kinguin and 5 comments
Collect Your Trust Badge
Be recognized for outstanding customer service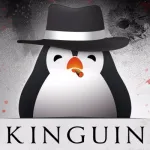 Kinguin

contacts
We are here to help
19 years' experience in successful complaint resolution
Each complaint is handled individually by highly qualified experts
Honest and unbiased reviews
Last but not least, all our services are absolutely free