JiffyShirts Customer Reviews
13
Rate your recent experience
Pros and Cons of JiffyShirts: A Review Breakdown
JiffyShirts has been a popular online destination for buying wholesale blank t-shirts, sweatshirts, and other apparels made by leading brands. The website offers a huge selection of high-quality products, excellent customer service, fast shipping, and competitive pricing. Customers have been raving about the convenient and user-friendly website that enables easy browsing, filtering, and ordering of the desired products. They have also appreciated the accurate product descriptions, size charts, and color swatches that help them make informed purchase decisions.

Many customers have praised the excellent customer support offered by JiffyShirts. They have found the representatives to be knowledgeable, friendly, and quick to resolve any issues or queries. The website offers a hassle-free return policy, and customers have appreciated the prompt resolution of any return requests. Customers have also appreciated the fast shipping offered by the website, with most orders being delivered within a few days.

Another positive aspect of JiffyShirts that customers have noted is their competitive pricing. Many have found the prices to be lower than other wholesale retailers without compromising on the quality of the products. The website offers bulk discounts, free shipping on orders over a certain amount, and frequent promotions, which customers have appreciated.

Overall, the reviews for JiffyShirts have been overwhelmingly positive, with customers praising the website for its vast selection, competitive pricing, fast shipping, and excellent customer service.
JiffyShirts: A Nightmare to Use - A Review
JiffyShirts is a website that is quite a nightmare to use. I have had difficulties with it since the beginning when I decided to place my order. I put the items I wanted to purchase in the cart and then, the next day, when I went to finish the transaction, something strange had happened. The payment information had already been taken but the items I had put in the cart were nowhere to be found. I had to start all over again but this time I couldn't find the original shirts. It took me a bunch of trials and errors to finally locate them.

To make matters worse, the shirts I wanted to order were now more expensive than when I first selected them. I was completely frustrated, but then I tried to click the purchase-now button and it wouldn't light up. I was going crazy trying to fix all these issues on my own, so I decided to ask for some help through the chat. It took several tries but I eventually got to order the items I wanted. To be honest, it took me over an hour to get through this process!

Overall, my experience with JiffyShirts was pretty dreadful. I had to go through a bunch of difficulties to accomplish just one order. I only hope that the website improves its user interface and becomes more user-friendly in the future.
Efficient and Budget-Friendly: My Experience with JiffyShirts
My experience with JiffyShirts has always been a delightful one. The transaction process is straightforward, and the delivery time is incredibly fast. I can always count on them to provide amazing quality, and their prices are unbeatable too.

However, there is one issue that I've faced on multiple occasions - the unavailability of seasonal colors in Gildan Softstyle t-shirts. It can be frustrating to try to stock up on t-shirts for a particular season, only to find out that the colors you need aren't available for purchase. As a small business owner, it's tough to buy cases of shirts and store them when I have limited space and capital. So, I'm left with having to offer only the basic colors that I know will be in stock, such as black, white, and sport grey.

Regardless of this slight hiccup, I am still super happy with JiffyShirts' service. They exceed my expectations every time I make a purchase. The quality and affordability of their products are unmatched. I love that they offer a vast selection of shirts and accessories to choose from, and their customer support team is always ready to assist me with any queries.

Overall, if you're looking for a reliable and efficient online store to purchase your shirts, then JiffyShirts is definitely worth considering. Their fast delivery, quality products, and unbeatable prices make them stand out from all their competitors.
JiffyShirts - Fast Delivery & Detailed Reviews for Blank Apparel Shopping
The delivery from JiffyShirts is wild-fast! Like seriously - blink and it's here! And on the off chance something does go wrong, these guys handle it like pros and get it fixed in no time. I love the detailed reviews on their site - they're a lifesaver! I can always find out if the shirt I'm eyeing will work with the screen-printing, heat transfer, embroidered, or other design method I have in mind. Plus, it's cool to see how other people have used the same shirt before. It's like getting an insider tip from a friend. Overall, JiffyShirts makes shopping for blank apparel a breeze. Thanks, JiffyShirts, for putting us first!
Mixed Review of JiffyShirts: Shipping Issues and Inconsistent Quality in Shirts
So I ordered some shirts from JiffyShirts (jiffyshirts.com) and while I don't have a major complaint, there are a few things I want to mention. First off, I wish they shipped their shirts with protection bags because the shirts can get stained by debris that gets in from shipping. It would save me a lot of hassle and worry if they did that!

Now, onto the shirts themselves. They seemed fine until I pressed them, and suddenly they had this weird, shiny sheen to them. I tried lowering the heat, but it didn't help. The only way to avoid it was to press the entire shirt first, which was time-consuming and kind of defeated the purpose of using cotton for the texture and look. This issue was especially noticeable on the colored shirts, and it looked terrible in direct sunlight. I'd advise sticking to the white shirts if you're sublimating.

Also, the blue shirts were inconsistent in terms of fit and the collar was wonky on some of them. And the red shirt stained my paper red, which means the dye wasn't set properly. I'd suggest washing these shirts separately, but since they're more expensive than the white ones, it's definitely a hassle.

When I contacted customer service about these issues, I didn't feel like I was being heard. I just got a refund and that was it. I would have appreciated some guidance or insight on what was going wrong and if there was anything I could do to avoid it in the future. It just felt rushed and like the agent wanted to get off the phone as soon as possible. Overall, the shirts aren't terrible, but there are some issues that need to be addressed.
Reliable Supplier with Excellent Quality and Fast Delivery: A Review of JiffyShirts
As a small business owner, finding reliable suppliers can make all the difference in reducing stress and ensuring timely deliveries. Luckily, my experience with JiffyShirts has been nothing short of excellent. In fact, I've consistently received my orders well before the expected delivery date, which has been incredibly helpful in streamlining my inventory management and meeting customer demand.

In terms of quality, I've yet to encounter any issues. Each item has been exactly as described, and the materials and stitching have held up exceptionally well, even after multiple washes. As someone who values quality above all else, this has been a huge relief.

My only minor critique would be the shipping costs. While JiffyShirts' prices for shirts and other items are already quite competitive, shipping costs can add up quickly. I've been on the lookout for promo codes or discounts that can alleviate this cost, but so far haven't found any.

Overall, I highly recommend JiffyShirts to other small business owners, as well as anyone in need of bulk clothing orders. Their speedy deliveries, top-notch quality, and extensive inventory make them a reliable and trustworthy supplier in my book.
JiffyShirts Review: Reliable, Affordable, and Fast Shipping!
When it comes to purchasing blank apparel online, I'm an expert in comparison shopping. I like to scour the web for the best deals, and that includes factoring in the total cost - including any additional fees like shipping. That's why I can confidently say that JiffyShirts is one of my absolute favorite places to shop!

Not only are the prices on JiffyShirts competitive, but when I account for shipping costs, I often find that they come out ahead of many other online retailers. And the icing on the cake? Their shipping is incredibly fast! I love knowing that when I place an order with JiffyShirts, I won't have to wait forever to receive my items.

One of the things I appreciate most about JiffyShirts is how easy their website is to navigate. With so many filters and options available, I can quickly narrow down my search and find exactly what I'm looking for. They make it really easy to browse by size, color, material, and other factors, which saves me a ton of time and hassle.

Overall, I can't say enough good things about my experiences shopping with JiffyShirts. They're reliable, affordable, and offer an unbeatable selection of blank apparel. Whether I'm stocking up on basics for my own wardrobe or looking for wholesale pricing for a larger project, they're always my go-to destination.
Efficient supplier with outstanding customer service: JiffyShirts review
That's how I would describe my experience with JiffyShirts. As a small business owner, I've been relying on this online shirt supplier for quite some time now, and I must say they have delivered on their promise of a hassle-free experience with outstanding customer service.

However, as a discerning customer, quality control is of utmost importance to me, and I must admit that I have had a few orders where the shirts were damaged. These damages ranged from holes and dirt to adhesive, which can be a bit frustrating as it affects my operations. Nonetheless, I'm quick to commend the team's prompt action in rectifying any issues and providing replacements as quickly as possible.

One area JiffyShirts could improve on is the threshold for free shipping. While I understand that shipping costs can be a bit steep, lowering the threshold could go a long way in attracting and retaining customers.

The bottom line is, JiffyShirts is a reliable and efficient supplier with great customer service. While their quality control could be better, their responsiveness to address any issues is commendable, and I will continue to trust them as my go-to shirt supplier.
Mixed Feelings on JiffyShirts: Great Shirts but Frustrating Shipping Changes
As a long-time customer of JiffyShirts, I recently had an experience that left me feeling quite frustrated. While I understand that it may have been a necessary change on their end, I was disappointed with their new method of grouping shipping. In my opinion, it made the process much more difficult and confusing than it used to be.

That being said, I do have to give JiffyShirts credit where it's due. The quality of their shirts has always been great and I've never had any issues with the products I've received. Additionally, the shipping time for the first group is impressively fast.

However, I have to speak up about the cost of fulfilling a second or third group. Having to pay three times the cost of a blank for additional groups is simply not practical. As a customer who has been loyal to JiffyShirts for years, I can't help but feel disappointed with this aspect of their service.

All in all, while I still appreciate JiffyShirts for their quality products and speedy service, their new shipping grouping system has left me hoping for improvement.
JiffyShirts: The Best Online Store for All Your Shirt Needs with Exceptional Customer Service!
JiffyShirts is hands down the best online store for all your shirt needs! I'm a regular customer, having used their services for over four years now, and I can confidently say that I won't order my shirts from anywhere else. The secret to their success is their amazing customer service. They really go above and beyond to make sure their customers are satisfied with their products and service.

What I particularly appreciate about Jiffy is their quick response time to any problems that may arise. I have had only one issue with an order in all the time I have been using them, and within just 48 hours, the matter was fully resolved! Their team is courteous and professional, always keeping the customer's needs and concerns at the forefront of everything they do.

Although there may be other websites offering similar products at cheaper prices, I am always willing to pay a few extra bucks for local buy and exceptional customer service. There's simply no comparison. JiffyShirts takes their commitments seriously, and you can tell they work hard to deliver the best possible experience to their clients.

All in all, JiffyShirts is, without a doubt, the most reliable and trustworthy online store I have ever encountered. Their commitment to customer satisfaction is unparalleled, and I am thrilled to be one of their customers for life! Thank you, Jiffy, for always providing amazing products and services with a smile!
Reliable Online Shirt Shopping: JiffyShirts Review
If you're looking for a reliable place to buy shirts online, JiffyShirts is definitely worth checking out. In all honesty, I've had mostly positive experiences shopping with them, with speedy shipping and a wide selection of products to choose from.

However, I have experienced a few hiccups along the way. Recently, I had to deal with a slower order due to low stock, and another order was delayed thanks to some nasty winter weather. That being said, both of these issues were completely out of JiffyShirts' control, so I can't fault them for that.

What I can fault them for, however, is the fact that when my shirts finally arrived, three of them had holes in them! Needless to say, I was pretty disappointed, but thankfully, their customer service team was top-notch and they were able to quickly resolve the problem. That being said, I do wish there was a more efficient way of replacing damaged products without having to pay for shipping.

To avoid this issue in the future, I've taken to ordering an extra shirt in each category, just in case. The downside is that I then have to deal with the hassle of returns for the extras, which isn't exactly convenient.

All in all, despite the occasional hiccup, I would still recommend JiffyShirts for their overall great service and large selection of products. Just be aware that there may be the occasional issue with quality control or shipping delays.
Mixed Experience with JiffyShirts: Payment Issues, Shipping Options, and Product Selection
As a customer of JiffyShirts, I recently encountered some issues when trying to make a payment using Venmo. Unfortunately, I'm not certian whether this was a problem on my end or a more general issue. However, I must say that despite this minor mishap, I have generally been very satisfied with the service provided by JiffyShirts.

Of course, as with any company or online store, there is always room for improvement. I would personally love to see more options when it comes to shipping rates and delivery time for products like vinyl. Additionally, while browsing through the site, I found that the price of the vinyl wasn't enough to apply towards my free shipping threshold. As a result, I ultimately decided to remove it from my cart.

Beyond that, I would have appreciated more items geared towards women and young kids who are between the ages of 4 and 7. In particular, I would love to see more active dry material for children, especially in the hats section. Specifically, it would be great if there were more hats available that are adaptable for ponytails or buns.

Overall, JiffyShirts is a great store with a lot to offer. There are certainly some places where they could improve, but I'm confident that they will continue listening to their customers in order to create an even more enjoyable shopping experience for everyone.
JiffyShirts.com: The Go-To Clothing Supplier for Small Businesses with Unbeatable Prices and Customer Service
As someone who runs a small business, finding a reliable supplier for clothing can be a real challenge. However, since discovering JiffyShirts.com, I haven't looked back. In fact, I haven't made a purchase from any other company in the last 2 almost 3 years (unless I only needed like 1 or 2 items). Their product range is extensive, and their prices are truly unbeatable. But what really sets JiffyShirts apart is their customer service.

I'm not generally one to leave reviews, but I feel compelled to sing their praises. JiffyShirts has been so awesome and, at times, so graceful to my small business that I just have to let others know about it. When I've had issues with orders, which is rare, they've been quick to respond and resolve the situation. And, when we've been in a pinch and needed items in a hurry, they've always been there to help us out.

I know it's been tough for many businesses to keep shirts in stock over the last couple of years, given all the craziness in the world. But, even with those challenges, JiffyShirts has always been able to come through for us. They provide a consistently high level of service that I've come to rely on. I'm sure others feel the same way, which is why I wouldn't hesitate to recommend JiffyShirts to anyone looking to purchase high-quality clothing for their business. Thanks for being there when we need you Jiffy! Your loyal customer base appreciates you more than you know!
JiffyShirts: Exceptional Quality, Competitive Pricing, and Proactive Communication
As someone who's always on the lookout for a reliable and affordable online retailer, I stumbled upon JiffyShirts 4 years ago and have been a loyal customer ever since. The quality of their products is top-notch and their prices are always fair, often beating those of their competitors. As a busy small business owner, I have a lot on my plate, but JiffyShirts helps lighten the load with their efficiency and dependability.

One thing that really stands out about JiffyShirts is their exceptional customer service. As a fellow business owner, I understand the importance of excellent customer service and it's evident that JS takes it seriously as well. Whenever I've had an issue or question, their team has been quick to respond and always professional. Which is important when I'm contacting them on behalf of my own customers.

What I appreciate most about JiffyShirts is their proactive approach to communication. On the rare occasion that something I've ordered is unavailable, they notify me right away - this allows me to inform my own customers and set realistic expectations, which helps avoid any miscommunications.

Overall, I highly recommend JiffyShirts to anyone looking for a great online retailer. Thanks to their quality products, competitive pricing, and exceptional communication, I know I can count on them for years to come.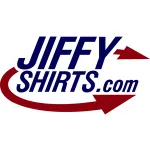 JiffyShirts

contacts
Website
www.jiffyshirts.com
We are here to help
A 19-year track record of successfully managing customer reviews
Our team of experienced professionals handles each review with individual care
Honest and unbiased reviews
Last but not least, all our services are absolutely free