Newest GoViral complaints
Sizzling flavors at Joe's BBQ: A must-try for meat lovers!
I had my cousins met yesterday who told me using this also informed about his victory using this app
GoViral Review: Disappointing Results but Potential for Improvement
After using GoViral, I have to admit that I am slightly disappointed with the results. It just didn't work for me the way I had hoped it would. However, I do still see potential for improvement that could make this tool better in the future.

I have been using GoViral for a little over three days now, and unfortunately, I have yet to see any significant increase in views or engagement on my social media platforms. While I do not believe that this is entirely the fault of the tool, I can't help but feel a bit let down since I was hoping for more immediate results.

Despite my initial disappointment, I believe that GoViral could be a useful tool for those looking to take their social media presence to the next level. With a few tweaks and improvements, I could definitely see it becoming a go-to resource for anyone looking to build their brand online.

In conclusion, while my experience with GoViral hasn't been entirely successful, I do still see potential for it to be a valuable tool. I would recommend it to anyone looking to improve their social media presence, but caution them not to expect overnight success. With patience and persistence, however, I believe that GoViral could be a valuable asset to anyone looking to grow their brand online.
Disappointed and frustrated with GoViral: A cautionary review
I recently signed up for GoViral (goviral.ai) and was excited about the prospect of rapidly increasing the subscriber count for my website. Unfortunately, my experience with the platform has left me feeling disappointed and frustrated.

My friend and I have both been using GoViral for 10 days now, and have noticed that we are both struggling to gain any meaningful traction in terms of subscriber count. In fact, despite our best efforts, my own subscriber count has increased by a paltry 117 since I started using the platform. Needless to say, this has left me feeling extremely unhappy with the service.

I had high hopes for GoViral, and was initially impressed by the platform's claims to be able to boost subscriber counts rapidly and effectively. However, my experience has been quite the opposite, and I am now beginning to feel that the service is not living up to its promises.

Overall, I'm disappointed and frustrated with the performance of GoViral, and I'm not sure if I will continue to use the platform in the future. While it's possible that my experience is unique, I would caution others to be wary of investing too heavily in this service, as it may not provide the results you're hoping for.
Is GoViral legit?
GoViral earns 89% level of Trustworthiness
SAFETY NOTICE: ComplaintsBoard has determined that GoViral has an exceptional credibility, near-perfect reputation level of trust, with a legitimacy rating that is more or less around 89%.
GoViral has received 8 positive reviews on our site. This is a good sign and indicates a safe and reliable experience for customers who choose to work with the company.
Goviral.ai has a valid SSL certificate, which indicates that the website is secure and trustworthy. Look for the padlock icon in the browser and the "https" prefix in the URL to confirm that the website is using SSL.
Our scan shows GoViral website is free from malware and phishing activities, which are types of online threats that can include viruses, worms, Trojan horses, ransomware, and other malicious code, as social engineering tactics used to trick users into sharing their personal information.
Goviral.ai has been deemed safe to visit, as it is protected by a cloud-based cybersecurity solution that uses the Domain Name System (DNS) to help protect networks from online threats.
Goviral.ai you are considering visiting, which is associated with GoViral, is very old. Longevity often suggests that a website has consistently provided valuable content, products, or services over the years and has maintained a stable user base and a sustained online presence. This could be an indication of a very positive reputation.
GoViral as a website that uses an external review system. While this can provide valuable feedback and insights, it's important to carefully evaluate the source of the reviews and take them with a grain of salt.
Several positive reviews for GoViral have been found on various review sites. While this may be a good sign, it is important to approach these reviews with caution and consider the possibility of fake or biased reviews.
GoViral website is deemed to be popular and indicating that it receives a high volume of traffic. It is important to be cautious when using a highly trafficked website, as it may be a target for cybercriminals looking to exploit vulnerabilities or steal personal information.
This website offers payment methods that provide the option for customers to get their money back, which could be a positive indicator of the company's commitment to customer satisfaction.
Goviral.ai appears to have online shopping features, it's important to know that the platform supports an extensive range of payment methods, making it convenient and easy to complete your transaction. The payment procedure on the website is also relatively simple and straightforward, ensuring a smooth and hassle-free experience for buyers.
However ComplaintsBoard has detected that:
GoViral's complaint resolution process is inadequate and ineffective. The support team lacks customer service skills, training, and resources, resulting in only 0% of 10 complaints being resolved.
GoViral is suspected of selling online social media fans and followers, which is a practice that goes against the terms of service of many social media platforms and can potentially harm the authenticity and trustworthiness of social media accounts.
We found that GoViral website supports payment methods that allow for anonymous transactions. This could potentially be used for illegal activities, such as money laundering, and could indicate that the website is engaging in unethical practices.
GoViral offering cryptocurrency services, it is important to be aware of the potential risks involved. Cryptocurrency transactions can be anonymous and irreversible, making them a prime target for scammers and fraudsters.
Our verdict: GoViral is a recommended company with a good reputation for trustworthiness and reliability, but their 0% Resolve Complaints rating is a cause for concern. We recommend approaching their services with caution and reading complaints and reviews before making a decision.
Disappointing Results with GoViral: My Experience with Video Marketing Platform
I have to admit, my experience with GoViral (goviral.ai) has been less than satisfactory. While the platform promises to help boost engagement and views for videos, my experience has been quite the opposite. Firstly, it seems to take a long time for any results to come through, which can be frustrating for those looking for quick gains.

Furthermore, despite purchasing likes, comments, and subscriptions, I have found that these do not translate into actual engagement on my videos. In fact, many viewers seem to be turned off by what they perceive as fake engagement, causing unsubscribes and a lack of comments or shares.

Overall, I can't help but feel disappointed with the results I've seen from GoViral thus far. While I had high hopes for the platform, it appears that it still has some way to go in delivering the kind of real engagement and growth that content creators need. Until then, I may have to look elsewhere for my video marketing needs.
A Promising Option for Social Media Promotion: A Review of GoViral's Platform and Pricing
When it comes to promoting your business on social media, GoViral seems like a great option. However, upon visiting their website, there were a few hiccups that made the user experience a bit unpleasant. It's not necessarily a dealbreaker, but it would be nice if the site was a bit smoother to navigate.

One issue that might be a dealbreaker for some is the cost of the subscriptions. It's no secret that marketing can be expensive, but GoViral's prices might be a bit too steep for some. This isn't to say that the service isn't worth the investment, but rather that the pricing may be a bit of a hurdle.

That being said, it's important to note that GoViral offers the ability to earn coins that can be used to help offset the cost of a subscription. If they could somehow increase the earning potential of these coins, it might make the subscription model more feasible for a wider range of businesses.

All in all, GoViral seems like a solid option for those looking to increase their social media presence. The website could use a bit of improvement and the pricing may not work for everyone, but as far as marketing tools go, it's definitely worth considering.
Boost Your YouTube Views with GoViral: An Honest Review of the Platform
. It was a disappointing experience, to say the least. But then I came across GoViral (goviral.ai) and decided to give it a try. And boy, am I glad I did!

First of all, I must say that the process of signing up and getting started with GoViral was incredibly simple and user-friendly. The platform is easy to navigate, and the interface is well-designed, making it effortless to understand what you need to do to start getting more views on your content.

But what really impressed me was the quality of the views that I got from GoViral. Not only were they genuine, but they were also targeted towards my audience, which meant that the engagement levels on my videos skyrocketed. This, in turn, helped me to build a loyal following and drew in more organic traffic to my channel.

Furthermore, I was delighted to see that the views I received from GoViral were not just a one-time spike that would disappear after a while. Instead, they continued to grow steadily, leading to long-term organic growth for my channel and content.

Overall, I highly recommend GoViral to anyone looking to increase their views on YouTube. It's an affordable and reliable platform that offers real results, and I am thrilled with the outcome. Though you may encounter occasional minor issues, such as videos getting deleted due to YouTube's policies, GoViral remains an excellent choice for boosting your social presence and reaching a wider audience online.
Collect Your Trust Badge
Be recognized for outstanding customer service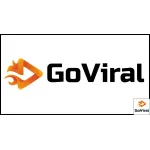 GoViral

contacts
We are here to help
19 years' experience in successful complaint resolution
Each complaint is handled individually by highly qualified experts
Honest and unbiased reviews
Last but not least, all our services are absolutely free