Overview of Flyskyhy customer experience
Flyskyhy (flyskyhy.com) has been plagued with numerous consumer complaints, highlighting several significant issues. Customers have expressed dissatisfaction with the company's poor customer service, citing unresponsive and unhelpful representatives. Additionally, there have been numerous reports of delayed or undelivered orders, leaving customers frustrated and disappointed. Flyskyhy has also faced criticism for their subpar product quality, with many customers receiving defective or damaged items. Furthermore, the company's return and refund policy has been a major source of frustration, as customers have struggled to receive appropriate resolutions for their issues. Overall, these recurring problems make Flyskyhy an unreliable and unsatisfactory choice for consumers.
Newest Flyskyhy complaints
Avoid this app!
Been a Powered Paraglider for years. Bought this app on the recommendation of a fellow pilot. Mistake! Very poor documentation; expensive compared to other more powerful apps that are free; and any real useful features are $7.99 each. Look around and you'll find much better free apps with great documentation and tutorials.
Unintuitive and frustrating
I really hate to write a bad review especially for such a niche sport but this app is painfully unintuitive and confusing. I was not getting accurate information either compared to another similar app I've used. Hope the devs can work to improve the experience.
Not great
The only useful thing this app does is send data to livetrack24, and it only kind of does that. There is no feedback if someone messes up their livetrack24 login credentials in the app, it just doesn't send data. We were fighting this all week at our event after recommending people use this app. Also when uploading flights to leonardo the data (glider type etc) doesn't work correctly.

Anything else this app could be good for requires buying "extensions" so to have full functionality this is a $40 app. I would love to have a moving map with airspace, roads, towns, waypoints and maybe even other pilots I am flying with. This app might do it but no way it's worth $40 to find out.
Is Flyskyhy legit?
Flyskyhy earns 88% level of Trustworthiness
SAFETY NOTICE: ComplaintsBoard has determined that Flyskyhy has an exceptional credibility, near-perfect reputation level of trust, with a legitimacy rating that is more or less around 88%.
Flyskyhy has received 16 positive reviews on our site. This is a good sign and indicates a safe and reliable experience for customers who choose to work with the company.
Flyskyhy.com has a valid SSL certificate, which indicates that the website is secure and trustworthy. Look for the padlock icon in the browser and the "https" prefix in the URL to confirm that the website is using SSL.
Our scan shows Flyskyhy website is free from malware and phishing activities, which are types of online threats that can include viruses, worms, Trojan horses, ransomware, and other malicious code, as social engineering tactics used to trick users into sharing their personal information.
Flyskyhy.com has been deemed safe to visit, as it is protected by a cloud-based cybersecurity solution that uses the Domain Name System (DNS) to help protect networks from online threats.
Flyskyhy.com you are considering visiting, which is associated with Flyskyhy, is very old. Longevity often suggests that a website has consistently provided valuable content, products, or services over the years and has maintained a stable user base and a sustained online presence. This could be an indication of a very positive reputation.
However ComplaintsBoard has detected that:
Flyskyhy's complaint resolution process is inadequate and ineffective. The support team lacks customer service skills, training, and resources, resulting in only 0% of 16 complaints being resolved.
There was some difficulty in evaluating or examining the information or data present on the flyskyhy.com. This could be due to technical issues, limited access, or website may be temporarily down for maintenance or experiencing technical difficulties.
Flyskyhy.com has relatively low traffic compared to other websites, it could be due to a niche focus, but could also indicate a potential lack of traffic and popularity. The flyskyhy.com may offer a niche product or service that is only of interest to a smaller audience.
Flyskyhy protects their ownership data, a common and legal practice. However, from our perspective, this lack of transparency can impede trust and accountability, which are essential for establishing a credible and respected business entity.
Our verdict: Flyskyhy is a recommended company with a good reputation for trustworthiness and reliability, but their 0% Resolve Complaints rating is a cause for concern. We recommend approaching their services with caution and reading complaints and reviews before making a decision.
Good app but buggy
I just landed my paramotor and my flight summary said my max ground speed was 386mph... And if you try to playback a flight, none of the graphs work properly when you fast forward the timeline. In addition apple watches have been out for years now, when are we going to log heart rate to go with the flight data?
Only good for recording tracks
None of the numerical instruments give useable numbers:
- lift is insanely optimistic, often showing 2m/s+ when my other instrument and senses tells me more realistically that I'm going down.
- glide ratio is very pessimistic
- wind speed calculations always believe I have a massive tailwind when on glide because of speed bar. Calculations are even further off if your phone is not aligned to your direction of flight.
- if more than 100km from my house, height agl is equal to my altitude msl, indicating that the app is not loading ground height data. This is even when I have very good reception.

As a result the only useful things the app does for me are:
- show a map (with airspace and waypoints)
- record my track
- report my position to livetrack24.

It does not feel like the full fledged instrument I would expect from a phone app.
Collect Your Trust Badge
Be recognized for outstanding customer service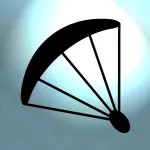 Flyskyhy

contacts
We are here to help
19 years' experience in successful complaint resolution
Each complaint is handled individually by highly qualified experts
Honest and unbiased reviews
Last but not least, all our services are absolutely free