Early Moments complaints
122
Early Moments
-
Svk
Okay Ive been charged for 2 things already but I didn't say anything about the. 1st one but I just want my refund because I've been canceled it already wen I got my first Thing of books I liked the books that I've got but that does not mean I wanted to get charged with more payments on those books I just want a refund so I can get my money back that's all.
Early Moments
-
Unauthorised money taken off my card
I did not authorize you to charge my account I. Want my money back on my account now [email protected] com
Desired outcome: Refund my money
Early Moments
-
Disney svkbill
I have no idea what this "company" is but I better get my 23.43 back! This is some bullshit. That was part of my birthday money from my husband and daughter! I will sue if I have to! Give me my money back NOW!
Early Moments
-
That you guys charged me money on my account when I never asked for a membership
i am so pissed right now! You guys changed me for something I never asked for you guys have no right taking money out of my account with our permission I will sue u guys ! I did a survey and to complete the survey I got one of your dr suess book for 1 Dollar do u understand the word 1 dollar then u guys charged me 21$ for something I never asked for eather take it off my account or I sue you guys I have 2 lawyers I'm not playing
This review was chosen algorithmically as the most valued customer feedback.
I Subscribed for Dr. Seuss books, and Received 3 orders (which they send you automatically) and Charged me for them. Than after 3 months the Books stop coming and I was Still getting Billed. So I Attempted to 'Cancel My Order' They want to Charge Me $37.00 to Cancel My Subscription I want to Either Get a Refund or Receive my Books, Than I want to Cancel My Order without Being Charged Such an Enormous amount amount!
Read full review
Early Moments
-
Taking my money out of my bank without my permission!
I ordered the buy 2 books for a 1$, well you all took it upon yourself to take 30$ out of my account. This is absolutely bullshit. How can you take someone's money without their premission? 30$ that's was for me to get back and forth to work threw the week! Now my card is of course of drafted since you all took money without fucking informing someone . Y'all gonna hear my fucking mouth tomorrow . Best believe that.
Early Moments
-
Being charged for something I didn't ask for or want
Hello as I go through my email I get a statement stating that I made a purchase with you guys for some Disney books which I do not do here is the Transaction ID 8EC79135Y4965442T the total was $4.28 LaMoureaux

PayPal

Receipt for your PayPal Cash Card purchase

Here's the receipt for your purchase at SVK*DISNEY BOOKS on June 22, 2020.

Payment Details
Transaction ID: 8EC79135Y4965442T June 22, 2020
Transaction type: Purchase
Merchant: SVK*DISNEY BOOKS

Transaction amount $4.28 USD
Total amount $4.28 USD

Available PayPal balance $0.70 USD

The amount shown above may not be the final purchase price. If the merchant completes the transaction and the final amount is different from the above, we'll send you an additional email that shows the final purchase price.
Early Moments
-
Svk disney books
Only ordered the one set of books and was charged 23.43 and I did not approve this and I would like my money back asap.. I do not appreciate yall offering products for one price and without anyone's knowledge you charge them money for something they don't get. And for yall to have the odasity to take from families that is just trying to get something for their kids to enjoy is wrong and I will be suing if this is not resolve.
Early Moments
-
Unauthorized payment
I was charged $23 for something I am not aware and did not purchase. I have not purchased anything for 2 months and my last purchase was the $1 I spent on two Disney books. When I saw it today I thought this was the first Time but went back to confirm and found out that it was the second time. I have not subscribed to anything. I want my money back as I need it for other things.
Early Moments
-
svk*disney books
Christie Ripley
I was charged $23.28 on March 30, 2020 for something I didn't authorize. My phone number is 2563749766. I expect a full refund and cancel anything in my name. I haven't received anything from Disney books.
My email [email protected]
7405735030 is the confirmation number on my bank statement. I only receive $23.00 a week during this epidemic.
This review was chosen algorithmically as the most valued customer feedback.
BE CAREFUL!!! STAY AWAY!!! Earlymoments"/SVK*DR.SEUSS BOOKS Earlymoments/SVK*DR.SEUSS BOOKS this company on FACEBOOK advertises a trial offer of 2 children's books for $2.00.The add states that there is no obligation to buy anything else.I pay $2 in Mar 3th 2020. After two weeks, my credit card  had been another charged $21.96. I contacted...
Read full review
This review was chosen algorithmically as the most valued customer feedback.
I have been charged 25$ for books that I have not ordered or even seen for that matter. I want my money returned immediately. This is theft, fraud, and illegal. I will take these matters to my local bank and/or authorities if I do not have my money put back into my account I am also going to contact the better business bureau if I have to. I am on a fixed...
Read full review
Early Moments
-
Taking money out of my account and I haven't authorized this transaction at all. So that's basically stealing and fraud
I have had 25$ taken out of my account this month and I want my money back immediately. I didn't authorize this transaction and therefore that's considered stealing and fraudulent. My contact #615-388-9741. Please contact me as soon as possible or I will take further action through my bank and local authorities. I don't have the money to pay for something I don't want need and didn't order I'm on a very limited income so please resolve this issue immediately. Also I have never recieved any books so that alone should tell you that this company is a scam.
Early Moments
-
Subscription Charged NEVER RECEIVED BOOKS
I was told that I could not sign up for a subscription using "Cash App" card after the fact of signing up on the website. It still charged my card $2.14 for the trial - NEVER RECEIVED REFUND / NEVER RECEIVED BOOKS
See screenshot... if they steal from 1000 people thats $2140.00 what an AWESOME SCAM!
As you can see in the screenshot this was on Feb 12, 9 days later on 02/21 this is still not refunded WHAT A SCAM!
This review was chosen algorithmically as the most valued customer feedback.
I was given false information had I known money was going to be taken out of my account automatically without my knowledge I wouldn't have gotten the 3 books for a dollar. I had the understanding it was just a one time thing. I want the subscription cancelled and my money back.
Read full review
Early Moments
-
unknown subscription automatically automated without consent
I recently purchased two books for my nephew little did I know my first purchase came with an automatically automated subscription that would charge my card every month I have tried to call them at the number during your business hours at Eastern time and it's still saying that the office is closed this is 100% a scam this is not even my card it is a relatives card and I need to know how to fix this problem automatically I have emailed them and I have gotten no answer I need to do this very quickly
Early Moments
-
svk*disney books
It was placed under the child name Nisha, the address was 8421 S. Orange Blossom Trail, I bought 4 for 1 dollar. The books were the lion king, Finding nemo, frozen, and I can't remember between The little mermaid, cars, or toys story. I ordered and have the receipt for them, I never received anything. Transactions was made on 10/25/19. The name for the order made was by Quaynisha Singleton. That's if it confirms that. I still have the receipt below.
Early Moments
-
book subscription
Ordered the $5 books not realizing that a subscription to shipments was necessary and cancelled the subscription. Never received order, called and was told because I cancelled I wouldn't receive the order and was banned from ordering again. Emailed to reinstate and got no response. Was randomly charged again and another order placed. Called and supposedly it's in transit already but a refund was issued. I don't see how it's right to tell someone their order is cancelled and they're banned from ordering then start service again without notifying of the change.
Early Moments
-
my refund from svk disney
I've emailed svk Disney twice now and they said that they would work on my refund and it's been about 3 weeks almost 30 days and I still haven't got it. I haven't received any of the books either by mail or by post office so canceling it shouldn't have been a problem but my refund I could really use. My email is sammy.fellers1998 @gmail.com if you would like to email me back. Thank you
Early Moments
-
cancellation
I need to cancel the books because i only asked for the first package and you kept giving me more so i'm losing money now. This is a big problem i did not ask for these books and i need my money back and to
cancel the subscription immediately this is not asked for so asap please cancel my subscription i don't want any more books. I need this cancelled on my card it keeps charging me and i don't want anymore.
We are here to help
16 years' experience in successful complaint resolution
Each complaint is handled individually by highly qualified experts
Honest and unbiased reviews
Last but not least, all our services are absolutely free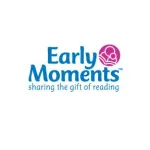 Early Moments contacts