Overview of Curriculum Associates customer experience
Curriculum Associates has a history of receiving negative reviews and complaints from consumers. Many customers have expressed frustration with the company's products, citing issues such as software glitches, lack of support, and inadequate instructional materials. Some customers have reported difficulty accessing the website and problems with billing and payments. Additionally, some users have found the company's products to be overly complex and difficult to navigate. Overall, Curriculum Associates appears to have significant issues with the quality and functionality of its products, which has resulted in numerous customer dissatisfaction.
Curriculum Associates complaints
7
Newest Curriculum Associates complaints
Review: Curriculum Associates Online Education Platform Needs Improvement
The online education platform, Curriculum Associates, has several areas that require improvement. The storylines implemented by the platform are lengthy and leave students bored and unproductive. While the objective is to engage students in learning, the extensive dialogue does not contribute to understanding the subject matter.

Furthermore, the quizzes do not effectively communicate to students where they went wrong. The software encourages repetition of the lesson until students succeed, but if the original lesson was not effective, is repeating it the solution? It would be beneficial for Curriculum Associates to provide alternate and more thorough lessons for students who need additional assistance.

These issues make the website frustrating to use and should not be mandatory in a classroom setting. It is disheartening to note that these issues remain unaddressed, and the company should take steps to refine their platform. Failure to address user feedback would deter potential customers, and it is advised that they take constructive reviews seriously.

In conclusion, Curriculum Associates must address these challenges to provide a better learning experience for their users. Shortening storylines, improving quiz feedback, and offering more effective lessons would make the platform more engaging and productive. It is recommended that the company listen to constructive criticism and make the necessary changes to the platform to enhance student learning.
Reviewing Iready: Why it's Not the Best Online Platform for Young Learners
Hello, as a reviewer, I'd like to share my thoughts on the online educational platform Curriculum Associates, specifically, Iready. I believe that it is not the best option for young learners.

Firstly, let's discuss the diagnostic aspect of Iready. In my experience, I had to go through it multiple times and found it frustrating as it often contained questions that I had already answered before. Even if you're doing it for the first time that year, you'll still have to do half of the lesson with the same questions from the previous year, which can be very boring. Additionally, there are cutscenes and "brain breaks" that add to the time spent on the diagnostic, making it a lengthy process, and sometimes it doesn't count towards the total time spent on Iready.

Furthermore, I feel that it's unfair to the students who have to complete one lesson every day. The platform has a feature where the screen asks if you're still present, which can be frustrating and demotivating for young kids trying to learn. I can only imagine how difficult it must be for students to stay engaged with a platform that continuously interrupts their learning process.

Lastly, I want to address the negative sentiment I experienced and found on multiple petitions to get rid of Iready. I believe that there is a real need to voice the issues students have with such platforms, which could potentially help in improving the learning experience for everyone.

In summary, Iready is not the best online educational platform for young learners. There are several areas that need improvement, and the fact that some students want to get rid of it speaks volumes. If you're considering using Curriculum Associates for your child, be aware of its shortcomings and consider other options that offer a more engaging and supportive learning experience.
A Mixed Reception: Student Feedback on Curriculum Associates' I-Ready Program
Curriculum Associates, particularly their I-Ready program, seems to have garnered a polarizing reputation among the student body. There are those who are frustrated by the program's seemingly tedious and time-consuming nature. Conversely, some tout its effectiveness in helping hone students' academic skills.

Some students have expressed concerns that their teachers may become upset if they fail to complete an I-Ready lesson. There are also complaints that the program takes too long to complete, which is causing students to lose focus and become frustrated. According to these individuals, it seems that I-Ready is not as effective as it is intended to be. Rather, it has become a source of frustration and boredom for the students.

In some instances, the students have expressed worry that if they're unable to answer I-Ready questions correctly, they may appear "dumb" in front of their peers or teachers. This anxiety only serves to compound the stress and frustration students feel when using the program.

On the other side of the spectrum, there are students who attest that I-Ready has helped them with their academics, allowing them to become more skilled in the areas where they struggle. They appreciate the extra help that I-Ready provides.

Moreover, I-Ready has a particular allure for teachers as it offers a way to support student growth and progress in their individual academic areas. Even still, it's important to recognize the student feedback regarding the program, as student's input should be taken into account when creating a learning environment that is effective for all students.

It's clear to see that Curriculum Associates and their I-Ready program has a mixed reception. While some appreciate the support it offers in struggling areas, others criticize it for being overly tedious, confusing, and detrimental to learning. It ultimately falls upon Curriculum Associates to consider the feedback from both sides and create a program that works for all parties involved.
Is Curriculum Associates legit?
Curriculum Associates earns 91% level of Trustworthiness
SAFETY NOTICE: ComplaintsBoard has analyzed Curriculum Associates and determined that it has perfect credibility and is completely trustworthy, with a legitimacy rating of 91%.
The age of Curriculum Associates's domain suggests that they have had sufficient time to establish a reputation as a reliable source of information and services. This can provide reassurance to potential customers seeking quality products or services.
Curriculumassociates.com has a valid SSL certificate, which indicates that the website is secure and trustworthy. Look for the padlock icon in the browser and the "https" prefix in the URL to confirm that the website is using SSL.
Our scan shows Curriculum Associates website is free from malware and phishing activities, which are types of online threats that can include viruses, worms, Trojan horses, ransomware, and other malicious code, as social engineering tactics used to trick users into sharing their personal information.
Curriculumassociates.com has been deemed safe to visit, as it is protected by a cloud-based cybersecurity solution that uses the Domain Name System (DNS) to help protect networks from online threats.
The Curriculum Associates website has a cookie consent banner indicating the use of cookies for data collection. Reviewing the privacy policy and terms of use is crucial to understanding how the data is used and ensuring compliance with regulations.
We looked up Curriculum Associates and found that the website is receiving a high amount of traffic. This could be a sign of a popular and trustworthy website, but it is still important to exercise caution and verify the legitimacy of the site before sharing any personal or financial information
However ComplaintsBoard has detected that:
While Curriculum Associates has a high level of trust, our investigation has revealed that the company's complaint resolution process is inadequate and ineffective. As a result, only 0% of 7 complaints are resolved. The support team may have poor customer service skills, lack of training, or not be well-equipped to handle customer complaints.
Curriculum Associates protects their ownership data, a common and legal practice. However, from our perspective, this lack of transparency can impede trust and accountability, which are essential for establishing a credible and respected business entity.
We conducted a search on social media and found several negative reviews related to Curriculum Associates. These reviews may indicate issues with the company's products, services, or customer support. It is important to thoroughly research the company and its offerings before making any purchases to avoid any potential risks.
Our Verdict: Curriculum Associates is highly recommended company, but beware of poor customer service. Their 0% Resolve Complaints rating is a cause for concern. We advise using their services securely and reviewing complaints beforehand.
Review of I-Ready Program: Lacking in Audio Quality and Visual Appeal
Upon visiting the website of Curriculum Associates, I am compelled to share my personal experience with their I-Ready program. As a student who has been required to use this program for a minimum of 30 minutes every week, I have found it to be lacking in many aspects. While some may enjoy the character designs and the mini-game involving stacking cats, I find the program's audio to be unbearable. The quality of the audio is similar to that of a cheap baby toy that plays music and it is so unpleasant that I often have to resort to plugging my earbuds in and out repeatedly. Furthermore, the animations within the program are not visually appealing, and I find them to be quite cringeworthy.

In contrast, I have found ST Math to be a more enjoyable learning experience. Although, it is not without its flaws as well. However, among the flaws that exist with I-Ready, one of the most significant issues that my parents and I have encountered is that it can be rather confusing to navigate. I have shown my parents the poor audio quality within the program, and they were dismayed to realize that I was required to use it every week.

Another issue I have with I-Ready is the inclusion of the detective penguin character. I find his catchphrase to be quite grating and it haunts my dreams. Furthermore, one level within the program includes a baking competition where there is an image of a plate on which granola bars should be drawn. However, someone failed to draw a granola bar and instead simply copied and pasted an image onto the plate within the program.

In conclusion, while Curriculum Associates may have its positive aspects, such as the character designs, I have found the I-Ready program to be subpar in many ways. The audio quality, animations, and confusing interface make it a difficult program to use, and I wish that other programs, such as ST Math, were more widely implemented.
Subpar Choice for Education: A Disappointing Review of Curriculum Associates' I-Ready Program
Upon visiting the website of Curriculum Associates, I was dismayed to discover that their I-Ready program is a subpar choice for education. The website itself leaves much to be desired, and during lessons, I-Ready is prone to freezing, causing the user to need to close the tab and restart the program. This can be quite frustrating and a waste of valuable time.

Moreover, the supposed "stories" that Curriculum Associates has integrated into the lessons are a huge letdown. These poorly animated cartoons add no real value to the learning process and instead cause the user to become bored and disengaged due to their choppy nature. These animations take up a considerable amount of time, and the user is forced to sit through them for around 30 seconds before the program inevitably freezes once again.

While the actual learning aspect of the program is decent, the quality of the website cannot be overlooked. Users are forced to struggle through the constant freezing and poor quality of the animations, which can be a major hindrance to the learning process. As such, I strongly encourage potential users to avoid this website and consider other programs such as TenMarks, which are known for their high-quality educational resources.

In conclusion, Curriculum Associates' I-Ready program is simply not worth the effort due to its unreliable website and poorly executed animations. Users will inevitably face frustration due to the constant freezing and subpar content, which ultimately detracts from the learning experience. It is regrettably apparent that this website is in desperate need of improvement before it can be considered a viable option for education.
My Honest Review of IReady: Excessive Time, Lack of Explanation, Childish Characters, and Poor Design
As someone who has used Curriculum Associates and their online program, IReady, for a few years now, I feel the need to share my honest opinion on the matter. While many people have commented that the program is cheap and they hate it, I want to provide more insight into why that is the case.

Firstly, IReady takes an excessive amount of time to complete. Even if you only make a couple of mistakes, you may be forced to start over again. Additionally, when you make a mistake, the program simply says "oops, try again" without providing any explanation as to why you got it wrong in the first place. This makes it difficult for students to learn from their mistakes and improve their understanding of the material.

Furthermore, despite the program encouraging you not to rush through diagnostic tests, it only provides a week to complete them. This is a difficult feat when a single test contains 100 questions, each requiring you to read an entire passage.

On top of these issues, many find the characters names and jokes used in IReady to be childish and silly. For example, one of the characters is named "Pepper Jackie" and the jokes offered can hardly be considered humorous.

Finally, the program looks and sounds unappealing and unprofessional. Many teachers and students find it difficult to engage with such a subpar platform.

In summary, IReady is poorly designed and executed, and I do not recommend it. In fact, I encourage others to join the petition to end IReady found here: https://www.change.org/su/p/iready-must-end/f.
i-Ready: A Frustrating and Unproductive Educational Software for Middle School Students
The experience that I had with Curriculum Associates' i-ready program was less than desirable. As an 8th grade student last year, I remember having to complete i-ready for both math and ELA, and it was quite frustrating. The lessons are incredibly time-consuming, with some taking as long as five hours to complete. Additionally, the ratings are poor, and the animations can be annoying. It's hard to stay motivated when you feel like you're doing something that is designed for a much younger audience.

One of the major issues with i-ready is that if you get one question wrong, it can lead to a lengthy and unnecessary lecture for about 10 minutes. It can be incredibly frustrating when you feel like you're being talked down to. It's disappointing considering that we were all excited to use it initially. However, many of us quickly changed our opinions. I've heard this sentiment echoed by many students in my school - everyone talks about how bad it is.

One particular instance that stands out happened when I was assigned an i-ready lesson that had four parts. Unfortunately, I failed the test, and then I had to start all over again from the beginning. Not only that, the diagnostic process is glitchy and cumbersome, making the experience feel like a punishment. If you need to pause the lesson to attend to something else, the program interrupts your break with a message that asks if you're still there. If you don't respond, it logs you out, which is a frustrating experience.

One of the most challenging aspects of i-ready is the animation and character. The blinking only once in a sentence is enough to drive you insane. When you get a question right, the program lectures you for half an hour about their perceived greatness, which is excessive and annoying. To say the least, the entire process can drive anyone nuts.

Overall, it's hard to recommend i-ready to anyone. It's an incredibly aggravating and unproductive program that makes it hard to feel motivated to learn. I wouldn't advise anyone to use this program, as it seems to make people feel worse about learning, rather than encouraged. When it comes to education, it's important that we find a program that fosters a love of learning, and unfortunately, i-ready is the opposite of that. I hope Curriculum Associates will consider these issues and work to improve the program comprehensively for future users.
Collect Your Trust Badge
Be recognized for outstanding customer service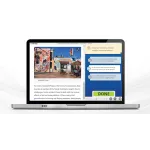 Curriculum Associates

contacts
We are here to help
19 years' experience in successful complaint resolution
Each complaint is handled individually by highly qualified experts
Honest and unbiased reviews
Last but not least, all our services are absolutely free