Rapid Recovery Solution complaints
6
Rapid Recovery Solution
-
Call backs and return of money
I have been calling this company for several months and no one calls back. I have been trying to work with them for several years and this is an ongoing problem. months will go by with me calling almost daily and no one will call me back. I call the operator and no one answers, so I leave a message and still no call back. I email several people within the company and not one response from anyone. I am now trying to simply get my remaining balance of the money I gave as a deposit for legal fees back. I can't get anyone to respond. I am wondering if I have to find another collection agency to collect from this agency.
Rapid Recovery Solution
-
Stay away
We gave this company aurthority to proceed in retreiving our debt of over $50, 000.00, at 30% commission. Now the agreement calls for us to receive our money 30 days after they have received money from our former customer.
It is over 90 days and we have only received 1 payment, which was nearly 40 days late. Now we are still waiting on the second payment and even that will be late.
Is there anything we can do that would make these people keep their word and make the payments as promised, or is this a Federal Law infraction and should we go to the Feds ( FBI ).
The complaint has been investigated and resolved to the customer's satisfaction.
Rapid Recovery Solution
-
Business Contract with Agency
I work for a business who contracted with Rapid Recovery Solutions for a large number of accounts. Over 1, 000 accounts and $200, 000 debt owed were issued to the company. I personally, as the Collections Supervisor, reviewed every account prior to issue and sent them the accounts in preformatted reports so that their data entry specialists would be able to enter the accounts properly, using simple population fields (copy and paste). There were a number of concerns that I had from the beginning, that I reviewed with my contacts, a gentleman and his assistant. They assured me repeatedly that there would be no conflict with the policies we set in place up front. After working with them for 3 months I repeatedly discovered missing accounts, incorrect accounts, and various other entry errors. After confronting my contacts with this information the first time, they were apologetic and took quick steps to recover the situation. Following the 2nd discovery, they seemed to take a defensive approach. And after the 3rd they cancelled our contract with them and removed all of our accounts. I feel that this agency thought it more productive to simply cancel the opportunity to garner $56, 000 than accept responsibility for their actions and correct the behaviors resulting in such incidents. I warn anyone who contacts this agency for business to be aware of their wealth of administrative errors; and to keep a close eye on the accounts themselves to track their progress and verify accurate information.
Resolved
The complaint has been investigated and resolved to the customer's satisfaction.
The complaint has been investigated and resolved to the customer's satisfaction.
Rapid Recovery Solution
-
harassing phone calls
i received a call from this company about a dept that i have already told them i refuse to pay do to the service witch i have never received. sometime later i was called back and was in a (i really don't know what to call it)a small arguement witch a young man whom was very disrespectful(im hoping you would listen to the recording).after thinking about it a while i called back and asked that they never call me again or i would have my attorney i was told by this young man the same one im assuming " you can't even pay a hundred dollor dept you don't have a attorney" he then hung the phone up in my face. i feel he was very unprofessional and nasty, hopefully this reach the proper athorities.
Resolved
The complaint has been investigated and resolved to the customer's satisfaction.
The complaint has been investigated and resolved to the customer's satisfaction.
This review was chosen algorithmically as the most valued customer feedback.
October 2009 I sent away for a tooth whitner you just paid shipping and handling. I Got the product. And never heard a thing in till April 8 2010, when I reeiced a letter from Rapid Recovery Solutions telling me I owed 158.27. They told me I did not read the terms and conditions. I tried for several days to locate this company because I now was being told I...
Read full review
Rapid Recovery Solution
-
Failure to sende payment collected
Collection agency collected money due my work as an independent contractor. I received proof of
payment from my client showing cancelled checks payable to Rapid Recovery Solution. When I contacted Rapid Recovery Solution by phone for an explanation they confirmed having received payment but that I still owed them more than they had collected arguing an unilateral change on the agreed commision percentage. The contract signed between the parts clearly stated that the collection commission should be 14 percent out of $6, 300 for a $882 commssion nevertheless, Rapid Recovery Solutions changed it to a maximum of 49 percent or $3087 commission . Lucky enough, my client sent directly to my address checks for $4, 200 and $2, 100 to RRS. Ever since, RRS keep calling me to find out my new address to mail the invoice for the allegedly owed amount. I am now going to forward the contract, and proof of payment from my customer
to the NY General Attorney's Office.
I have reported the problem to the NY- BBB. After almost three years of filling the complain, I am not doing any better. It looks like the NY - BBB is pretty much enable or unwilling to force them to comply.
We are here to help
16 years' experience in successful complaint resolution
Each complaint is handled individually by highly qualified experts
Honest and unbiased reviews
Last but not least, all our services are absolutely free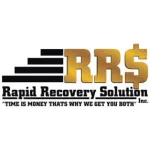 Rapid Recovery Solution contacts