Newest GemsNY reviews & complaints
The complaint has been investigated and resolved to the customer's satisfaction.
Failure to honor written returns policy
I purchased a pair of earrings on 12 /10 /22. They arrived on 12/19/22.

Upon review of the product, it did not meet my expectations in quality, finish and fit.

I filled out the requested information to include order number my email address and zip code. Mysteriously the system stated that the info did not match. When emailing Gems NY the representative stated that the email address I used did not match and returns could only be done via online process.

The email address is correct it is the same address that the order confirmation came to and the only one I use.

I believe that I may have been scammed as follow ups went dark.
Desired outcome: I would like a to return the item for a refund.
Resolved
My earlier complaint here appears to be a pre mature reaction on my part. The inability to process the return steps via the website was totally my fault. GemsNY help me find my mistake and quickly provided me with a return label. There efforts show me that they are very credible and professional. Vishal Batwara of Gemsny was very helpful. I would recommend them based on my experience
don't order from them
I purchased several items from GemsNY in September. To this day the items haven't arrived yet. As well as my money that I asked to refund as soon as possible.
They are like deaf and blind to my requests. I think they are aware of how many times I tried to talk to them: emailed, called, left voice messages. I
extremely disappointed. And I guess, this complaint won't bring any result, but I am here to warn other people and to recommend them to stay far away from GemsNY.
Rip off
Why does anyone say that their shipping dees are too high? It's not fair.
I live in Boston, their company is in New York if I'm not mistaken. They charged me 60 dollars. Ridiculous.
I don't what it was. Was it done intentionally? I don't know. Maybe it was their system error, who knows. But I'm absolutely sure that they charged too much. Going to open a dispute to get my money back.
Is GemsNY legit?
GemsNY earns 91% level of Trustworthiness
SAFETY NOTICE: ComplaintsBoard has analyzed GemsNY and determined that it has perfect credibility and is completely trustworthy, with a legitimacy rating of 91%.
We found clear and detailed contact information for GemsNY. The company provides a physical address, 2 phone numbers, and email, as well as 4 social media accounts. This demonstrates a commitment to customer service and transparency, which is a positive sign for building trust with customers.
Gemsny.com has a valid SSL certificate, which indicates that the website is secure and trustworthy. Look for the padlock icon in the browser and the "https" prefix in the URL to confirm that the website is using SSL.
Our scan shows GemsNY website is free from malware and phishing activities, which are types of online threats that can include viruses, worms, Trojan horses, ransomware, and other malicious code, as social engineering tactics used to trick users into sharing their personal information.
Gemsny.com has been deemed safe to visit, as it is protected by a cloud-based cybersecurity solution that uses the Domain Name System (DNS) to help protect networks from online threats.
A trust mark has been identified for a gemsny.com, but it is important to verify the trust mark and its source to ensure that it is legitimate. Ensure that the trust mark is genuine by clicking on it and verifying its authenticity through the issuing organization's website.
GemsNY as a website that uses an external review system. While this can provide valuable feedback and insights, it's important to carefully evaluate the source of the reviews and take them with a grain of salt.
Several positive reviews for GemsNY have been found on various review sites. While this may be a good sign, it is important to approach these reviews with caution and consider the possibility of fake or biased reviews.
This website offers payment methods that provide the option for customers to get their money back, which could be a positive indicator of the company's commitment to customer satisfaction.
Gemsny.com appears to have online shopping features, it's important to know that the platform supports an extensive range of payment methods, making it convenient and easy to complete your transaction. The payment procedure on the website is also relatively simple and straightforward, ensuring a smooth and hassle-free experience for buyers.
However ComplaintsBoard has detected that:
While GemsNY has a high level of trust, our investigation has revealed that the company's complaint resolution process is inadequate and ineffective. As a result, only 16% of 6 complaints are resolved. The support team may have poor customer service skills, lack of training, or not be well-equipped to handle customer complaints.
GemsNY has a strict no-refund policy for all purchases, and any attempts to dispute a charge with the credit card company are met with evidence of the policy. This prevents many chargebacks, but also results in dissatisfied customers who feel they have no recourse.
We found that the technical contact email address for GemsNY is a free email address, such as Gmail or Yahoo. This could be a sign that the website is not a legitimate business and may be engaged in fraudulent or malicious activities.
The use of a free email address for contact on gemsny.com may be a red flag indicating potentially unreliable or fraudulent activity.
Our Verdict: GemsNY is highly recommended company, but beware of poor customer service. Their 16% Resolve Complaints rating is a cause for concern. We advise using their services securely and reviewing complaints beforehand.
Made a purchase but can not get e-mails from the company nor send to them
Made a purchase but can not get e-mails from the company nor send to them. I called them and ask for help adding my email and name to the "pass filter" in their e- mail system but their operator ( on11/30 at 5:30) said they are too busy to help me. They are probably too busy to help you too if you run into difficulties so advise you stay away!
Awful quality jewelery
We recently ordered a solitaire sapphire ring from Gemsny. Although the ring is beautiful, within two weeks a prong broke off. As a result, we paid for it to be fixed locally because to be quit frank, we were starting to wonder about the quality. Three months later, the bottom part of the crown broke and again, we paid a local jeweler to fix the poor work completed by Gemsny. To further the pain, the local jeweler said we way over paid for the stone. The ring original cost was $3000 and locally they quoted us the same ring for $2000. The unfortunate part of the situation is that I thought I had done my research prior; however I have been nothing but disappointed. I wish I could return the ring. Beware- before you buy from Gemsny, or at least add in repair costs to your budget.

P.S. They will repair your ring, but you have to insure it and send it back to NY via registered mail. Believe me- it is expensive and they will not pay for your shipping or any local repairs.
Fake emerald
My partner and I recently got engaged and like all brides-to -be I wanted the perfect engagement ring. My partner and I visited numerous shops but couldn't find a ring within our budget that we liked. One day I was surfing the net and came across Gems NY. I looked at their website and saw some beautiful emeralds and a 18k gold band set with 2 diamond that was perfect.

I have been stung by internet shopping in the past so I spent time reading as many reviews as I could find inculding those on Site Jabber. I could only find positive reivews. In the end we decided to go for it and ordered an Emerald Cut Emerald which according to GemsNY was from Colombia. We had this set in an 18K yellow gold setting with 2 diamonds with a total of 0.64Cts.

The first problem I had was that I didn't receive a confirmation email. I emailed their website at [protected]@gemsny.com but did not get any response. After a couple of days and a couple of emails I rang them (there's a 12 hour time difference between me and NY). I was told that the order had been recieved and it would be sent out on a certain date.

The ring was sent via FedEx, I tracked it all the way and got very excited when it arrived here in Perth, Australia. Suddenly the tracking status said there was a delay as Gems NY hadn't completed a Commercial Invoice stating the value and the description. After a day I rang FedEx and they explained that GemsNY hadnt completed all the paperwork needed by customs. Luckily I was able to email them the information they needed and once I'd paid the import tax it was delivered (I dread to think how long it would have taken if FedEx tried to speak to GemsNY).

When the ring arrived it was beautiful, the emerald was the perfect colour and the diamonds were larger than I was expecting. The gold setting wasn't perfect as it had obviously been moulded and around the diamond remain some little bits of metal that should have been tidyed up.

I had my doubts through the whole proces and we joked that perhaps it would be made of lead with plastic "stones". To put our minds at rest we sent it off to a certified Jewellery Valuer. A week later and $125 down I find out that my emerald is actually Synthetic! What a scam. I'm not sure how they can say the emerald is Colombian unless it was made in a Colombian Lab!

I have emailed GemsNY to ask for their comments on this matter, I requested that they respond within 24 hours but have not yet had a response. I'm not sure how to take this further yet but I can at least warn others that the gem you get may not be exactly as you expected. I really really hope that this is an isolated case and that all other customers actually receive the genuine artical. All I can say is that in my case I've been left very upset, disappointed and angry with GemsNY. I will await their response to see if I will be offered a refund and an explanation.

If anyone wants further information on my case please feel free to contact me.
Collect Your Trust Badge
Be recognized for outstanding customer service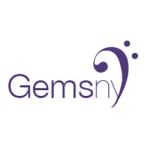 GemsNY

contacts
We are here to help
19 years' experience in successful complaint resolution
Each complaint is handled individually by highly qualified experts
Honest and unbiased reviews
Last but not least, all our services are absolutely free