ForYourParty Customer Reviews
10
Rate your recent experience
Pros and Cons of ForYourParty: A Review Breakdown
ForYourParty is a popular online store that offers personalized party supplies for various occasions. Our review of ForYourParty shows that the website has received overwhelmingly positive feedback from its customers. The most commonly praised aspect of the website is the quality of its products. Customers have reported that the items they received were of high quality and exceeded their expectations.

Another positive aspect of ForYourParty is its user-friendly website. Customers have found it easy to navigate and customize their orders. The website also offers a wide range of customization options, allowing customers to create unique and personalized party supplies.

Additionally, ForYourParty has received praise for its excellent customer service. Customers have reported that the company is responsive and helpful, and that any issues they had were quickly resolved.

Overall, our review of ForYourParty has found that the website is a reliable and high-quality source for personalized party supplies. With its excellent products, user-friendly website, and top-notch customer service, ForYourParty is a great choice for anyone looking to add a personal touch to their next event.
Terrible Experience with ForYourParty: Late Delivery, Smudged Prints, and Poor Customer Service
I recently ordered some products from ForYourParty and unfortunately, I had a really bad experience. Firstly, my products arrived late which was really frustrating. But when I finally received them, I was shocked to see that all of the items that had been printed on were smudged and had the wrong logo on them. It was a complete mess!

I tried to get in touch with their customer service team to rectify the mistake, but it was a nightmare. They ignored my emails and took forever to get back to me. It was beyond unprofessional and left me feeling really disappointed.

Overall, I would not recommend using ForYourParty. It was definitely the worst online ordering experience I've ever had. Save yourself the hassle and look elsewhere for your party needs.
Poor Customer Service and Refund Policy at foryourparty.com
I recently made an order on foryourparty.com for some napkins to be printed for the Superbowl. I was excited to receive my order and eagerly awaited its arrival. However, when the napkins finally arrived, it was already after the Superbowl had passed. I was disappointed that I couldn't use them for the event, and felt that they were of no value to me anymore.

I contacted foryourparty.com to request a refund, but was met with resistance. They refused to refund any of my money, even though I had paid $25.00 for the napkins and an additional $25.00 for rush shipping. I was frustrated with their lack of customer service and felt that they were not willing to work with me to find a solution.

In an effort to resolve the issue, I filed a dispute with my credit card company. They reached out to the President of For Your Party, Sarai, to discuss the matter. Unfortunately, my experience with her was not a positive one. She was completely unprofessional and refused to listen to my side of the story. She raised her voice and spoke over me, making it difficult for me to be heard. She even insulted me to the credit card representative before hanging up.

Overall, my experience with foryourparty.com was not a good one. I was disappointed with the quality of their customer service and felt that they were not willing to work with me to find a solution. I would not recommend this company to anyone looking for a reliable and trustworthy vendor.
ForYourParty Review: High-Quality Products and Excellent Customer Service
I was a bit worried about the quality and customer service of ForYourParty, but I decided to give them a try anyway because I needed something special for my son's wedding. I was looking for something to add to the Cigar Bar, and ForYourParty seemed to have just what I needed.

One thing that concerned me was the black background. I contacted customer service, and they told me that there might be some cracking on the fold. The agent I spoke with was really helpful and honest. He told me that most of the boxes would be perfect, but some might have issues like the one shown in the picture.

I have to say that I was really impressed with the quality of the products I received from ForYourParty. The boxes were beautiful, and they looked great on the Cigar Bar. I was also really happy with the customer service I received. The agent I spoke with was really helpful and knowledgeable, and he made sure that I was completely satisfied with my purchase.

Overall, I would definitely recommend ForYourParty to anyone who is looking for high-quality party supplies. The products are beautiful and well-made, and the customer service is excellent. I didn't give them five stars because I never do unless it's my wife's cooking, but I was really happy with my experience with ForYourParty.
Disappointing Quality and Customer Service from ForYourParty: A Review
I recently ordered some personalized match boxes from ForYourParty and I must say, I was quite disappointed with the quality of the product. When I reached out to the vendor to express my concerns, their response left much to be desired. They seemed to be quite dismissive of my complaints and even went so far as to suggest that it was my fault for not knowing that the leather would look rough and unfinished.

Their email response read, "leather is a more organic material and produces more of a rough edge. I believe people know this about unfinished leather vs a hemmed leather." While I understand that leather can have a more rustic look, I don't think it's fair to assume that all customers would be aware of this. If this is what they consider to be a good quality finish, why not show a photo of the side of the box on their site so that customers are clear what it will look like?

Overall, I was very disappointed with my experience with ForYourParty. The poor quality of the product coupled with the unsatisfactory response from the vendor left a bad taste in my mouth. I would not recommend this company to anyone looking for personalized items.
Disappointing Experience with ForYourParty: Late Delivery and Incomplete Order
This company, ForYourParty, has been a real disappointment so far. I was supposed to receive my order by November 20th, but it hasn't even been shipped yet. I ordered a cutting board with my clients' names on it, as well as a set of wine glasses with their names on them. About a week ago, they called me to let me know that they wouldn't be able to complete the wine glass order. While they did reimburse me, it's frustrating that it took them so long to realize they didn't have enough wine glasses. Honestly, they're not very good at their job. Unfortunately for them, this was a test order because I need about 25 more sets of wine glasses for past clients. They're a bunch of Payaso's - if you don't know what that means, just Google it.
Disappointing Experience with ForYourParty: Lack of Communication and Small Font Size on Matches
I gotta say, I was pretty disappointed with my experience with ForYourParty. I wish I had read some reviews before I placed my order, because it seems like a lot of people have had similar issues to me. The thing that really got me was how they seemed to blame me for everything that went wrong with my order. Like, I'm not a printing expert or anything, so how am I supposed to know what's going to look good? And even when I looked at the designs online, they didn't really give me a good idea of what the final product would look like.

One thing that really bugged me was the font size on the matches I ordered. It was so small that I could barely read it! I mean, come on, wouldn't it have been better for them to send me an email and double-check that that's really what I wanted? I don't think anyone wants tiny print that no one can read, right?

Overall, I just feel like ForYourParty could do a better job of communicating with their customers and making sure that everyone is happy with their orders. It's not like we're all experts in printing or design, so a little bit of guidance would go a long way.
Terrible Experience with ForYourParty: Racist Bosses, Poor Quality Products, and Bad Customer Service
I recently had an experience with ForYourParty and I must say, it was not a pleasant one. I worked there myself and I can confidently say that it was the worst experience I've ever had. The bosses there are racist and they play favorites. They don't care about the quality of their products, as long as they make money and get rid of their products. The customer service skills of their employees are terrible, to say the least.

The bosses are always cracking inappropriate jokes that are offensive and they even drink on the job. It's just terrible. To make matters worse, they kept playing games with my money. When I tried to address the issue, they accused me of lying and told me not to come back again. It's clear that they will act cool to your face but talk behind your back.

I strongly advise everyone to avoid working or buying anything from ForYourParty. It's a complete waste of time and money. God bless everyone and stay away from this company.
Positive Experience with ForYourParty: Great Quality and No Issues with Orders
I was really surprised when I saw all the negative reviews for ForYourParty. I've been using this site for a few years now and I've never had any issues with anything I've ordered. I first used it three years ago when I ordered some stuff for my mom's surprise 60th birthday party, and just recently I ordered some cocktail napkins for my wedding. I've ordered a lot of stuff in between those two events too.

I can't say anything about the customer service because I've never had to deal with them, but I've seen a lot of people complaining about the colors and how their designs turned out. I've never had that problem, so I'm thinking maybe it's just user error or maybe I'm just really good at making sure my designs are perfect. Ha!

Overall, I don't have anything bad to say about ForYourParty. I just wish they had more items to choose from.
Disappointing Experience with ForYourParty: Incorrect Date on Gift Bags and Unhelpful Customer Service
I gotta say, my experience with ForYourParty was not great. I ordered some gift bags for my engagement party and when they arrived, the date on them was all messed up. The 7's looked like 9's and it was really hard to tell what the actual date was. I tried talking to customer service about it, but they were no help at all. I spent over a day trying to get someone to help me out and finally, I was directed to the owner of the company.

Let me tell you, this lady was not helpful at all. She told me to scratch off the foil in the middle of the nines to make them look like sevens, but that was just not gonna work. I had over 100 bags to fix and it was just not practical. When I told her that, she got really snappy and sarcastic with me. She even suggested that I send the bags back to her so she could scratch them off with her own nail! Like, seriously? I spent a lot of money on those bags and I shouldn't have to fix them myself or deal with an owner who acts like that.

Long story short, I didn't get a refund or any apologies from ForYourParty. It was just a really bad experience overall. I wouldn't recommend them to anyone.
ForYourParty Review: Poor Quality Products and Terrible Customer Service
I recently had an experience with ForYourParty that left me feeling extremely disappointed. A friend of mine had ordered some plastic cups from them for her wedding and after only a few washes, the lettering on the cups started to come off. She posted about her experience on social media, warning others not to purchase from this company. To my surprise, someone from ForYourParty reached out to her, expressing their apologies and asking her to post their apologetic email on her social media to show that they were "rectifying" the situation.

However, it quickly became clear that this was all just a show. My friend had to email them multiple times just to get a response, and when she finally did, it was clear that they had no interest in actually fixing the issue. Their customer service representative tried to blame my friend for the cups not living up to her expectations, saying that not all dishwashers are the same and that some households use more abrasive soap or have higher calcium levels. They even suggested that the cups were intended to be disposable, despite being marketed as reusable.

To make matters worse, when my friend asked to return the cups, ForYourParty listed their address but it was incorrect. It's not right to share that information, even if their customer service is terrible. This experience has left me feeling frustrated and disappointed. I would not recommend purchasing from ForYourParty, as their products are of incredibly low quality and their customer service is even worse. It's clear that they have no interest in actually helping their customers and are only interested in making a quick buck. Sari Mintz, the owner, needs to seriously reconsider her profession. Save yourself the trouble and avoid this company at all costs.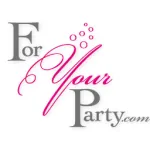 ForYourParty

contacts
We are here to help
A 19-year track record of successfully managing customer reviews
Our team of experienced professionals handles each review with individual care
Honest and unbiased reviews
Last but not least, all our services are absolutely free