eFlow
-
Euro Parking Collection Plc
I have been issued with a Standard Toll Request by Euro Parking collection PLC on your behalf

I have evidence that the payments claimed by them were paid as far as I am aware in the time period after the dates of travel

However on trying to access their computer system it is not responding and I am currently being timed out.

Case Refernce 23050-97220448

Vehicle Eg No BF16WSJ

Peter A C Buckley
Desired outcome: To be able to submit evidence of payment
eFlow
-
M50 charges
I've received a bill from eflow saying I did 1 journey and did not pay. I've just contacted eflow and was talking to a man called Keith. I provided proof of payment from 2 journeys however I was told there was an outstanding journey for February. When I disputed the issue I was quite rudely put on hold and kept there for over ten minutes. Previously I had the same issue were I done 2 trip's and was sent a penalty for 1. I contacted them and the issue was resolved. I've received no bills for the February date sine then. I was told as gesture that they would wave the penalty however I have refused to pay the toll as I resolved this issue months ago as it was through no fault of my own.
Desired outcome: I would like the issue resolved and the journey wiped.
eFlow
-
Charged for tolls already paid
I made a journey on the 14th May southbound across the M50 at 16.39:09 and returned again northbound on 14th May at 22:17:24. I rang up on the 20th May on the 0818501050 number at 13.48pm and paid €12.80 to cover the toll charge and the 1st penalty. I received a notice this morning (9th June 2022) for €97.40. I rang them up, as requested I emailed a copy of the bank statement to say the €12.80 was taken out of our joint account to eflow on the 23rd May. I was emailed back to say that they could only accept an official eflow receipt or pay zone receipt even though the girl I was talking to said to send a copy of the bank statement. I have proof the phonecall from my phone log, I have proof that eflow was paid from my bank.
Desired outcome: I want eflow to admit that the error is on their side and that they retract their unlawful penalty notice.
eFlow
-
Eflow M50
I have been getting fines for unpaid journeys which have been paid, although the issues are rectified quickly through web chat, it is becoming quite irritating. The only suggestion from eflow is to open an account which I don't want and don't see why I should. How many others is this happening to and have paid double for their trips?

I can't see any reason why this is happening other than shoddy, sloppy software if eflow had to pay compensation to drivers every time this happens eflow wouldn't be slow about solving it
Desired outcome: Solve the problem
eFlow
-
M50 toll charges and penalty
Ignorance is no defence but as a stranger driving first time on m50 how am I informed of charges and means to pay? We put money in every toll bucket encountered and are now being charged for three journeys on two dates plus penalties. Of course we would have paid charges if we knew we were incurring charges but we didn't.

Since when has a skoda yeti been "a bus or coach with seating for more than 8 passengers". Ignorance of reality is no excuse for overcharging
Desired outcome: Remove penalty charges
This review was chosen algorithmically as the most valued customer feedback.
I went online 10.09.2021 prior to using the M50 and paid the return toll of 6.20 euros and I have the email receipt from you stating this had been paid. At that time I wasn't able to put in my full VRN in as your system would only allow me to fill in the numbers of my VRN not the letters. At the time I thought nothing of this as I just assumed it wa...
Read full review of eFlow
eFlow
-
Eflow
Dear eflow.

Despite sending you records of payment of my journey on 7/9/21 10/9/21 I have received a letter before debt collection from epc.

This matter is causing me personal distress.

I have tried to contact epc, office is closed and no email address is provided on the letter.

I would appreciate an early resolution to this matter.

Noelle Hollywood

11 Marlborough Gate

Belfast

BT96GB
Desired outcome: Speedy response from eflow and recognition of payment. Refund of second payment. No further action from epc.
eFlow
-
UTN arrived
I made a couple of trips to see a specialist in Maynooth and genuinely forgot to pay the fees.

Only today, months later, I have received a letter from EPC, expecting me to pay £505, I have had absolutely no correspondence in any of the time since I visited Maynooth, to remind me of the outstanding fees. Having looked at the Eflow site, apparently I should have been issued a first reminder, which was never received to remind me of the balance.

So I feel this fine is completely unjustified and entirely incompetent of the company.

I shan't be paying for their incompetence. Having read reviews on the company this seems to be a very common issue for no contact from them and also issueing fines for fees that have been paid in the past and it also seem that the fines are NOT enforceable.

I would appreciate contact back as i will not be wasting my phone bill on seemingly unanswered call also.

Please feel free to email me on [email protected] to discuss
Desired outcome: i will pay the original fines for missing the payment date, but I refuse to pay the £500+ expected
eFlow
-
Get rid of the outstanding payment
I made a journey over the M50 on 16.9.21 and returned on17.9.21. I paid the toll free at 2.43 in 17.9.21. This week, March 2022 I have received a toll request saying that the toll free had not been paid. I have phoned numerous times and they are insisting I owe €9. I have emailed and sent copies of the toll receipt and am being told I owe €9.Could someone please explain to me what I owe the €9 for as this was my first journey over the M50.
eFlow
-
Unpaid Toll Notice case Number 23051- 96832946
I am contacting you again as I have received another penalty letter regarding my vehicle.

On 13 January 2022 after a phone call with your team I thought they had realised the problem and that it was now resolved. I had however requested confirmation of the solution but this never arrived.

On 8 September 2021 I drove my car GD70OUK (Golf Delta Seven Zero Oscar Uniform Kilo) on the M50 toll road. I paid the fee of Euro 6.20 on that day using my Ulster Bank debit card (debit showing on my bank statement 9/9/21). This was acknowledged by your team on 13 January call.

The problem that has occurred is that your system has pulled my Registration Plate through incorrectly - you think my Registration is GOLF OSCAR SEVEN ZERO ZERO UNIFORM KILO - this is not a Uk plate number it will always be 2 letters, 2 numbers, 3 letters, (not 3 numbers in the middle).

I would really appreciate if you could resolve this matter for me.

Please let me know by email or letter that it is now sorted.

Kind regards

Linda Craig

(Registered keeper and owner of grey Mercedes CClass Estate)
Desired outcome: That you realise this is an error and that the case is closed
eFlow
-
Customer service
I received a Standard Toll Request case number23051-96936950 stating that I had not paid the required toll. I had in fact paid 2 tolls 0n 28/10/21 for the travel.

I tried to get through to th epcplc website but it would not accept the address. I sent numerous emails to eflow explaining my situation and informing them that my vehicle is a motorhome and not a bus. I forwarded the receipt number for the payments. If you look at the photos eflow sent me it is clear that it is a motorhome. I even took a photograph of the vehicle in all its motorhome glory and sent it to them. and they still said i had to ring them.

I eventually rang them and was on the phone 58 minutes trying to get it sorted. I live in Northern Ireland and the cost for my mobile is 19.5p per minute.

This is not the first time this has happened, a few years ago eflow tried to fine me because I had a people carrier and they kept saying it was a van. I had to contact their solicitors and it cost me over £30 in phone calls.

Why do they not have a UK number you can ring. I am out this money because of their incompetence.

I feel I should be compensated for these phone calls
Desired outcome: I would like a refund of the phone calls
This review was chosen algorithmically as the most valued customer feedback.
I received a penalty notice from Eflow for two M50 trips dated 21/09/21. This notice arrived months later in December. I contacted Eflow regarding this and spoke to customer service lasting over 13mins, as I have multiple receipts from that time. They examined it at the time and said that actually there was no outstanding charge. I was passed to the...
Read full review of eFlow
eFlow
-
Eflow
Eflow - sent me a Letter with a 2nd notice reminder for an unpaid toll fee.

I do admit I forgot to pay the toll on the date of my trip which was the 23th of January but I did pay it on the 28th of January when I remembered.

I only received this letter yesterday dated 14 of Feb so not only is it saying my 2nd notice it was also doesn't mention the payment I did make.

Now I have resolved the Issue with Eflow since and they were very nice about it but I am a bit annoyed because when I was speaking about this in my office 2 of my colleague s have said they received the 2nd reminder letter and never got the 1st reminder letter.

So I am just wondering is this something Eflow are doing to get more money of Customer 's with not sending the 1st notice letters and only send the 2nd notice.

Its funny how the 1st notice letter isn't delivered and the 2nd notice is ?
Desired outcome: I want people to be aware that this is happening with Eflow so they can fight their case on it.
eFlow
-
m50 toll paid on day and now getting letters of none payment
Hello my name is David Hyndman Reference number 2305196701201 Vehicle registration number NKZ8684 colour sliver. make ford focus . hello I used M50 Toll on 24/08 2021 twice outward and inward bound. and payed the toll at 18:05:07 at Applegreen Baldrumman Lusk .co Dublin and I have received 3 letters from saying I have not paid the last one threatening me with debt collection. I have called yous 3 times now so I am out the money in calls. can yous send me proof of payment please. my email is [email protected] and this puts me of using the m50 toll again thank you D Hyndman
Desired outcome: This is twice this has happened to us having to ring yous on both occasions so I will leave this up to yous
eFlow
-
receipt of fines from Eflow and their debt collector EPCplc
I travelled to Dublin in August 2021, from UK, used the M50 and paid the toll the next morning via phone.

During the next few months I receieved two letters from Eflow demanding payment with a fine on top, depsite the fact I contacted them on receipt of each letter and was told that it was their error and that the account for my car showed I owd nothing.

Yesterday, 4 February 2022, i received a demand from the debt enforcement arm of Eflow - EPCplc- demanding payment.

I have dealt with this issue and Eflow tell me my account is fully paid and on time!

I will not sail into Dublin again to avoid this utter nonsence. I would advise anyone considering using the M50 as a tourist to read TripAdvisor - the Disatisfaction rate is around 92%!

This may be a bit of a joke in Ireland but someone in authority should realise the damage it does to reputation. I own a house in the West of Ireland and will do all i can to highlight to others what virtually amounts to dishonest demands for payment.
Desired outcome: I never got a single apology, depsite the time and money spent (phone calls to Ireland) to rectify these appalling companies performance.
This review was chosen algorithmically as the most valued customer feedback.
I cannot get statements for my account (Acc no. 1113903119). Part of the terms and conditions of my account are that I will receive a monthly statement by post, yet despite numerous requests, I have yet to receive one. I have been charged for a toll on a date and time when I was nowhere the toll bridge. I have tried several times to ascertain why I have...
Read full review of eFlow
eFlow
-
Penalty notice fine
Received pentality notice fine
The journeys were payed in full on the day.
Was told that the account didn't link.
Rang customer care and they found the payment
I looked to be sent out through post or email that account was payed in full
Told this could not be done
Was given a email for complaint email bounces back invalid email
Desired outcome: A letter stating account is pay in full and letter of apology
eFlow
-
Receiving a penalty notice I have paid
Reg 171CE1549 journey reference 1064511976 time and date 20th November 12.41.17 I paid that fine on Friday 20th before 8.p.m.. it's taken off my account please .. check I also paid a fine on that date as well for 6.10 and I havnt reference number of the fine . But 3.10 and 6.10 are taken off my account and the 3.10 was for the journey on the 20th
eFlow
-
Customer service
Hi I recently contacted your team to inform them i didn't receive any penalty notice until I got the 2nd letter. I told Kieran who was dealing with me about my situation and he said he will have to speak to a supervisor. He came back 5 mins later and said sorry there is nothing we can do about it, I asked could I speak to the supervisor and he refused to put me on the phone to a supervisor and also would not give me the supervisors name. He was the most blunt unhelpful person I ever have the misfortune of talking to. I said to him how can I pay a penalty notice if I didn't receive one and his response was " well you should have paid the original fee" I was fuming and asked to speak to supervisor for the 4th or 5th time and each time he would put me on hold and then come back and say they don't want to talk to me about my situation.
Desired outcome: I am willing to pay 1st penalty notice
eFlow
-
I need a copy of an invoice
Hi,

I have called eflow several times, so have written to them and emailed them stating I need a copy of an invoiced so that my employer can pay the toll chargers for the business travel I have accumulated.

For a long time e flow did not work so I couldn't pay the tolls the website was down the E payment in petrol stations didn't work, but they continued to send me threatening letters.

I spoke to a chap and I told him all of this, he said he would call me back, he never did.

It's gone to a point where this is getting out of Albans I can't physically pay all the chargers they want me to pay! And I certainly can't do it if they don't issue me a statement that I can bring back to my employer. It's an absolute joke!

And their phone line has a wait time of 45 mins. It's insane.

How do I get them to send me a statement so that these payments can be resolved!
Desired outcome: I want to pay what is owed, but I need a Stenberg so that my employer can issue the funds. I can not be expected to pay this extortionate amount of money on my own as it is double my month income.
We are here to help
16 years' experience in successful complaint resolution
Each complaint is handled individually by highly qualified experts
Honest and unbiased reviews
Last but not least, all our services are absolutely free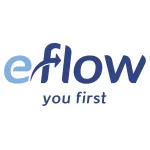 eFlow contacts