Overview of Digital Zakka customer experience
Digital Zakka, the online retailer, has been targeted by consumer complaints regarding poor customer service, misleading product descriptions and scams. Customers have reported receiving damaged goods, items not being as described, and an unresponsive customer support team. Furthermore, some even claimed to have been baited-and-switched, with the products that were promised to have been offered at a huge discount turning out to be fake or substandard. The company's reputation has also received a hit as some customers have reported unauthorized charges to their credit cards. Despite offering a wide range of products, these problems continue to plague Digital Zakka and have caused frustration among its customers.
Digital Zakka complaints
1
Newest Digital Zakka complaints
Discover Innovative Electronic Gadgets and Accessories with Digital Zakka
Digital Zakka is an online store that offers innovative electronic gadgets and accessories for everyday convenience. While some people may have concerns about the safety of these products, it's important to note that they are rigorously tested and certified. In fact, Digital Zakka places a high emphasis on the safety and functionality of their products.

In addition to safety, Digital Zakka's products are designed to make life easier and more enjoyable. From wireless earbuds and charging stations to smart home devices and even pet accessories, there is something for everyone. The products are user-friendly and designed to provide optimal performance.

One possible concern with purchasing online is the quality of customer service. However, Digital Zakka has a reputation for excellent customer service. Their team is responsive, knowledgeable, and dedicated to ensuring customer satisfaction. In the unlikely event that there is an issue with a product, Digital Zakka will work diligently to rectify the issue in a timely and professional manner.

Overall, Digital Zakka is a reputable and trustworthy online retailer that offers a wide range of high-quality electronic gadgets and accessories. Whether you're looking to stay connected, streamline your home, or simply enhance your lifestyle, Digital Zakka has something for you.
Is Digital Zakka legit?
Digital Zakka earns 91% level of Trustworthiness
SAFETY NOTICE: ComplaintsBoard has analyzed Digital Zakka and determined that it has perfect credibility and is completely trustworthy, with a legitimacy rating of 91%.
Digital Zakka has received 7 positive reviews on our site. This is a good sign and indicates a safe and reliable experience for customers who choose to work with the company.
Digital Zakka has registered the domain name for digitalzakka.com for more than one year, which may indicate stability and longevity.
Digitalzakka.com has a valid SSL certificate, which indicates that the website is secure and trustworthy. Look for the padlock icon in the browser and the "https" prefix in the URL to confirm that the website is using SSL.
Our scan shows Digital Zakka website is free from malware and phishing activities, which are types of online threats that can include viruses, worms, Trojan horses, ransomware, and other malicious code, as social engineering tactics used to trick users into sharing their personal information.
Digitalzakka.com has been deemed safe to visit, as it is protected by a cloud-based cybersecurity solution that uses the Domain Name System (DNS) to help protect networks from online threats.
Digitalzakka.com you are considering visiting, which is associated with Digital Zakka, is very old. Longevity often suggests that a website has consistently provided valuable content, products, or services over the years and has maintained a stable user base and a sustained online presence. This could be an indication of a very positive reputation.
Several positive reviews for Digital Zakka have been found on various review sites. While this may be a good sign, it is important to approach these reviews with caution and consider the possibility of fake or biased reviews.
This website offers payment methods that provide the option for customers to get their money back, which could be a positive indicator of the company's commitment to customer satisfaction.
Digitalzakka.com appears to have online shopping features, it's important to know that the platform supports an extensive range of payment methods, making it convenient and easy to complete your transaction. The payment procedure on the website is also relatively simple and straightforward, ensuring a smooth and hassle-free experience for buyers.
However ComplaintsBoard has detected that:
While Digital Zakka has a high level of trust, our investigation has revealed that the company's complaint resolution process is inadequate and ineffective. As a result, only 0% of 1 complaints are resolved. The support team may have poor customer service skills, lack of training, or not be well-equipped to handle customer complaints.
Digitalzakka.com has relatively low traffic compared to other websites, it could be due to a niche focus, but could also indicate a potential lack of traffic and popularity. The digitalzakka.com may offer a niche product or service that is only of interest to a smaller audience.
Digital Zakka protects their ownership data, a common and legal practice. However, from our perspective, this lack of transparency can impede trust and accountability, which are essential for establishing a credible and respected business entity.
We have detected an internal review system on Digital Zakka's website, which can be a positive feature for customers looking to make informed decisions about the company's offerings. However, we recommend that you take the time to research the reviews and verify their authenticity before trusting them entirely
We found that the website Digital Zakka is based in a high-risk country and appears to be selling well-known brands at unusually low prices. This could be a sign of potential fraud or counterfeit products.
Our Verdict: Digital Zakka is highly recommended company, but beware of poor customer service. Their 0% Resolve Complaints rating is a cause for concern. We advise using their services securely and reviewing complaints beforehand.
Collect Your Trust Badge
Be recognized for outstanding customer service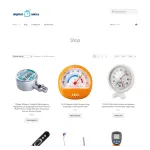 Digital Zakka

contacts
We are here to help
19 years' experience in successful complaint resolution
Each complaint is handled individually by highly qualified experts
Honest and unbiased reviews
Last but not least, all our services are absolutely free