Overview of Apni Exchange customer experience
Apni Exchange is facing numerous consumer complaints over its services. Users have reported that Apni Exchange has poor customer service, long verification times, and lack of transparency. Users have also complained about issues with deposits, withdrawals, and security concerns. Apni Exchange has been accused of manipulating prices, and some users have reported losing significant amounts of money. The platform has also been accused of freezing accounts without notice, leaving many users frustrated and angry. All of these problems have led to a loss of trust in the platform, and users are being warned to exercise caution when using Apni Exchange.
Apni Exchange complaints
1
Newest Apni Exchange complaints
Frustrating Experience with Apni Exchange: Lower Exchange Rate and Lack of Communication
I recently had a less-than-pleasant experience with Apni Exchange (apniexchange.com) that I feel compelled to share. Unfortunately, I must say that I was quite disappointed with the level of service I received from this company.

To give a little background, I had been using Apni Exchange for a short period of time and had already completed a few transactions through them. However, during my most recent transaction, I encountered a significant issue. Firstly, I was offered an exchange rate that was much lower than what I had anticipated, which was a frustrating surprise. Even more concerning, when I requested a refund of my funds, I encountered difficulties.

I realized that I was only able to receive a portion of my payment back, which was quite upsetting. To make matters worse, when I reached out to Apni Exchange to inquire about the remaining amount, I never received a response. I found this lack of communication to be incredibly unprofessional and unsatisfactory.

Overall, my experience with Apni Exchange was quite disappointing. The low exchange rate and lack of communication regarding funds left me feeling like I had not received the level of service I had hoped for. As a result, I cannot recommend this company to others, and I suggest those looking for a reliable exchange service to consider other options.
Is Apni Exchange legit?
Apni Exchange earns 1% level of Trustworthiness
WARNING ALERT: After reviewing Apni Exchange, Complaints Board has detected an extremely critical level of trust and a legitimacy rating of only 1%.
With only 0% of 10 complaints being resolved, Apni Exchange slow complaint resolution rate suggests poor service, lack of responsiveness, or a lack of helpfulness, causing frustration to users. It is obvious that the company has the lowest level of trust.
Apni Exchange's website has revealed that it is not properly optimized for search engines. This could be a red flag indicating that the company is attempting to hide its activities from the public.
Apni Exchange protects their ownership data, a common and legal practice. However, from our perspective, this lack of transparency can impede trust and accountability, which are essential for establishing a credible and respected business entity.
However ComplaintsBoard has detected that:
Apni Exchange has received 10 positive reviews on our site. This is a good sign and indicates a safe and reliable experience for customers who choose to work with the company.
Apniexchange.com has a valid SSL certificate, while Scammers can obtain a valid SSL certificate by using fake information or by using a stolen or hijacked domain. In some cases, they may even use a certificate issued to another legitimate website.
Several positive reviews for Apni Exchange have been found on various review sites. While this may be a good sign, it is important to approach these reviews with caution and consider the possibility of fake or biased reviews.
We looked up Apni Exchange and found that the website is receiving a high amount of traffic. This could be a sign of a popular and trustworthy website, but it is still important to exercise caution and verify the legitimacy of the site before sharing any personal or financial information
Our Final Call: Strongly advising against doing business with this website or company. Do not provide any personal or financial information. Report any suspicious activity to the relevant authorities.
Collect Your Trust Badge
Be recognized for outstanding customer service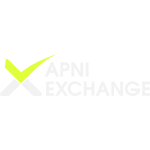 Apni Exchange

contacts
We are here to help
19 years' experience in successful complaint resolution
Each complaint is handled individually by highly qualified experts
Honest and unbiased reviews
Last but not least, all our services are absolutely free