Overview of International CPR Institute customer experience
The International CPR Institute (icpri.com) has been the subject of numerous consumer complaints. Many customers have expressed dissatisfaction with the quality of training courses, citing inadequate instruction and outdated materials. Others have reported issues with customer service, including difficulty reaching representatives or unhelpful responses. Additional complaints have highlighted technical problems with the website and frustration with the certification process. Overall, these negative reviews suggest that customers should be cautious when considering ICPRI for their CPR training needs.
International CPR Institute complaints
7
Newest International CPR Institute complaints
Review of International CPR Institute: Quality Courses & User-Friendly Site, but Limited Acceptance by Employers
I recently had experience with the International CPR Institute, which I found to be a wonderful resource for both individuals and businesses alike. Firstly, I was pleasantly surprised at how user-friendly their website (icpri.com) was. Signing up for their CPR classes was incredibly easy and the navigation through their site was intuitive and straightforward.

Furthermore, the courses were concise and, dare I say it, almost enjoyable to complete. Rather than feeling like a chore, I found the lessons to be engaging and informative, which is always a plus in my books.

However, it is my understanding that many employers are now requiring official certification from accredited organizations for CPR training. Unfortunately, courses from the International CPR Institute are not always accepted by all employers, which seems like a shame given the quality of the training they provide.

That said, for individuals or businesses looking to become CPR certified or simply wanting to learn valuable safety skills, the International CPR Institute is certainly worth considering. Overall, I had a positive experience with this organization and would recommend their courses to anyone looking to learn CPR or first aid techniques.
Fraud Alert: Avoid International CPR Institute (icpri.com) for AHA Approved Training
My experience with the International CPR Institute (icpri.com) left me feeling completely scammed and disheartened. I should have done my due diligence and conducted more thorough research, but unfortunately, I fell victim to their deceitful claims. In their introduction, they boldly declared that they were AHA approved, leading me to believe that I was receiving credible and trustworthy training. However, this turned out to be completely false and misleading.

The fact that the International CPR Institute falsely promotes itself as being affiliated or sanctioned by the American Heart Association is not only unethical, it is also incredibly dangerous. It is crucial that CPR and other life-saving courses are taught with accurate and up-to-date information to ensure the safety and well-being of both the students and potential future patients.

Upon realizing the fraudulent nature of this company, I was immediately filled with disappointment and frustration. I felt cheated out of my time, money, and legitimate learning opportunities. It is absolutely unacceptable for a company to falsely advertise their credibility and deceive their customers.

Overall, I would strongly advise giving the International CPR Institute a hard pass and instead investing your trust and resources into reputable and reputable organizations that offer legitimate AHA approved training. As for myself, I will be reporting this company to the Better Business Bureau and warning others about their dishonest practices.
Warning: Stay Away from International CPR Institute - Fraudulent Practices and Subpar Quality
I recently had an extremely negative experience with the International CPR Institute (icpri.com), and I feel compelled to warn others about their fraudulent practices. In short, I would advise everyone to stay far away from this company; if you're not careful, you could end up being scammed, just like I was.

My first problem with the International CPR Institute was their complete lack of customer service. I reached out to them with a simple request, and was astounded by the disrespect and rudeness of their response. It was clear that they had absolutely no interest in helping me, and were only interested in taking my money.

Unfortunately, it didn't end there. After paying for their services, I quickly realized that they were not delivering what they had advertised. The quality of their CPR training was subpar at best - I had expected top-notch instruction, given how much money I had spent on their courses, but what I received was anything but.

In the end, I was left feeling cheated and ripped off. I cannot recommend the International CPR Institute to anyone, and would urge you all to avoid doing business with them at all costs. Don't make the same mistake I did - keep your hard-earned money safe and avoid this scam of a company.
Is International CPR Institute legit?
International CPR Institute earns 91% level of Trustworthiness
SAFETY NOTICE: ComplaintsBoard has analyzed International CPR Institute and determined that it has perfect credibility and is completely trustworthy, with a legitimacy rating of 91%.
International CPR Institute has received 5 positive reviews on our site. This is a good sign and indicates a safe and reliable experience for customers who choose to work with the company.
International CPR Institute has claimed the domain name for icpri.com for a long time, which suggests that the website is established and has a history of being in operation. This is a positive sign, as it indicates that the website has been around for a while and may have a reputation to maintain.
Icpri.com has a valid SSL certificate, which indicates that the website is secure and trustworthy. Look for the padlock icon in the browser and the "https" prefix in the URL to confirm that the website is using SSL.
Our scan shows International CPR Institute website is free from malware and phishing activities, which are types of online threats that can include viruses, worms, Trojan horses, ransomware, and other malicious code, as social engineering tactics used to trick users into sharing their personal information.
Icpri.com has been deemed safe to visit, as it is protected by a cloud-based cybersecurity solution that uses the Domain Name System (DNS) to help protect networks from online threats.
Several positive reviews for International CPR Institute have been found on various review sites. While this may be a good sign, it is important to approach these reviews with caution and consider the possibility of fake or biased reviews.
However ComplaintsBoard has detected that:
While International CPR Institute has a high level of trust, our investigation has revealed that the company's complaint resolution process is inadequate and ineffective. As a result, only 0% of 7 complaints are resolved. The support team may have poor customer service skills, lack of training, or not be well-equipped to handle customer complaints.
International CPR Institute protects their ownership data, a common and legal practice. However, from our perspective, this lack of transparency can impede trust and accountability, which are essential for establishing a credible and respected business entity.
The website belonging to International CPR Institute has a low number of visitors, which could be a red flag for users. However, it's important to conduct additional research to fully evaluate the website's legitimacy and trustworthiness.
Our Verdict: International CPR Institute is highly recommended company, but beware of poor customer service. Their 0% Resolve Complaints rating is a cause for concern. We advise using their services securely and reviewing complaints beforehand.
Certification Review: International CPR Institute – Quick and Easy, But Limited Recognition
I recently checked out the International CPR Institute (icpri.com) to obtain my certification in CPR, as it was recommended to me by a friend. However, looking back, I should have done my research to verify whether the certification offered by ICPRI was backed by a nationally recognized organization like American Heart. Unfortunately, I later found out that this wasn't the case and the certification I received through ICPRI was not accepted by my employers.

While I can say that the process of obtaining my CPR certification through ICPRI was an overall smooth experience, I do regret not taking the time to ensure that the certification would be recognized by my employer and other organizations. Had I known this beforehand, I would have opted for a certification from a more widely recognized institution.

All in all, if you're looking for a quick and easy way to get certified in CPR, International CPR Institute might be an option worth considering. However, if you're seeking a certification that is recognized across the board, I would recommend that you do your research and go for a more established and reputable organization.
WARNING: ICPRI CPR Certification Not Accepted by Employers - My Experience
I recently had an experience with the International CPR Institute (icpri.com) and would like to share my thoughts. Although I initially thought the website was straightforward and informative, I ultimately found it to be quite misleading.

After completing a CPR course and receiving my certification from ICPRI, I went to work and was informed that my card was not accepted. I was surprised and disappointed to hear this, as I had put in time and effort to get certified and felt confident in my abilities. Apparently, the American Heart Association is the only organization that is accepted for CPR certification.

Furthermore, I learned that not even the written test I had taken at ICPRI was valid for a BLS course check out. This was frustrating to say the least, as I had assumed that my certification would qualify me for other related courses.

In hindsight, I wish I had done more research before choosing a CPR institute. If I had known that ICPRI's certification would not be recognized by my workplace or other organizations, I would have chosen a different route.

Overall, I would caution anyone considering ICPRI for CPR certification to do their due diligence and research other options as well. While the website may look legit and offer affordable courses, the certification may not hold the weight you need in certain situations.
Beware of ICPRI.com: Exposed as a Fraudulent CPR Certification Provider
Have you ever stumbled upon a website called icpri.com? If you have, then you might want to think twice before proceeding with their CPR courses. One reviewer named Suzanne has exposed the fraudulent nature of the website, and we couldn't agree more.

At first glance, one might be impressed with the site's seemingly legitimate claims and even AHA approval. It's marketed as a convenient, one-stop-shop for people looking to obtain their CPR certification with ease. However, upon further investigation, it's clear that this is not the case at all.

The website promises a smooth and hassle-free process. All you have to do is pay the fee and complete the course, and voila! You're certified in BLS or advanced CPR, depending on your preference. But here's the catch: it's all too good to be true.

As Suzanne pointed out in her review, it's important to be skeptical when things sound too good to be true. This is especially true when it comes to something as critical as CPR certification. Proper training and certification can mean the difference between life and death, so it's crucial to choose a reliable provider.

The fact of the matter is, the International CPR Institute (icpri.com) is not a legitimate CPR training provider. While they may have some sort of affiliation with the AHA, this does not equate to official certification. As a result, individuals who complete their courses on this website may end up with a worthless piece of paper.

In conclusion, it's not cool to deceive people with false promises and fake certifications. It's important to do your research before committing to any online training courses, especially those concerning life-saving techniques like CPR. Don't fall for scams like this one, and always check for reputable training providers.
An Honest Review of the International CPR Institute: Is it Worth Your Time and Money?
Recently, I embarked on a mission to acquire BLS certification as it was a mandatory requirement for me to pursue my career goals in the Healthcare field. In my quest to satisfy this requirement, I came across the International CPR Institute (icpri.com) which seemed like a convenient online platform to access the course.

I duly signed up for the course, and as per the website's requirements, declared myself as a healthcare provider - eligible to take the program. Upon completing the course, I submitted my certification to my employer confidently, only to be told that it wasn't acceptable. You can imagine my disappointment upon receiving this unexpected news.

After some investigation and scrutiny, I realized that the course I had undertaken on the International CPR Institute website was rendered inadequate for my employer's requirements. The realization that I had wasted my money and time on a course that did not provide me with the right certification was disheartening.

Despite my disappointment, I still recommend the International CPR Institute website for individuals seeking online Cpi certification. However, I urge potential users to conduct enough research and explore all available options before committing to any program on the website.

In conclusion, my experience with the International CPR Institute (icpri.com) was not what I expected, but that doesn't take away the fact that it's a viable option for online CPR certification. Nonetheless, it's essential to conduct due diligence beforehand to ensure that the course meets the required standards and criteria before signing up to avoid ending up with a useless certification.
Collect Your Trust Badge
Be recognized for outstanding customer service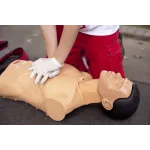 International CPR Institute

contacts
We are here to help
19 years' experience in successful complaint resolution
Each complaint is handled individually by highly qualified experts
Honest and unbiased reviews
Last but not least, all our services are absolutely free