PaperWritings.com Customer Reviews
10
Rate your recent experience
Pros and Cons of PaperWritings.com: A Review Breakdown
PaperWritings.com is a reputable online writing service that offers a wide range of academic writing services, including essays, research papers, and dissertations. The platform has earned a highly positive reputation among its clients, with many praising it for its high-quality work, timely delivery, and excellent customer support.

One of the most significant advantages of PaperWritings.com is its team of highly experienced and skilled writers. Clients can rest assured that their assignments will be handled by professionals who possess the necessary knowledge, skills, and experience to deliver excellent results.

Another positive aspect of PaperWritings.com is the variety of services it offers. The platform caters to students at all levels of education, from high school to Ph.D. level, covering a wide array of topics and subjects. Furthermore, the platform offers a range of additional services, such as proofreading, editing, and formatting, which can help improve the quality of the client's work.

In terms of pricing, PaperWritings.com offers reasonable rates, considering the level of expertise and skill its writers possess. Furthermore, the platform offers regular discounts and coupons that clients can use to receive further discounts.

Lastly, the platform's customer service is highly regarded by its clients. PaperWritings.com provides round-the-clock support through a range of mediums, including email, phone, and live chat. Clients who have had any queries or concerns have praised the promptness and professionalism of the customer support team.

Overall, PaperWritings.com is a reliable, trustworthy, and efficient academic writing service that strives to deliver high-quality work to its clients. Its team of experienced writers, range of services, reasonable pricing, and excellent customer support make it an excellent choice for any student seeking academic writing assistance.
Disappointing Experience: My Review of PaperWritings.com
Recently, I spent a considerable amount of money on PaperWritings.com, hoping to receive well-written, properly cited academic papers for my Bachelor's level courses. Unfortunately, my experience with the website ended up being quite disappointing.

I opted for the top 10 writing category and invested in a professional editor to review my papers for an additional $25 fee. Sadly, when my assignments came back to me, I was met with numerous grammatical errors, incomplete sentences, and improperly cited sources. It was clear that the quality of work didn't match my reasonable expectations.

Desperate to salvage the situation, I reached out to customer service in the hopes of obtaining a refund for the $25 editor fee, as my requests for a well-written, properly formatted paper had not been met. Unfortunately, I was informed that I was not eligible for a refund, despite the subpar results.

Overall, my experience with PaperWritings.com left me feeling frustrated and let down. As a student, I rely heavily on the quality of academic content I receive, and it was incredibly disappointing to invest my time and finances in a service that failed to deliver the standard of work promised. Needless to say, I will not be using this website again and would not recommend their services to others.
Reliable and Customer-Centric: Paperwritings.com Review
When it comes to getting academic papers written, it's important to choose a reliable service that can deliver quality work in a timely manner. One such service that I've had the pleasure of working with is Paperwritings.com. What I appreciate the most about this service is their honest approach to customer satisfaction, which is evident in their commitment to helping you get the order right.

For instance, as a student, it's not uncommon for me to want revisions made to a paper that I've ordered. This is where Paperwritings.com shines as they offer free revisions until the final product meets the client's expectations. That's a huge plus point that should never be overlooked, as it shows the company's dedication to ensuring customer satisfaction.

Another thing I appreciate about Paperwritings.com is that they offer a wide range of services, covering various types of academic papers and disciplines. Whether you need help with research papers, essays, or dissertations, you can rest assured that the Paperwritings.com team has you covered. The platform also has writers with different skillsets and experience to suit your specific needs.

Lastly, Paperwritings.com has a user-friendly website that offers easy navigation and ordering. The platform's user interface is intuitive, making it easy to place orders. Their customer support team is also readily available via phone, email, or live chat to address any queries or concerns.

To conclude, I highly recommend Paperwritings.com to any student needing help writing academic papers. They are a reliable, trustworthy, and experienced team that never compromises on quality. With this company, you can be confident in getting the work you need to excel in your studies.
Balancing Ballet and College: My Experience with PaperWritings.com
As a passionate ballet dancer, going to college and having to study subjects that do not directly relate to your interests can be a real challenge. Especially with the seemingly endless requirements of writing essays on various topics, year after year. For instance, justifying the pros and cons of marijuana legalization - a subject that can be both frustrating and perplexing. However, there is one service that has made this college journey much easier for me - PaperWritings.com.

I can now focus on pursuing my passion without sacrificing academic responsibilities, thanks to this reputable website offering competent academic writing assistance. The service exactly caters to my needs by providing well-written papers that are not perfect, yet not mediocre. As a result, it allows me to hand in assignments that do not raise suspicion of a writing service's input. The website is user-friendly and easy to navigate, with plenty of options to choose from, and ensures that papers are delivered on time, as agreed upon during the ordering process.

With their expert writing, attention to detail, and outstanding customer support, PaperWritings.com has quickly become my go-to source of academic assistance. The service ensures that every paper provided is of the highest quality, free of plagiarism and most importantly - guaranteed to meet all guidelines, requirements, and expectations.

Overall, I am very satisfied with the service provided by PaperWritings.com, and would highly recommend it to anyone in need of academic writing assistance. It enables me to balance my passion for ballet with academic requirements adequately and has undoubtedly made my college experience thus far much more manageable.
Top-Notch Quality and Customer Care: My Positive Experience with PaperWritings.com
As someone who's been using PaperWritings.com for quite some time, I can confidently say that they've never let me down. My firsthand experience with this website has been consistently amazing, since the very first order I placed.

One thing that really impressed me is that they handpick their writers and have a dedicated quality assurance department that ensures every writer's background and experience matches the customer's order requirements and personal preferences. This helps to maintain top-notch quality for all the papers produced.

Speaking of the quality of the papers, I must say that they're consistently fantastic. I've never received a paper that was subpar or that didn't meet the criteria I provided. The writers are professional and knowledgeable in their respective fields, and they're always willing to go the extra mile to produce a top-quality paper.

Another thing that sets PaperWritings.com apart from other writing websites is their commitment to customer care. Anytime I have a question or issue, their support team is always there to help me out. They're quick to respond, respectful, and knowledgeable.

Overall, my experience with PaperWritings.com has been nothing but positive. Not only have they never let me down, but they've also provided a level of service and quality that's hard to come by. I'm not alone in my praise of their services, as many of my friends now swear by them too, having been burned by other fraudulent writing websites.
Life-changing assistance: My experience with PaperWritings.com
As a former client of PaperWritings.com, I cannot recommend their services highly enough. While the website was initially recommended to me as a solution for the mountain of homework that I was dealing with during my final year of high school, what I experienced was so much more than just help with assignments.

To begin with, I was struggling with health issues that often kept me out of school and unable to keep up with my coursework. Despite these challenges, my teachers still expected me to produce high quality work, and I was feeling more and more overwhelmed as the days went on. But fortunately, I stumbled upon PaperWritings.com, and their expert writers quickly became my lifeline.

Working with the writers at PaperWritings.com was a game-changer for me. They were able to help me stay on top of my classwork and homework, even when I was out sick for extended periods of time. But more than that, they provided me with the emotional support and encouragement that I needed to keep pushing through my challenges.

What really stood out to me, though, was their help with my college admissions essay. My GPA wasn't the strongest, but I knew that I had so much to offer as a student if given the chance. The writers at PaperWritings.com were able to bring out the best in me, artistically depicting my talents and skills in a way that made me stand out from the rest of the applicants. I truly believe that it was this essay that helped me get accepted into my dream school (despite my GPA being just 3.0).

Overall, I cannot thank the team at PaperWritings.com enough for everything they have done for me. They are truly professionals who care about their clients' success, and without their help, I don't know what I would have done. I highly recommend them to anyone who needs help with academic assignments, or who is seeking to improve their college application. Thank you, PaperWritings.com!
PaperWritings.com: The Reliable and Professional Writing Service for Students
As a student, finding a reliable and trustworthy writing service can be a daunting task. With so many options out there, it can be difficult to discern which sites are legitimate and which ones are scams. That's where paperwritings.com comes in – they truly make it their mission to provide students with high quality and professional writing services.

Speaking from personal experience, I recently utilized paperwritings.com's services to order a review on a book I had never read before. To my relief, the work was uploaded right before the deadline and required no revisions. While I couldn't check the content as I hadn't read the book myself, I trusted that their writer had done a thorough job. And my trust paid off – I received an excellent mark, which only reaffirmed the sense of relief I had experienced earlier.

However, it wasn't just the quality of work that impressed me, it was their approach to customer service as well. Their team is incredibly responsive, professional, and helpful – from answering my questions before placing the order to keeping me informed throughout the entire process.

Overall, I would highly recommend using paperwritings.com. As a student, I deeply value the resources that are available to me and paperwritings.com is one that I will definitely be returning to. Their dedicated team is clearly committed to helping students succeed, and that is truly invaluable.
PaperWritings.com: Initially Disappointing, But Exceeded Expectations
Initially, my experience with PaperWritings.com was a little disappointing, as I was informed that none of their writers were available to take on my complex assignment. Despite feeling discouraged, I decided to attempt the assignment on my own. However, after four grueling hours of work, I had only managed to complete one page out of the required five. I was filled with frustration and despair, feeling as though I was drowning in my own overwhelming thoughts.

Just when I thought that all hope was lost, I received an email from PaperWritings.com informing me that a writer had reviewed all of my requirements and was ready to take on the project. Words cannot express the immense relief I felt in that moment. Finally, I could breathe easy and relinquish the burden of this difficult assignment.

My experience from that point forward was nothing short of exceptional. The writer assigned to my project was professional and proficient, producing high-quality work that exceeded my expectations. From the initial query to the final product, PaperWritings.com was incredibly helpful and supportive throughout the entire process.

In conclusion, I highly recommend PaperWritings.com for anyone in need of academic writing services. Even if the initial process may seem less than ideal, their dedicated team of writers goes above and beyond to ensure customer satisfaction. With their help, I was able to complete an incredibly difficult and complex assignment with ease, and I feel confident that others will have a similar experience.
Praise-worthy PaperWritings.com - A Reliable and Efficient Writing Service
I discovered PaperWritings.com about a year ago, and since then I have utilized their services for five, or perhaps even more, orders. I feel compelled to share my thoughts and experiences as they have been nothing short of excellent. Firstly, I must commend their polite and professional staff, including both the managers and the writers. This aspect is critical in my opinion because communication and courteousness can make or break any business relationship. Fortunately, PaperWritings.com has mastered the art of effective communication and customer care. Their interactions with clients are seamless and always leave one feeling valued.

One feature that stands out for me is the speed with which they complete tasks. I have been amazed at how quickly they can produce quality work. Naturally, this has given me confidence in their abilities and has afforded me the luxury of ample time to go through the work and even request revisions if necessary. Their ability to deliver on time is hard to come by in the writing industry, and for that, I'm truly grateful.

Another thing worth mentioning is that PaperWritings.com offers affordable rates without compromising on quality. As a student, I depend on finding reliable and cost-effective services, and PaperWritings.com delivers on both fronts. To sweeten the deal, they offer a 5% discount to first-time customers. This is a nice gesture that makes the entire experience even better.

In conclusion, I wholeheartedly recommend PaperWritings.com to anyone looking for a reliable and efficient writing service. With their excellent customer service, fast turnaround times, and affordable pricing, they are a cut above the rest.
Exceptional Service and Impressive Results: My PaperWritings.com Experience
As a student from the countryside, affording all of my wants was difficult. Studying and working at the same time proved to be a challenging task, forcing me to miss some lectures in the process. Due to this, my cultural studies professor suggested that I write an essay to make up for the missed classes. After some contemplation, I decided to seek assistance from PaperWritings.com due to their reasonable prices.

As expected, the essay was delivered on time and impressively written. The professor even had questions about the piece and wondered if I had composed it myself. In order to test my knowledge on the subject matter, he quizzed me on the essay, and I was able to answer him correctly as I had read and familiarized myself with the topic beforehand.

In light of this exceptional experience, I wholeheartedly endorse PaperWritings.com and plan to utilize their services multiple times in the future to secure high grades. Thank you, PaperWritings.com, for your excellent work! I will be telling my classmates about this site and encouraging them to use it as well.
PapwerWritings.com Review: Quality Writing, but Inconsistent Service
As someone who has used the PaperWritings.com service for a while now, I feel confident in giving an honest review of my experiences with them. Overall, I would say that I am a loyal and satisfied customer, but there have been instances where this company has let me down.

First off, let's talk about the positives. The quality of their work is definitely worth noting. While they may not be the cheapest option out there, I have always felt like I got my money's worth when it comes to the writing they provide. They have a talented team of writers who are able to tackle a variety of subject matters and writing styles.

That being said, my loyalty has been tested by several experiences where PaperWritings.com dropped the ball. In more than one instance, I was told at the very last minute that they were unable to find a writer for my project. As someone who relies on these services to meet tight deadlines, this was incredibly frustrating and I felt completely let down. The last thing you want to experience is being strung along, only to be told at the last minute that your project won't be completed.

To make matters worse, the customer service response to these incidents was not up to par. The constant apologies and promises to "do better" were redundant, and their broken English only added to the frustration. It was clear that they didn't have any real solutions to offer, which made the whole situation all the more irritating.

While I still recommend PaperWritings.com for their overall quality, I urge others to proceed with caution and not rely entirely on this service. If you do choose to use them, it's best to call in advance and ensure that they have your writer locked in and ready to go. Don't make the same mistake that I did and get left empty-handed at the last minute.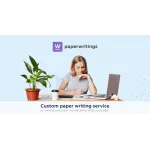 PaperWritings.com

contacts
We are here to help
A 19-year track record of successfully managing customer reviews
Our team of experienced professionals handles each review with individual care
Honest and unbiased reviews
Last but not least, all our services are absolutely free