Overview of Jollyromance customer experience
Jollyromance, an online dating site, has received several complaints from consumers. The platform has been criticized for creating fake profiles, misleading users with fraudulent communication, and charging exorbitant fees. Additionally, many users have reported poor customer service and difficulties canceling their subscriptions. These issues have led to dissatisfaction and frustration with the overall experience of using Jollyromance. As a result, potential customers should exercise caution before using this dating site.
Jollyromance complaints
3
Newest Jollyromance complaints
JollyRomance: An Unwelcome Experience in Online Dating
As a concerned individual who values the sanctity of online dating, I was deeply disturbed by my experience with JollyRomance. The website's practices were nothing short of appalling and I believe they should be held accountable for their actions.

Firstly, the website's interface was confusing and frustrating. Despite their claims of simplicity, I found myself lost in a maze of irrelevant pop-ups and advertisements that made it difficult to actually interact with potential matches.

Furthermore, the language used on JollyRomance was often crude and vulgar, making me uncomfortable and questioning the legitimacy of the site. The lack of moderation in dealing with inappropriate language and behavior is unacceptable and completely unprofessional.

I was also disappointed by the lack of diversity in the user base. Many profiles appeared to be fake or unverified, which made it difficult to trust the authenticity of the site's intentions. I felt like I was constantly bombarded with messages from bots and scammers trying to lure me into a trap.

Overall, my experience with JollyRomance was nothing short of disappointing and I would not recommend it to anyone looking for a sincere and fruitful online dating experience. It is imperative that authorities step in to hold the site accountable for their unethical practices and ensure that future users are not subjected to the same kind of treatment.
Find Your Soulmate with Jollyromance.com: A Reliable Online Dating Platform with the Best Features!
Looking for a reliable online dating platform that offers a range of exciting features and opportunities to meet your soulmate? Look no further, as Jollyromance.com has got you covered!

Owned and operated by Cellar Door Limited, Jollyromance.com boasts an impressive user database of singles from all over the world. With its sleek and easy-to-use interface, this platform offers users a hassle-free experience in finding their perfect match.

One of the most striking features of Jollyromance.com is its advanced search algorithm. This algorithm takes into account your preferences in dating, such as age range, location, and interests, to ensure that you only receive the most relevant matches. This means that you can focus on meeting people who you are genuinely compatible with, rather than wasting time and effort trying to find someone who meets your criteria.

In addition to its impressive search features, Jollyromance.com also offers a range of communication tools to help you connect with other users. These include instant messaging, email, and video chat, which make it easy to get to know someone and build a connection with them.

But that's not all! Jollyromance.com also features a range of extra features, including virtual gifts, real gifts, and even the ability to see who has viewed your profile. These features not only make the experience more enjoyable, but also help to build trust and establish a closer relationship with those you are chatting with.

It's worth noting that Jollyromance.com will link you to Matchtruly.com at some point, as they are owned by the same company. Therefore, if you are thinking about joining Jollyromance.com, it may also be useful to read Matchtruly.com reviews to get a better idea of what the company is all about.

Overall, Jollyromance.com is a top choice for anyone looking for a reliable, user-friendly online dating platform that offers a range of exciting features and services. With its advanced search algorithm and communication tools, you can be sure that you'll find exactly what you're looking for on this site!
Jollyromance Review: Is It Worth Your Time and Money?
When it comes to online dating, there are a lot of options out there. However, one site that has been causing quite a stir lately is Jollyromance. As someone who has tried out this site firsthand, I have a few things to say about it.

One thing that stuck out to me when I first visited the site was the photos of the women. While they were all beautiful, I couldn't help but notice that the older women never seemed to have any face lines - something that seemed a little strange to me. Additionally, many of these photos seemed to be professionally done - featuring shots of the women's thighs, for instance. This made me wonder if the photos were truly representative of the women themselves, or if they had been airbrushed and edited to appear more attractive.

Another issue I had with Jollyromance was the fact that guys have to buy "credits" upfront. This system seemed a little sketchy to me - after all, you never know if you'll find someone worth spending those credits on. Plus, it can be hard to keep track of how many credits you've used and how many you have left.

Despite these concerns, I continued using Jollyromance for a little while longer. Overall, I found the site to be well-designed and easy to navigate. However, I did notice that it could be difficult to find people who were truly a good match for me. Whether this has to do with the user base or the way the site operates, I'm not sure.

All in all, I would recommend Jollyromance to someone who is looking to dip their toes into online dating. However, I would caution them to be careful with the credits system and to not put too much stock in the photos they see on the site. After all, as with any online dating platform, there's always a risk that things may not be as they seem.
Is Jollyromance legit?
Jollyromance earns 79% level of Trustworthiness
SAFETY SUGGESTION: ComplaintsBoard has evaluated Jollyromance and determined that it has an excellent credibility, highly trustworthy level of trust, with a legitimacy rating that is more or less around 79%.
Jollyromance has received 9 positive reviews on our site. This is a good sign and indicates a safe and reliable experience for customers who choose to work with the company.
Jollyromance.com has a valid SSL certificate, which indicates that the website is secure and trustworthy. Look for the padlock icon in the browser and the "https" prefix in the URL to confirm that the website is using SSL.
Our scan shows Jollyromance website is free from malware and phishing activities, which are types of online threats that can include viruses, worms, Trojan horses, ransomware, and other malicious code, as social engineering tactics used to trick users into sharing their personal information.
Jollyromance.com has been deemed safe to visit, as it is protected by a cloud-based cybersecurity solution that uses the Domain Name System (DNS) to help protect networks from online threats.
Jollyromance.com you are considering visiting, which is associated with Jollyromance, is very old. Longevity often suggests that a website has consistently provided valuable content, products, or services over the years and has maintained a stable user base and a sustained online presence. This could be an indication of a very positive reputation.
Jollyromance website is deemed to be popular and indicating that it receives a high volume of traffic. It is important to be cautious when using a highly trafficked website, as it may be a target for cybercriminals looking to exploit vulnerabilities or steal personal information.
This website offers payment methods that provide the option for customers to get their money back, which could be a positive indicator of the company's commitment to customer satisfaction.
However ComplaintsBoard has detected that:
Jollyromance's complaint resolution process is inadequate and ineffective. The support team lacks customer service skills, training, and resources, resulting in only 0% of 10 complaints being resolved.
Jollyromance protects their ownership data, a common and legal practice. However, from our perspective, this lack of transparency can impede trust and accountability, which are essential for establishing a credible and respected business entity.
Complaints Board has received reports that the website may be a possible fraud. To protect yourself, consider using a different website. If you find that the website is indeed fraudulent, report them to us, to help protect other consumers.
We conducted a search on social media and found several negative reviews related to Jollyromance. These reviews may indicate issues with the company's products, services, or customer support. It is important to thoroughly research the company and its offerings before making any purchases to avoid any potential risks.
Our verdict: Jollyromance is safe to work with, and you can proceed with confidence when using their website. However, their 0% Resolve Complaints rating is concerning. We recommend approaching their services with caution and reading reviews before making a decision.
Collect Your Trust Badge
Be recognized for outstanding customer service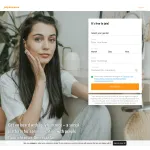 Jollyromance

contacts
We are here to help
19 years' experience in successful complaint resolution
Each complaint is handled individually by highly qualified experts
Honest and unbiased reviews
Last but not least, all our services are absolutely free