Yuan Pay Group Customer Reviews
10
Rate your recent experience
Pros and Cons of Yuan Pay Group: A Review Breakdown
Yuan Pay Group is a leading cryptocurrency trading platform that has been receiving a lot of attention in recent times. Our experts have conducted a thorough analysis of the website and have found a number of positive points that make this platform stand out from the competition.

One of the biggest advantages of Yuan Pay Group is its user-friendly interface. The website is designed to be intuitive and easy to use, making it accessible to both experienced traders and newcomers to the world of cryptocurrency trading.

Another major advantage of Yuan Pay Group is its broad range of trading options. The platform supports a wide variety of cryptocurrencies, including Bitcoin, Ethereum, and Litecoin, among others. This makes it easy for users to diversify their portfolios and take advantage of different market trends and opportunities.

In addition, Yuan Pay Group is known for its advanced security features. The platform uses state-of-the-art encryption technology to protect user data and ensure that transactions are secure and private. This level of security has earned the platform a strong reputation for trustworthiness and reliability.

Overall, our experts have been impressed with the features and functionality of Yuan Pay Group. Whether you're an experienced crypto trader or just getting started, this platform is definitely worth considering if you're looking for a reliable and secure way to trade cryptocurrencies online.
YuanPay Group Review: Exceptional Platform for Trading Crypto with Top-Notch Customer Service
YuanPay Group has been an exceptional platform for me and has exceeded my expectations. Having used their service for more than a year, I can confidently say that I have not encountered a single issue. They have efficiently managed my transactions, ensuring that everything goes smoothly.

Their customer service is top-notch and deserves a special mention. Whenever I had any queries or concerns, their team of experts was always prompt in responding. I never had to wait more than 2 hours for them to answer my questions and provide me the guidance I needed.

It's worth noting that YuanPay Group's website is easy to navigate, and the platform is user-friendly. It's an ideal place for trading cryptocurrencies, especially YuanPay (YP). YuanPay is relatively new in the crypto world but has gained immense popularity due to its features. The coin is secure and offers fast transactions with low fees.

Another unique aspect of YuanPay Group is their commitment to transparency. They provide detailed information about their services and have a well-written FAQ section that answers all the essential questions.

Overall, I can confidently recommend YuanPay Group to anyone looking for a reliable, user-friendly, and transparent platform for trading cryptocurrencies. Their customer service is exemplary, and I have complete trust in their services.
Review: Yuan Pay Group - A User-Friendly and Efficient Trading Platform
Yuan Pay Group, an innovative trading platform, has captured the attention of users with its seamless and user-friendly trading experience. Trading can be a complex process, especially for those starting out. However, Yuan Pay Group's platform has made it significantly easier for users.

In comparison to other trading platforms, Yuan Pay Group is particularly noteworthy for its modern and intuitive layout. It is visually stunning and very easy to navigate, making it an attractive option for traders of all levels. With the help of a user-centric design, even those who are new to trading can quickly get to grips with the platform.

Moreover, one of the most impressive aspects of the platform is its help feature. This function provides users with assistance when they encounter any difficulty or challenges while trading. It is reassuring for traders to know that there is a dedicated team available to support them whenever required.

In terms of performance, Yuan Pay Group has undoubtedly exceeded expectations. The trading platform has established a reputation for being reliable, fast and efficient. This has contributed significantly to the rise of the platform's popularity among the community of traders. Investors are confident that their trading activities are secure and safe.

Overall, using Yuan Pay Group as a trading platform has been a highly satisfying experience for many users, and they highly recommend it for others to try. With excellent user experience, modern layout, reliable performance, and robust customer support, it is clear that the award-winning and innovative platform is doing exceptionally well in catering to the needs of traders.
Yuan Pay Group Review: Secure, Beginner-Friendly Crypto Trading Platform with Wide Range of Cryptocurrencies
Now, let's talk about Yuan Pay Group, one of the most reputable platforms in the crypto trading world. This platform prides itself on being among the first cryptocurrency exchanges to accept deposits and withdrawals through China's central bank's digital currency. By providing this service, users of the Yuan Pay Group can execute quick, seamless, and safe transactions.

Another feature that sets Yuan Pay Group apart from other exchanges is its top-notch security measures. This platform employs blockchain technology to secure all transactions made by its users. Additionally, the Yuan Pay Group ensures that all user data is stored on secure servers to avoid any privacy breaches.

If you're a beginner, don't worry! Yuan Pay Group has got you covered through their beginner-friendly interface, where you can learn the basics of cryptocurrency trading and how to make smart investments. Additionally, the Yuan Pay Group community has skilled traders and investors who are always available to answer your questions and help guide you in your trading journey.

One thing that sets Yuan Pay Group from the rest of the exchanges is the many cryptocurrencies you can trade. Not only can you trade Bitcoin, but you can also trade other popular cryptocurrencies such as Ethereum, Litecoin, Ripple, and more!

On the whole, Yuan Pay Group's reputation and credibility are impeccable. Numerous traders and investors have withdrawn profits from the platform, and there have been no reports of scams or shady dealings. So, if you're looking for a reliable, safe, and user-friendly platform to trade cryptocurrency, sign up with Yuan Pay Group today!
Yuan Pay Group Review: A User-Friendly, Hassle-Free Trading Platform for all Cryptocurrency Enthusiasts
Recently, I had the pleasure of testing out Yuan Pay Group, an online trading platform that boasts a user-friendly design and a hassle-free experience. My interest in the platform grew after a friend of mine who was already a member, invited me to participate.

Upon joining, I was pleasantly surprised by the ease with which I could navigate the site. Everything was straightforward and clearly presented, with no complicated jargon to decipher. This made it the perfect platform for beginners who are just starting their cryptocurrency journey, like myself.

However, a major plus for me was the platform's unique features that catered to even experienced traders. There are several trading tools and resources that made trading a breeze, including a very efficient trading algorithm that is capable of analyzing and interpreting market movements in real-time.

I have been able to enjoy several benefits since becoming a member of Yuan Pay Group. One of the benefits that stands out is the impressive ROI on my investments. I've also experienced remarkable ease in withdrawing my returns, and the customer service team are available and willing to assist whenever there is a need.

Overall, it was a fabulous experience, and I would recommend this platform to anyone looking for an easy-to-use, efficient, and profitable trading platform. Whether you are a novice in cryptocurrency trading or an expert, the Yuan Pay Group has something unique for everyone.
Yuan Pay Group Review: An Innovative Platform for Making Money Online
If you're someone like me who's always on the lookout for new and innovative ways to make money online, then you should definitely check out Yuan Pay Group. This platform has been around for a while now, and I must say, I'm thoroughly impressed with what they offer.

Firstly, let's talk about the profits. As the reviewer mentioned, the earning potential is truly astounding. I've been using the platform for a little while now and I'm already seeing some impressive returns on my investments. What's more, is that the process is incredibly user-friendly - you don't need to be an expert to make money on this platform.

One thing I particularly appreciate about Yuan Pay Group is the educational resources they offer. It's not just about making money, but also learning how to become a better trader. They provide an engaging and informative platform for those who are interested in learning about trading. There are even online courses for beginners, which is something I haven't seen elsewhere.

Another aspect I appreciated is the transparency. I never felt like I was being taken for a ride, and they're always upfront about the risks involved in trading. This is essential for those who are new to trading and aren't aware of all the potential pitfalls.

Overall, I would highly recommend Yuan Pay Group to anyone who's interested in making money through trading. It's an incredible platform that has helped me make a lot of money, learn more about trading, and genuinely enjoy the process.
Review of Yuan Pay Group: An Exciting Trading Platform for Cryptocurrency Beginners and Experts
One of the most exciting developments in recent years has been the emergence of digital currencies. With so many options to choose from, it's hard to know where to start. Fortunately, I've found Yuan Pay Group to be a terrific platform for trading cryptocurrency. The trading charts featured on the site are simply amazing - easy to read, navigate, and get used to very quickly.

One of the things I appreciate most about Yuan Pay Group is their bonus system, which offers a lot of extra help to those who are new to trading. This helps me feel more confident about my ability to trade and gives me more time to develop my skills. The bonus cryptocurrencies that I receive are a great way to experiment with different trades and learn what works best for me.

Despite my inexperience, I have been able to acquire different types of cryptocurrencies for my portfolio thanks to the various offers and promotions that Yuan Pay Group provides. This diversity of options has given me a chance to explore different routes and find the ones that work best for my investment needs and preferences.

Overall, I highly recommend Yuan Pay Group for anyone who is looking to trade cryptocurrency. From the excellent trading charts to the creative bonus system, this platform makes it easy to get started and helps traders of all levels become more successful. I can't wait to see what the future holds for Yuan Pay Group and look forward to long-term success with this exciting trading platform.
Efficient Cryptocurrency Trading with Yuan Pay Group: A Review
Yuan Pay Group is a well-known cryptocurrency trading platform that has garnered a considerable reputation in the market. The website, yuanpaygroup-official.com, provides a user-friendly interface that makes it easy for individuals to analyze the cryptocurrency market and trade with ease.

One of the notable features of Yuan Pay Group is the ease with which new users can register and start trading immediately. The registration process is straightforward, and users can easily set up their accounts without any hassle.

Furthermore, the administrators of Yuan Pay Group are friendly and patient, always willing to help users with any queries they might have. Whenever I faced any problems or had any questions, their prompt response and guidance was invaluable. Their assistance made my experience with the platform much smoother, and I was able to start trading without any issues.

I found the platform to be efficient and reliable, allowing me to trade with ease. Additionally, the platform provides an array of resources to help users make informed decisions regarding their investments. The ability to analyze market trends and make trades accordingly is a crucial aspect of cryptocurrency trading, and Yuan Pay Group offers the right tools to help users do so.

Overall, I would highly recommend Yuan Pay Group to anyone who wishes to get involved in cryptocurrency trading. Whether you are a beginner or an experienced trader, the platform is user-friendly and efficient, and the customer support is top-notch.
Yuan Pay Group's Website Review: A Reliable and Informative Platform for Cryptocurrency Trading and Investment
As someone who has been operating in the world of cryptocurrency for quite some time now, I'm always on the lookout for reliable and trustworthy platforms that can assist me in making sound investment decisions. That's why I've been using Yuan Pay Group's website (yuanpaygroup-official.com) for over a year, and I must say, it has proven to be a valuable resource for me.

One of the things that I truly appreciate about this platform is the fact that there is an informational page for each coin, which is always updated and accurate. This is crucial information for any investor or trader who wants to stay informed about the latest developments in the world of cryptocurrencies. With the detailed information provided, I can conduct my research and make informed decisions based on real-time market data.

Another major plus point of this platform is the variety of useful tools available to users. These include price, volume, and market data for the top 100 cryptocurrencies based on market cap. Having access to such data has made my trading experience simpler, faster, and more efficient, as I can easily track the performance of my favorite cryptocurrencies in real-time.

Furthermore, the platform is user-friendly, which makes navigation and finding relevant information a breeze. Not to mention, Yuan Pay Group takes security seriously, which is crucial when dealing with financial information. I've never had any concerns about the safety of my data on this platform.

To sum it up, I would highly recommend Yuan Pay Group's website (yuanpaygroup-official.com) to anyone looking for a reliable, informative, and user-friendly platform to aid in cryptocurrency trading or investment decisions. It has proven to be a highly effective tool for me, and there's no reason why it can't do the same for you!
Yuan Pay Group: The Ideal Platform for New Cryptocurrency Traders
When it comes to cryptocurrency trading, getting started can be a daunting task for anyone. I know this firsthand from my own experience. However, I am grateful to have discovered the Yuan Pay Group (yuanpaygroup-official.com) as they provide an excellent support system that made the process much smoother.

From the very beginning, I found the team at Yuan Pay Group to be incredibly helpful and patient. They were always quick to respond to any questions or concerns that I had and went above and beyond in providing me with the guidance that I needed. They even went so far as to create instructional videos that helped me understand the platform and the processes involved in trading.

What impressed me most about Yuan Pay Group was their commitment to helping new users get started. They didn't just want me to sign up and figure things out on my own. Instead, they took the time to walk me through everything step-by-step, ensuring that I had a solid understanding of how things worked before I started investing.

Thanks to their support, I have been able to learn a lot about cryptocurrency trading and have seen some impressive returns as well. I am confident that I would not have been able to achieve this success without the assistance of Yuan Pay Group.

Overall, I highly recommend Yuan Pay Group to anyone who is new to cryptocurrency trading or looking for a reliable and supportive platform to trade on. Their team is knowledgeable, patient, and committed to helping their users succeed. I couldn't be happier with my experience and look forward to continued success with their platform.
YuanPay Group: A User-Friendly and Profitable Forex Trading Platform
As a forex trader, I am always looking for the best platforms and exchanges to trade and earn some good profits. And that's when I stumbled upon YuanPay Group, and I am glad that I did. I have been using the platform for a week now, and I must say that I am more than satisfied with their system.

From the intuitive interface to the comprehensive trading tools, YuanPay Group has it all. And what's better, the system is easy to use and navigate, making it an ideal choice for both beginners and experienced traders.

But what sets YuanPay Group apart is their focus on customer satisfaction. The customer service is incredibly helpful and responsive, making sure that all of your concerns and queries are addressed promptly.

And the profits? Well, let's just say that I have never earned such good returns in such a short period. It's astounding! YuanPay Group's platform is perfect for traders who want to make the most out of their investments. Whether you're a seasoned trader or an amateur, this platform is definitely worth considering.

Overall, I would highly recommend YuanPay Group to anyone who is serious about trading and wants to earn some good profits. If you're looking for a reliable and user-friendly platform coupled with great customer service, look no further than YuanPay Group!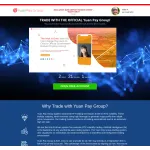 Yuan Pay Group

contacts
Your Voice Matters: Our Commitment to Genuine Reviews
Empowering Real Experiences
At ComplaintsBoard, we believe in the power of true customer stories. Our platform is a space for authentic voices, where experiences, both good and bad, are shared openly and honestly.
Dedicated to Authenticity
ComplaintsBoard is vigilant in our fight against false reviews. Our team employs robust verification methods to ensure every review reflects a real customer experience, upholding the integrity of our platform.
Encouraging Detailed Feedback
ComplaintsBoard values reviews that come with real evidence. Whether it's a photo, a detailed account, or additional documentation, such substantiation adds credibility to your story, helping others make better-informed decisions.
Balanced and Constructive Conversations
We're more than just a complaints board; we're a community for balanced dialogue. ComplaintsBoard encourages reviews that not only highlight issues but also acknowledge positive aspects, fostering a fair and comprehensive understanding.
Free and Fair Platform
ComplaintsBoard's commitment to maintaining a free and unbiased platform is unwavering. Every review is treated equally, ensuring that your voice is heard and respected, regardless of the nature of your experience.