GorillaTrades Customer Reviews
10
Rate your recent experience
Pros and Cons of GorillaTrades: A Review Breakdown
GorillaTrades is a popular stock picking service that has received numerous positive reviews from its users. The service provides subscribers with daily stock picks, market analysis, and other valuable insights to help them make informed investment decisions.

One of the most significant advantages of GorillaTrades is its track record of success. Many users have reported significant gains in their portfolios after following the service's recommendations. The service's proprietary stock picking system has been proven to be highly effective, and its team of experienced analysts provides valuable insights into market trends and individual stocks.

Another positive aspect of GorillaTrades is its user-friendly interface. The service is easy to navigate, and subscribers can quickly access the information they need to make informed investment decisions. Additionally, the service provides excellent customer support, with a knowledgeable team of representatives available to answer any questions or concerns.

Overall, GorillaTrades is an excellent choice for investors looking for a reliable stock picking service. With its proven track record of success, user-friendly interface, and excellent customer support, it's no wonder that the service has received so many positive reviews from its users.
Impressed with GorillaTrades: A Small Account Holder's Review
Hey there, folks! I just wanted to share my experience with GorillaTrades. I gotta say, I'm pretty impressed! I've been using their service for about a month now, and I've got 5 days left on my free trial. But let me tell you, I'm definitely going to be subscribing once that trial is up!

Now, I do things a little differently than some folks. I've got a small account, and I love options. So I take the trades that GorillaTrades recommends, and then I purchase options for a short time. I like to look at Heikin Ashi charts to see how long a run usually lasts, and then I purchase options for about 3 times that average run. For example, if it's an average 8 day run to the upside, I'll look for an option expiring close to 24 days out.

And let me tell you, it's been working pretty darn well for me! I purchased one RMD option to expire on 6-18-21 on 5-28-21, and I sold it today for $2,080.00! I also made $360.00 on EBAY, $125.00 on SIRI, and only lost $240.00 on WAB. Overall, I'm up on AAP, CRI, LULU, HR, and PLAB. The only ones I'm down on at the moment are NUS and MCD.

But even with those losses, I've more than paid for my subscription many times over. And let me tell you, Ken is the real deal. Thank you, sir!

So if you're thinking about subscribing to GorillaTrades, I say go for it! It's been a great experience for me, and I'm sure it will be for you too.
Gorilla Trades Review: Transparent, Top-Notch Recommendations, and Excellent Communication
Gorilla Trades is the real deal when it comes to trading services. They've got everything you need to make informed decisions and stay on top of your investments. What really sets them apart is their transparency. They don't hide anything from their customers - they make their track record public from day one. That's something you don't see every day.

But it's not just their transparency that makes Gorilla Trades great. They also have excellent communication. You'll get a mid-morning update, a daily after the close report, and a weekend update. They'll discuss anything that happened to one of their recommendations, so you're always in the loop. And if there's any action taken on their recommendations, you'll get a text notification.

Their recommendations are also top-notch. They provide the entry price, the stop loss price, and where to take first and second profits. And if they make any adjustments to these levels, they'll clearly state it. This level of detail is essential for making informed decisions and maximizing your profits.

But what really impressed me about Gorilla Trades is their money management strategy. They don't just give you recommendations and leave you to fend for yourself. They have a clear strategy for managing your money and minimizing your risk. This is something that's often overlooked by other trading services, but it's crucial for long-term success.

And if you have any questions, Gorilla Trades is always there to help. They'll respond to your emails quickly and thoroughly. They really do cover all the bases thoroughly.

Overall, I highly recommend Gorilla Trades to anyone looking for a reliable and transparent trading service. They've got everything you need to succeed, and their commitment to transparency and communication is truly impressive.
GorillaTrades Review: The Best Stock Picking System I've Ever Used
I've been trading stocks for a long time now, and I have to say, I've tried a lot of different stock picking systems. But let me tell you, the GorillaTrades system is hands down the best one I've ever used. The daily email they send out is super easy to understand, and buying the recommended stocks is a breeze.

But it's not just about the stock picks. The daily email also includes a summary of potential buys, updates on the GorillaTrades portfolio, and some really interesting commentary on the state of the market. I've read a lot of market commentary in my time, and let me tell you, most of it is pretty dry. But the GorillaTrades commentary is actually really engaging.

And let's talk about the portfolio. The numbers speak for themselves. I've made money with this system, and I know a lot of other people who have too. It's not a get-rich-quick scheme or anything like that, but if you're willing to put in the time and effort, you can definitely see some solid returns.

One thing I really appreciate about GorillaTrades is their customer service. When I was first starting out with the system, I had a question and I emailed them. I got a response within 24 hours, and it was really thorough. It's always nice to know that there's someone there to help you out if you need it.

Overall, I would definitely recommend GorillaTrades to anyone who's looking for a solid stock picking system. It's easy to use, the daily emails are really informative, and the portfolio speaks for itself. Happy investing!
Gorilla Trades Review: A Game-Changer for My Trading Strategy
I gotta say, I've been using Gorilla Trades for a hot minute now, and I gotta say, it's been a real game-changer for me. I started using it back in January of this year, after they offered me a free trial. And let me tell you, I've been blown away by the quality of the picks they offer. I mean, I ain't no big-time trader or nothing, I just got a little account and I only buy options. Ken Berman, the founder, don't recommend that, but hey, it's what works for me.

Now, I ain't looking to make no big bucks or nothing, I'm just happy with 50% to 100% gains in like, 1 to 4 weeks. And even during all the craziness that's been going on lately, these stocks they pick seem to hold up pretty well. I don't always get in on the big winners, but that's okay with me. I'm just happy with the gradual increase, you know? And with the low fees they charge, I don't mind getting back in on a trade if I need to.

I've tried both straight options and vertical call spreads, and I gotta say, I always feel a little bit of buyer's remorse when a stock spikes and I left some money on the table. But overall, I've been totally impressed with Gorilla Trades. Ken's daily recap and advice is a real bonus, too. I mean, I ain't no expert or nothing, but it seems like he really knows his stuff. So yeah, if you're looking for a solid trading platform, I'd definitely recommend giving Gorilla Trades a shot.
Mixed Results with GorillaTrades: A Review of the Service's Performance and Strategies
I've been using GorillaTrades for a whole year now, and I gotta say, it's been a bit of a mixed bag. On one hand, the daily emails and trade alerts are pretty helpful and easy to understand. I've been able to follow along with the trades without too much trouble. But on the other hand, the service hasn't exactly been knocking it out of the park in terms of performance.

In fact, when I compare the results to a basic S&P Index strategy, GorillaTrades has definitely been underperforming. And I think I've figured out why - it all comes down to the reward to risk ratios. See, the first target they recommend selling at usually has a reward to risk ratio that's less than 1.0, and the second target is less than 2.0. That means you need a really high win ratio to make the numbers work.

Now, I know the targets can move before being hit, but even with that in mind, it's hard to make up for losses when the targets are so tight. And when stock prices drop and stops are hit, the new buy signals don't come fast enough to let you capture the next round of profits. It's frustrating, to say the least.

That's not to say that GorillaTrades doesn't have any winners - they definitely do. But overall, I'm not convinced that it's as strong as just setting it and forgetting it with an index strategy. So if you're thinking about signing up, just keep that in mind.
GorillaTrades Review: No Exit Strategy, Poor Customer Service, and Unrealistic Success Numbers
I gotta say, I'm not impressed with GorillaTrades. I've been following their trade recommendations for the past year and it's been a total disaster. All they ever suggest are bullish call spreads and they want you to invest a whopping 5k in each trade. Well, when the market took a dive last year, I lost a ton of money on their advice.

One of the biggest problems with GorillaTrades is that they don't have a stop loss system. You're left to manage your own entry and exit points, which can be a real headache. All they do is send you an email when it's time to close the trade. That's it.

And don't even get me started on their success numbers. They're totally unrealistic. If you factor in all the times you'd have to exit a trade when your stop losses are hit, those numbers would be a joke. Basically, GorillaTrades has no exit strategy at all. It's up to you to figure it out on your own.

To make matters worse, their customer service is terrible. You can only contact them by email, and when I tried to give them some feedback, they just stopped responding altogether. It's pretty clear they don't care about their customers.

Even during the last quarter of 2018, when the market was in a correction, GorillaTrades was still recommending bullish trades. That's just plain foolish. I wouldn't pay these guys a dime, let alone their lowest fee of $499 for 2 years. They're a bunch of losers who don't have any exit strategies in place.

My advice? Save your money and stay far away from GorillaTrades.
GorillaTrades Review: A Comprehensive System for Beginner Investors with Daily Updates
I first heard about GorillaTrades from a buddy of mine and decided to give their 30-day trial a shot. I mean, why not? As a newbie investor, I was pleasantly surprised to find everything I needed right at my fingertips without even expecting it. GorillaTrades is more than just stock tips, it's a comprehensive system that comes with tips and tricks delivered to you almost daily. By following the tutorial steps during the early membership, you're taught the strategies of "the gorilla" and how to put them into practice under their rule book.

What I love most about GorillaTrades (and what keeps me hooked) are their midday and closing day update emails. Even if you're busy and can't get a look at the markets, your inbox is bombarded with a summary of the market at noon, and then a conclusive recap at the end of the day of what occurred and how the system's picks fared.

At first, I thought this was something I could just dip my toes into, but without my midday updates and the online members area keeping tabs on all the GorillaTrades picks, I'd need to make stock research my full-time job. And let's be real, who has time for that?

I'm not sure what other similar systems offer, but the best part about GorillaTrades was the 30-day free trial and how it takes you through the system in steps. It's perfect for beginners like me who need a little hand-holding before diving into the deep end.

Overall, I highly recommend GorillaTrades to anyone looking to dip their toes into the stock market. It's a comprehensive system that's easy to follow and comes with all the tools you need to make informed decisions. Plus, with their midday and closing day updates, you'll always be in the loop on what's happening in the market.
GorillaTrades Review: Honest, Transparent, and Profitable Investment Service
plain and simple. The gorillas behind the scenes do their research and provide solid recommendations that have consistently produced profits for me. Sure, there have been some bumps in the road, but that's just the nature of the stock market. You can't win them all, but with GT, you'll win more than you lose.

One thing I appreciate about GT is their transparency. They don't hide their losses or only showcase their wins. They show all of their trades, good and bad, for all subscribers to see. This level of honesty and openness is rare in the investment world, and it's refreshing to see.

Another thing I love about GT is their customer service. Whenever I have a question or concern, I can reach out to their team and get a prompt and helpful response. They truly care about their subscribers and want to see them succeed.

Overall, I highly recommend GorillaTrades to anyone looking for a reliable and profitable investment service. Don't fall for the get rich quick schemes out there. Stick with GT and you'll see real results.
GorillaTrades Review: Simple and Effective Trading System for Success
I gotta say, I was using some other service during the last correction on 01/2016-02/2016 and I lost a moderate sum of money. It made me feel like I was gonna puke and I was too scared to trade for a while after that. But then I started using GorillaTrades (gorillatrades.com) and I'm happy to say I made up for those losses. Not only that, but I covered my subscription cost and even made a reasonable return in this tough market that seems to be lacking volume.

Let me tell ya, this is an excellent simple service. I've made some mistakes using the system, though. Sometimes I let my emotions get involved and I got shook out of some positions that ended up reaching their first target a week or two later. I missed out on some serious profit, but now I know to trust GT. Just follow the tips, set your stops, and you'll achieve success with GT.

Now, some people complain about GT, but I think they're just expecting every trade to be a winner. That's just not realistic, ya know? You'll have plenty of winners with GT as long as you follow the tips and use confirmed picks, but don't get me wrong, some will be losers too. It's just the way it goes. But overall, the service is easy to use and I've had a lot of success with it.

The education they provide doesn't teach you how to trade with a broker, but it does teach you how to use the system. It's important to follow the guidelines they give you, though. I've used other systems like vectorvest (too expensive), action alerts (long term positions with no stops implemented), leaderboard (expensive and small number of picks), but I do like IBD. Out of all of them, though, GT is the simplest. You just get your evening email, research potential picks, wait until they trigger and confirm, and then sell 75% at your first target.

Overall, I love this service and I make more money with it than without it. It's definitely worth checking out if you're looking for a simple and effective trading system.
Review of Gorilla Trades: Impressive or Deceptive?
Gorilla Trades is a pretty cool website for stock investment, if you ask me. I mean, it's not like the Gorilla is some kind of miracle worker or anything, but it's definitely worth checking out. I decided to take a closer look at how it's been performing lately, from June 1 to the end of August.

During those 63 trading days, 52 of the Gorilla's picks were triggered, and 38 of those were confirmed. Out of those 38 confirmed picks, 17 reached their first targets, which is pretty good. Another 14 are still holding unrealized gains that average out to 1.18%, which is also pretty good. But then there were 7 out of those 38 that dropped below their stop loss prices, which is not so good.

Now, there were also 14 picks that triggered but haven't been confirmed yet. Out of those 14, 7 of them dropped below their stop loss prices, which is not good at all. The other 7 are still active in the Gorilla Trades portfolio, but they're classified as "Not Yet Confirmed" and have unrealized losses that average out to 0.13%.

Here's the thing, though. If you look at the end-of-August Gorilla Portfolio, you'll see that only 38 out of the 52 triggered picks are still there. That includes the 17 that reached their first targets, the 7 that are still holding unrealized gains, and the 7 that haven't been confirmed yet. Some people think that those 38 are the only stocks that Gorilla Trades picked during July and August, but that's not true.

What Gorilla Trades cleverly (or deceptively, depending on how you look at it) leaves out are the 14 picks that dropped below their stop loss prices, 7 of which were confirmed. So, in reality, out of the 52 triggered picks, only 17 have reached their first targets so far, while 14 dropped below their stop loss prices. The other 21 are still in the portfolio with slight positive average gains, but who knows what the future holds for them.

Now, I know that all of this might not sound like the explosive upward moves that the Gorilla talks about, but I still think that Gorilla Trades is pretty impressive. After all, investors can avoid buying unconfirmed picks and can get rid of confirmed picks that have unrealized losses. That's pretty cool, if you ask me.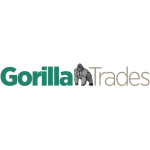 GorillaTrades

contacts
We are here to help
A 19-year track record of successfully managing customer reviews
Our team of experienced professionals handles each review with individual care
Honest and unbiased reviews
Last but not least, all our services are absolutely free