Share with Others
Recently Discussed Complaints
Consumer Tips & Tricks
Latest News & Stories
Latest Questions
SCBN Complaints & Reviews - Prescription Advocacy

SCBN Contacts & Informations

SCBN

Prescription Advocacy

Complaint Rating:

I applied for prescription cost help. Jim at SCBN said they could help. They are good at what they do...SCAM. They have taken $90.00 of my money and never sent me anything. When I accused him of being a scam and that I wanted my money back and that they are not to charge any further funds from my credit card he hung up on me. He lied to me and said I'd given him fraudulent credit card information (bare in mind that he didn't even have my name at that point) and that it has just gone thru. They got their money initially when we were on the phone two weeks earlier. THEY ARE A SCAM AND NEED TO BE PUT OUT OF BUSINESS.

Comments
United States
Drug Stores





Comments

Sort by: Date | Rating

the same thing has happened to me...when I could not reach them by phone, I went on the internet and saw all the scam comments. I immediately cancelled, I was told to send the packet back, which I did...by certified mail!! So far no response. I called my credit card company to freeze payments. I have sent them all the paper work but have heard nothing as yet. If my credit company pays scbn, I will close the account and have told them that. Now I am just left hanging...merry christmas!!

Everything both people have posted has happened to me! We should all contact the Attorney General Office!! This is a big rip off.

Joseph Smith

I called to cancell right on the 90 day time limit was tolded I had signed up for a year and if i wanted out that i had to show that I had signed up for some kind of health INS
FLORENCIO BOCANEGRA

Thank you so much for posting these! I was just about to call and may my 90.00 to SCBN but now I am not going to call them back! Thanks again... I hope you all get your money back and I hope someone can do something about these people scamming all of these people!
North Dakota

yes, i happened to me they took 130.00 out of my bank, the guy said he will give me the meds over the phone, then when i called him back he said no you have to sign the papers and go to your doctor and he gives you the meds..i was missled...i told the guy over the phone at scbn he will give me the meds for 20.00 each send it by mail..and he turns around all his words, they are good scamers, they know how to get you to belive in anything good until the paper comes in the mail ...dont sign nothing!!!

I HAVE CONTACTED THE OHIO ATTORNEY'S GENERAL OFFICE AND FILED COMPLAINT..THEY STATED THEY HAVE RECVD MANY COMPLAINTS REGARDING THIS ORGANIZATION, SCBN. THEY ARE SCAMMERS, SCAMMERS..THEY PREY UPON THE VULNERABLE RELYING ON THEIR VERBAL PROMISES!!!

Guess I won't take a job there then, GOOD LUCK guys!

Yes Yes Yes all of the above...My son recieved his 4 bottles. But now has medical insurance...But I can't cancel. They keep billing my credit card 30.00 each month. I have called them in Feb and canceled, and on my march bill they double dipped $30.00 twice. They said they want his medical card...That is his personel card and do not need that infomation, wanted me to write letter. To me all I need to do is tell them to cancel and that be that. Said the 30.00 a month for 6 months was for paper work and not the drugs ?????? MT from Michigan

july, 2011... this has just happened to me...Four months ago I enrolled in this program, paid the $50 enrollment fee, paid $35 for first 3-month prescription, it never came. I finally called to see why. I was told my Dr. had miswrote the prescription, so he spoke to them directly and sent another prescription written exactly as they instructed. Again, I waited weeks. Bear in mind, they never tried to contact me to explain if there was a mistake. I called back again and was told the prescription was received, although it was also written incorrectly! I saw the prescription myself at my Dr.s office and it was exactly as they requested. I was livid, after all this has been going on for more than 3 months. They would tell me it takes a few weeks for the medicine to be processed and sent out. At this point I asked for a refund and I was told that they have a "no refund" policy. I said that's fine then, our business is over and hung up the phone. Last Friday, they drafted another $35 from my bank account for my next shipment of "non existent" medication! My bank told me I may have to close that account, and open another one. I want to know what to do about this??????LC from North Carolina

I signed up to SCBN it took me maybe 3 mnths to get my meds I knew this in the beginning .When I went on medicare I sent a letter to them certified and posted them on comp. they was nice plus they never took anymore money from me.

Thank you so much for posting your complaints. I was in the process of signing up for the program and I am especially glad I chose to look up the reviews before procedding.

Thanks again

I wish I had done some homework before getting hooked up with SCBN they are the top of the heap when it comes to scamming, I feel so stupid and violated. It just makes me more cynical about any businesses I have to do business with. I alerted my bank and have stopped payment, but they will only go back 60 days. SCBN has strung me along since Aug. 2012 Only to find out I never even needed them in the first place, why are they still in business???? This is criminal.

I had been charged for two months worth plus the fifty dollar fee. i called when i still havent received my meds and they told me my claim was denied because i had insurance. i established that before i even signed up and now they wont refund anything saying i signed a form and i didnt pay $35 for meds but for their service to help me get them and they earned that money. Really? EARNED my money to rip me off, no. I will file a dispute with my bank for unauthorized charges. SCBN IS A SCAM AND RIP-OFF!!!



Videos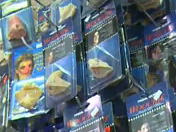 Latest Groups
Today's Mess-Up Photo