Electrolux Frigidaire Complaints & Reviews - BAD BAD QUALITY AND SERVICE

Electrolux Frigidaire Contacts & Informations

Electrolux Frigidaire

BAD BAD QUALITY AND SERVICE

Complaint Rating:

Contact information:
ELECTROLUX


Dominican Republic


google.com


I bought a Frigidair, the worst buy ever !!!
After only 3 months a part of the motor burned, after one year I start notice some dark pots on the varnish, the second year the spots were bigger and bigger, so I called the company.
Firs I've been told to call other departments, which I did, finally after several calls I found someone that was suppose to give me some answer. He asked me if I had dogs... !!! ??? Funny question I thought, and then he wrote me on a email that maybe my dog might be pissing on the fridge ... weird idea, beside the fact that no dog can pee 9 feet high. I've been trying to have someone giving me an answer including
Mr. kenneth.antonich@electrolux.com which was the person supposed to analyze what the problem was I tried from December 2007 until March 2008, and than it was clear enough that they had no intention to give me an answer, or respond of such a bad bad product.
Then to a certain point it wasn't cooling anymore and for 3 times I had to throw everything away, because everything in the freezer was defrosted, including lobster and other expensive food. That was the sensor that gives the command to defrost when there is too much ice on the radiator.
A while after the door was falling off, fortunately I'm good in fixing stuff, and I did.
Now after only 3 years the fridge is all rusted with big spots. I have a very nice house, and this junk in the kitchen looks very bad, and when I have someone visiting I feel ashamed.
So now I'll have to change it... But if you planning to buy a fridge don't buy Electolux Frigidaire, never.
If you want to see some nice pictures look here:
http://picasaweb.google.com/antoniomecca/ElectroluxBadProductsFrigidaire#
or search in:
www.picasa.com for Electrolux bad products Frigidaire

Comments
Dominican Republic
Products & Services





Comments

Sort by: Date | Rating

I am contacting you on behalf of Electrolux Major Appliances in relation to your posting on http://www.complaintsboard.com. I would like to apologize for the difficulty you have had with your appliance. I would appreciate the opportunity to discuss this issue with you so that I can personally look into this matter. In order to do so, please send me your contact information, and the best time to contact you. I would also need your model and serial number and a file number if available, so that I can research this matter. Again I regret your disappointment with your appliance and look forward to resolving this issue with you.

Sincerely,
Chris Polk
Escalation Specialist
Electrolux Major Appliances
chris.polk@electrolux.com

I purchased a Frigidaire upright freezer in Aug. 2008. My previous freezer (Sears Coldspot) died at 40 yrs. of age, and it never had any problems. On Apr 06, 2009 the new freezer stopped working. Ever since I have been getting the run around from Electrolux. I have called them every day. I get someone in a foreign country, and it is difficult to understand them due to their accents. Each time they ask for the same info that I have already given them, even though I also give them my "reference" number. After several days they called to tell me that someone will be out to look at it on Apr 14. I ask my work to have off that day. On Apr 13, I called Electrolux to get the name and number of the repair place, so I can find out what time they are coming. I called the place and they have no record of it. They said Electrolux normally faxes the info to them and they had not received anything. I once again called Electrolux. In her thick accent, the woman replied, "ma'am, we don't send faxes." We went back and forth about this for a few minutes, she told me to call them back the next day. I told her that I had been calling them for the past week, and they needed to straighten this out and call me back. The lady said they would call me the next day ( Apr 14). As of 1000am Apr 14, I had not heard from Electrolux. I tried calling them and reached a recording telling me that they were experiencing technical difficulties and to call back in 4 hours! This is ridiculous. As of today, Apr 15, Electrolux still has not called. What kind of customer service is this? I purchased a freezer at a local store yet when problems arise, I have to deal with people in foreign countries who don't know what they are doing. It is now almost two weeks later, I am left with a broken 8 month old freezer and loss of food, and Electrolux is absolutely no help at all. I will never purchase any of their products again. I honestly believe that today, things are not made to last. They are made cheaply, so that they breakdown and you have to buy a new one, so the big, impersonal companies can fill their pockets with your hard-earned money.



Videos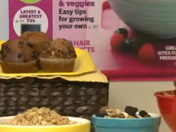 Latest Groups
Today's Mess-Up Photo