Recently Discussed Complaints
2.
(41 mins ago)
STC
stc lottery
3.
(1 hr 21 mins ago)
MaxForCheap.com
Local law enforcement should look into their scam.
4.
(1 hr 31 mins ago)
John Pedro Loans
Rep asks for more money, but doesn't provide loan
5.
(1 hr 36 mins ago)
Yupp TV
bad service
Consumer Tips & Tricks
Latest News & Stories
Latest Questions
Wells Fargo Short Sale, Idaho Complaints & Reviews - Short Sale

Wells Fargo Short Sale Contacts & Informations

Wells Fargo Short Sale

Short Sale

Complaint Rating:

Contact information:
Wells Fargo Home Mortgage


Idaho




United States




I applied for a short sale on October 6, 2009. I told the loss mitigation department that I did not want to go behind on my house payment in order to recieve help on selling my home. They told me that was fine and they would help me. I sent in all the required paperwork to the short sale department and recieved a phone call from the short sale department two weeks later informing me that my short sale application had been approved and they just needed to accept an offer.
I had six offers on my home, and called Wells Fargo once we had recieved the last offer to see how much longer it would be until we were able to close. They told me and my realtor it would be 25 days and we would be able to close. I called the first week of November to check on how the acceptance of one of the offers was going and was informed that my application was in the process of being closed because I was not 31 days delinquent on my house payment. When I called to ask a supervisor why I had not been informed that in order for you to get a short sale you must be 31 days delinquent. I was told that it was a miscommunication between me and the representative that spoke to me and my realtor. I understand that the invester has their guidelines to obey, but when I am told that I am approved for a short sale by every person that I spoke to and the entire time they were supposed to have told me that in order for a short sale you must be 31 days delinquent. I am truly upset that it is okay for Wells Fargo to give wrong information to a loyal and paying customer.

In the middle of November I requested to have my escrow account closed because it is not required on my loan, I was told I met all the guidelines and that I could closed the account. I was trying to make my home more affordable since I pay $400 a month into my escrow. Three weeks later I recieved a letter from Wells Fargo stating that I could not close my escrow account because my loan to value ratio was more than 80%. When I called to tell them that I had been told by two people that I could close the account. The supervisor that I spoke to said that I had applied for a loan modification and Wells Fargo had performed an appraisal. I informed her that I had applied for a short sale and that they had done a BPO not an appriasal; they are two completely different things. She said that since I had done that I was not elgible to close the account.

I have been continuously lied to by Wells Fargo since October! I think that every person who works in the call centers of Wells Fargo need to be trained again and if they do not know the answer to the callers question, they need to tell the customer that instead of telling them what they want to hear. I have lost three buyers on my home and have been trying to sell my home for a year! I am reapplying for the short sale this month and if I am lied to again, I will sue!! I know that I am not the only person that Wells Fargo is doing this to and I hope that something is done about them doing this to people. It is a hard time to sell your home and it is stressful enough just dealing with selling a home, but it is even worse when you are lied to and have everything riding on a short sale or loan modification.

Comments
United States
Mortgage Companies





Comments

Sort by: Date | Rating

I have had the same issues with WF!!! It's been a long process, and still not done yet!! it's been almost 18 months.

my daughter has had the same problem with wells fargo for about 7 months now and she has been trying to keep up with her mortgage payments and they have been giving her a complete runaround . i don't understand these companies the government gave them big money to help and all my daughter wants is to keep her mortgage payment the same as it was, butnow her mortgage payment is up to almost 1000.00 a month . also her work hours were cut 20 percent . they keep calling her at work to talk to her, when she told them she cab't do her own business at work and then they tell her they have to cancel her application because she couldn't talk to them . she told them she works til 3: 00 and she can talk to them any time after that ! what is wrong with this picture ?????

I have been working on a short sale from Wells Fargo for almost 4 months. Each time we get close to an agreement they want something more. Now, the bank wants the seller to come up with another $6, 000 in cash in order to process this sale. First, they wanted us to pay closing costs...fine, we agreed. Then, they wanted more money. Ok, we sweetened the pot. Now, after everything was agreed upon they want another $6, 000 in cash from the seller. DO you think the seller would be in a short sale situation if they could pull that kind of cash from their pockets???? WTF???? So, the bank is wasting another 4 months of this house sitting on the market and losing more money. Now, the seller will go into foreclosure...it seems like that is what the banks want. Is someone getting an incentive for sending homes to foreclosure? Our system is completely screwed up. This is one area that the government needs to step in and help the sellers and buyers out there...stop playing nice with the banks.

We went through the shortsale process with WF last year. We relocated and the housing market had tanked to the point that the only way we could sell the house was via the shortsale process. Everything went relatively well, we got a cash offer that WF accepted, and then right at the end we were told the agreement would be terminated if we were not at least 31 days delinquent. We did not understand the logic, but at the same time we had to proceed. We skipped the payment, then WF set the closing date back an additional 30 days.

Now, in exploring our mortgage options, we have been told that we qualify across the board, but the 60 days delinquent on our credit report is keeping us from qualifying. Further, multiple sources, including information from Wells Fargo online, have told us that we absolutely did NOT have to be delinquent. We knew there would be consequences to missing the payments and were furious that it was "a condition of approval". Now we find out that we were lied to.

I wish there was a way to get this taken off our credit report. We never would have missed those payments without their instruction to do so.

Dont feel bad. We have been trying to short sale our house with WELLS FARGO for 2 years and 3 months!!! bk after bk has been filed. Wells Fargo is the worst with short sales. They are slow and do everything they can not to short sale our house to a full price offer and well qualified buyer!!! They take their time so much and so long that every time the foreclosure sales comes up its too late and we have to file bk for the 6th time now. They will not even extend the sale to finish the close on time. Our buyer has rock solid preapproved credit, but the process is sooooooo screwed up that it may never happen. I would not be surprised if we get to 3 years of NO payments!!! WE WANT TO SELL NOW. WELLS FARGO IS AWFUL!! ITS A FULL PRICE OFFER!!! WE CANNOT GET IT DONE...HELP.

We are in the short sale process with Wells Fargo currently and our experience is similar to those above. I feel so helpless.

I am a buyer trying to buy a house that is a short sale held by Wells Fargo. WF had set an approved price for the home, which I came in at on my offer (not less, but exactly on THEIR price). Two months later we are checking on the process again and was told it was 90-95% of the way through. A week later my realtor checks and sees it has frozen in its progress. He is told that WF is requiring a NEW appraisal on the home. We had to wait 2 1/2 weeks for the current appraisal to expire to even order a new one. Conveniently then WF raises THEIR OWN APPROVED PRICE $10, 000 based on the appraisal (that no one is permitted to see). I refuse to come in at a higher amount. This home has been on the market for over a year at the original price with no sale, and they think it will sell for $10, 000 higher. Especially when the housing market in my area continues to decline. The sellers have threatened to let it go into foreclosure and still nothing. I made another offer at the original price and WF said they will not "deal with me". There must be some kind of incentive that WF is getting to let houses either remain as a short sale or go into foreclosure. I cannot see how a bank can continue to operate with all these losses unless there is a kick back of some sort. I have given up on purchasing this home, as many others before me on other homes. Unfortunately, there does not seem to be any recourse for going after WF for their unethical practice. I just know I will not bank with WF (or now Wachovia) in any manner!

I have had the exact same problem with WF on a short sale, after waiting 3 months and signing a contract at an agreed price, they say they are ready to close except that the want to raise the price at the very end, I stood firm our original agreed price. Now they closed the file, and want to sell for more because they say the house is worth more, yet it has not sale in almost a year.
How I wish I could sue them, beyond unethical..



Videos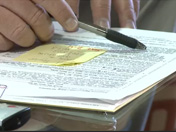 Latest Groups
Today's Mess-Up Photo