Recently Discussed Complaints
3.
(32 mins ago)
Mensusa
FRAUD ALERT!
Consumer Tips & Tricks
Latest News & Stories
Latest Questions
JG WENTWORTH Complaints & Reviews - JG Wentworth

JG WENTWORTH Contacts & Informations

JG WENTWORTH

JG Wentworth

Complaint Rating:

Contact information:
JG Wentworth


United States




I am DEAF (HEARING IMPAIRED) single mom of four, victim of JG Wentworth as well. They offered me an quote to get 40k out of my annuity. Then the judge approved, finally I got only 38, 000. I requested for 40k exactly, not 38k. At first, I put 100k in my annuity at John Hancock Life Insurance ( I regret that I did and wished I never did, at first as well that I never understood annuity due to my deafness related english grammar - I fluented American Sign Language that doesnt speak too well at english) my old attorney rushed me into sign the annuity contract with John Hancock. I was too young to understand it too. I thought it was very cool to get more profits but now I realized it doesnt. Time of life is very precious. So until in year 2007 I saw the commerical about JG Wentworth, I was like - wow, go for it. So this is how I get down to it. In the end, I was suffered of domestic violence and now currently living in transitional housing program after my ex abuser used my 38k and left me pregnant, homeless. I have no place to live but THP. So I called the JG Wentworth again, and they said I dont have enough transaction, but only 5, 500 left value whatever it is. I was so upset. I m trapped here in Washington, I need to get out of here...

Until just now, I just called JG Wentworth today on October 12th at 3 30 pm, and Sam said on the phone that he cannot make an offer because of extend something - I dont really understand what he means by that and he said something about my value is very lower - I ended up being confused and desevesated big time. I interuppted and asked him what is up with my 60k that I was supposed to have left right now since I had 38k but 40k anyway so I had 100k in the annuity contract. Wheres my 60k go ? Then Sam said, "Sorry we cannot help you right now and we are sorry about your homeless situation and the end of transaction will be in year of 2024." something he said like that but not exactly -- I was really pissed. I do feel like they are greedy and doesnt care about my situation but wants MONEY. I m the one who got sexually assault not them. I have the RIGHT to touch my money and people like us do have the rights. This makes me mad and I do feel offended big time. I m concerning about John Hancock because of values like JG Wentworth said that I dont have any values. Whats happening with John Hancock's annuity contract we agreed not to lose my money. They werent supposed to use my money to pay the lawsuit for John Hancock's irresponsibility, fraud, discrimination whatsoever.

... I m VICTIMIZZZZZED in all of this. PUBLIC STORAGE, JOHN HANCOCK, and now found this subject, here it is JG WENTWORTH.

My email address is oxroxyxo26@yahoo.com

Sandra

Comments
United States
Business & Finances





Comments

Sort by: Date | Rating

And I also want to know how to break the annuity contract without pentalty fee, without attorney fees - I was too young to understand what the heck it is for. My old attorney had to rush me into sign the annuity contract. Anyone knows how ?

Too hide it from yourself, you idiot.

"Puster".. calling someone you don't even know and idiot (unprovoked, mind you) while you don't even know how to spell a two letter word ("to") is just ridiculous. Get a hobby or something.. you could definitely use one. @killerdana, best of luck in your pursuit! I hope it goes well for you :)

jg wentworth is nothing but bullshit... they say ull have ur money in 3 to 6 weeks and my father has been waiting for 3 months now they are nothing but a bunch of low life people wh already have money so they could care less about wat we r going through. my step mother is about to loose her home because of how long its taking them to give the money i do not recoment any one using them

***PLEASE...do not take my comments to be cruel or flippant - because I am a disabled person as well (although I usually call it "handi-capable" so it doesn't seem like I am using my disablilty as a cry for pity or for negative purposes because I don't base things on the cards life deals me, I base things on how I play the cards that I am dealt).

I can't help but believe that you have made some huge mistakes with your annuity by making uninformed decisions. As we all should be, I am aware companies are out there to make money off of you, me and everyone else in the world, looking out for and placing themselves before us in most cases, SO it is up to us to be completely informed before making decisions. If I was about to make a HUGE decision ---like doing something with $100K (and in my opinion, the is an enormous amount!), I would NEVER dream of making even the most minute decision until I understood things COMPLETELY...and this means the CONS as well as the PROS. I really hate this has happened to you, but it is up to YOU to make sure you understand EVERY ASPECT, OPTION, and POSSIBILITIES completley before taking this step...and not up to the companies. (Just a note...This is looking at things legally, and NOT morally...because if morals were the same today as they were several decades ago, companies would be placing concern the customer's needs and intrests before their own.)


I really do not understand your statement in the first paragraph, "I never understood annuity due to my deafness related english grammar - I fluented American Sign Language that doesnt speak too well at english". If this is true, how did you write this complaint using perfect terminology??? I admit the spelling leaves something to be desired, but you sure explained your points and perceptions very understandable by using correct english grammar. I'm positive (by having a PhD in psychology) that if one who can express things correctly, just as you have, that same one can understand others as they articulate /express themselves.

Once again, I think you jumped into this before knowing all about it. The only person you can blame is yourself...If you don't look out for yourself, noone else is going to do it for you. It's evident in your statements that you may not take responsibility for the things that have happened to you, and you want to blame everyone else for things that have happened...in other words, you feel that you are alwas the victim, and everyone is against you...but you MUST get out of that frame of thought. I AM NOT BEING MEAN...AT ALL...I am just telling you what someone told me..because I WAS THE SAME WAY AT ONE TIME!!! After being enlightened, I chalked up everyting which had happened at that point to experience, and started a new life being the NON-victim, and taking responsibilty...and you know what??? I AM MUCH HAPPIER NOW, and I have not make even ONE bad decision since because I make sure I am informed on ALL angles before the decision is made!!! I LOOK OUT FOR MYSELF instead of thinking it's everyone else's responsibility to look out for me.

GOOD LUCK IN THE FUTURE...

Cash-Now is nothing but present value of future cashflows at a certain discount rate. What someone in this position needs to understand is how to effectively haggle that discount rate down to lowest possible number. One big thing to consider is the credit worthiness of the entity paying you annuities - the better the credit worthiness, the lower discount rate you may be able to negotiate.
There are non-profit accountants around who can explain how this works, and you may be able to hire pro-bono attorneys who may be able to help as well. Hope this helps someone in a similar situation.

Whatever your station or circumstances in life are, it is most likely for a reason. Bad things happen to everyone. Good things happen to everyone. Some people experience more bad things than others. Other people experience more good things than others. The important thing is how you play the cards that are dealt with you. Focusing your engergies on blaming others and seeking payment for your problems does absolutely nothing to increase your own capacity to move your life in the direction you want to go. It doesn't matter how much money you receive as "compensation, " you will keep ending up, right back where you started from -- which is the level at which YOU actually believe you belong.

But hey, I want that NEW car NOW, I want MY stuff NOW, to he** with the FUTURE, It's MY MONEY I NEED IT NOW. Suckers are born every minute, so LIVE with IT, JG will is laughing all the way to the bank BECAUSE It's your MONEY and you WANTED IT NOW. /s

I called many of them . And there rates are real to high. 33% . I want to buy my own house ...not paid of there house. Really ask what there rates are before jumping in the cold water. Do your resherch on google. That's what it s there. INFORMATION... Is your best defense ...

Hi, we are U.S. Settlement Funding. Here at U.S. Settlement Funding we pride ourselves in giving our clients THE BEST rates possible, as a smaller company we are able to give 2 to 3 times the amount to our clients compared to our competitors. We can also purchase life contingent payments or payments that are decades in the future. Give us a call today for a hassle-free quote! 8886976446

It is unfortunate, but if you think about it; Human Beings are the nastiest animals on this planet. That being said, trust no-one. The people that screw you worst is family, I've been done in by Pastors, Brothers, Sisters, Doctors, ect... and all with the best intentions. I've lost a son, lost a fortune, and lost faith, but I still help people, for them, not for me, or any ( What a Great Person) akolades. This is just the way I am. The past is the past, chalk it up, trust no one, reaserch everything before you make a choice, and don't be pressured into anything. I know this happened along time ago, but I was just doing some research on JG Wentworth, and read this story, I don't know you, or your situation, so I hope this will help some other 20 something, that thinks they know all about life, and please use spell checker.

Your boyfriend talked you into taking 38K out of an annuity and then he spent it (probably on drugs) and then left you. YOU are the only one to blame.

thank u for ur comment i was thinking of selling a mortgage to jg i hold for 300, 000.00 i don't understand how everyone blames the victim there has to be someone to complain to i have been screwed so many times but i fight for what is right. when we drive past a car pulled over by the police we always think the person in the car is wrong not always true we have to protect each other i was also involved with a drug addict they can convince you that the earth is flat its ok to make mistakes that how we learn think positive and keep fighting its great you advised us of a problem thank u its so sad we cant trust anyone good luck sue them they have self help in supreme court inquire even in federal court

okay, JG unlocks your money (whatever sum you are requesting) - there are tons of fees (underwriting, court fees, lawyers fees, paperwork, hours billed to your account, etc...) they Cover those fees so you don't have to come out of pocket, and they recoup that money!!! and guess what they charge interest on those expenses and they charge you on doing what your do not know how do to. Which is unlocking your money through a Court and add on the convenience of time (instead of waiting YEARS for that money). In other words, you are paying for a Service. Like re-roofing your house, I'm not a licensed professional roofer, I pay someone who is qualified to roof and I would be charged more for a company that is Insured and Bonded. Same thing here, there are a lot of Settlement companies that do what JG, Peachtree, Singer Asset, Law Capital, Oasis Legal.- my Structure company, gave me a list of Settlement Funding companies they do business with on a regular bases - they did not recommend any company, I just asked for names and I did the research of calling each one (5). JG gave me the best offer (meaning terms and conditioning that worked FOR Me) - I hope this helps. Don't be lazy, do your research and ask LOTS of Questions and if the company doesn't want take the time to explain, then call a different Company that will take the time to explain, everything to you line by line.



Videos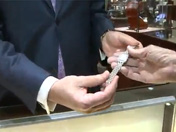 Latest Groups
Today's Mess-Up Photo