Share with Others
Recently Discussed Complaints
Consumer Tips & Tricks
Latest News & Stories
Latest Questions
Banfield Wellness Plans Complaints & Reviews - Can't cancel

Banfield Pet Hospital Contacts & Informations

Banfield Wellness Plans

Can't cancel

Complaint Rating:

I purchased an 8 wk old puppy from a local breeder and unfortunately, a month later my puppy died in a freak accident with a neighbor's kid. When I first got the puppy, I put her on Banfield's wellness plan for puppies. I understood that it was essentially a payment plan, NOT insurance. However, with only 1 set of shots given and a little dewormer, how could Banfield possibly expect me to continue paying them $21.95 a month for a puppy that only used their services twice and is NO LONGER ALIVE?!? Banfield insists that the contract states "no cancellations", however, this is just ridiculous! To pay 12 months for a puppy that only lived 1 month?!? That is absolutely ludicrous and definitely a SCAM!

Comments
United States
Animal/Pet Hospitals





Comments

Sort by: Date | Rating

They will actually let you out of the contract if you pay for the services you received, but it would probably be better to just pay them the 21 bucks a month... ;-)
Yup and I am also one that is sick and tired of there wellness plan, they told me I saved over 600 Dollars to neuter my dog, where at a different clinic I could have gotten it done for less than 100 dollars (ABC Clinic in Waco). They are just trying to get money out of you and will do procedures that are not neccessary and will always charge you something.
I am in the process of canceling mine but I waited til the contract year is over with.
Hope you might have been able to figure something out with them!

How do you cancel? My dog's plan is up this month, and I can't find the paperwork. I think I remember reading that you can only cancel with a written letter- but don't know where to send it to. Let me know...

I have had to fight the same fight over the phone today and have been completely surprised. If you are someone thinking about getting the wellness plan DO NOT GET IT! I have just lost my baby Gilbert on Friday, June 19th. I have called Benfield Wellness Plan to cancel my plan. They of course will NOT DO it. Even tho, my pet is no longer alive and obviously no further services will needed Benfield wants to CONTINUE to charge me 22.00 dollars a month for the next six months. For what? What reason you may ask? Why would you pay for no services? That is this Wellness plan for you: THEY CHARGE YOU FOR NOTHING, IT'S A ROBBERY. In very small print on the agreement they said they would keep charging regardless of cancellation.

A second reason why I am not recommending this plan. My kitty had to have several office visits this year, x-rays, medicines, etc...this plan will not cover any of that and you are limited to only see one doctor. My recommendation that for only 5$ more/ month you can get a pet insurance. Do it. It will get you better benefits, more coverage, lower deductibles and an option to take your pet to any vet you choose.

Good luck to all of you and a happy healthy life to your pet!

I think you are a sucker. It plainly says on the brochure which I just read, "Plan memberships are annual agreements..." and "You may cancel anytime before the expiration date by paying the retail value of plan services or the remainder of your plans value, whichever is less." ...and this wasn't in small print either.

I am looking at both of our brochures and I don't see anywhere where it talks about cancellation. Not sure where ChristopherW is seeing it.

The fine print clearly says you are liable for the full year subscription even if your pet dies or is disposed of... It clearly says to provide a written notice of cancellation no less than 30 days prior to the renewal date which you have to assume is one year from the subscription date. (the dates of renewal and the cancellation procedure are very unclear)

If you do this then they will not have a leg to stand on but you have to provide the letter to the banfield office you subscribed at since that is the only office or address mentioned in the agreement. I suggest you send this letter certified and keep copies of everything. You might want to deliver a letter there personally just for good measure and make sure it is being received and tended to and not just set aside.

I had a plan with Banfield for about 4 years, and unfortunately we lost our dog this year about halfway through the year right after I had just gotten all of her vaccinations. She began having problems so I actually upgraded her plan so it would cover some of the blood tests they wanted to run to see what was going on, unfortunately she kept getting worse so we chose to euthanize her. It took me a couple of months to contact Banfield 1-866-277-7387 to cancel. They were actually very nice and took off half of the cost of the remainder of her contract and automatically set up to cancel the contract so I wouldn't have to call back. I think this was fair since I was using their services. I don't understand why people think they should be able to just stop whenever they feel like it, unless they are not using the service to begin with.
I miss my dog, but if I ever get a new one I would not hesitate to use Banfield again.

We have two dogs under the wellness plan for 9 years and were relatively happy with it until July. We called to get an appointment to get our son's dog spade and specifically ask for the vet we have been dealing with for 12 years. We took the dog in at 8am and were told she should be ready around 4pm. Received a call later that they were busy and she wouldn't be ready until around 6pm. Then we got a call at 5pm saying they would be unable to do the operation that day and it would have to be rescheduled. Dog had been there all day and had not had food since the day before. I told them to cancel the insurance on our two dogs because that level of service was not acceptable and I did not want our dogs exposed to that type of treatment. Then after protesting the monthly credit card billing I learned that the insurance is not cancelable and the credit card company is obligated to collect the charge. Apparently they can treat dogs in any manner that they want to and a person is expected to pay their monthly insurance bill. Banfields bills are ridiculously over priced to make a person think they are getting a good deal. Comparing the bills to insurance payments would make a person wonder how they stay in business. I think there is evidence for a class action law suite which I plan to ask a lawyer friend to investigate. We also filed a complaint with the state veterinary department and have not yet received a reply and will look into filing a complaint with the state insurance commissioner.

I failed to mention that the vet we ask for to spade our son's dog wasn't even working the day we were given the appointment.

It appears that Banfield only holds you to the contract as long as there is a "balance" on your account. This balance is for the cost of services performed reflecting what they would have been sans you having the OWP. There are two ways to cancel your plan without a cancellation fee.
1. Wait until your monthly payments cover what you would have paid without the plan.
2. Wait until your current contract is up, call and request to cancel.
I just got off the phone with their customer service department who, because i have no "balance", allowed me to cancel with no termination fee. Since my contract auto renewed in October and I haven't used any services they even said they would refund the 4 previous payments!
This sounds pretty fair to me!
Be sure though, to cover your butt, that you get all promises in writing!

I have two dogs on Wellness Plans, and am very pleased with the services I've received. I was originally skeptical of signing up, but the convenience of stopping in while at Petsmart lurred me into signing up my first dog. I price checked services, vaccinations, and office visit prices at other local vets, and determined that Banfield is just as competitive, if not cheaper, pricewise than the local competition.

The big advantage of a Wellness Plan is that you get unlimited FREE office visits, so there's no hesitation to get your pet checked out when you suspect something is wrong. Unlike some others who have commented here, I have logged office visits where my balance was zero. There were no "extra" services pushed on me when I've been to Banfield with my dogs.

Additionally, I've never experienced long wait times with my dogs. In fact, I rarely even have to schedule an appointment. Most times I go to Banfiled, I just "walk in" with my dogs in addition to buying pet supplies at Petsmart.

Finally, let me address the "cant' cancel" complaints. The idea of the Wellness Plan is to prepay a discounted fixed annual amount for a specific set of vet services. This discounted prepayment can be payed in monthly installments for added convenience.

At my first vistit, the checkup, blood testing, vaccinations, etc. would have cost more than the entire total of the discounted annual plan over the course of 12 months. Therefore, if I attempt to cancel prior to renewal, then I would be responsible for paying the remainder of the discounted annual amount. Even if this was to occur, I already received the fair market value of services well in excess of the discounted price I would still be on the hook for. Why some people don't seem to understand this, is beyond me.

Have the same people who complain about cancelling their plans ever tried to cancel their annual cell phone contract? Try paying Verizon Wireless a $250 or higher cancellation fee if you want to break your contract early with them. With cell phone companies, the cancellation fee doesn't even cover services perviously performed. It's essentially a fine.

In contrast with Banfield, if you want to cancel, either pay the balance of the fair market value of previous services rendered, i.e, your "Account Balance" or payoff the remaining annual discounted cost of the plan. Either way, you are paying for services received. I don't understand why the complainers don't see that this is totally reasonable.

Same thing happened to me on the wellness plan. I did finally get them to reduce the amount by 50%, but still a giant rip-off. Burnt once your fault, burnt twice my fault. Never again.

New info... their contract may be illegal/unenforceable according to an attorney I spoke with. They got me too, bad. Trying to enforce that contract after your pet has passed probably isn't legal. I'm starting a movement to do something about it. Here's my blog I just started. Join me in fighting these people.
http://www.banfieldwellnessplanreview.blogspot.com/

The problem is is that you probably paid only 21.95 instead of the estimated $400 for the exam, shots etc. so essentially you already got the benefit of the year's plan. Perhaps they could just charge you out full fee for the initial exam that you took your late puppy to and then cancel the remainder of the payments.



Videos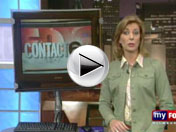 Latest Groups
Today's Mess-Up Photo