United Air Temp, Springfield, Virginia Complaints & Reviews - Unprofessional Service

United Air Temp Contacts & Informations

United Air Temp

Unprofessional Service

Complaint Rating:

Contact information:
United Air Temp


1001 Graham Dr. fredericksburg VA, 22401




Springfield

,

Virginia




United States


Phone:

703-692-5127


edblesi@hotmail.com


I have an AC/Heating and Pumbling contract with United Air Temp. I have spent many dollars always doing what ever is recommended by the technician. However, now because of a very rude and unresponsive pumbling manager (Jerry) at the Springfield Office i will be cancelling both of muy service contracts with United Air Temp. I scheduled two appointment for annual service, stay home from work to accomodate United Air Temps very restrictive schedule. When the AC/Heating Tech showed he said he would be doing both services...When he left he said i would need to reschedule another appointment with the pumbler because i had a leaking sprayer head on the kitchen faucet. I scheduled another appointment, stayed home from work for the plumbre to come and fix the problem. When the plumber arrived he said he need to order a new sprayer head and i would need to schedule another appointment when the sprayer head came in. Several weeks later United Temp called to inquire about thje satification of the service i told them i was still waiting for the job to be completed. Receptionist said they would get back with me...never did. Several more weeks went by and United Air Temp called to schedukle another appointment to deliver the sprayer head. I suggested that they drop it off at the door and i would screw it into the hose. It turned out be the wrong part. The male screw on the sprayer smaller tah what is on the hose. I called (always get voice mail) left a message...no body ever called me back. Now today several month from original service call i got a call asking how the service was on the completed job. When I explained that work had not stillbeen completed i was told to schedule another appointment. At this time i asked to speak to the Service Manager. A male got on the phone siad his name was Jerry. He told me i needed to schedule another appointment to allow the technicial to come again and get the correct part number and they would order the part and i would then need to schedule another appointment to get it installed. I told him i would appreciate if United Air Temp could come after 5 PM or on Saturday that way i would not need to take off an additional two day off work in additition the 3 already taken..this would be a total of $2500.00 lost wages. I would assume that my request is reassonable since it will take 5 visits to replace a simple spray head. I would certaintly appreciate a response to my inquire. It could possibly change my mind about canceling my two contract .. Jerry at United temp could care less...You should check out this manager ..he is driving business away. My telephone number is 703-692-5127

Comments
United States
Plumbing Services

More United Air Temp complaints






Comments

Sort by: Date | Rating

I have had problems with United Air Temp for quite sometime. I will never recommend United Air temp to ANYONE, EVER!!!

My main complaint is that United Air Temp uses the service contract to argue for early replacement of equipment. Regardless of whether replacement is needed or not, they then try and install new equipment at prices way above the competitive price.

6 months ago I had to replace my heating system, got a price from United Air Temp which was more then another company. I went with the other company, come to find out the warrenty i was given was 1 year and they dont anser their phone. So you want a cheaper price you get what you pay for, in the end i had to replace the unit again because it was not installed properly the first time. So pay once or do the mistake i did and have to pay twice.

november 2010 united air temp came to service my furnace, I had heat before they came, then they turned it off claminig I needed a new furnace. I was unemployed at the time and had a 86 year mom living in my home. We spent all winter in a 45 degree house with only elertic heaters behind closed doors. recently they called me wanting to service my air conditioner and I told them no because they did not do me right about my furnace. I explained to the young man what happed this past winter. He was very beligerent and said they did not cut off my gas, and it was because I was not paying my bills and then he got really hateful talking and said he was not going to mess with me and to heck with it and rudely hung up on me. A company like that does not need to be in business or they need to retrain thier so called employees . their customer service is extrememly poor.

We had them come out to do the regular maintenance check in the spring. Our AC failed in the summer when we started using it. The unit was low on coolant. Instead of finding the leak, he just filled it up with coolant. It failed again, of course. They came back out and did another poor patch job. It failed. They came out the third time and found that something the technician did during the maintenance caused the leak- he didn't tighten something. Three visits for that? They came out to do the fall check up. Said everything was fine. Days after they left, the AC/heater stopped working. They came out and replaced a part. It failed again. They're coming out again today. I have zero confidence it will be fixed properly. Funny how things are fine before they come for the check ups, then right after they leave things fail. And it takes 3 visits to fix the smallest of things.

Had the same experience - waited for hours, had to call office to know the technician's truck broken down, and the technician would call if showed up late but never did. Heard nothing for over two weeks then this "Jerry" called to reschedule. I think I'll go hire someone else who values my time more.

United Air Temp has come three times for my heat not working. My homeowner's warranty company sent them out. First they tell me AHS can give me a credit for labor and two parts not working in the amount of $1000. They gave me an estimate for a new furance applying the $1, 000 credit. I told them I wanted to shop around. I asked if the credit could be applied to another company, they said it could. But when I call to tell them I'm going with another company, they tell me that was just a discount they were giving me, that my system would have to be in FAILURE to get a credit. I called my warranty company and found out they lied to me. I CAN get a credit towards a new system because the repairs on my 29 year old system are rather substantial. You lied to a single Mom who could really use that credit because I'm not doing business with you? That's really dirty. Also, I found out they were going to put in a lesser system, 70, 000 BTUs when I currently have 75, 000. Why would they put in a less powerful system in somebody's house. I will never let the warranty company send them to me for repairs again.



Videos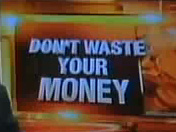 Latest Groups
Today's Mess-Up Photo