Share with Others
Recently Discussed Complaints
Consumer Tips & Tricks
Latest News & Stories
Latest Questions



Comments

Sort by: Date | Rating

I ordered a necklace from them on the 28th of May, thinking it would have plenty of time to get here by my mother's birthday-the 24th of June. Not only did i not receieve the product, but when i called on the 28th of June to complain about the fact that they had told me they shipped it but i hadn't received it (i found out they "had shipped it" from a prior call) the person told me it hadn't been shipped because it was on backorder and that it was now ON BACKORDER AGAIN!!! it is now the 30th of june, and i still don't have a present for my mom. and the company said it shouldn't ship for at the most another month, because it was still on backorder. i am completely dissapointed with this company and intend to write a letter of complaint that will most definitely be sent to the manager/exectutive of Concorde Collections expressing my discontent with both the customer service and the lack of truth brought up by the website. PLEASE DON"T ORDER FROM THIS TERRIBLE COMPANY!!!

Thank you for posting. I really was reviewing this store. I could not find anything good about this company. I found another similar complaint against The Concorde Collection Jewelry alleging bad customer service, item shipped was not as advertised and failing to refund a returned item.

I will definitely stay away from this store.

ordered a ring last year, made several calls, just got in touch with a customer service rep they said nothing they can do. do not order
from them. rip offs!

i found this when looking up the company to order this necklace that i have to have (footprint sandal) now i hope that i can something like it local because i WILL NOT order from them. thank you for your posts and know that they are working and helping!

My mother bought me a ring from this company and held it for months until my birthday. I wore it 3 times and a stone fell out. I called the company and they only have a 60 day policy. They did not care that the quality of their products is poor. Good service would have been to replace the stone! I did not even ask for a money refund!! Never shop here for jewelry.

I wish I had seen these complaints before ordering from them. I saw a ring that i really wanted and my sick and dying husbaand told me to order it. So i did and it was the last ting my husband bought me, because he is now gone. I called them and they told me they were out of stock on that item and assured they would send it to me. Well i have never received it and when i call i get the same story it will be sent Please stay away from this company

i ordered a ring from thiscompany that was not as pictured item was so I sent it back. it has been 2 months since then and Ihave still have not heard a word from
the company or received my refund. I am unhappy with the actions of this company and will do every thing in my power to see that they are put out of business.

Hello. The reason I emailed you is because of your complaint with The Concorde Collection. I used to work for the company and discovered that what they have been doing for years is unethical and illegal. I just published an expose article about them and am trying to get the word out as quickly as possible and to as many people as possible. PLEASE, if you feel that you have been taken advantage of by The Concorde Collection, NOW is the time to re-post this article with everyone you know and put that company out of business FOR GOOD!

http://www.associatedcontent.com/article/7993129/thousands_of_breast_cancer_supporters.html?cat=46

I ordered a ring for my mom for mothers day. I never got a conformation, so i sent an e-mail to let them know. They never got back to me so i ordered the same ring again thinking it just did'nt go through. I hve just recieved 2 of the same poor quality rings, they are very small and fake looking. I know what sterling silver looks like, this is'nt it. When i called to ask why after i sent an e-mail saying i thought something went wrong with the first order they would send 2, the man said i accidentally ordered different sizes. He also said it was my problem and i had 60 days to return them but I would pay shipping and tax, so now i'm out $20 and am waiting to see if i actually get my refund. Please do not order from this company!!! Bad coustomer service and cheap looking jewelry

I stumbled upon this site while I was searching for their site, Concorde. Thank u everyone for using this medium to expose them for who they really are! I was about to purchase a white topaz, sterling silver ring with 24K gold overlay. It is beautiful & I wondered how they can make it this inexpensive with all of those stones of topaz. But what I really loved about it was that it have a little gold leaf on top of the sterling silver ring that had a gold frog on top of that. Very cute, especially if you like frogs as I do. Now, I have changed my mind & as disappointed as I am, I thank u all for the exposure of this idiotic company that hopefully will be out of business sooner then later!!! From, a person who hates cheap-looking jewelry & rip-offs!!!

Thank you to all those that have posted on here. I was going to order my daughter the "My Daughter, The Heart Of My Heart Ring". Thankfully I decided to check reviews before ordering it. It's too bad so many people had such poor service from them. I think I'll be going with my original choice ring at Bradford Exchange, more expensive but probably well worth it

I ordered from The Concorde Collection LLC and I was gypped by this company. I ordered 2 rings (to help benefit the cancer fund) from their catalog and I never received them. I called their customer service and was told they were out of stock. I requested a refund plus the $9.90 postage and I never received it. They kept $163.80 and the $9.90 in postage. When are these peoplegoing to be put out of business? I hired an attorney and contacted the Better Business Bureau and they are closing in. we need to stop these people.

AJC Nash NH

Concorde Collection The Concorde Collection P.O. Box 8017Aston, PA 190141-800-276-8429 (Toll Free) www.concordecoll I purchased a necklace for my cousin who is going through Chemo. So the necklace was a symbolic jesture for her journey. They shipped the wrong necklace by the time my cousin sent me a picture of what the necklace looked like to my surprise it was not the necklace that I ordered. I called the company & they said someone would be getting back to me within 24 hours but it took 6 days before I got a call. In the mean time I talked to my cousin & she said oh no I really like this necklace but I was totally disappointed because it was not the necklace I ordered & wanted her to have. I talked to Brianna & the company & all she could tell me is send the necklace backk & we will send her the right necklace. I told her that is not going to work because my cousin is sick & she does like the necklace so she is satisfed (because it was a gift to her) but I am not satisfied because that is NOT what I purchased. Any other company that cares about their customer would be like I am so sorry how about if we give you a credit & you can purchase something else, not well I am giving yuing you a solution to "YOUR" situation. It's NOT MY situation! I didn't send out the wrong product you did!!! They don't care, all they care about is the MONEY!!! It wouldn't be so bad if it was a $10-$20 item but I paid almost $60. for the piece. Give me a credit for you mistake & that will help but she said I am trying to get money out of them when all my cousin has to do is send the necklace back & they will send out the right necklace. NEVER WILL I DO BUSINESS WITH THIS COMPANY AGAIN! I will be telling everyone I know to stay away from this company as well!!! Holmes Pennsylvania

Received wrong ring. I ordered the Hope cancer ring, with two parts crossing (You can see on the Bradford Exchange site) one side fake diamonds and one side pink. I got a totally different ring and THEN did this research. I will not return for fear I will never get anything for my money. Apparently no need to complain to them either after reading all the above posts. I will not order from them again even tho the enclosure brochure with the ring had some very pretty rings on it.



Videos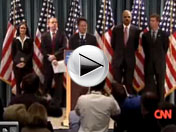 Latest Groups
Today's Mess-Up Photo