Sylvia Browne, British Columbia Complaints & Reviews - Chris Dufresne

Sylvia Browne Contacts & Informations

Sylvia Browne

Chris Dufresne

Complaint Rating:

Contact information:
Sabrina


British Columbia




Canada


Phone:

778-998-7167




I recently had a reading with Chris Dufresne. Words won't even do justice to tell you how Severely dissapointed I was with his reading. Within only the first few minutes I realized I had made a huge mistake and that I was being scammed. The reading lasted no more than 10 minutes. He was so fake and seemed to rush the whole reading, I didn't even know what to say. He was extremely vague and suggested things that could have applied to Anyone! And I quote "You have a poor diet and that could be the reason why you are feeling tired sometimes, " "You should check your thyroid in a few years, " "Did you ever think about maybe going back to school?" Those are just a few of the Ridiculous points he threw my way. Then I told him I was bored a lot with work and wondered what other career path he sees me in, and he told me to maybe look into real estate. I know beyond a doubt that I am not interested in real estate! In fact, it wouldn't even be on my top 10 list of careers that I would even think about pursuing. Then he tells me "Well a lot of people nowadays work 2 to 3 jobs, so maybe you can still be a dental hygienist but do something else on the side too." Wow! Really Chris, are you sure about that?!? That was soooo insightful, i mean really I should have paid another f*@** $400 on top of my reading just because I could never have obtained that kind of advice anywhere else! Then` he tells me that his fiance or whatever is a hygienist too and works at a grocery store part time. Thanks TIPS! If I wanted to talk about you Chris how about I charge you the same ridiculous amount that you guys robbed from me. The rest of the reading went pretty much like that. He gave me no specifics of anything, just a bunch of BS. There were awkward silent moments, and absolutely no interest into what he does. At the end of the reading especially, I felt that he rushed me off like he had somewhere more important to be. I had myself down on Sylvia Browne's 3 year waiting list, so in the meantime I thought I would have a reading with her son Chris as they made him out to have such spectacular psyhic abilites, equal to Sylvia's. In the end I was the fool. What burns me the most is not the hard earned cash that I blew away on pure garbage, but is the faith that I lost. I was really looking forward to Chris' reading the minute I booked it, but now that I've had it I feel worse than I did going into it. This experience has devasted me to the point that I no longer want to have a reading with Sylvia Browne.

Comments
Canada
Psychics & Mediums





Comments

Sort by: Date | Rating

I think both he and his Mother Sylvia Browne should be charged with fraud, banned from using the internet. phone contact and both thrown in jail and for a long, long time.
They prey on the innocent.
Sylvia Browne's predictions have proven to be false time and time again. Chris Dufresne is the same.
I predict that both are going to be charged and put in jail.
They aren't physic...they're con artists and thieves.

Hi there,

I have something very interesting to say about my mother's reading with Chris, which was 2.5 years ago. When I heard my mom's tape recording, I thought Chris was rude and totally full of crap. He said things that I thought were vague and "not possible." Chris told my mom that I should be in health care. I thought it was ridiculous, as this is the one field that I said I would NEVER, EVER go into. Sounds very similar to your story of not wanting to go into the career he mentioned for you. So like you, I was furious and I dismissed him and his "BS" predictions. He also told my mom when I would meet my next boyfriend--more than a year later in June/July, and I did not believe him. He also told my mom that my dad needs to watch his "blood pressure and cholesterol." Again, I thought this was BS that he could say to anyone. If anyone would have a problem with these blood pressure & cholesterol it would be my mom, not my dad, as it runs in my mom's family. So I dismissed him again.

The tape sat in the garage until about 3 months ago. I couldn't remember anything he said, but I decided to listen to the tape again. I was SHOCKED. Almost all of his predictions came true. My dad is now on medication for blood pressure and cholesterol. NO ONE ELSE in my family has these issues, even though high blood pressure/cholesterol runs on my mom's side of the family. It also turns out that I met my boyfriend in the EXACT months Chris predicted. I lost my job about 9 months ago, and GUESS WHAT? After doing some volunteer work at a hospital, I am now considering a career in the medical field--a career I said I would "NEVER" consider!! Chris was right about other things. Here are a few more:

1) My brother is a lazy, pot-smoking slacker. He barely finished high school. He's never finished anything else in his life and can only manage to hold jobs for 2 months tops. My parents spent $45k for his first attempt at college. He dropped out. He then chose a 15-month program in another field, and he dropped out after 10 months. We knew that idiot would never finish. But Chris said he'd eventually and reluctantly finish. We didn't believe him. My brother actually finished a year later. We are still shocked.
2) My parents wanted to sell their house. They had a realtor and they were showing the house with every intention of retiring in Florida. Chris said they wouldn't sell it. They never did sell the house and have no current plans to sell.
3) My aunt is 50 years old, selfish, immature and has never married. She's had numerous boyfriends. Chris said her current boyfriend is the right man for her. We are all surprised that they are still together (2.5 years later) and that everyone has noticed a change in her for the better. It's like she's a whole different person and the entire family believes her boyfriend is The One.

My suggestion to you is to keep that tape and listen to it way later, like after a couple of years. If Chris says you should watch your thyroid in the next few years...I'd suggest you stop dismissing his advice and realize that if you knew eveyrthing about your future, you wouldn't have been looking for a psychic for advice. Like I said...I completely dismissed him until TWO AND A HALF YEARS LATER. I'm just saying...I was shocked by all of this and think he deserves credit where it's due. No wonder he seems like he hates his job. No one believes him, so he probably feels pretty crappy every day.

While I can't speak for everyone, my experience and my mom's reading were very positive in the long run. Chris was spot-on.

Good for you, jushiburuberi, for standing up for the truth. I am a fan of Sylvia Browne & I'm familiar with Chris & even though I've never gotten a reading from either one, I've read almost all her books & she answered all the questions I have had since childhood that no minister, bishop, or preacher could ever answer. I am 54 yrs old.

I like a woman named Patrine Somes. She is has been very good in past years.

Patrene Soames, correction

I had a reading with Chris, 6/5/2012
He was nothing but rude, I had asked for a refund because they had changed my apt. 6 times. So when he called me he was pissed.
Just about screaming at me, I was not able to ask a question, he would just ramble on. Most of the time he spoke about him self and/or his mother and that they are going to have to work until they drop dead. When I was able to I asked about the predictions in his mothers books, he changed the subject and spoke about how people will just walk away from their homes because they will be upside down... that has been going on now for years, has he not seen the news? He is worthless, but like it is stated, I learned to throw what SB says in her books down the drain. I am hoping to get the tape so that I can share it with the world, so people can see how he really is.

wow. i just paid 4 a reading w/him and getting it today. Hope its better than u guys r saying. Maybe he has good and bad days. Maybe he connects w/some people better than others? At least i got the discount summer rate. Still insane at $250.
I am a psychic and only charge $25- 70 based on amount of time so even poor people have access. To me, thats the right thing to do. I dont understand the need to make 500 or 850!!! per hr. Thats just greed..
I wish i could read for myself, but thats difficult.
I am horrified by phony psychics- they make me and all psychics look bad.
If anyone wants a psychic who has integrity and compassion, try me- http://www.isiswing.com
Meanwhile, pray for me today that i get REAL information. If not i will be really pissed that i wasted $250 and took off a day of doing readings for others (coz he gave me a 3 hr time frame. Not sure why he cant set definite appts since he knows each reading is 30 min max) I have prayed that God, the archangels and my ancestors will speak thru him. That may help.

WOW!! my dear starr123, I am so sorry to hear that !! I can see why you want a refund. His mother told some fascinating stories about Chris in one of her books & since he is the only son with the gift, ( her other son does not have it ) he sounded like a kind & spiritually gifted young man, especially since he have gone on tour with his mother . But then again, we have to keep in mind he is also human just like all of us, dealing with emotions, physical problems that can lead to dysfunctional verbal communication, etc. I'm just saying...but anyway you were right, I think to ask for a refund at prices like that. Please, keep us posted.

Hi, everyone sorry I never did tell you I had cancelled reading w/Chris. They gave my money back w/no hassle 24 hrs b4 appt.
I cant recommend nor complain. On a personal note, I, as a psychic myself have been very busy lately. The holiday season is bringing up emotional issues and putting stress on relationships. People have been needing long reading/counseling combos. Intense time for all.

I just did a reading with Chris two days ago and was so disappointed, which is why I started looking at what others are saying. Guess I should have done this BEFORE spending $195 for 20 minutes! He even fed me the same line about "everyone working 2 or 3 jobs." And I saw on another page something else he said to me verbatim. Guess he has a checklist of stock answers to give people. I won't ask for my money back because there's really nothing I can prove that he was wrong about anything. But it's a lesson for me to do my homework in advance. I have two friends who are psychics and have done a reading with a third. They were NOTHING like what I got - or rather didn't get - from Chris. They warm, personable, caring - and correct! And a whole lot cheaper, to boot!



Videos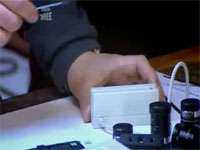 Latest Groups
Today's Mess-Up Photo