Share with Others
Recently Discussed Complaints
Consumer Tips & Tricks
Latest News & Stories
Latest Questions
Purco Fleet Services Complaints & Reviews - Awful experience

Purco Fleet Services Contacts & Informations

Purco Fleet Services

Awful experience

Complaint Rating:

Contact information:
Purco Fleet Services


United States


purco.com


Aproximately two months ago my rental car was damaged when another car backed into it in a walmart parking lot in columbus, Indiana. There were no injuries, and my car sustained only minor cosmetic damages.

The Lady who backed into my car gave her insurance details to the national car rental agency and on the advice of the customer service agents, we did not call the police.

Today, I was contacted by a claims representative with Purco Fleet Services who informed me that the insurance company for the lady who backed into my car has only paid a portion of the losses incurred, and attempted to make arrangements over the phone for payment of the remaining amount. I did not and have not at any time made any verbal or written agreements to pay the amount of money in question.

The claims representative for Purco Fleet Services is stating that i need to pay 'loss of use' fee or administrative fees.

I don't know if I am actually liable for these fees. since it was my car that was damaged by another car This 'loss of use' and 'administrative fee' combined is approximately five hundred dollars. Any advice on where to go from here would be greatly appreciated.

Comments
United States
Car Rental

More Purco Fleet Services complaints






Comments

Sort by: Date | Rating

Purco will try to add all kinds of charges and fees to the repair cost. That is how they make their money and they seem pretty greedy. They will try to charge a loss of use at a rate much higher than what the actual rental rate is. If you damaged the car ask to see the repair invoice from the body shop and call the body shop to verify it is valid and reasoable. Pay what you owe but in my opinion you should not have to submit to pay Purco's greatly inflated Total Claim Amount.

I am experiencing a similiar experience with Purco. I rented a vehicle and was struck by another vehicle when making a left turn into a residential driveway. My insurance company and the company of the person who hit me have paid the fees to repair the vehicle. (incidentally the vehicle was hit on the driver's side passenger door, but the repair included replacing the condenser and front bumper)??

Even though the vehicle has been repaired, Purco continues to send me harassing letters which claim I owe them administrative fees and loss of use fees. They claim if I don't pay these outrageous fees, they will report me to credit agencies. The fees exceed $600; my rental car cost was $98.

How did you issue get resolved.

Help!

I rented a "SUV" from Alamo in jackson, WY. when I arived to pick up said vehical the lady at the sells counter told me to go out and inspect it for any damages and if any are found write it down on a little card and turn it in, when i found the " SUV" it was in the back of the parking lot in a pourly lit area needless to say the whole parking lot was pourly lit. after doing a walk-around to check for any damages I saw none, well the next morning when I went out to the "SUV" I noticed a gouge of sort in the windshild and part of the weather stripping from around one of the back windows was ripped I called the alamo company to report what I found, they told me that they would make a note of it. well three days later this fleet company called me and said I have to pay for a new windshild, is this the way a company works in the fleecing of the people who rent from them, if so this is wrong, so for all of you who must depend on car rentals beware and never rent with out having the counter sells rep go out with you to inspect the vehical

People do not rent from Advantage Rent A Car represented by PurCo Fleet Services, Inc. I am going to call BBB on them.

I am sorry to burst your little fanasty bubble on this, but if you had read the rental contract completely ie "my responsiblity as a rental" states "You as the renter will be repsonible for any and all damage regardless of fault" it states clearly that loss of use and admin fess are part of "damage" Stop crying about it and be responsible for what you agreed too when you signed the rental contract! The loss of is the daily rate YOU PAID times the number of days for repair based on the body shop doing the repairs. If you don't want to pay for damage, get the liability insurance the rental car company offers! No I am not an advocate for PuRco, infact i despsie the owner. I'm just letting you know READ YOUR RENTAL CONTRACT!

sundvl69, you are SO wrong! I have a similar issue with PurCo. I actually READ the whole agreement cover to cover, and found no reference to the loss of use as an absolute commitment. Besides, "loss of use" should be calculated based on fleet utilization, UNLESS the contract clearly says otherwise (I am sure as an advocate for PurCo, you know about the Colorado Supreme Court decision, which was based on the specific language in the contract). PurCo simply tries to gouge the consumer AFTER getting full compensation from the insurance company for the actual damages suffered. This is not crying or whining, but standing up for your rights against a bully. I wish someone brought a class action suit against them.

PurCo is extremely agressive almost to the point of threatening. They won the Colorado Supreme Court case and now are determined to collect any fees they can convince people they owe. Most insurance provided by private insurers and thru your credit card used for rental does not cover loss of use and the so-called administrative fees which are the fees they try to inflate. Always take extremely good photos of the car while it is still on the lot. They will even attempt to collect loss of use/administrative fees for a flat tire.

Purco should be forced out of business, their practices are borderline criminal and fraudulent. They have so many complaints levied against them, with the BBB, and various other online complaint sites, that there may be legal grounds to charge them criminally. I believe they are in collusion with the car rental agencies that they engage in open fraud with.

Just recently rented a car in Montana, unfortunately when car turned in at 6AM no rep was available and keys were placed in a key box. I video taped the car before I left. After returning home, received a call that there was a "chip" in the windshield. It wasn't clear from my video whether there was a "chip" or not in the place they describe, certainly didn't notice it at the time of dropoff. Sent claim to Amex that they paid, however they didn't pay one day of the loss of use and the "administrative fee" Although not a large amount, it seems like a complete ripoff as I know Safelite will fix a chip for $40-50, the charge here was $279. Seems like a complete scam that PURCO has running. Any suggestions on how to proceed in reporting this obvious scam to the authorities.

I had the same problem with PurCo last year. I was notified 90 days after my rental that there was damage to the car. I had to leave the keys in a drop box because no one was there to inspect the car. I wish I had thought to video it but I don't think that would have made a difference to these vultures. I submitted it to my own insurance and American Express. They then told me that $400 + was still due for "loss of use" and "administrative fees"! They threatened to send me to collection so I made an agreement to pay them $20.00 a month. They were NOT happy but they can't refuse a good faith offer to pay... :)

Chances are, Safelite is the company doing their repairs. Their average cost for a windshield repair is now over $100! When having glass work completed, don't buy from the Wal-Mart of glass with no accreditation. Small business built this country. Look for a local company with National Certifications behind them.

Rented a 2013 Kia Rio from Alamo Car Rental in Billings Montana, after returning the vehicle there wasn't any damage to the car. September 11, 2013 returned September 16th.
2 months after I rented the vehicle I get a letter from Purco Fleet Services that there is claim against me for front bumper damage in the amount of $980.14. I informed them that I did not damage the car at all during the time the vehicle was in my possession. They refused my request to send photos and detailed information about the rental of the car after I had it. So I turned it over to my Allstate claims representative and they too came to the conclusion that Alamo isn't providing proof that the vehicle is even damaged and won't pay the claim.
Now Purco is sending threatening letters for collections of the claim and damage my credit for something I am not responsible for without proof. Unbelievable!!!
What can I do at this point to fight this fraud?



Videos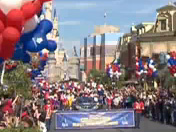 Latest Groups
Today's Mess-Up Photo