Prosvent Complaints & Reviews - They are simply screwing people

Prosvent Contacts & Informations

Prosvent

They are simply screwing people

Complaint Rating:

Contact information:
Prosvent


United States


prosvent.com


I gave the Prosvent product a full 4 months with no noticable change. I too submitted e-mails to stop and got an auto response each time that I would be contacted within 48 to 72 hours. I called the customer service phone number on the auto response e-mail got some India speaking man that said to call 800-743-9854 begin_of_the_skype_highlighting 800-743-9854 end_of_the_skype_highlighting becuase his company doen't handle Prosvent customer service (even though his number is on the the stupid e-mail).

The Prosvent customer service guy was polite and said he would cancel my account. When I asked about returning the 4 sealed un-opened bottles for credit he said they cannot take them back after thirty day trial period. He had nothing to say about the instructions telling me to give it at least two months, which is after the 30 day trial period. I said I didn't care if they took them back or not but I would still like a refund of my money. We can't do that!! So I'm screwed!! AND now I vow to let everyone I know what a scam this is!!

Comments
United States
E-Shopping





Comments

Sort by: Date | Rating

"don't buy one. the company is a huge scam and their products are a joke. DO NOT BUY FROM THEM. they even filter comments out…. I wonder why.. what a pathetic company

Google any of their products, educate yourself, don't get scammed. check http://www.complaintsboard.com for the dirt on them, or check youtube and hulu for the documentary on them.

I still feel anyone who buys ANYTHING from the tv is a FOOL. If you can't see past the bullshit, you are a complete idiot and should then consider the so called "valued at" proces, aswell as the fact that every single thing sold thought tele-adds is made as cheaply as possible. If you search any product seen on tv using google, you will see "xxxxxx SCAM" as one of the most searched terms and no shortage of sites on the top of the list full of complaints.

They rarely, if ever, commit to the return guarentee. There's endless forum posts about how they don't do refunds and often have auto resposes and outsourced help desks.

They often sign you up for a whole truck load of magazines and/or products as well, which you didn't order.

MOST (and I mean 99% of them) sell your infromation to advertisement comapnies to make additional profit. Don't you wonder why they ask for your phone number and e-mail? Well… That's why.

But wait, there's more! The Shipping and handeling should also throw a red flag! The "shipping" literally costs more than the product cost to make, often double or tripple the cost. But wait, Don't go ANYWHERE! They want to sell you another one for FREE, along with the FREE plastic bobby pin; and its only an aditional 14.99 for shipping and handeling… BUT WAIT.. Thats a 100 dollar additional value! (but it only cost us 3 dollars per unit to make) AND IT'S ALL FREE!

COME ON PEOPLE! If you've ever bought something from the TV, I'm sorry, but you're a FUCKING RETARD! You need to go to the hospital and have a sterilization opperation because intelligence, unlike strength can be inherited. STOP DEGRADING OUR DNA.

I swear, if you'r IQ is UNDER 135, you should not be aloud to breed. You diserve everything you get and everything you don't. Because of you, these companies continue to exist. If you didn't breed, there would be less retards in the world, be it because your family is too poor for a decent education or your DNA is degenerate. When the world is rid of degenerate fools, then and only then, will these companies cease to exist.

Please, if you think you're smart, and I'm mistaken, e-mail me at "AstComJakeCW@aol.com"… GO! do it now."


I completely agree with this guy, stop and think you old fool!

You should do a spell check before posting your tirade? "Aloud" should be spelled "allowed" and "diserve" should be "deserve"..."guarentee" should be "guarantee" and "proces" should be "process"...Just thought it would be worth pointing out since your IQ is so very high...???

Thanks for the site. I almost fell for it, went to their website, but then decided to check on some online reviews. Thanks to this, I decided against it. Well done.



Videos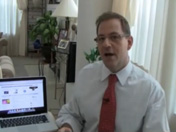 Latest Groups
Today's Mess-Up Photo