Recently Discussed Complaints
4.
(41 mins ago)
Sears
Bad mattress and return policy
Consumer Tips & Tricks
Latest News & Stories
Latest Questions
Phillip Morris Marlboro, Moberly, Missouri Complaints & Reviews - STALE CIGARETTES

Phillip Morris Marlboro Contacts & Informations

Phillip Morris Marlboro

STALE CIGARETTES

Complaint Rating:

Contact information:


Moberly

,

Missouri




United States




Marlboro still uses Julian date code system on their cigarette packs. The code printed on bottom of pack should have a letter, then a 3 digit Julian date, followed by a letter, then a number which is the last number of the year manufactured. This should be "0" for cigarettes produced in 2010. If it is "9" you are buying cigarettes from last year, likely stale unless vacuum sealed in freezer storage, which is unlikely.
Local retailers are presently selling Marlboro "Red" soft packs with Julian dates of 282 from last year, produced 7 months ago. After inquiring I found they also have more recent Julian dates from a couple of months back. I refuse to pay full price for cigarettes produced last year, and offer this info so others do the same to avoid a stale product.
Years ago I was told, by a Marlboro quality department employee, that the "average shelf-life" for cigarettes is 3 months, depending on storage conditions. At that time their company would admit selling an old, inferior product, and replace them freely. This is no longer the case.
Now their employees are trained to deny this and claim staleness of cigarettes is "objective", while the whole time avoiding the issue, which is that their product is being sold at full retail price despite the fact that it is far outdated, and so stale (from an objective point of view.)
Check the date code on the bottom of your Marlboro cigarettes BEFORE buying, and if the Julian date is in the 2 or 300's, with a "9" following the letter "Y" or "Z", DO NOT BUY unless your wish to pay full retail for stale cigarettes.

Comments
United States
Tobacco Products





Comments

Sort by: Date | Rating

There are to date, Marlboro "Red" soft packs being retailed in Mid-Mo., with a Julian date of 309 from last year - that is Nov. 4th.
That means these cigarettes, being retailed at FULL price, are exactly SEVEN months old.
That is FOUR months past the "average" shelf life, referencing information provided to me, years ago by a Marlboro quality employee.
ACCEPTABLE? YOU BE THE JUDGE.
CHECK THE DATE ON BOTTOM OF YOUR CIGARETTE PURCHASES AND LETS SEND THESE STALE CIGARETTES BACK TO PHILLIP MORRIS BEFORE THEY START RETAILING YEAR OLD STALE PRODUCT!!!

The store owners are not aware of the staleness. They keep selling them as more people don't even bother if its stale or not. At least Marlboro has some coding system to show the shipping/manufacture date. While there are so many other brands that has nothing of any sorts to show that date. while this is a problem on its own, if you have no other choice than to choose the old cigarettes with no date, the store owners would prove to you getting a new cartoon/package and claiming it to be fresh. Chances are they would be stale 99% of the time, you are forced to keep smoking the stale one, trying pack after pack in hopes of seeing a fresh one slip in. Cigarettes should be well stored and kept at right temperature right away even if its just delivered and the companies should do something about this!

I work closely with a Philip Morris Sales Representative since I am in charge of ordering the cigarettes at my job. The actual shelf life of Philip Morris products is one year from the manufacture date. You are correct in the way you read the date, however shelf life is one year for cartons made in regular facilities (designated by a V, N, W, P before the Julian date). The shelf life of cartons made in a facility using cold storage is extended another 3 months past that (designated by a C or R before the Julian date). If you are really concerned about smoking stale cigarettes you probably should not be smoking in the first place. My information is coming straight off of a Philip Morris Julian Dates Codes sheet and I quote "**Julian Date Codes indicate when Philip Morris USA cigarettes were manufactured and whether product is out-of-date. The shelf life of cigarettes is typically 12 months, except it is 15 months for cartons that were placed in cold storage after manufacturing." I do not know who you talked to but your information is faulty. My suggestion to you is next time you want to throw a tantrum at the local grocery store about your cigarettes that are 4 months old, you should think twice and mind your own business, suck it up and buy them. Other wise you should probably kick the habit.

I don't blame you for not wanting to buy old cigs but it does zero good to blame the store. Most store owners and their employees know nothing about the dates on smokes. In most cases the tobacco rep comes around once a month or so and takes care of the old product found on the shelf, by giving them credit for it, or putting a sticker on it to allow the distributor to replace the carton. They do not take them back unless they are way out of date by over a year, and the store owners only choice is to sell them if they don't allow them to be returned. As of last spring I think, we were told that most companies will not take them back at all, as in, all sales to the store are final! In turn, all sales to the customer are final! If you order them, I bring them to the counter for your inspection. If you pay for them they are yours. I will not exchange them or refund your money, THEY ARE YOURS. If we get stuck with a carton of old smokes, we either sell them or lose the 30+ dollars we have invested. This means selling appr. 11-12 cartons without profit. I work at a store that works very hard to keep the freshest possible smokes on the shelf by rotating the product daily to keep it fresh. Smokes coming from the distributor however, are already 3 months old, and every six months the distributor cleans out the warehouse and sends smokes 6months old or older to us, that they find back in the corner somewhere. We have no choice but to sell them first and take newer product off the shelf until they're gone. We are one of the three largest retailers in Missouri according to the rep I talked to, so if we can't get them any fresher, nobody can. Or maybe because we can sell them so quickly, we get the old ones on purpose. We, "the store" are told that they are good to be sold for 14 -16 months. So basically, if you don't like it get the hell out of my store!

You are correct about shelf life in ideal conditions.
But here in Tennessee we have a distributer that
supplies most of the convient stores and they DO NOT
rotate their stock. Its not the stores fault its the
distributer. I know this from a employee that works their.
On my Marlboro Southern Cut brand i have been buying
code V161X31B7. Where the "V" is Virginia,
161 is about the second week in June, and the 3 after
the "X" is for 2013. They have been good.
This store i buy from runs out from time to time and the
distriduter comes every Friday.
It is now Aug. 2013. The packs i bought yesterday have
V077Y31B3. Where "V" is Virginia, 077 is the second week of
March. These are bitter, strong, and nasty.
This proves the distributer Does Not Rotate their stock.
Also they are not stored in ideal conditions. So the 9 to 12 month
shelf life does not apply.
If you find this happining in your area, talk to the store Mgr.
And educate him on the date codes for PM brands.
Have hom fusd at the distributer. After all he can refuse the order
if they are old & demand fresher stock.

Would you eat bread that was on the shelf for 12 months? You would like it soft and fresh right? SAME with tobacco...so 2-3 months is tops. Then they are harsh so STFU all u idiots!



Videos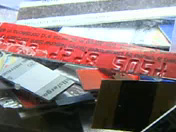 Latest Groups
Today's Mess-Up Photo