One Hour Air Conditioning & Heating, Las Vegas, Nevada Complaints & Reviews - Bad service, bad installation, promises broken.

One Hour Air Conditioning & Heating Contacts & Informations

One Hour Air Conditioning & Heating

Bad service, bad installation, promises broken.

Complaint Rating:

Contact information:
One Hour Air Conditioning & Heating


Las Vegas

,

Nevada




United States




In 2008, I paid these people $4000.00 to install a new heater/air conditioner unit in my trailer. At the time, they promised it would work perfectly, or they would keep on it until it did. They also made several other promises, among which was that they would install new copper piping from the compresser unit to the in-house unit, and that they would run the piping under the house and into the unit from below. After they were gone, I went out and checked, and they had not run the piping under the house, and they had not installed new copper. They used the old copper piping which was running in through the roof. The unit they installed turned out to be insufficient... It gets up to 110 degrees here in the summer, and the thing struggles to keep the temp in the house at 86 degrees, and runs constantly to do it, which costs a small fortune to the electric company. It is usually very dry here, but last year we had an unusually humid summer, and that was when I discovered that they had installed the condensation draining system wrong, and my A/C unit was filling up with condensation water, which leaked out through the bottom of the unit, stained my carpet, and warped the wooden floor underneath (see pictures). On the three occasions I called them back to address these issues, the most any of their "technicians" did was to spray off the compresser unit with my garden hose. Look at the pictures provided, then RUN don't walk from One Hour Air Conditioning & Heating!

| | |
| --- | --- |
| | |

Comments
United States
Contractors





Comments

Sort by: Date | Rating

Same thing happened to me. The unit was bought and installed through one hour and has never worked. I have the exact same problem. My unit keeps freezing and has well has draining wrong and has damaged my roof and my ceiling. The unit will still not work.

My AC/Heat system was brand new on July
2012, I have had nothing but problems with it,
I am now without heat because my defrost control
Board and sensor had to be ordered, 6 days
Now since I have had no heat and it's been in
The 20's . I have had them out here countless
Times fixing this unit that never worked
Properly. I called the manager of the Niceville
One Hour Heat and Air, his name is Chad
And he hung up on me. I am disgusted
On how I am being treated, but I am still without
Heat . Run, and I mean run from One Hour!
They are not who they say they are!
A very Disgusted Customer!



Videos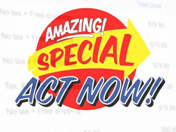 Latest Groups
Today's Mess-Up Photo