Share with Others
Recently Discussed Complaints
Consumer Tips & Tricks
Latest News & Stories
Latest Questions
National Rifle Association - NRA Complaints & Reviews - Numerous unsolicited phone calls

National Rifle Association - NRA Contacts & Informations

National Rifle Association - NRA

Numerous unsolicited phone calls

Complaint Rating:

We have been receiving numerous unsolicited phone calls (3-5 calls per day) from the NRA. I was a former member of the NRA however I choose not to renew my membership. I have emailed NRA to stop harassing us with all of their phone calls . Our efforts have been unsuccessful as we continue to receive numerous phone calls from the NRA on a daily basis.

We are contacting our local phone company and the FTC.

Again I DO NOT want to renew my membership and we have communicated this information to the NRA on several occasions.

Can you please intercede on our behalf and order the NRA to stop calling our home phone number and order the NRA to cease their daily attempts? We consider this an invasion of our privacy as well as being a obvious form of harassment.

Thank you,
John M. Karl

Comments
United States
Unsolicited Phone Calls





Comments

Sort by: Date | Rating

John
I have also experienced this same problem.
The difference is they have been calling me for over 3 yrs !!! 3-5 times a day !!!
I just simply don't answer the phone ...
Wouldn't you think they would give up by now ? no...

thanx
dave
Still not renewing my NRA membership.

These are the same people that put those gutter sluts Bush and Cheney in office. I don't appreciate them calling me and talking about outrageous house bills after their blunders. They need be accountable their selves.

I've had my membership lapse 6 times over the years and have never had an experience like this. The NRA has not even called me once. Maybe your $29 is worth more than mine.

I am experiencing the same thing. I have asked them over and over to stop calling. Yesterday I told them if I get another call, I would file a complaint against them. My phone just rang and it was them again. I support the Second Amendment wholeheartedly but their barrage of phone calls is simply outrageous.

0 Votes


I was banned from facebook!
I was a friend of the NRA page.I grew up hunting, joined army...i like guns.
NRA did nothing but advertise for gun factories.I`m thinking NRA gets paid for it.They also have a good income from membership fees.
I typed a post saying they should put some of the money to good use and help protect gun ownership rights.NRA must have reported me as harassing them.I was banned from site w/o warning.
The local newspaper here doesn`t allow guns sales in classsified section, why would facebook allow it?

11/13/2010 I am having the same problem. I just wrote to this IDIOT Martin Stewart jr. and said i will file a law suit against him and his STUPID telemarketers. I also will contact the FCC which wont do anything about the harassment. because they also are stuck way beyond STUPID. So a law suite will be filed in the state of Illinois. Steve H Alsip, IL

I did put do not call complaint last month ago. They still call us because we are hearing impairment. They still keep on to call us but we won't answer anymore. Reason that our phone is using internet. We don't have any phone anymore. Our phone is 860-870-4071. Please stop to call us period.

We are getting these calls as well. It is truly harrassment when we demand to be taken off their call list but to no avail. Our home number (as well as, cell numbers) are on the national do not call registry. Guess that the NRA feels "above" that. They are going to end up with a VERY bad reputation. Now, they just call and hang up. Such class. I wonder if any of their folks even keep up on this site to see how they are being perceived. Doubt it. That would require more than 4 teeth.

I am getting "survey" calls from "NRA 703-659-9997" several times daily, with no obvious way to stop them. This is harassment. I am not a member and never was.

We have been experiencing the same problems. Numerous unsolicitied calls. Their outrageous misinformation. How can they be stopped? I have tried to call them but you can't get to them and their little secret society. If anyone has been successful at contacting them to complain, please post the phone number. I don't want to send them an email. I want to call over and over again and flood their phone lines with complaints. I don't know that it will have any effect on these arrogant, self-righteous extremists, but it sure would be fun. I want them to know over and over again that I support Obama just like they tell me over and over again who I should support. My calls would be strictly political.

I will also be calling the FCC. Don't get discouraged with the FCC. Keep calling. Their staff is probably overworked, and the more calls they get, the more they will see a problem to address.

Yep it's pathetic 2-3 calls a day for a year three written request dozens of cases of being called a communist or worse there supposed to stand for rights but there one of the worst violators in the country I have over 500 documented calls and contracted the FCC yesterday to begin a complaint

There much more of a issue than the anti gun people they make those of us that believe in the 2nd amendment look crazy

ok I am gonna help you all out...I got a job thinking wow working for the people who fight for our second amendment rights...I am one of those people that call you guys I quit my job yesterday I just could'nt take it anymore I felt like I was harassing people calling them daily and the contributions you have to ask for is outrageous...and if anyone ever decides to donate I just want you to know that you are promised a gift for that contribution there is a catch to that though they will send you a card asking you to send it back if you want the gift...people throw it away before reading it since the NRA bombards them with junk mail and people toss it with the rest of the NRA garbage and believe me they anticipate that will happen that's why they do it that way...They tell us if you ask to be put on a no call list that it may take 30 days to get into the system but I honestly dont believe the NRA actually puts you on there..the best way is to listen to the spill and proceed to tell them know when they are finished with the call I must tell you that callers are required to ask at least twice for a different amount and gift if you still arent interested simply say no and then they shouldnt call back unless you are on more than one file and you need to do the same for each file until you opt out of it completely.please be gentle with the callers though they are there to do their job to support their families...If you really wanna be aggravated with someone direct it to Wayne Lapierre himself..He is a fat greedy a$$hole he is the one that has set all of this crap up..I was a telemarketer and btw I still have all my teeth haha but he is the one that sits on his lard a$$ while we do all the work and he makes the rules telemarketers are only doing their job.just so were clear I do not agree with the way the NRA tries to drain people I loathe Wayne

For me, it's email... 2-3 per day. I don't even know how I got on their mailing list in the first place, let alone how they got my email address. So for the first three months or so, I tried to unsubscribe using the link in every email I got from them, but it had absolutely no effect... Eventually I tried writing, then calling in my request to be removed, all to no avail. I've long since given up on being left alone by Lapierre and his crazies...

Ironically, I was only slightly left of neutral toward the NRA when they started mailing me; after the incessant harassment, I was inspired to do some research and soul searching, and as a result, have become completely opposed, not only to Lapierre and the NRA, but to the 2nd Amendment itself, and the "right" to bear arms/form a militia. The reason for the 2nd Amendment was so that citizens could arm themselves in rebellion against tyranny if necessary. Unless the right to bear arms is expanded to include much bigger guns, tanks, missiles, fighter jets, and nukes, the machines of war rendered the 2nd Amendment obsolete sometime around World War 1...
So thanks to Lapierre and his crazies for the daily harassment that provoked me to actually think through the issue, and to take the following stance:

REPEAL THE 2nd AMENDMENT!

Now, if I could only figure out a way to unsubscribe from their damned mailing list...



Videos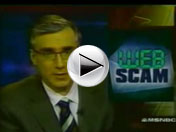 Latest Groups
Today's Mess-Up Photo