Recently Discussed Complaints
1.
(0 mins ago)
IGNOU
B.A DEGREE NOT GIVEN YET.RECORDS OF IGNOU ARE NOT UPDATED
5.
(59 mins ago)
Sears
Bad mattress and return policy
Consumer Tips & Tricks
Latest News & Stories
Latest Questions
JTV Jewelry Television, Vermont Complaints & Reviews - Bait and Switch

JTV Jewelry Television Contacts & Informations

JTV Jewelry Television

Bait and Switch

Complaint Rating:

Contact information:
JTV Jewelry Television


Vermont




United States




In addition to decieving the public by selling fake gems, JTV continues television broadcast, everynight, using Bait and Switch and Theft by Deception techniques. Yes, I fell for the mixed gem stone scam where you get 100 carats or more for around a $100. These are no the gems stone shown or told about. These are the "crappy" stones of about the same color and damage they don't want. They shown an array of everything from "A-Z" you'll recieve in the mail. JTV told me that it wasn't guarented that I would get the better stones. But they continue to show you will recieve them on TV. Good thing the FTC take and investigates consumer complaints.

BEWARE OF THE JTV SCAM!!!

Comments
United States
TV, Music & Video

More JTV Jewelry Television complaints






Comments

Sort by: Date | Rating

I bought TOO much from JTV .. BUT if I had a problem .. they took it back and I was credited almost immediately .. I became one of the HIGHEST buyers there .. I had a personal shopper and got friendly with one of the top buyers .. Oh did I spend money .. I paid a LOT for some gems . .always got a FREE appraisal . FREE shipping .. 20% off .. the appraiser is one of the buyer's sister .. I think she appraises as any appraiser would . IF the appraisal was not at least double what I paid . back it went .. now I no longer shop there . I think they are going down hill or falling off the hill . Scott announced earlier that he was going away for a while . do not think he said vacation . they have let TONS of employees go . their VAULT has dwindled to nothing . they had vault shows .. showing VERY expensive and unusual gems .. that did not last long . I think they got too big .. tried to grab the brass ring of the gem world and then the economy began to fall . and they began letting people go .. if you watch now .. they rerun shows constantly .. what was sold out earlier is now back on sale .. how do they do that? . Well, they had more than the few and rerun the show .. so they stamp it sold out again and maybe it is .. I think they should just shut down .. I would never buy anything from them again .. wish I could get my money back for all the things I bought over the years .. Where is Scott going? .. heard he was in jail for a while .. doubt he is going back there . but who knows .. I do not know if it is true or not . but did see a picture of someone who looked just like him .. different name james, I think .. definite double .. it is in the knoxville paper someplace. My advice would be stay away from JTV and do NOT send them your gold for cash . take it to a local jeweler and get the BEST price.

Ditto! and the Gold Exchange is the lowest out of the three places I tried. So avoid JTV, JTV Auctions, and the JTV Gold Exchange...You will be glad you did!!!

Wow - 3 angry people without even ONE legitimate complaint! They are angry that goods were not as expected, but JTV gives customers a no-questions-asked 30 day return policy. Nellenen complains he bought and bought from them, that he received appraisals for at least 2x what he paid or he returned it, but now does not buy from them since they changed with the economy? Can't help but wonder if a relative was laid off ...

JTV is like any other company in this economy, and did lay employees off. Complaints that they are not like they once were, are childish and churlish, and have no place here. No one is like they were 2 years ago!! And to "suggest" that one of their employees is or was in jail without any facts is vicious slander, and should be edited out!! These complaints sound more like "buyer's remorse"as they do not contain any real issues of fraud or scams.

I have been a JTV customer for over 8 years, and have purchased and returned thousands of dollars of jewelry or gem stones, and they have never refused to accept any returns, even a few that were more than 30 days. Yes, I too, fall subject to the "impulse" buy, and that is what all the shopping channels count on -- but lets make sure the anger is pointed at the right person!! JTV is a for-profit corporation, and treats its customers more than fairly in comparison to many other enterprises.

Like everything else, you get what you pay for from JTV. Buy from JTV - they price their items fairly, but please, don't always believe all the hype a sales person says. Have your jewelry or gems appraised by your jeweler for a neutral opinion. And if you are disappointed, send it back. These complainers have not said anything that is verifiable or substantial that JTV did wrong!

I agree with AZSkye...I have been a loyal fan and member of JTV for almost 3 years and have NEVER had any complaints about the service or quality of merchandise!! Listen... it's like anything else in this world...sometimes you luck out with your purchase and sometimes you don't and when you are NOT pleased you can send it back for a refund...I have returned jewelry past 30 days and WITHOUT a receipt and it was credited back to my card or checking account with no problem!! I understand that SOME of their sales people can be just a little annoying and get "mucho excited" about everything they are selling but that's what sales is all about...Some people are cut out for it and some are not!!! Everyone has TWO choices in life and no one is "twisting" your arm to buy anything!!

Jtv is horrible... such a scam.

Like everything else in the world. If you don't like it send it back. I have been buying from JTV on and off for the past 15 years, and have returned many items that didn't meet my standards, and I shop very wisely "a fool and his money are soon parted, " as the saying goes---or buyer beware should be the case in almost everything you buy these days. If you don't like what JTV is selling CHANGE the channel, no one is twisting your arm to watch. I do have to agree that they do seem to be going down hill, witch is to bad, cause at one time they were the best thing since peanut butter. I do admit I only watch them maybe on the adverage of once a month, only for a few hours, and seldom buy anything now. I usually get borded and change the channel. GYPSY@OKC

I have been shopping jtv for a few years. I think they have improved over the years.I have bought many beautiful pieces.The only things that I would remind customers is to check on the sizes of the jewelry that they buy because they seem larger when magnified and also I wish that every piece of jewelry be tried on the host so we can see how it looks when worn. Also, we should remember that this is a tv channel jewelry and not 5th ave. in New York City.

I have been one of the largest buyers at Jewelry Television. A few months ago, I purchased a 6mm round chrome diapside for nearly $100.00. Tonight, with all their confirmation that the prices have gone up, the same size and color saturation sold for about $20.00. Just hurry up and be a fool. That's what they want you to do. DON"T BUY FROM THESE SCAMMERS. You will regret it as I have. Oh my. I even called to ask for an explanation to no avail. It really is futile.

I am sorry to those individuals who have had a bad experience with JTV . I have shopped with them for a couple of years now and have not been disappointed. It just takes a little homework to find out that the quality of gems they sell are fair considering the quantity of gems they sell. If you don't like something send it back, why complain? What more do you want? You can examine your purchase and send it back without question...what is the problem people? Do you whiners just want Diamonds for the price of Quartz?

I like JTV and have enjoyed most of my purchases. My biggest complaint is receiving what I ordered I have never had as much trouble with any of the order places. I keep sending email on purchases I have not received and have canceled several of them. There is still a lot of orders I have not received and I am on the verge of canceling them I don't want too but I am tired of waiting, I am trying to figure out if I want to order from them any more! I have never had this much trouble before! It is ashame because I like what they have to offer especially loose gems. I like buying the semimounts and making my own jewlery and none of the other TV sellers offer loose gems. HSN use too along time ago but the person that offered them retired so they haven't brought back anyone else to do it. To respond to "no jtv" I have seen price differences but usually that was a big sale.

I recently returned 2 rings to JTV. I was still being billed for them though, they keep telling me "oh its been credited to your account" really both rings are still accumulating interest with no payments till december. Decembers coming up and I guarentee I get billed for them. I just spoke to an operator who says they did me a favor putting the credits towards my interest, without asking me. Isnt a credit card a credit card im paying 29% anyways what is she talking about, Its a scam I will never order from them again, if its to good to be true more than likely its a scam. I asked to receive paperwork on this agreement I will be turning them in to the BBB you cant make up your own rules as you go im furious Im going to pay in full the balance and I better not hear from them ever again.

Many years ago brought a loose gemstone. A bixbite. Recently brought it in to have it set into jewelry. To my surprise I was told it was not a bixbite..Was miffed!!!



Videos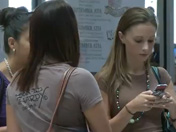 Latest Groups
Today's Mess-Up Photo