First American Home Buyers Protection Corp. Complaints & Reviews - Home Warranty - Use another company!

First American Home Buyers Protection Corp. Contacts & Informations

First American Home Buyers Protection Corp.

Home Warranty - Use another company!

Complaint Rating:

Contact information:
First American Home Buyers Protection Corp.


United States




Here's the fax I sent to these American Home Warranty jerks at 3:50 ET this afternoon, at the toll-free fax number for their Pasadena sales office (the only fax number that appears in any of their literature):


To whom it may concern:

I write in reference to Claim/Work Order # 6--------, which I filed with First American Home Buyers Protection on Saturday evening, 28th March, at approximately 7 p.m. ET. I had discovered that my 53-gallon hot-water heater was no longer functioning, and that I was unable to re-light its pilot. I was informed that I wouldn't hear from your company's contracted tradesman until "Close of Business" on Monday, the 30th.

I subsequently placed a call Sunday afternoon (29th March) to your contracted tradesman, a "Moore's Plumbing & Heating, " at (609) 758-9788, in hope of expediting a call back from your contractor. None was forthcoming.

When I hadn't heard anything from your contractor by mid-afternoon of Monday, 30th March, I again called First American Home Buyers. The young man who took my call said the callback from Moore's Plumbing & Heating would be coming "in a few minutes" (his words). I asked that they please contact me on my mobile phone, so that I'd have no chance of missing their call.

Moore's Plumbing & Heating called me back, on my house's land line, at 7:10 p.m. that day. The caller promised that a repairman named "Charles" would be out to the house, between 1 p.m. and 4 p.m. on Tuesday, 31st March (the following day), to work on our hot-water heater. My wife agreed to take the afternoon off from work in order to be home in time to let the repairman in.

The repairman couldn't re-light the pilot, either, and told my wife that the problem was either a bad thermocouple or a fouled gas thermostat regulator. He ordered the needed parts, to be delivered by overnight freight, and instructed us to call Moore's again when they arrived on Wednesday so as to be placed on their Job board again. I made this call at approximately 1:20 Wednesday afternoon after receiving our overnighted replacement parts. I left a Voicemail message at the same "609" number, on the same Voicemail box with the same man's voice in its greeting, indicating that I wanted to be placed back on the Moore's Job board. I asked for a return call, and left my mobile number and my home's land line number.

When I received no call back from Moore's Plumbing, AGAIN, I called American Home Buyers, AGAIN, on Thursday, 2nd April. This time I spoke with a "Linda, " who placed me on "hold" and called Moore's. When she got back on the line with me, Linda said that the man at Moore's had "been eating lunch" when I called his company the previous day, and hadn't gotten the call. I was assured that my repairs were "back on" the Moore's Plumbing "Job board" (a term I gleaned from my conversation with Linda, and am now using in this correspondence with American Home Buyers). I was also told to expect a repair tech between "one p.m. and four p.m." on Friday, 3rd April.

This has constituted an unconscionable and inexcusable delay in rendering a service that I was assured, upon reviewing your marketing literature in detail and forking over my $510 in Premium, would be simple and timely. As I told "Linda, " the only reason American Home Buyers hasn't been contacted by my proxy demanding the immediate refund of my premium is, this dragged-out headache didn't transpire in December, or January, or February (when outside temperatures in this area of the mid-Atlantic region hover around the 20-degree mark!). However, we are STILL without hot water for dishwashing . . . STILL without hot water for laundry . . . and we are STILL taking cold showers to go to work in the morning . . . FOR NIGH ON A FULL WEEK.

Friday the 3rd is TODAY. And today's "1:00-400 p.m. ET" arrival window expires in ten (10) minutes.

I'd recommend you have a plumbing/heating repair truck in front of my house immediately. ("Immediately, " in this situation, means "now.")

I'd also be interested in hearing just exactly what type of a sucker or a moron you take me for.


. . . . And I signed it. I didn't hear a damn thing. So I called AHBP again(!), and was told that the repairman is "running an hour late . . . . " An hour late?! At 5:40 p.m. on a Friday, he's running "an hour late?!" For what? Happy hour?

Comments
United States
Home Insurance / Warranty

More First American Home Buyers Protection Corp. complaints






Comments

Sort by: Date | Rating

First American Home Buyers Protection Corp- awful! will not renew the contract!
We had really terrible experience with First American Home Buyers Protection Corp-
Terrible custom service : long waiting time before talking to someone (at least 15 mins) and e-mail even worse- two days to receive a response
Long service time window difficult for working couples: can you imagine for this wide time window 12-6 and this is what we got for using this company. We guess only if you stay at home whole day, then you can use this company!
Hiding the result so could avoid the obligation: This company changed the story the plumber told us so they could avoid some obligation to fix our problem
Too many uncovered things: If so many uncovered items, why do we need the coverage for?

Staying at home all day does not warrant them to show up. Yes that happened to me. Another time I called FAHBP to file a claim on a Thursday...this was the first one. They said I'll hear from the repair company by Friday. On Monday I called again and they suggested I call the repair company. I did and was told they didn't have any order. So back to FAHBP only to be told the repair company lied and they'd contact them again. Finally the following Monday the guy comes out. The problem was that I have my air conditioner set on 82, but about 3 nites a week it will adjust itself to 78, 67 or 55. The repair guy said "if I can see what it is doing then I can't fix it". I almost feel through the floor. Then I suggested he come over every night and wait for it to change the degrees itself. He said "I'm not going to do that" to which I said 'exactly and now get out of my house'. I called FAHBP back and told them the situation. They called me back a few days later and said my claim was denied because there was no visible signs of a problem. I went through the roof and told them had explained right from the beginning this happens at night. I've had repair people referred by FAHBP 3 times and they were all idiots. Two, who were here at separate times, didn't see a problem regarding electrical that seemed to be centered around a ceiling fan. Yet, when I hired an electrician not via FAHBP, he removed the blades then took down the base and immediately said "the motor is very hot and that is what is causing the sparks. You need to put in a new fan". I got the fan, he came back, installed it and charged me $50.00 for both his trips and work. Yet, I paid $60.00 2 times and got no where. Now, the guy, who knows what he is doing is my permanent electrician. I am very seriously planning on suing FAHBP because they have not complied with their contract to provide services; let alone 'good' services. And while you are on hold with FAHBP they talk about how thoroughly they screen their service companies. Bologna!!! I could do better and I'm not knowledgeable about electrical or air conditioners except how to turn them on and off.

I purchased the home warranty protection with 1st American, upon the suggestion of my realtor. I filed 3 separate claims over the 1st few mths, not surprising as the house was built in 1977 & a foreclosure. The claims were:
1- electrical stemming around what turned out to be a ceiling fan. the guy they sent out said he saw nothing wrong. I hired an electrician, who upon removing the fan immediately said the motor was extremely hot & the fan needed replacing, which he did
2- my upstairs air condition, set to hold at 82º, changes degrees itself 3 or 4 nights a week to 78º, 67º, or 55º. The repair guy said something like 'I don't see anything wrong & if I don't see it then there is nothing wrong' & actually asked if I was sure. To which I pointed out the degrees change at night & apparently it is the thermostat. He repeated there was nothing wrong & it was just my imagination
3- pool valves can not be turned. according to my previous pool guy were rusted from age & lack of use. He is a rather strong guy & could barely turn 1 or 2 of the 5. I'm a female 63 yrs old & can't even budge them. The repair guy 1st American sent went back & said he had no problem opening & closing the valves, which was not true. I stood there watching his attempts & he told me "these valves are very old, put in when the pool was first install, which is probably about 25 or 30 yrs old. We will have to take them out & put in the newer types of valves".


All claims were denied!! So I filed a complaint with the BBB (better business bureau)

I am so sorry I paid for this home warranty garbage plan. I also will fill a complaint with the BBB. I will request my payment returned to me ASAP and will apply for another home warranty with a reliable company.



Videos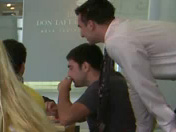 Latest Groups
Today's Mess-Up Photo