Recently Discussed Complaints
1.
(0 mins ago)
IGNOU
B.A DEGREE NOT GIVEN YET.RECORDS OF IGNOU ARE NOT UPDATED
5.
(59 mins ago)
Sears
Bad mattress and return policy
Consumer Tips & Tricks
Latest News & Stories
Latest Questions
Diamonds Internations/Crown of light diamonds Complaints & Reviews - Crown of Light, what a rip-off!

Diamonds Internations/Crown of light diamonds Contacts & Informations

Diamonds Internations/Crown of light diamonds

Crown of Light, what a rip-off!

Complaint Rating:

Contact information:
Diamonds International


Mexico




I decided to surprise my husband on his last birthday with a cruise. We set sail on Carnival's Fantasy on Sept 24, 2009. While on the cruise, we were woo'd, so to speak, by the ship's professional shopper, Martin. He went on and on about Diamonds International, how you could upgrade diamonds and that they had a diamond that no one else had called the Crown of Light. We have been married for seven years and talked about upgrading my diamond for some time. We went in WHEN Martin was there on Saturday, the 26th. After being there for over 2 hours and looking at a countless number of stones, not to mention haggling with our sales person over the amount of money we were willing to put out, we wound up settling on a stone that was .65 carats, G-H color, SI1 clarity. I was trading in an emerald cut stone that was .91 carats, G-H color, VS2 clarity. The cost, $1600. Yes, I know, anyone with a logical brain can't see this as a fair deal but, we were convinced by DI and Martin that the stone was going to appraise for a much higher price than we paid because of it's "unique" cut. After we returned to the boat, I called Martin again, concerned about whether or not we'd gotten a good deal. He reassured me. When we returned home, within a week, I brought my ring to a certified gemologist to have it appraised. To my horror, my ring appraised for nearly $2200 less than it appraised for 7 YEARS earlier!!! The gemologist told me that the stone was only worth $1800!!! HELLO!?!?! I paid $1600 PLUS a nearly 1 carat emerald cut diamond!

So, I called DI. The first comment was, "the appraiser must be a certified gemologist." Well, I said, "HE IS A CERTIFIED GEMOLOGIST LISTED ON YOUR WEBSITE AS QUALIFIED TO APPRAISE CROWN OF LIGHT!" Oops! I had them cornered. After lots of hemming an hawing, I got them to agree to send me back my diamond and refund my money. I took me an entire month to get this done. And, that's with calls EVERY DAY. I got the diamond back, to my surprise, relatively quickly and it was actually MY diamond. Amazing. The refund took longer. I finally had to threaten to sue and they magically got the money back in my account the next day. Hilarious...they actually tried to tell me that they had to have PERMISSION from my bank to return my money!

All I can say is, I was one of the lucky ones, I suppose. It still cost me money...shipping, having the stone removed and another reset...and, unfortunately, my husband and my memories of that trip will be forever tarnished by that transaction (otherwise, it was a phenomenal trip). I wound up getting a larger diamond with nearly perfect colorlessness and higher clarity for LESS money from local wholesaler of diamonds. My cost of only $1200 with him rendered a new appraisal of my ring at over $13k!!!

NEVER DO BUSINESS WITH DIAMONDS INTERNATIONAL!!! IT IS THE BIGGEST SCAM RUNNING. AND, THE CRUISE LINES SHOULD BE FINED FOR THEIR ENDORSEMENT OF THIS COMPANY!

Comments
Mexico
Jewelry & Watches





Comments

Sort by: Date | Rating

Your explanation was unclear. What year did you buy the Emeald cut, which I understand you traded-in for the DI diamond. Also, if you bought the "Crown of Light" diamond, how much did it cost in 2009, BEFORE you were to trade it in for the 90 facet, "Crown of Light" "ring"? I'm very curious...Thank you. L.K., G.G. (G.I.A.) Atlanta, GA
P.S. Any G.G. from the Gemological Institute of America (in CA) is more than acceptable to appraise a "Crown of Light" diamond. Where was DI's "certified gemologist", certified? Where was he/she trained?

I am also dealing with DI. I purchased a ring from them that the appraiser declared a nonfunctional ring. DI will not refund my money. I don't want credit at there store, which they are offering. Why would I want to deal with them after they sold me a manufactured defective ring at $6, 600.00!!! I am disappointed with the Norwegian cruise lines as they are not helping me get my money back. I am very frustrated and disappointed with them. I would expect them to be of help to me. I am in the process of publicly (through a daily newspaper)telling all 90, 000 people who live in an over 55 community in Florida to not be a part of their cruises in the future. I would appreciate your comments.

I would not recommend DI to any of my friends!

Looks like I am not the only one out there dealing with DI. I sure wish I had read all of this before I went on the cruise. The funny thing was I had no plans to purchase any jewelry. I got caught up in the hype. A hard lesson learned here. People telling me that it was a good thing I used AMEX. AMEX is intervening on my behalf but only will help if the diamond was misrepresented but not cost because it was solely agreed upon between the buyer and seller. Ugh...

Crown of Light is recognized by the GIA as its own shape but sicne nobody in the US sells it, most people dont know how to appraise it. I got mine appraised by the GIA after I bought it on the Carnival Miracle on my Alaska cruise with our shopping guide Robert and it appraised here at home at almost $2000 over what I paid. Got a great deal. Youre telling EVERYBODY not to shop there because you got a bad deal? Ill never shop anywhere else.

As recently as two weeks ago while on a two week Alaskan cruise, I had the extreme misfortune to venture into a Diamonds Inat'l jewelry shop while in port. The cruiseship had two port and shopping "consultants" aboard who hosted a Diamond and Gem Seminar onboard the cruiseship the very first day out of Vancouver, BC. The onboard hype included stuff like, "I know the owner/manager personally" and I guarantee he will sell to you at the lowest possible price if you show him your VIP guestcard". Other comments include, " we have over 150 stores worldwide and we buy our gemstones directly from DeBeers, thru our certified diamond buyers", so we pass the savings directly to the customer". That is pure BS...here's what actually takes place. The shopping consultant is nothing more than a paid "shill" who creates the illusion the shopper can buy a very high quality gemstone for an enormous discount ONLY if they shop at a DIAMONDS INAT'L store or some other store that the consultant specifically recommends during the seminar. The company the consultant works for is PPI in Ft. Lauderdale, FL and they contract with all or most of the cruiselines to steer the passengers ONLY TO THOSE STORES WHO HAVE COMMISSION AGREEMENTS or STORES THAT ARE WHOLLY OWNED OR CONTROLLED BY THE CRUISELINES THEMSELVES. The state of Alaska in an effort to eliminate this shameful practice fined PPI and another similar company more than $200 MILLION DOLLARS. If you doubt me, check it out for yourself. The reason I know is I was shown a newspaper article that listed all the facts about this very company and their corrupt business practices. Trust me, you will get a far better deal, both in terms of price and quality from an independent jeweler/gemologist than you will buying from the approved list of stores. FAIR WARNING - NEVER SHOP AT DIAMONDS INAT'L UNLESS YOU LIKE BEING SCREWED!!

Actually, all of your information is incorrect. They werent fined $200 Million dollars. That would have put them completly out of business. They agreed upon a consent judgement which also included no admittance of guilt for $200, 000. Big difference. Get your facts straight before you post things publicly. The only person breaking the law here is you by committing slander.



Videos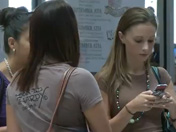 Latest Groups
Today's Mess-Up Photo