Davis Vision Eye Glasses, Michigan Complaints & Reviews - bad glasses, awful customer service

Davis Vision Eye Glasses Contacts & Informations

Davis Vision Eye Glasses

bad glasses, awful customer service

Complaint Rating:

Contact information:
Davis Vision


Michigan




United States




On Nov. 4, I visited my optometrist, Dr. Julie Marvin-Manders at Manchester Eye Care. I have been seeing her for at least eight years, including all of the time that I have had Davis Vision coverage. I primarily wear contact lenses, but had decided this year to get a pair of glasses made; since I rarely wear my glasses and my prescription doesn't change much, I only do this every few years. I am severely nearsighted, so I opted for a high-index lens so that my glasses would not be too thick. The staff at Manchester Eye Care called Davis Vision while I was there to see what the highest index lens they could make was, and what guidelines they might have for me in selecting frames. They determined that the Davis lab could do a certain level of high-index lens, which would actually give me thinner glasses than I currently had, if I selected a frame that was not too big. I selected the frame and placed my order. I had to pay $165 out of pocket at that time, because the high-index lens is not covered, plus I opted for an anti-glare coating and progressive bifocals. I was told that the glasses would take 7-10 days, since the high-index lenses were more time consuming. (Typically, my kids and husband get their glasses - made by Davis - within a week.)

On November 18, I called Manchester Eye Care to see what the status of my glasses was. After calling Davis vision, the staff person called me back and said they would probably be shipped Monday and I would get them before Thanksgiving. They did not come in then.

On November 29, I called Manchester Eye Care, and the staff called Davis again, and then called me back. This time, they were told that my glasses needed to be sent out by the Davis lab to another lab, and they had no idea when they would be done. I was not pleased and asked for a number to contact Davis myself. I called and spoke with a rep, who said exactly the same thing. He told me Davis had no way of knowing when the lab they contracted with would complete the glasses.

December 6, I received a call from Manchester Eye Care. Their staff had followed up with Davis to check on my glasses. This time, they were told that there was a problem with the order, and it had to be restarted. They were told that it would be at least another two weeks. The Manchester Eye Care person told me she had placed a call to her Davis Vision rep to complain and advised me to see if I could get any help through the University. We agreed that this level of service was atrocious.

Mysteriously, on December 9, my glasses arrived at Manchester Eye Care. When I saw the glasses Davis had sent, I told them I would not accept them and wanted my money back. One lens is huge, the edges are not polished, and the lenses are not even set in evenly. (See photos.) When the staff person called Davis Vision, she was told that their lab did not understand that BOTH lenses should be high index; they made them with one high-index and one not. Davis also alleged that they did not know that the edges should be polished. (The staff person gave me a copy of what they sent to Davis, which I have scanned and am attaching here. It clearly shows that both lenses should be high-index - which I paid for - and that the edges should be polished. It also shows that there is a minute difference in prescription between my two eyes, which clearly indicates that the two lenses SHOULD appear equal in size.)

The Davis rep then refused to allow the glasses to be returned; they would remake them, but that was it. When I purchased them, I was told that I could return them within 30 days, with no questions asked. The Manchester Eye Care staff says this has been the policy with Davis in the past, and they were not aware it had changed.

When I protested, the Manchester Eye Care staff person talked to Dr. Marvin-Manders, who agreed with me that the glasses should be returned since they were made incorrectly. The staff person was still on the phone with the Davis rep. When the staff person explained that both the doctor and I questioned the "no return" policy, the Davis rep said that not only could the glasses not be returned, but also that I cannot use my benefit this year for anything else, such as toward contacts. They said I could return the glasses, but I would be out $165, plus I would be unable to get any benefit this year from my vision policy.

If Davis is, as it appears, unable to make acceptable glasses for people who are severely nearsighted, that should be noted when people sign up for the vision insurance. It makes the coverage useless for me. Let me be clear, too, that what I want is NOT impossible. I had glasses made by Manchester Eye Care's lab in 2003 that are wonderful, and I have had several perfectly good pairs made by Lenscrafters. While my prescription probably does increase the difficulty of the process, other labs have done an excellent job in the past. Especially after a five-week wait, I would think Davis Vision could do the job. But if they can't, I think they should just be honest about it - and refund my money and let me use my benefits for something they CAN do right, namely contact lenses.

At this point, all I want from Davis is my $165 back, plus the ability to use my annual benefit toward contacts, since Davis was unable to make my glasses correctly. These glasses clearly have manufacturing defects, so I should not have to pay for them OR lose my benefits for this year.

Comments
United States
Vision, Glasses, Lenses





Comments

Sort by: Date | Rating

I am in a similiar situation. I had the same response from Davis Vision that there is "no provisions in my policy for refunds". I had paid $239 out of pocket expenses to have a pair of glasses and sunglasses. I have not been able to wear either pair because the vision quality is very poor. They have been sent back three times for corrections since 8/25/10. Today is 2/4/11 and guess what, I still am not sure what the outcome of this is going to be. Do I keep sending them back until they are correct or just eat the $239. I am highly disappointed in there customer satisfaction and will never use there services again.

i work for a doctor that accpets davis vision. and your right the service sucks. the dr has to follow the rules of davis vision and supply there tower of power frames we like to call it. we are dropping out as of june.

I'm in the same situation too. I ordered my glasses 2/18/11, called a few days later and they werent in to my eye docotors office. I wanted some time, still nothing. About 3 weeks later i find out that the lense broke, appartenly cause i have a high index. i was then told i would get them in a week, still nothing. I finially get a hold of the member services and she was dealing with the lab. on 3/25 my lense were at the finishing lab. They were going to get shipped out, and i would recieve them today 3/29. Still nothing. Now i have to go to QA. I will never use this insurance again... thank god my glasses aren't broken...

I am in a similar situation...have had the same eye doctor for years. Picked out my frames that were sent to Davis Labs. 3 weeks later they came back. I tried them for a week and they were terrible. I am farsighted with astigmatism. I was getting a terrible fish bowl effect when I turned my head the slightest bit. Took them back and the doctor discovered that the visual center on both lenses was off by 3mm and the lenses were rotated in the frame. They sent them back. 4 weeks later they came in and I am still getting the terrible fishbowl effect, when looking straight ahead I can see a blur in the frame where the intermediate and reading part is and they make my eyes feel strained. I did not have this with my last pair of progressive, I can look left right move my eyes up, down left and right and I don't see any blurring. The eye doc (who I think now is fed up with davis labs) told me that I would eventually get used to them. I called Davis vision asking if I could go to Walmart (had better luck with their lab) and try a new frame style and lens style. Basically I would like a refund for the lenses and my inurance back towards the frame and lens. They said that the 30 days is passed for the frame return (seriously? when did I get my 30 days?) and that they do not refund and will only work with me till they are right. I can get them back from Walmart in a week or so. I do not want to wait a month each time they "try" to get the lenses right. I filed a formal complaint to Davis...they said they would get back to me in about 7 days. 7days when you can't see right is a very long time. Very frustrating!

Update-So after I purchased another pair of glasses from Walmart out of my own pocket and getting polycarb lenses and no anti-glare, I found out they were just fine. No fish bowl effect. After speaking to a supervisor at Davis Vision and telling them that my new pair were ok, they agreed to replace my Davis glasses with no anti-glare and polycarb lenses. After a few weeks I got them back and they are fine too. My eye doctor refused to refund my out of pocket for the anti-glare and price difference between the high index and polycarb lenses. I paid roughly $230 out of pocket for the 2 and I now have no anti-glare and much cheaper lenses. Davis is working with me to get some money refunded. Lesson learned... I can't tolerate high-index and anti-glare lenses and use walmart...they are cheaper and have their own lab.

I have worn progressive lenses for four years. Never had any problem. I used my husbands Davis Vision Insurance and I waited 3 weeks for my glasses. I could not see clearly through them.I could not read through them. I asked for them to be polished and they were not. I paid for high index and did not get that either. The doctor put marks on my lenses and supposedly sent them back to Davis. After 2 more weeks, my glasses were not polished and had the same marks on them as though they were never sent anywhere but Davis told me they have on record they were sent back a second time. I refused the glassed and would not pay the balance. Davis told me my I cannot get my copay back. I will not pay anymore money to Davis or Crystal Vision because I feel the eye dr is horrible and between him and Davis Vision, I have nothing. I contacted Better Business Bureau and filed an complaint and now I am going to appeal with Davis to get my copayment back. Davis is making it seem like I have to get used to the lenses but I know what progressives are like, and if I cannot see or read through them, there is something severely wrong with the glasses. So, I will continue to fight tooth and nail for my money back and I will never use Davis again nor will I recommend Davis Vision or Crystal Vision to anyone!

Wow, wish I had read this before I ordered glasses from Davis Vision. My story is very similar, my daughter and I have very strong prescriptions and when I ordered glasses from Davis for the first time, what I got back from them (which was supposed to be the thinnest, lightest material possible, I paid extra for it) was thicker and heavier than glasses that I had made 10 years ago! Semi-rimless, they didn't polish the edges, they looked horrible! I did send them back for the edges and they polished them but you can still see a line on the bottom edge. Then, I ordered my daughter's glasses, she's almost four and has a +6.0 script. She's had glasses since 9 months and I have always purchased the Trivex material for her. Davis supposedly was going to fill her prescription the same way that other labs had for me but sadly, they didn't. You should see the glasses! Ridiculous! A child can't wear these! Over a half inch think and so heavy they would never stay on. And they tried to pass it off as Trivex! And no refund. What a joke. It should be against the law to pass something off for what it's not. I have never been more disappointed in customer service or business practices from a company than I have with Davis Vision. It seems to me that there has to be some protection for the consumer in situations like this. Taking peoples money and not giving them what they promised. Over and over it appears! I guess for now we just have to warn others of what to expect from Davis Vision until someone cracks down on their unethical business practices. They should be ashamed of themselves.

I agree. I just used my DavisVision insurance for the first time. I got my eyes checked at my eye doctor whom I like and feel is a good doctor on July 23rd. Ordered my glasses on the same day. It is August 27th and still no glasses. They sent them back without polishing the edges and my doctor's office sent them back and that is the last I have heard. They are supposed to be thin too, so now I am worried what they will be like when I get them. I am going to drop this insurance and convince my office to change companies for vision insurance. It scares me to think what would happen if I lost my glasses or broke them. I called Davis and was told that the mail from New York to Florida is what is taking so long...or they do extensive checks on the glasses and some checks take a whole day. If they expect me to believe that then they are crazy! The problem is that since I have DavisVision, my glasses have to be made at their lab. I don't think this is a good practice for and insurance company. They have us trapped with no recourse other than walking away from all the money I paid out of pocket. Does anyone have experience with another company because I AM going to switch. I have VSP a few years ago and it was good then.

I have worn glasses since I was a small child (several decades), and never had problems with any prescription. My current employer uses Davis Vision as part of their insurance package. On 8/1/13 I had an eye exam but was not happy with the choice of frames so I ordered a pair of frames elsewhere, and then returned to my optician who sent the frames to Davis. I was told they would be available in two or three weeks. A month later I went back asking about progress. The next day, the optician called to say that Davis had mailed the glasses to the wrong address, and they could not be traced. The optician agreed to reorder the frames from where I purchased them, and Davis was to make a new pair of lenses. Three weeks went by and the optician called day before yesterday to say that the lenses had arrived, and Davis had not made them correctly. It is now 11/1/13, exactly three months since my exam, and I still do not have a pair of glasses. Meanwhile, I am out several hundreds of dollars to pay for lenses that I have yet to see. At this point, I am thinking of simply cancelling the glasses, although I am concerned because I have read elsewhere that Davis refuses to give refunds.

I would add to the above that I did attempt to cancel my eyeglass order from Davis Vision yesterday, and was told by my optician that, although they could order a new set of eyeglasses from someone other than Davis, only Davis could give me a refund. They also told me that "too much time had passed" simply to cancel the order as Davis had already charged my insurance company. Of course, I can attempt to rectify the situation through contacting Davis directly, but, in the optician's words: "Our hands are tied." In the meanwhile, I am still out the money and have no glasses.

The optician also told me that they do not like to use Davis, but they have no choice if Davis if the insurance policy is through Davis. Davis glasses are in her words, "terrible." Bifocals or graduated lenses arrive with the graduated part on top rather than the bottom. Lenses are reversed, with the left eye prescription for the right eye, etc. I will never use Davis again, and will be doing everything I can to convince my employer to drop them from our insurance plan.



Videos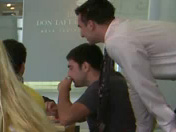 Latest Groups
Today's Mess-Up Photo